Atrium Restaurant in Holiday Inn Singapore Atrium Hotel has always been a popular destination for both hotel guests and professionals who work in the area. But this month until 1st May, it's expanding its culinary offerings with a sumptuous Ramadan BBQ Feast.
It's a popular destination for those working in the Outram/Tiong Bahru area, both for its famously delicious menu and its ambience. At Atrium, diners eat in elegance, surrounded by the iconic high ceilings of the hotel. For those observing Ramadan, break the fast with dates (provided by the restaurant), and a range of drinks including local favourites bandung and an array of juices and teas, then enjoy a specially curated buffet menu of popular malay dishes during Ramadan alongside Western and Japanese options. There is a dish for everyone, for every palate. But it's hard to resist the signatures that Executive Chef Chua Yew Hock has put out in this menu.
Upon entering the Atrium you will be greeted by a whole roasted baby lamb lathered in a coating of spicy kicap manis (spicy-sweet soy sauce). Surrounded by the other signatures of this feast, it is a promise of the delectable things to come. True to the centrepiece, one of the highlights is the grilled lamb chop in a rubbed, bright red spice mix, presented as if fresh out of the tandoor. Unlike the more tender baby lamb, the lamb chop still remains mouth-wateringly soft but the slight firmness to it is heightened with flavour by the mild masala and hints of paprika. The recommended pairing is a tangy and minty yoghurt which works well but wont satiate the spice lovers amongst us. For a strong kick, try the lamb chop with the peri-peri sauce. Mind you, the peri-peri sauce is extremely spicy and even looks like it – a mushy heap of visible chilli seeds and pepper skin littered throughout. Just imagine sambal belado that tastes like peri-peri.
Talking about sauces, there are plenty – 10 to be exact. This does not include sauces for the fresh seafood section. Overwhelming, maybe, but there is a way to navigate. Besides the sauces mentioned before, there are three variations of sambal: pure spiciness, mildly sweet, and a heavy on the shrimp paste. Pair the last sambal with cooked seafood such as the grilled cuttlefish. Generally, dip seafood in the salty and sour chinchalok. Finally, there is tomato salsa with jalapenos for the pita bread, and , of course, mustard, usually eaten with any of the beef or chicken sausages but absolutely phenomenal with the baby lamb and sliced steak. The daily buffet contains enough choices for our gastronomic needs. These range from crisp roti prata to the hearty goulash. Take time to explore the variety available beyond the special Ramadan dishes. Seafood enthusiasts may also be delighted to know theree are fresh prawns, mussels, and oysters. All of this is right next to a sashimi station with chefs that will carve the fish in front of you.
But no visit to Atrium's Ramadan BBQ Feast is complete without sampling the popular Slow-baked Whole Norwegian Salmon that comes with an array of chili sauces to both satisfy and tantalize the tastebuds.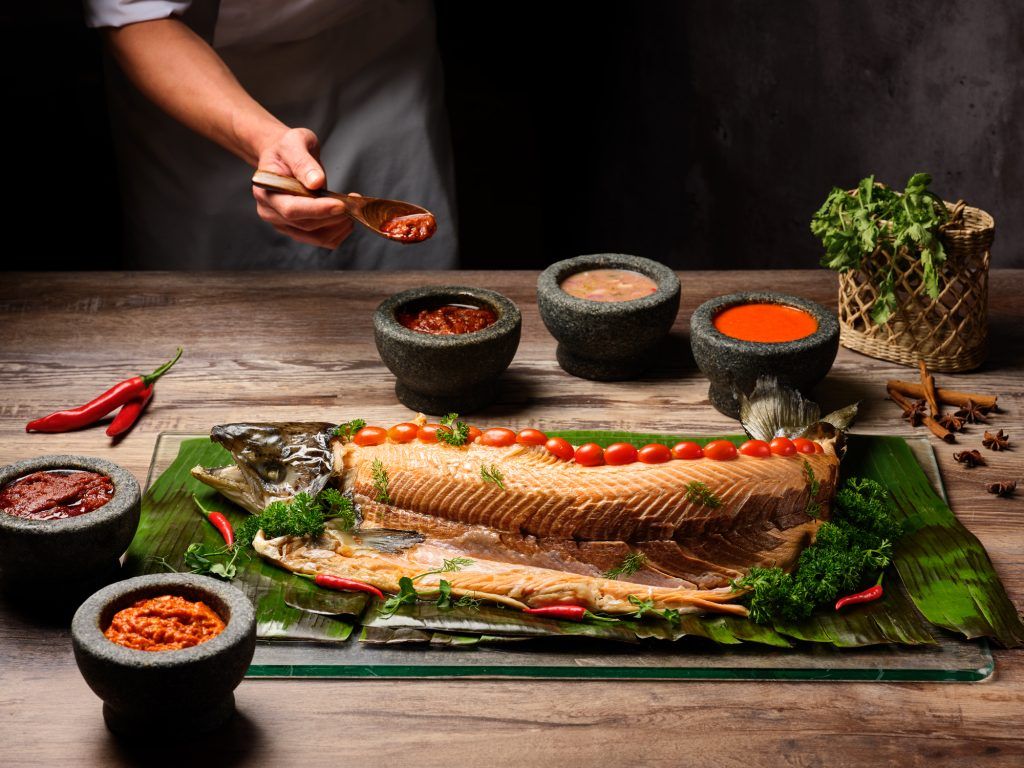 End the rather heavy meal with dessert: a selection of nonya kueh, cold and refreshing ice kacang with all the traditional toppings or the rich, smooth chocolate fondue. Revel in the spirit of Ramadan and for those fasting, at least you won't feel too guilty. If you are smitten by the first dinner and intend to go back, you have the opportunity to try something new since the menu rotates everyday. All in all, Atrium Restaurant's Ramadan BBQ Feast has a little bit of everything for everyone – and caters to those who prefer traditional, authentic food, or more international fare. Whether with friends or family, fasting or not, I believe everyone will leave satisfied.
Atrium Restaurant is located at Holiday Inn Singapore Atrium Level 4, 317 Outram Rd, Singapore 169075. For reservations, visit singaporeatrium.holidayinn.com/atrium-restaurant-buffet-details, call +65 3138 2530 or WhatsApp +65 9114 0258.
Prices:
Sun – Thurs: $55++ per Adult, $30++ per child (6 – 12 y/o)
Fri – Sat: $64++ per Adult, $30++ per child
written by.
Suffian Hakim
Senior Writer, Augustman Singapore
Best-selling novelist, playwright and screenwriter Suffian Hakim is AUGUSTMAN Singapore's Features Editor. He writes articles on arts, culture, entertainment, cars, watches, travel and more - all in an effort to properly investigate and define that nebulous, all-encompassing L-word: lifestyle.