This is your 2023 edit to the best new bars and bar menus in Singapore.
July has been a great month for high-powered cocktail bars. At Jungle Ballroom, mystery, mayhem, and quite a bit of magic collide in a riotous hotel bar. Agave and rice spirits come to the fore at Cat Bite Club, while Mixology Salon showcases their mastery of tea through exquisitely-made drinks.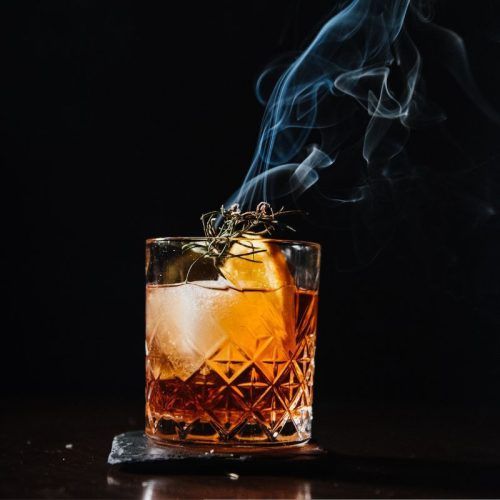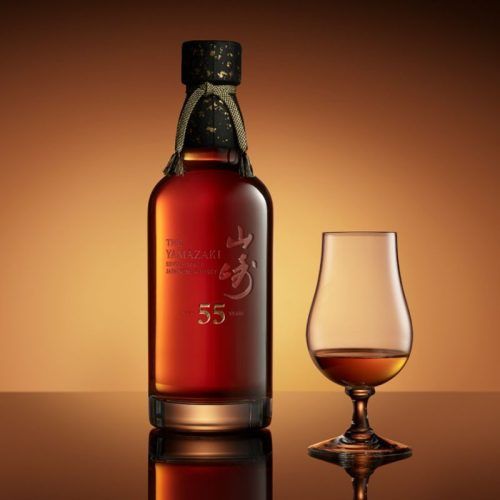 Best new bars in Singapore to check out in 2023
July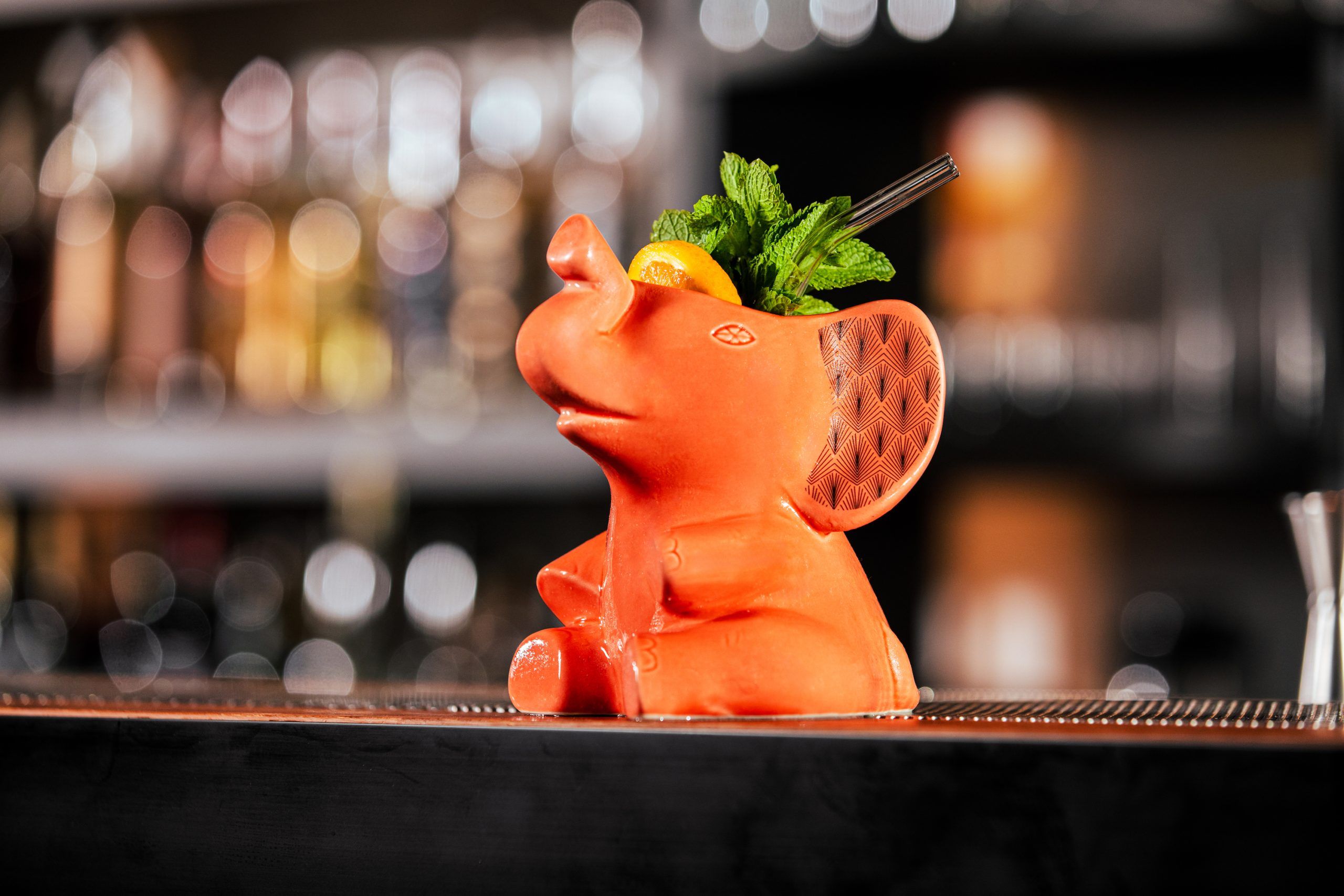 Cat Bite Club
The birthplace of agave and rice are separated by the Pacific Ocean (or three continents depending on how you read a map), but they find a home at Cat Bite Club. It is, however, a sly abode: the bar is squeezed into the back of Monument coffee shop, and heavy veils discourage curious walk-ins. Only a grinning Cheshire cat sign confirms you are in the right place.
Cat bite's marriage of agave and rice spirits was prompted by former Atlas bartender Jesse Vida and Gabriel Lowe, previously of Paradise Lost in Bangkok. The duo developed the idea after moving to Asia in 2018 where they were exposed to rice-based alcohol such as soju, sake, and baijiu, and decided to pair it with agave spirits like tequila and mezcal, a category they were familiar with from their time bartending together in San Francisco. They settled on a cat as a mascot – in particular, the feline from "Alice in Wonderland" – to evoke the sense of someone discovering these drinks. "We wanted to have this spirit of wonderment and exploration," Vida said. "At the same time, a little naughty and curious."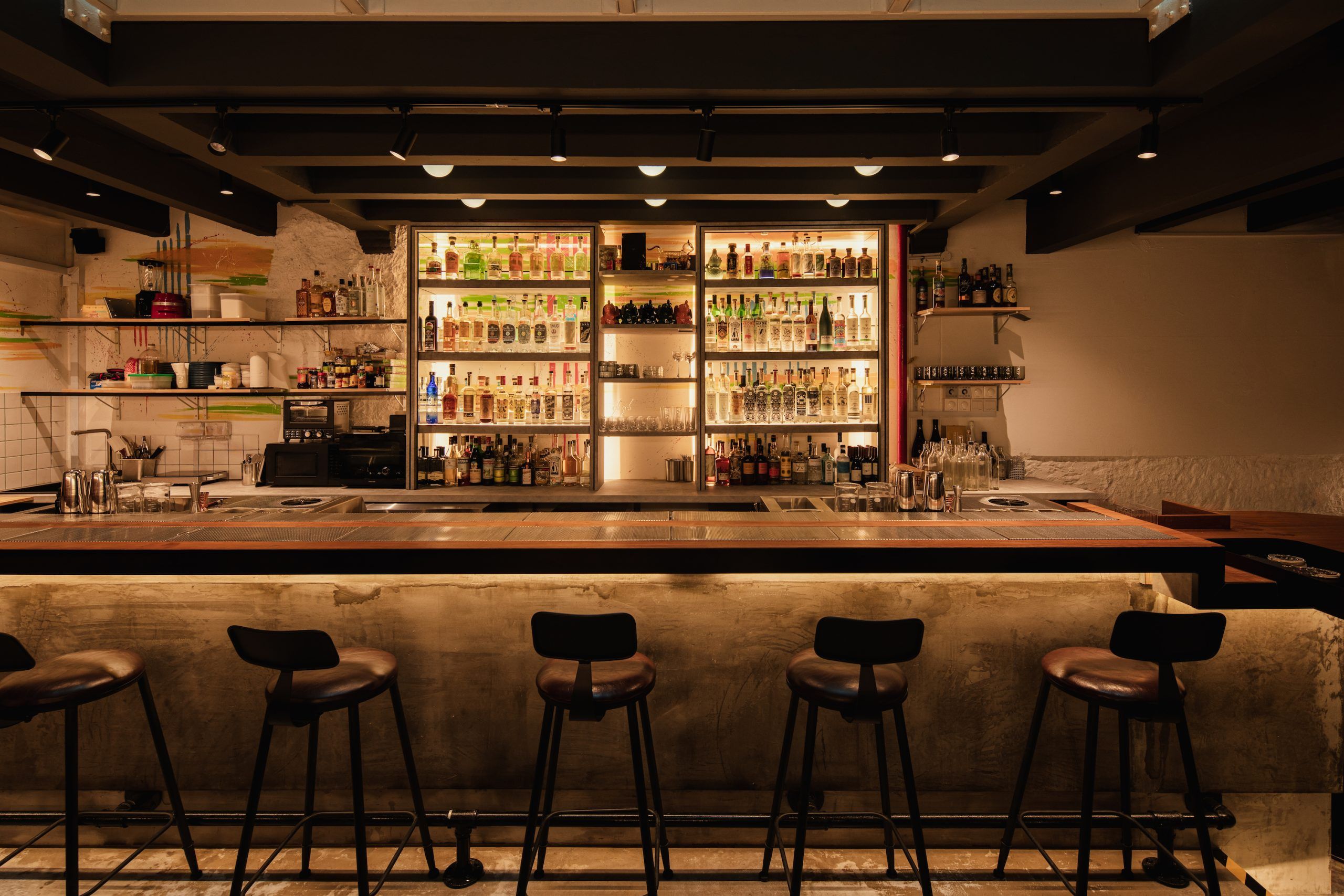 Like any self-respecting agave bar, Cat Bite has a Margarita on the menu, a lush, salty number with an extra shot on the side. Rice spirits currently do not have a defining cocktail, so the bar aspired to create one in the Soju Sprint, a fizzy drink that combines the funk of Brooklyn-born, Chungcheong-based Tokki soju with the sweetness of peach.
Cat Bite also lists four classic cocktails with two variations under each one, made either with agave or rice spirits. Inspired by the Floradora, the sake-based Green Acre is appropriately fresh with mint, fennel, and sharp horseradish. Helped along by soju, watermelon, and coriander, Bitter Rind is what a Negroni should be, not cloying but dry and bittersweet, almost woody. From the Espresso Martini, you get three emojis that ride in an elephant, or what Vida more eloquently called, "Pineapple Coffee Fire." Similar to a spicy Piña Colada, the cocktail features Ceylon arrack, which I thought came from coconuts, but apparently not. "No one is really sure what arrack is made of," Vida said. "Sometimes it's rice."
On the back bar stood rows of various tequila and mezcal brands, some clear, others deeply caramel. Most hail from Mexico, but Lowe pulled out two bottles from India. These spirits will eventually be offered in tasting flights, and Cat Bite also plans to increase their rice liquor selection. "Just like how you would find tequila in any bar, we hope that in the future you can find rice spirits too," Vida said.
75 Duxton Rd, Singapore 089534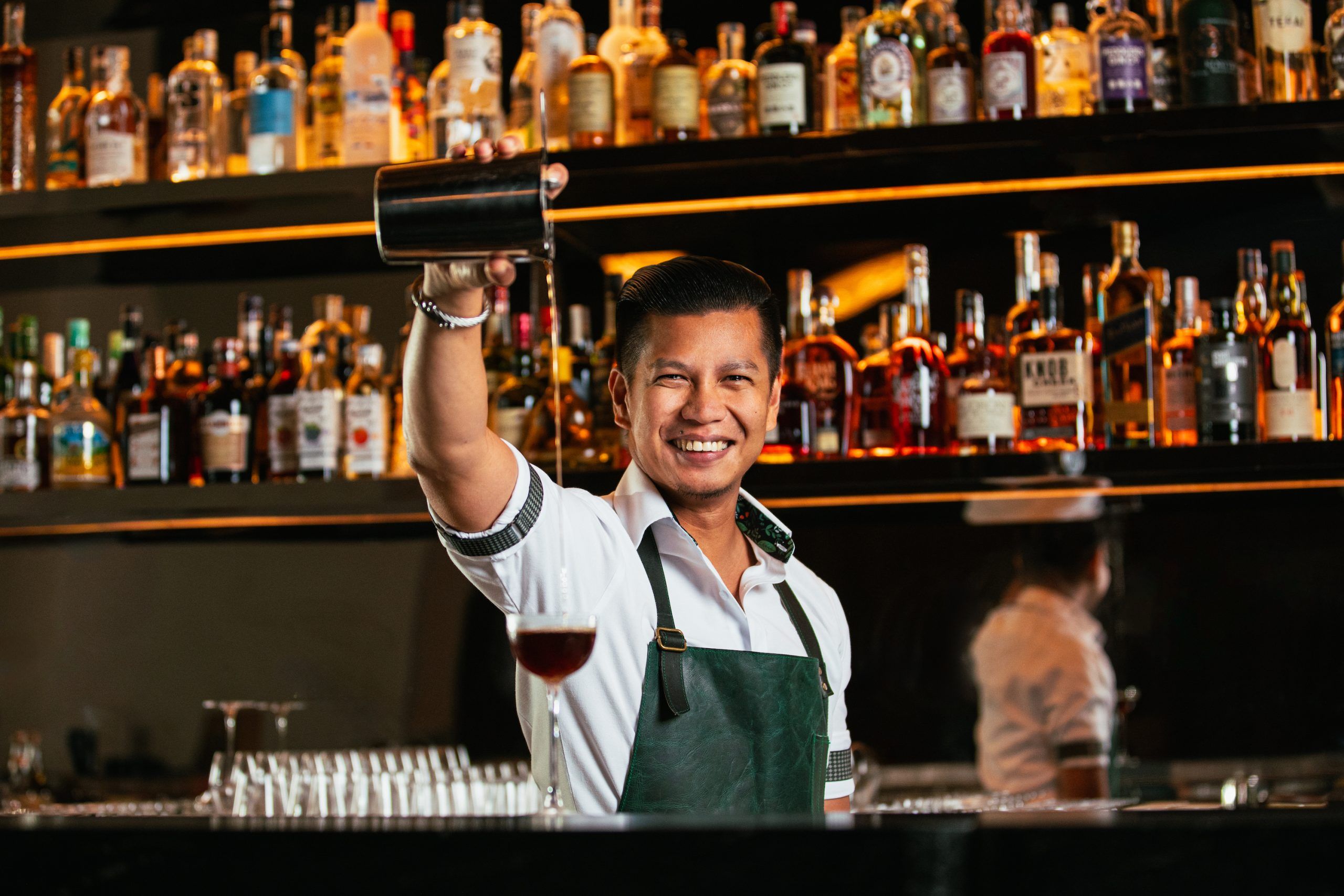 Jungle Ballroom
Welcome to the jungle, if the jungle was a buzzy hotel and its inhabitants modish and young. Sprouting from inside Mondrian Singapore Duxton, the mood is dark and hedonistic, the cocktails are flamboyant, and the bartenders are having an infectiously good time.
Chief instigator is Adrian Besa, previously of MO Bar, who told us to picture the menu as if we were parachuting into the woods. "First, you see the canopy, then you see the understorey, and then you land on the forest floor. Turn left, and you're in the ballroom." And at which point should I expect to get dengue fever?
Instead, it is the Neon Ballroom cocktail that is electrifying, literally. As white rum, champagne, mango, and rosemary were poured into a flute, an ice cube-like object inside started glowing, which Besa later explained was a liquid-activated light. The description encourages you to taste the light, this time as a metaphor for its zesty, tropical fruit character with light, grassy hints.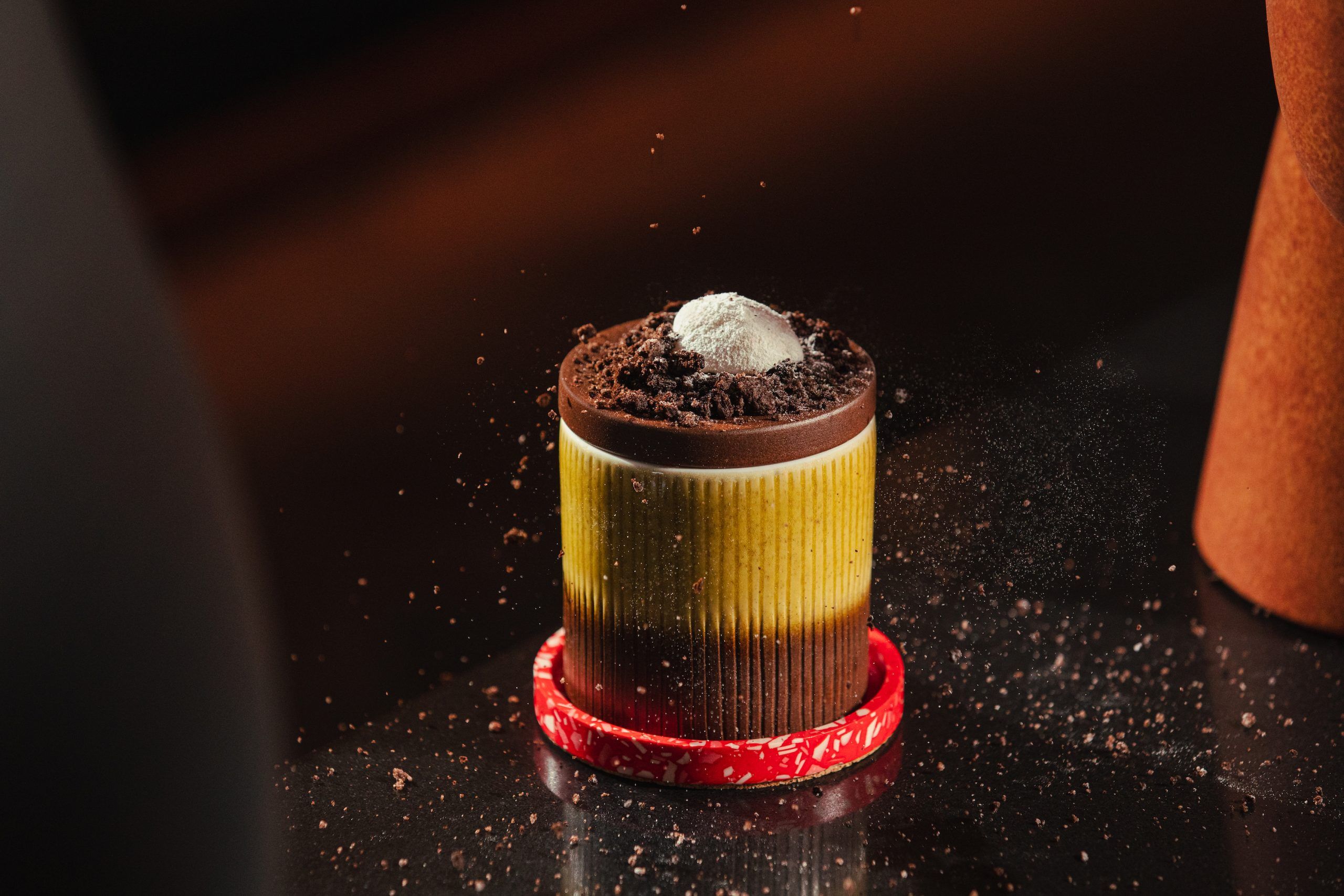 NParks recommends that people should maintain a distance away from wildlife, but Jungle Ballroom shoves you right in front of a ferocious animal. Fortunately, How Doth the Little Crocodile poses no danger except to art – you get to fold the reptile origami-style, and I mangled mine. For all its childlike fun, the gin-based drink was surprisingly serious, pairing smoke with medicinal notes.
Equally brooding is The Root of All… As smoke poured out from the agave spirit, banana, and pineapple cocktail, bartender Chris Saw quipped, "I call it vape juice." It is earthy and herbal, reminiscent of traditional Chinese medicine, soothed by a garnish of chocolate soil and banana mochi.
Like all good ballrooms, the bar has a queen, and it is Sheena. The comic book character appears on a rice paper garnish in the Queen of the Jungle, made regal by rye, Italian bitter liqueur, and walnut. It was velvety and herbaceous, also strong enough to make you swing from the trees. Fortunately, there were none.
16A Duxton Hill, #03-03, Singapore 089970. Book here.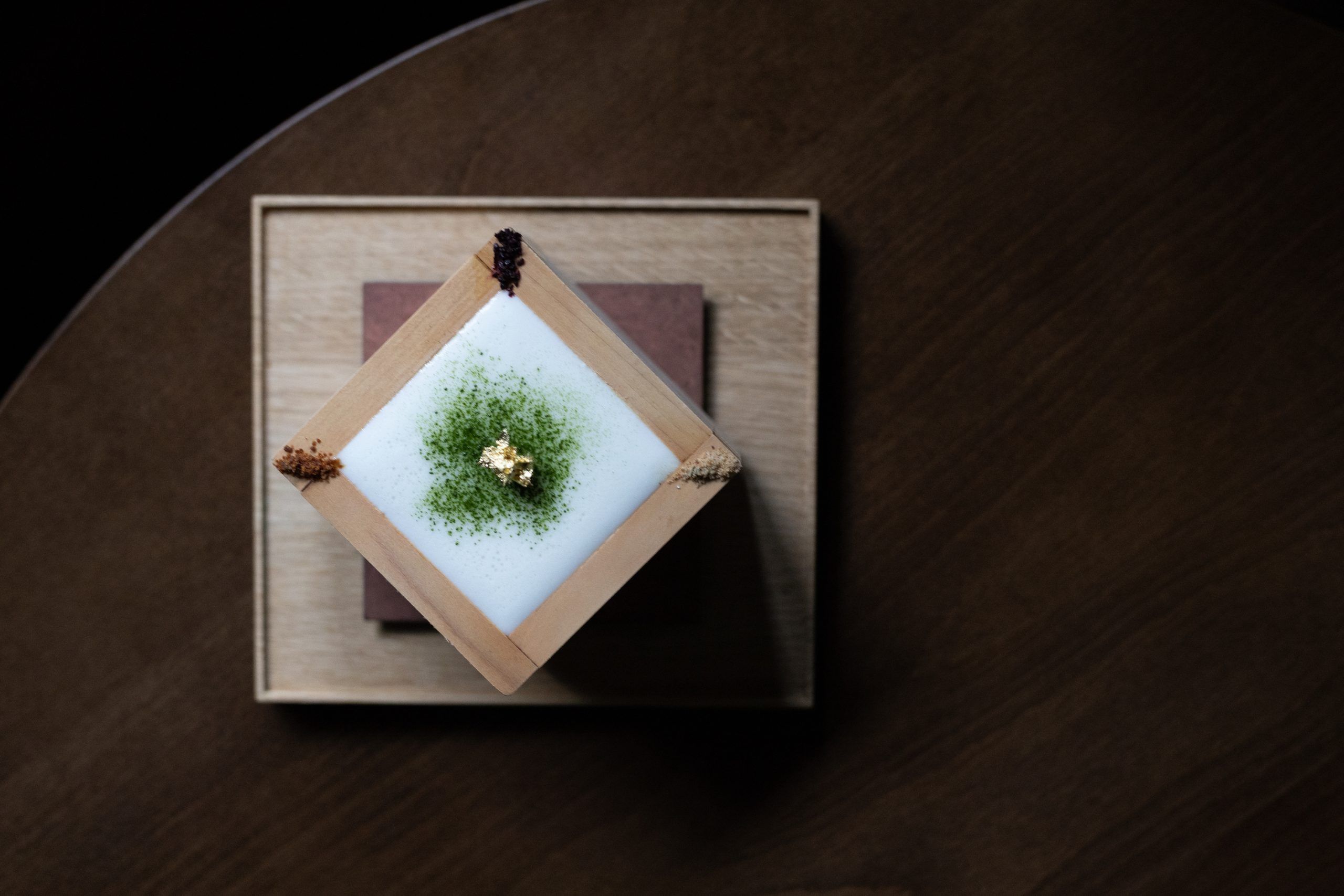 Mixology Salon
As a cocktail destination in Asia, tea-based tipples are strangely lacking in Singapore's drinking landscape. Mixology Salon wants to change that. Premium varieties of gyokuro, hojicha, and oolong are given as much priority as alcohol, and every drink has tea in it, even a non-alcoholic beer greened with matcha.
The bar is an offshoot of a Tokyo drinking den with the same name. Founded by Shuzo Nagumo, the original Mixology Salon has been named as one of Asia's 50 Best Bars, and Nagumo has since expanded his empire in Japan to six concepts. Singapore is his first international location, which is overseen by Nagumo's protégé, Kaoru Takii.
In a brilliant marketing move, intentional or not, the bar calls its low-alcoholic cocktails "tea-tails." In the Hoji tea-tail No.2, Shizuoka-grown green tea makes up the bulk of the drink, layered over with vintage port wine, cognac, and cassis liqueur. Takii advises to first taste the drink without swirling, and it offers the scent of dark fruits with a dry finish. Now swirl, and the drink completely transforms into a rich and luscious sipper.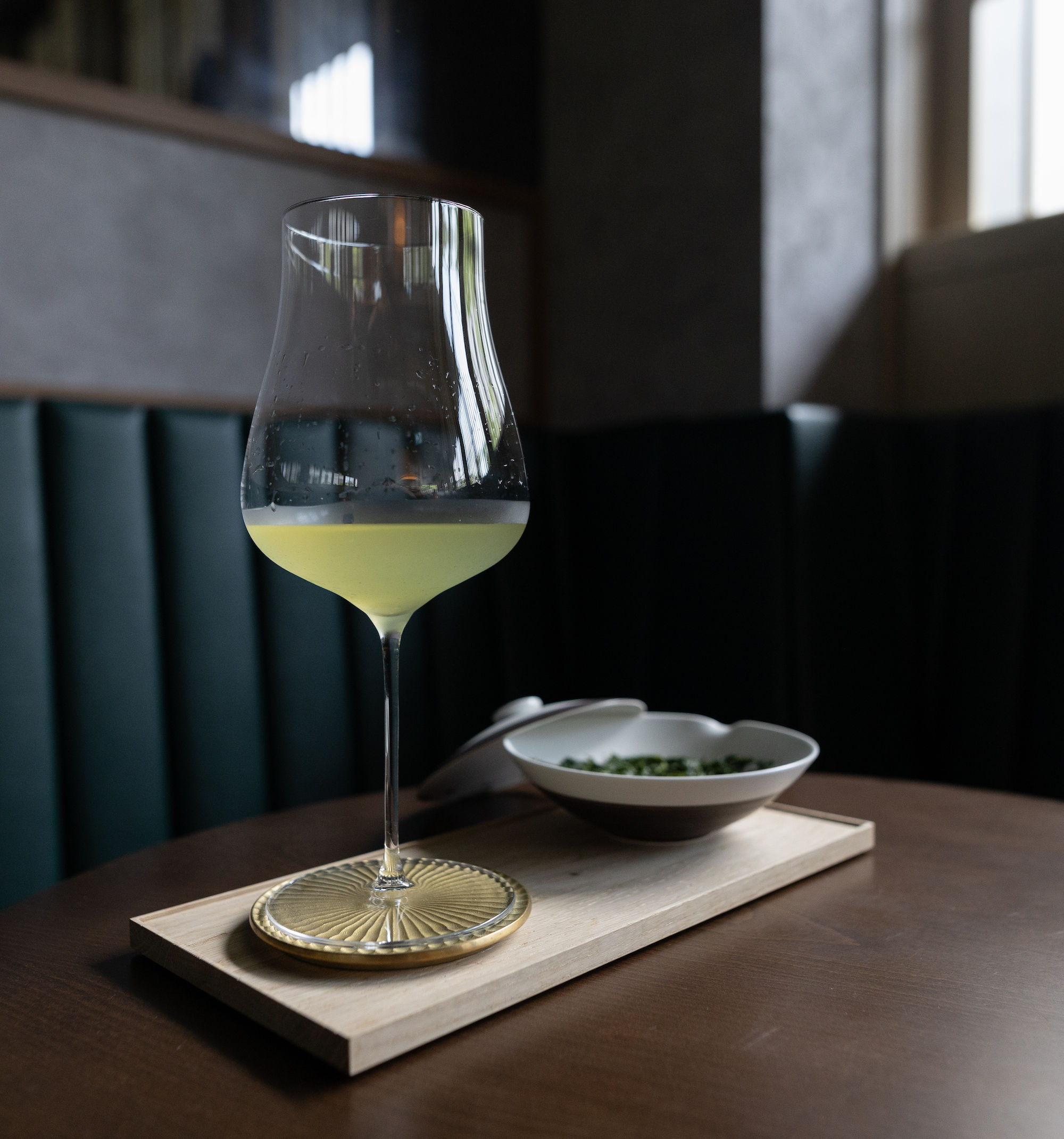 The Signature Tea Cocktails Course tasting menu lets you see the world according to Mixology Salon. It ranges from three to five preset drinks, which can be swapped out for others if you had them before. But the Sencha Gin Tonic should be considered de rigueur. It has a delicate balance of earthy and bittersweet flavours, and is a fine example of the bar's deftness with tea extraction.
Other classic cocktails do not escape Mixology Salon's attention. Japanese Tea Espresso Martini has sencha, matcha, and gyokuro varieties, which are incorporated using redistilled vodka and infused gin. For a drink with zero coffee, its dark roasted notes is baffling yet intriguing.
For the pinnacle of tea culture, the bar serves a gyokuro cocktails course of four drinks made with the highest grade of green tea. They also sell spirits from rum to whisky that are infused or redistilled with different teas. "As mixologists, we can share the knowledge and history of tea, and update tea culture for people today," Takii said.
1 Nanson Rd, #02-07B InterContinental Robertson Quay, Singapore 238909. Book here.
June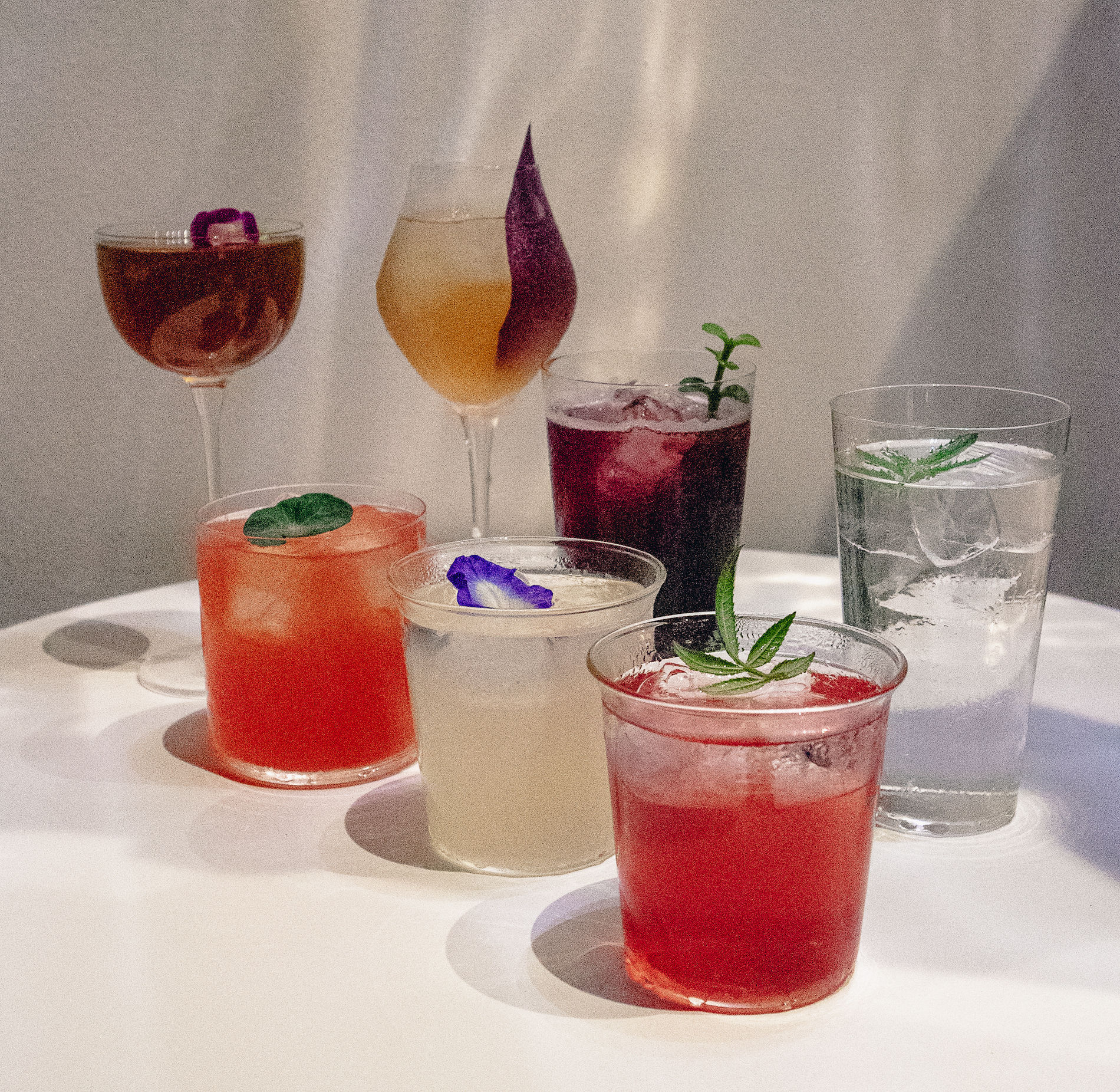 FiftyFive Coffee Bar
Cafes are typically dead spaces in the evening, but FiftyFive joins a growing pool of coffee joints who turn into a bar at night. Working with a local cocktail consultant, they came up with seven drinks inspired by Singaporean oil painter Liu Kang's "Boats," whose work currently hangs in FiftyFive's loft. The cocktails are all bubbly and named after the seas: the sparkling sake-based Atlantic is perfumed with lavender and merlot grape juice, while Mediterranean is characteristically briny with olive, apple cider, and prosecco. A fine place to go if you prefer your drinks lighter and more suitable to pair with elegantly flavoured dishes like scallop and truffle cappellini and chirashi don.
55A Neil Rd, Singapore 088892. Book here.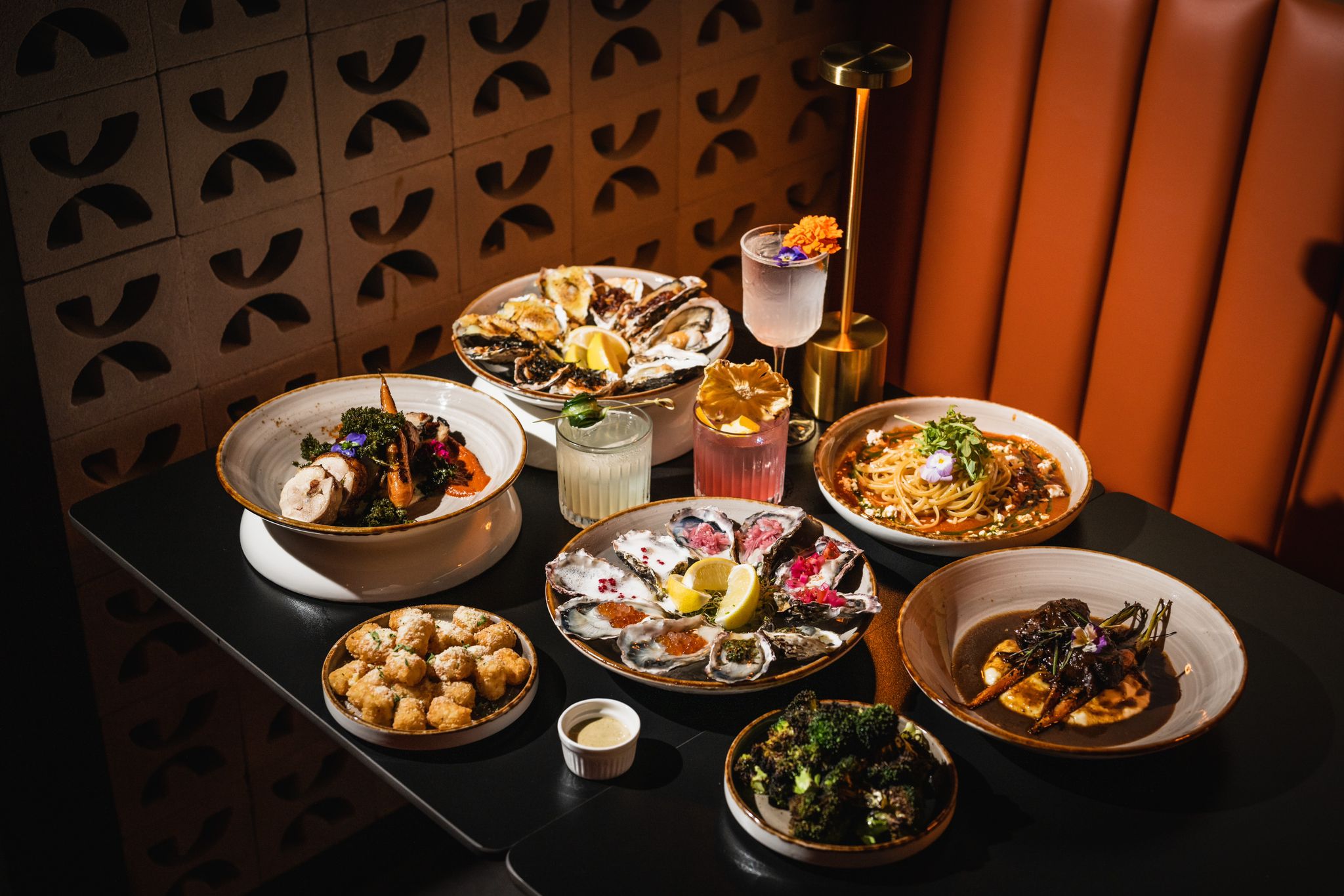 Joo Chiat Oyster House
Like FiftyFive, Kings Cart Coffee is another cafe that doubles as a drinking den. In their case, it is an oyster bar serving fresh bivalves from Japan's Hyogo Prefecture. They come in guises from plain to baked, and are ideal to knock back with Singapore-influenced cocktails like East Coast Plan (Hendrick's gin, mint, lime, and prosecco) and cold brew highball spiked with gin, curaçao, and pineapple juice. There are heavier tipples too, from the Not So Old Fashioned modernised with cardamom seeds, star anise, and gula Melaka, to the rum-based Solero, a play on the vanilla ice cream brand. Every Monday to Saturday from 5pm to 7pm, Joo Chiat Oyster House has a happy hour where house spirits and selected wines by-the-glass start at S$10 each.
328 Joo Chiat Rd, #01-05, Singapore 427585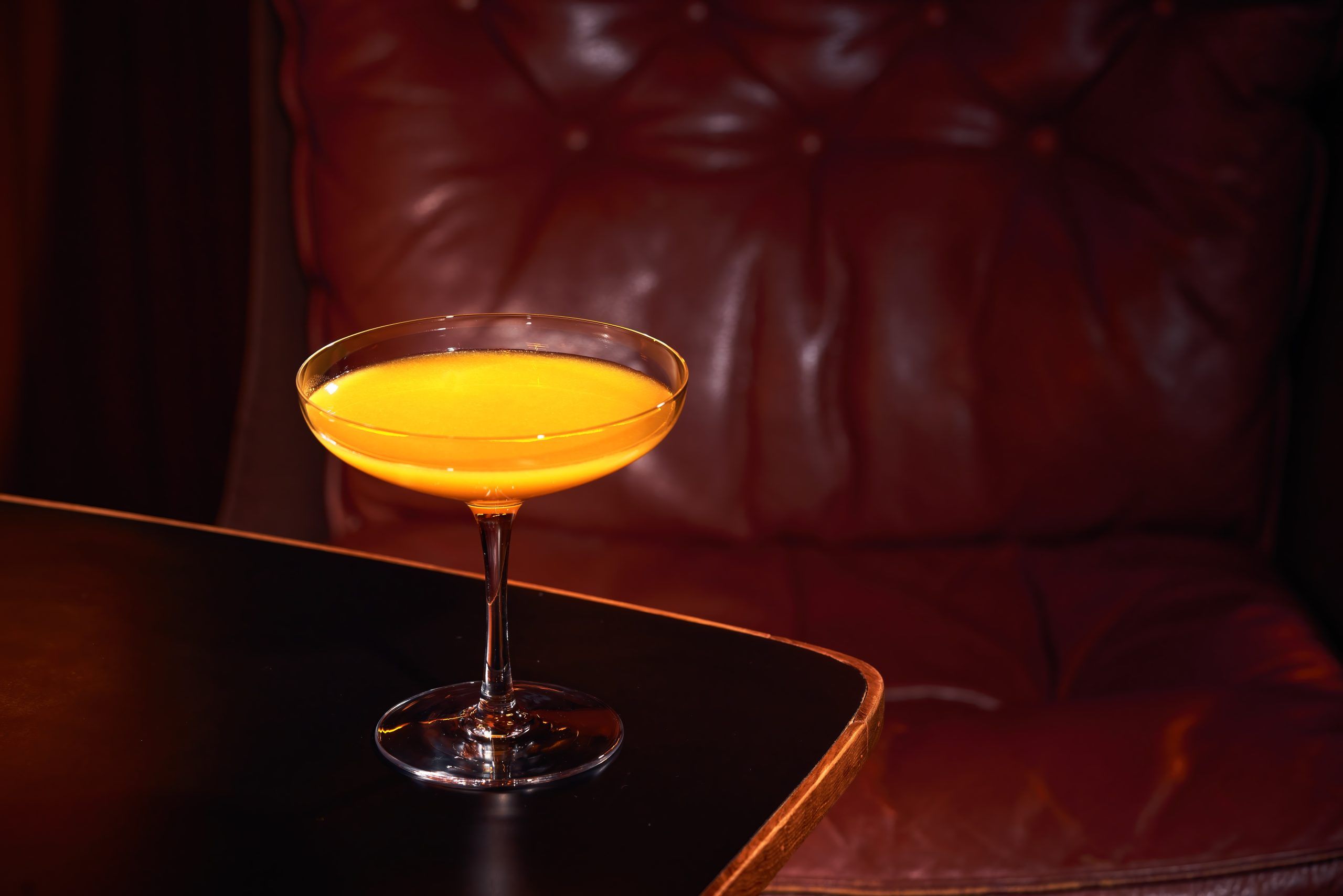 Live Twice
Live Twice's star is on the rise. They Jigger & Pony Group establishment was recently recognised as one of the best cocktail bars in Asia Pacific, and secured the 65th spot on the extended list of Asia's 50 Best Bars 2022. But the bar is not sitting still. They recently hired a new bartender, David Kim, and launched their latest cocktail menu with seasonal specials. The drinks under the inaugural category celebrate Japan's four seasons, such as the spring rain in Primrose (Macallan 12 yo Sherry Oak Whisky, sage and dill liqueur, and sandalwood tincture), while the summer sun shines brightly in Solaris, a cocktail made umami by tomato cordial and tare distillate. Like Jigger & Pony, Live Twice also sees fit to refine the classic Whiskey Cocktail into the Improved Whiskey Cocktail, which is polished with maraschino cherries and a touch of Tatsumi Distillery Absinthe.
18-20 Bukit Pasoh Rd, Singapore 089834. Book here.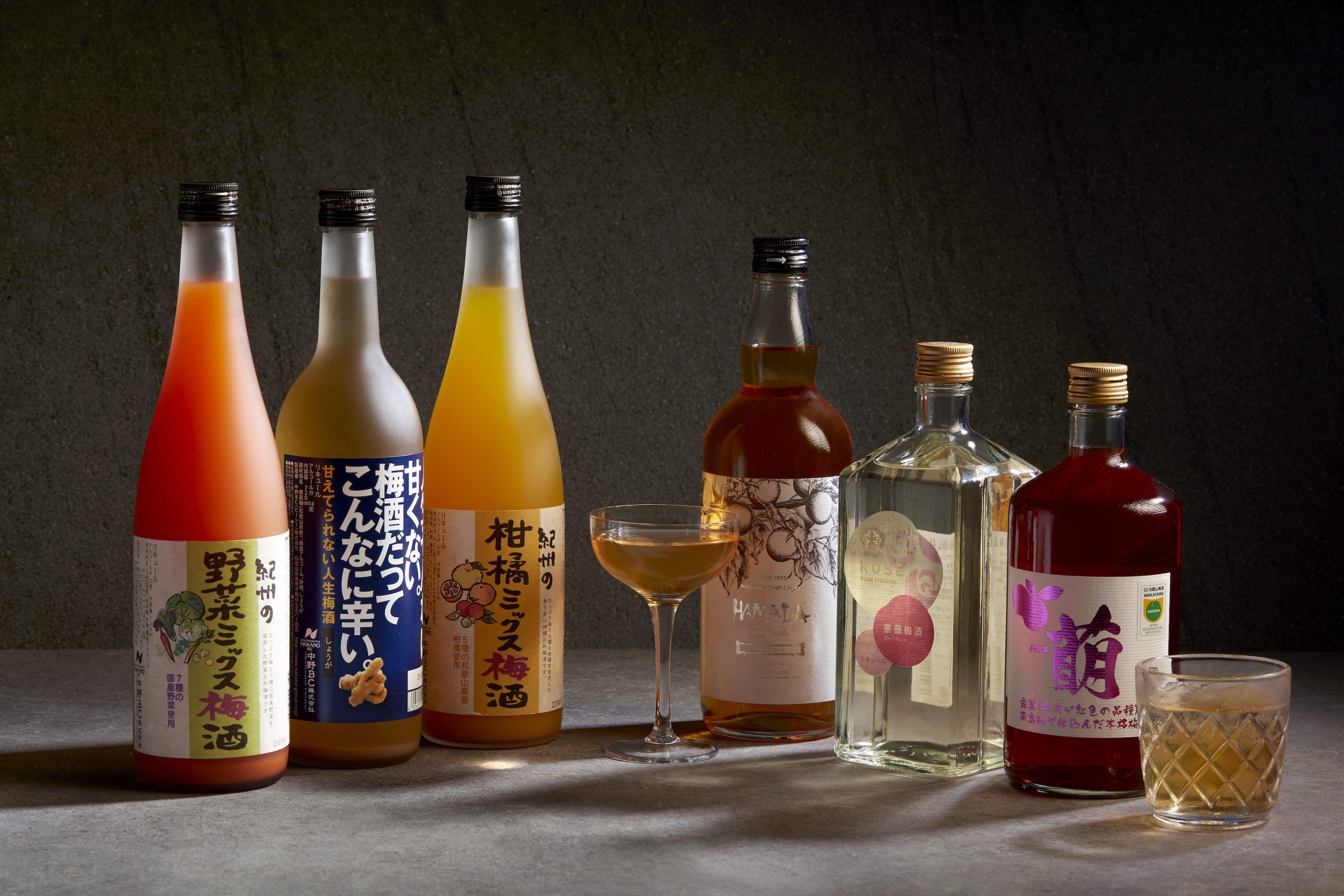 Ume San 100
Speakeasies behind vending machines are not new, but Ume San 100 brings a plum-flavoured perspective to the old idea. Behind a row of Japanese vending machines in Fortune Centre is a bar with the largest collection of umeshu in town, all hailing from from the liquor's birthplace, Wakayama Prefecture. There are varieties from light and sweet to rich and earthy, which can be enjoyed neat and in cocktails like Pot De Fleurs (umeshu, vanilla liqueur, cocoa powder, and elderflower syrup), and Sea Garden (gin, genever, lime, prosecco, butterfly pea flower, and edible fairy dust). More styles can be sipped through the bar's 30-plus umeshu highballs and the extensive Umeshu Bible.
190 Middle Rd, #02-07 Fortune Centre, Singapore 188979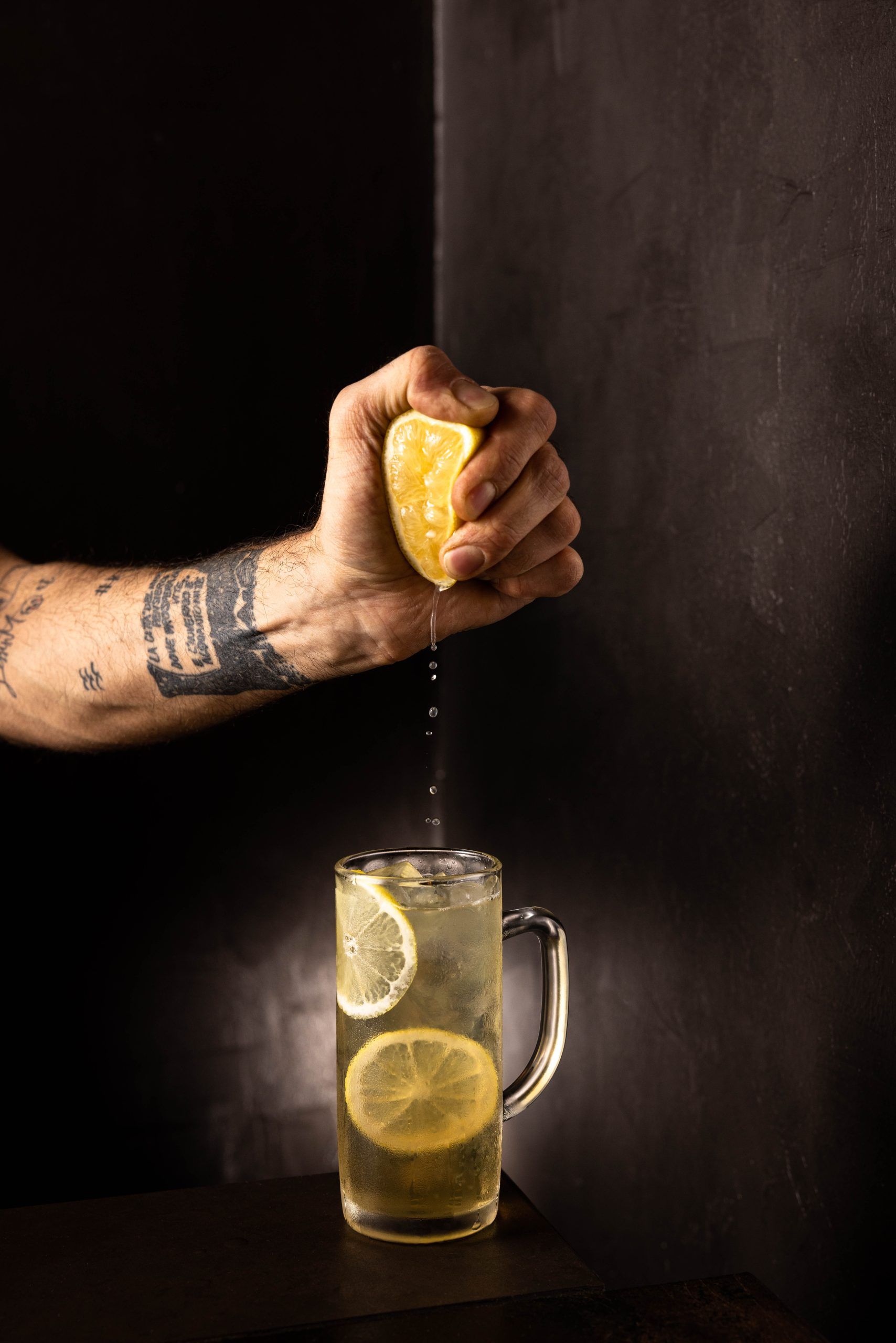 Neon Pigeon
Neon Pigeon has unveiled a new member of their flock in Mario la Pietra. The former St. Regis Hong Kong bartender is now responsible for drinks at the restaurant and bar, and he has taken to the task like a duck to water with a menu serving both cocktail enthusiasts and teetotallers. Each creation indicates whether it is zero proof, half proof, or full proof, and the max strength She No Lychee is a serious vodka drink that mimics the fruit's fragrance with Daiyame Imo Shochu 25, Sakura Vermouth, maraschino liqueur, and rose vinegar. For something with all the flavour and no alcohol, Calver San turns to Lyre's Agave Spirit, yuzu, sancho pepper, hojicha, and olive brine for an earthy, slightly peppery tipple with a hint of sweetness. Epic Sized Pitchers like Rose Lah (pandan shochu, vodka, gin, lemon, red berries tea, and sparkling wine) also ensure that bigger groups can touch down here.
36 Carpenter St, #01-01, Singapore 059915. Book here.
May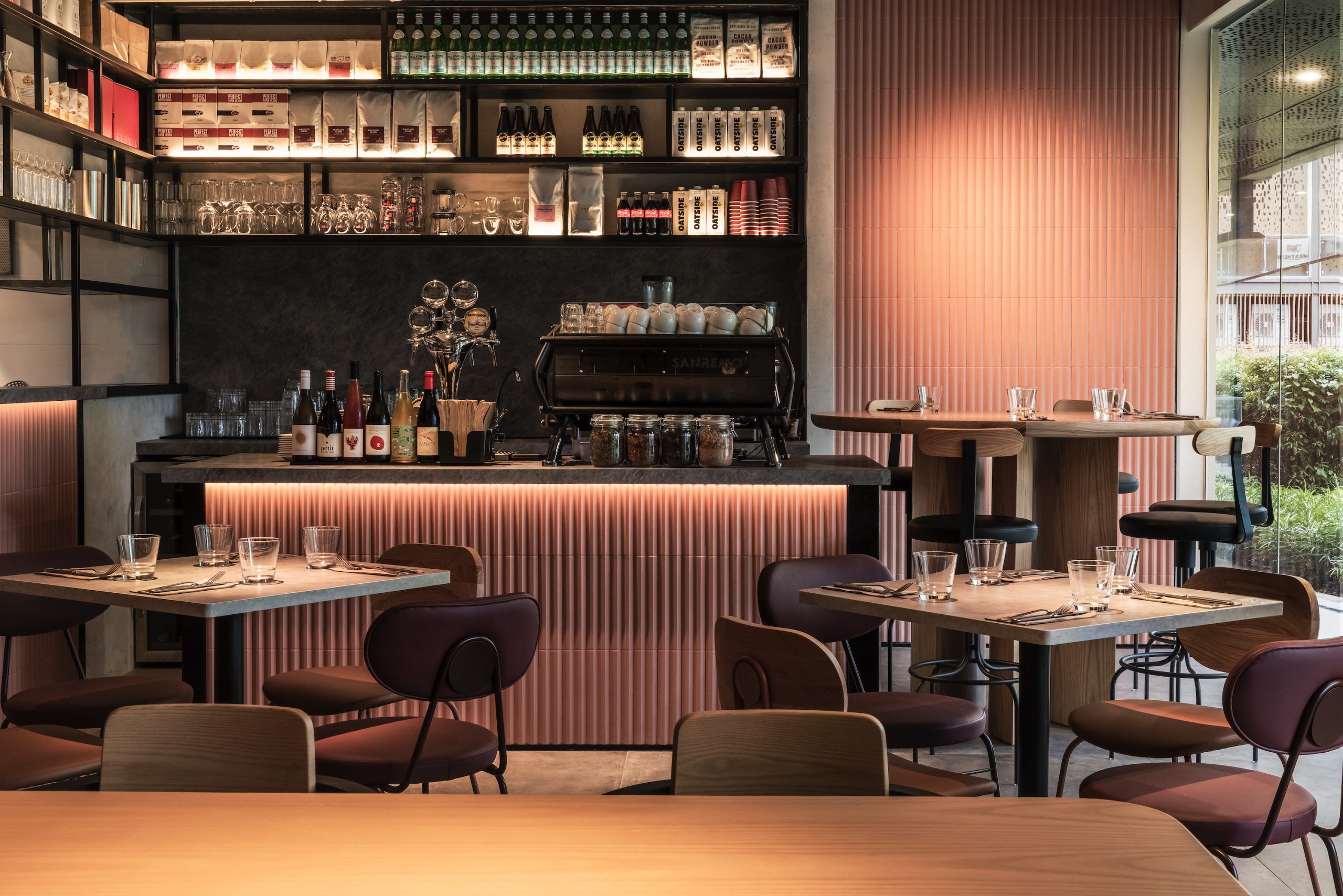 Elixir
Bukit Timah Cafe Elixir Coffee Roasters has reincarnated itself as Elixir, a restaurant and bar at Holland Grove. During the morning, they serve brunch items like brûléed French toast and Ozzies – avocado, pickled tomato, and dukkah, while the afternoon offers a shaved cheese called tête de Moine with poached apricot and fried walnut, and baby octopus fritters with black aioli. Sourdough pizzas are also a highlight, including the signature Not-carbonara, and Hot Mama with spicy Calabrese salami and house-made chilli crisp. To drink, the tight wine list has eclectic bottles from Chandon Garden Spritz, a sparkling wine with flavoured with oranges, to a crunchy cabernet franc from Loire.
24 Holland Grove Rd, #01-18, Singapore 278803. Book here.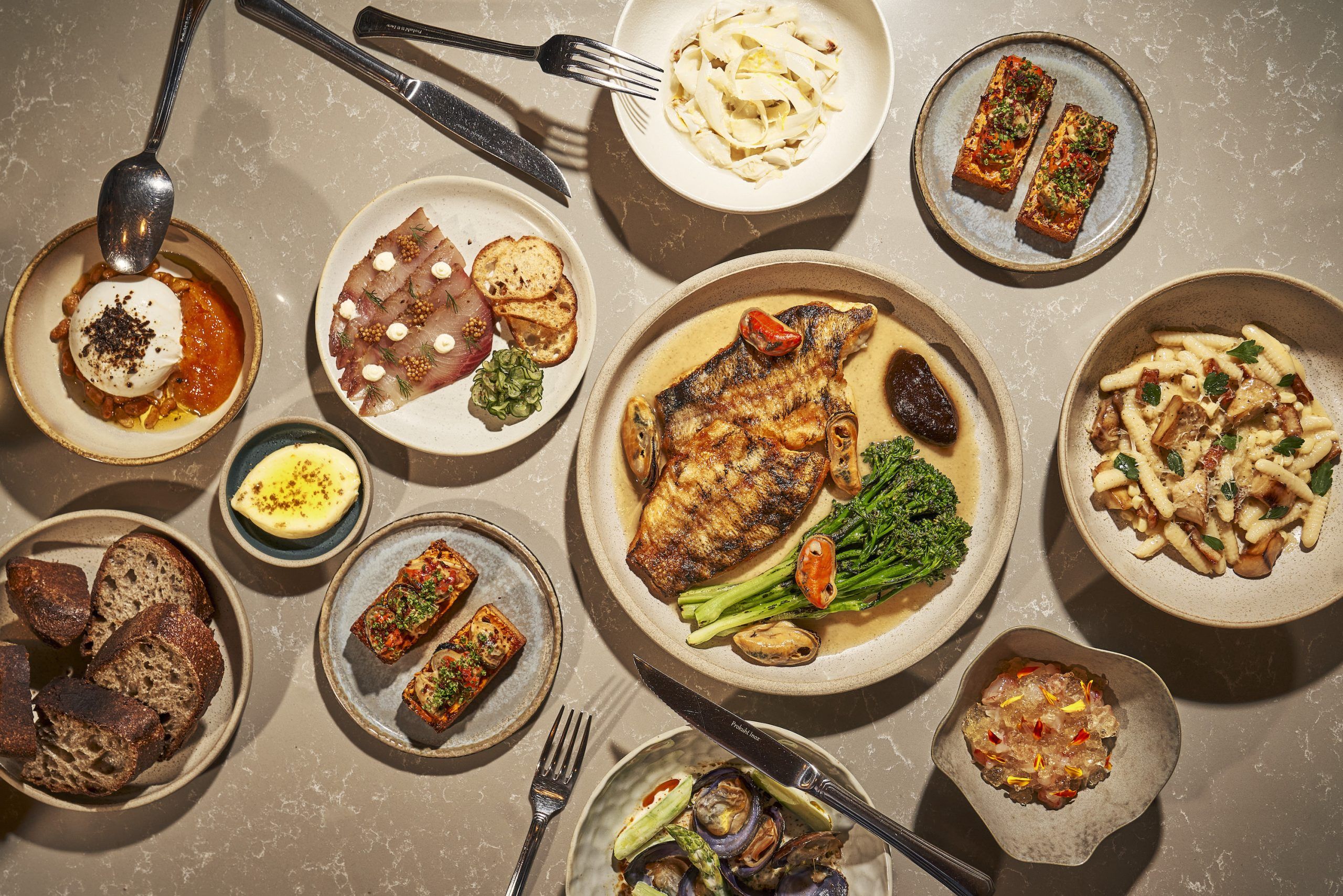 Humpback
Seafood bar Humpback has breached the surface after a two-month long renovation. Compared to the previous iteration, the new Humpback is slicker and more diverse in its food and drinks offering. Led by chefs Alynna Tan and Joseph Teoh, oysters are still a mainstay, with three varieties ranging from crisp to briny and sweet, while snacks, small plates, and large plates are illuminated by deeply savoury house-cured hamachi pastrami, and a scintillating white asparagus with blue crab and white miso, and marble goby with roasted broccolini and juicy, sake-cooked mussels. The 60-plus strong wine list reads like a Spotify playlist, with It's (Almost) Always Sunny in Bukit Pasoh dropping breezy hits like a dry furmint from Hungary – more commonly used to make the dessert Tokaji wine – while Tingle My Palate fizzes with bubbly wines.
18-20 Bukit Pasoh Rd, Singapore 089834. Book here.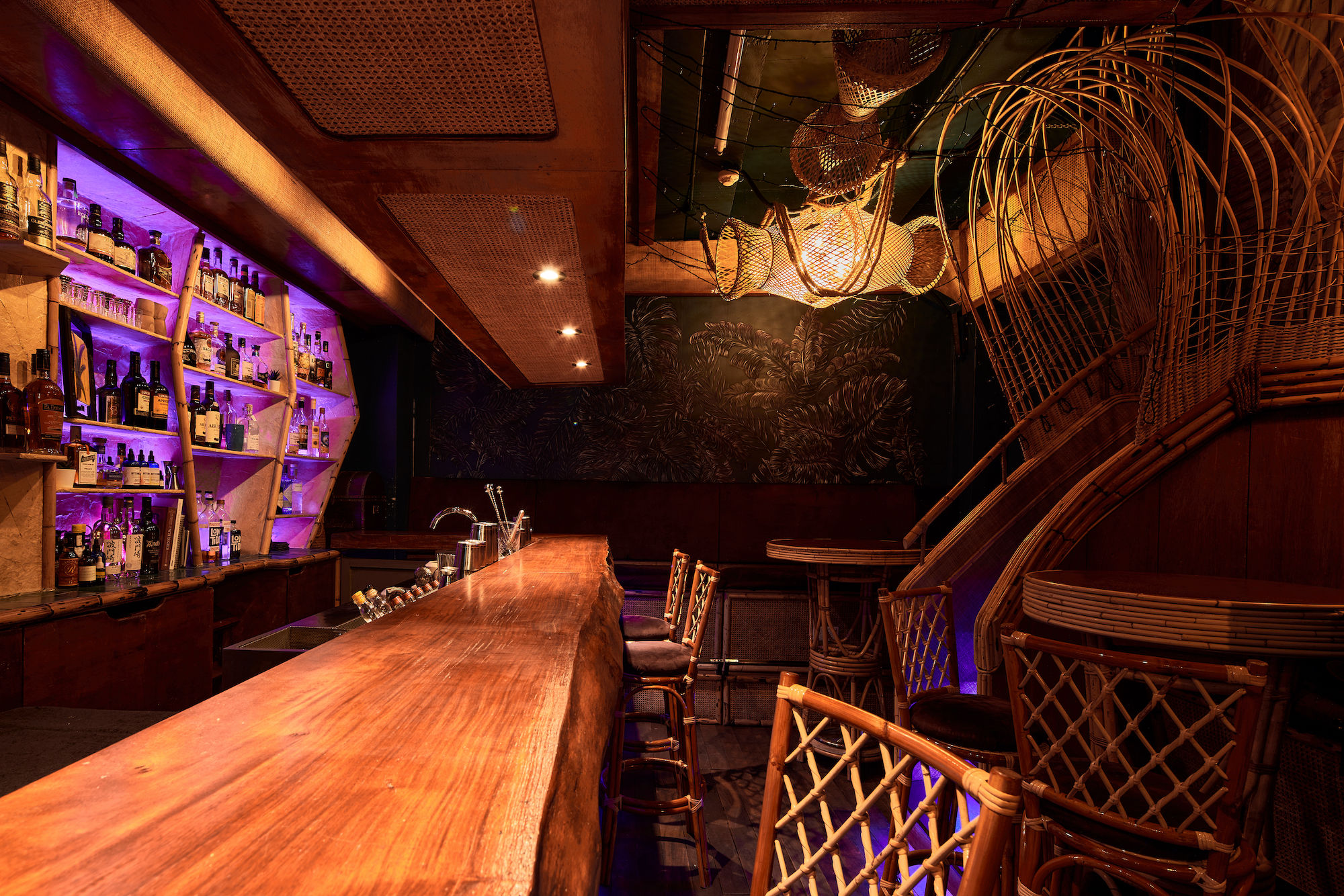 Low Tide
Low Tide's new food and drinks menus are inspired by Southeast Asia's rich heritage with a sprinkling of other sea-faring cultures including the Caribbean, East Africa, and Japan. At the street-level Top Side, nasi ulam is remixed with torched pineapple, coconut flakes, and pomegranate, and stingray is cooked with miso butter with grilled okra and curry assam, both joined by equally sunny cocktails such as a carrot and gin Colada, and Grape Intentions, a vodka martini with red grape cordial. Head inside and down into The Cave, where the tropical speakeasy has a menu of six cocktails by bars with similar leanings, including Bangkok's Tropic City and Junglebird from Kuala Lumpur.
98 Club St, Singapore 069467. Book here.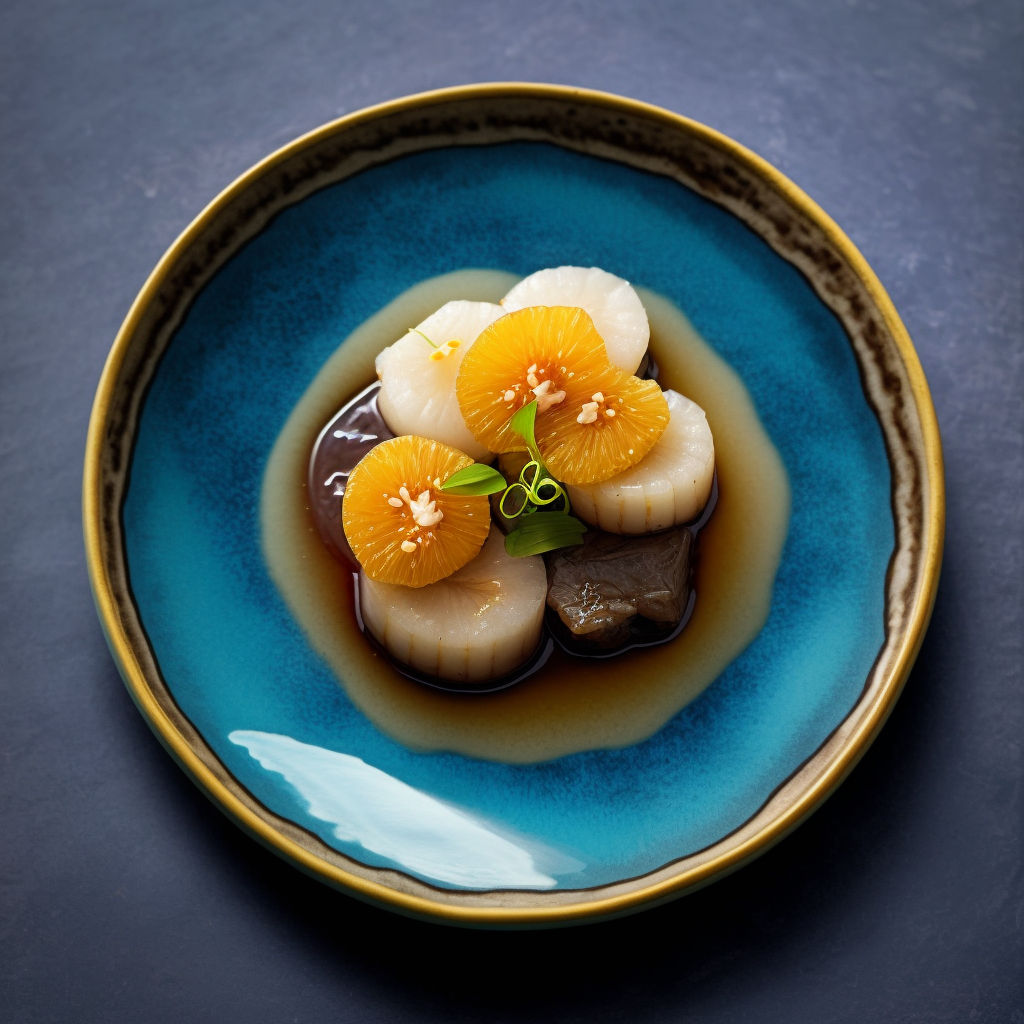 Spectre
Just upstairs from Low Tide is Ghostwriter, an F&B incubation space that lets restauranteurs and bartenders experiment with concepts for a month. For May, they play host to Spectre, a vintage apothecary bar with the Japanese approach of "kintsugi," a practice of putting broken pottery back together with gold and a metaphor for celebrating imperfections. The food is led by MasterChef Singapore finalist Inch Chua, who has come up with dishes such as Eurasian Feng – pork shoulder, dry curry, rice cracker, and pickles – ossobuco kueh pie tee, and smoked stingray pasta, while Beam Suntory Regional Ambassador Andrew Pang is responsible for cocktails like Retrospect, a martini with Benedictine D.O.M. and olive oil, and Lend a Hand, helped along by spiced rum, coffee liqueur, and orange.
98 Club St, 2nd floor, Singapore 069467. Book here.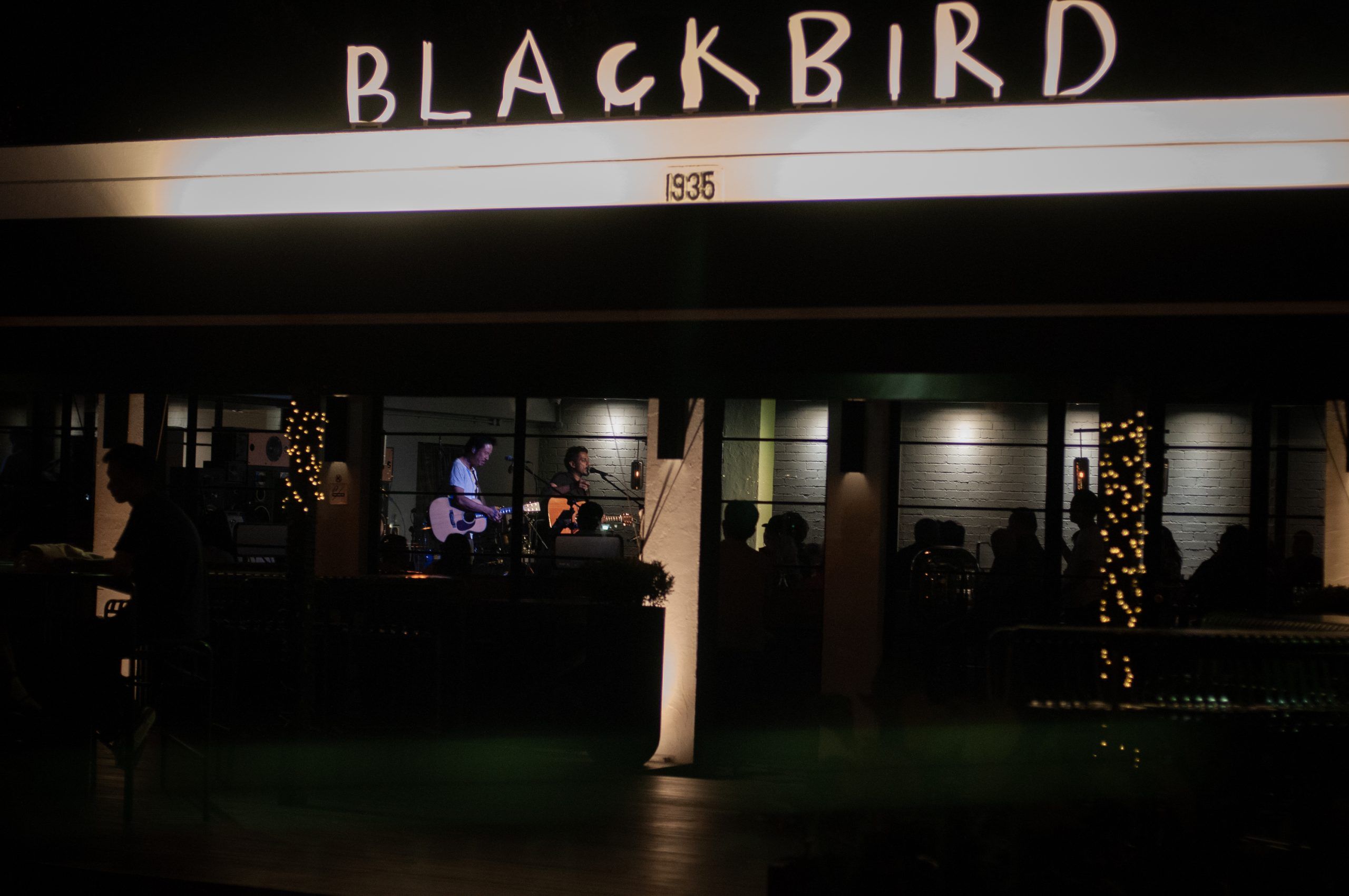 The Blackbird
After two years of pandemic absurdity – remember when we couldn't have music in bars? – The Blackbird is a big return to lyrical normality. Founded by four people in the food, music, and arts business, the Gillman Barracks venue has a music lineup features a variety of genres, from classic tributes to funk, soul, and blues, performed by local musicians and bands. The menu offers straightforward Western-style cuisine and bar bites: think fresh onion rings, chicken wings, pizzas, and fish and chips, while the drinks menu has a wide selection of draft beers, cocktails, and wine.
8 Lock Rd, Singapore 108936. Book here.
April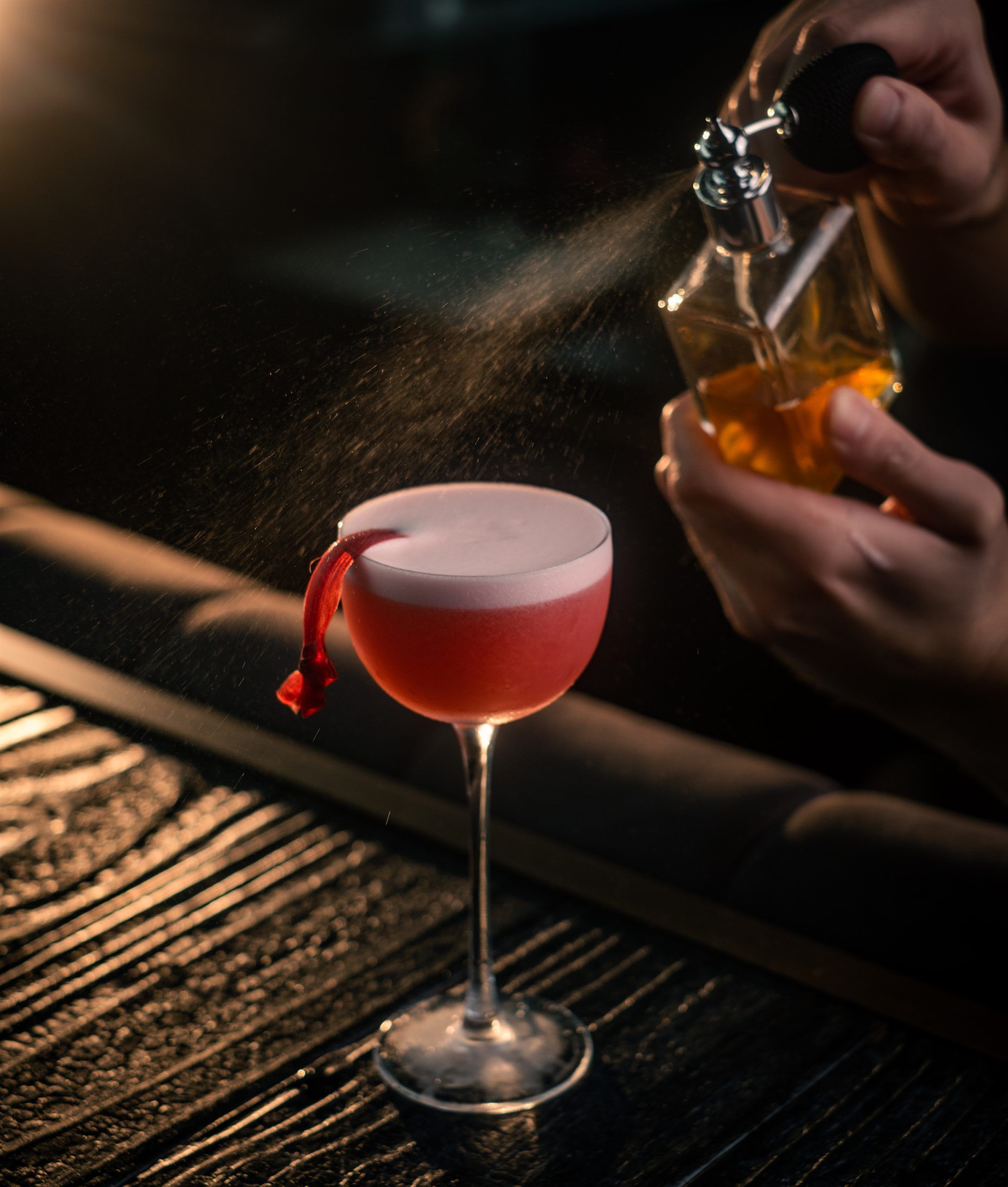 Aniba
If the live action remake of "The Little Mermaid" needed a nightclub scene, Aniba is the ideal stage. The hallway is lined with iridescent scale-shaped tiles, and the stark contrast between light and dark sets the mood for a swanky deep-sea lounge. Of the 16 cocktails inspired by North Africa, the Middle East, and Asia, highlights include the Negroni-based Sirocco with date-infused sweet vermouth, while Helena is a Martini made zesty and herbaceous by tarragon and grapefruit. The wine list is just as interesting for featuring bottles from Israel, including a silky red blend that Bin Nun Winery labels exclusively for Aniba.
6 Battery Road, Bonham St, #05-03 Private lift from Riverfront Entrance, Singapore 049909. Book here.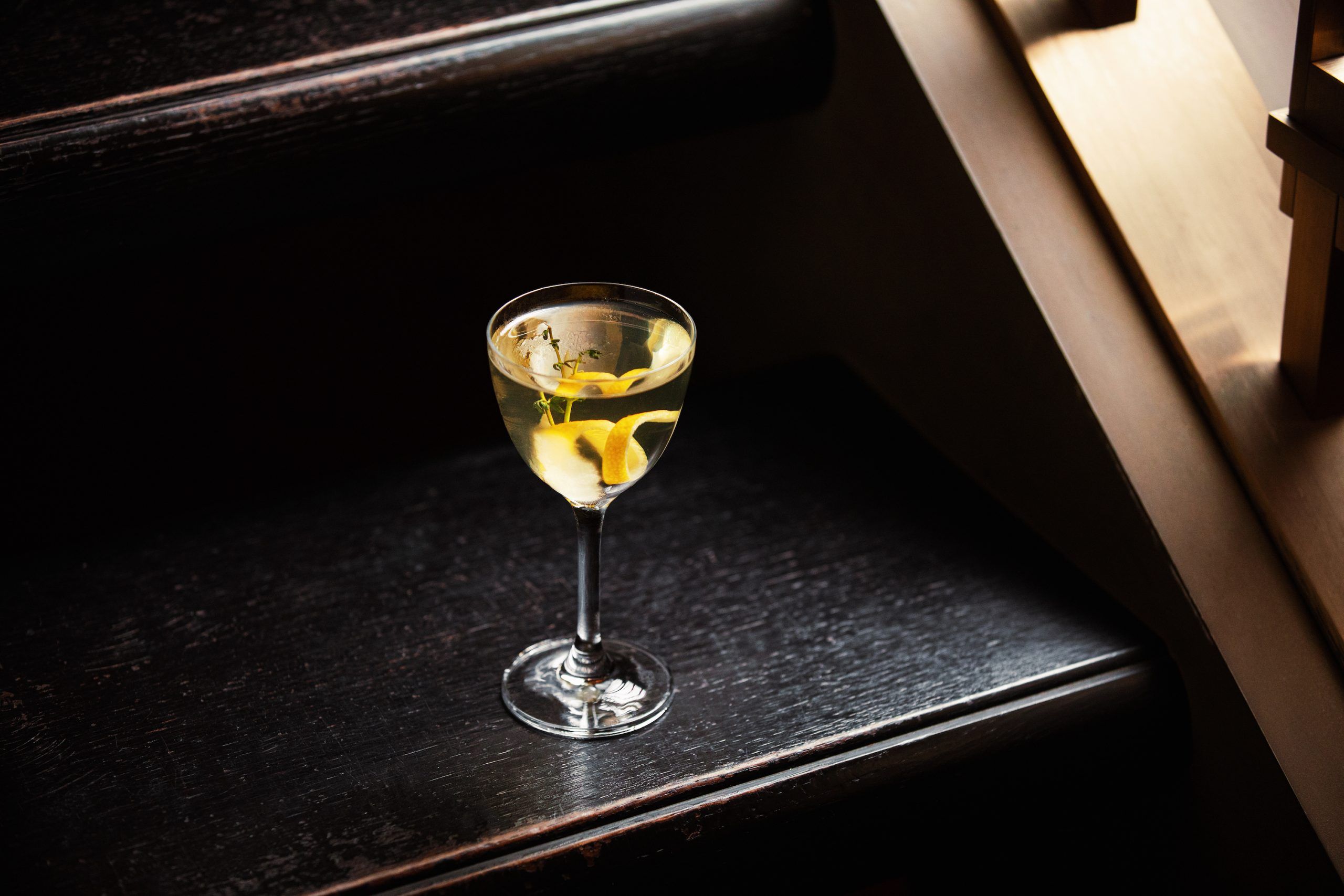 Atlas
Very few bars can match the grandeur of Atlas, and it is almost expected that its cocktails are just as opulent. Yet Atlas bravely dials back the pomp for its new Simple Pleasures menu. The latest offerings delve into four classic cocktails – the Martini, Sour, Old Fashioned, and Champagne Cocktail – with five drinks under each style ranging from Atlas' version to modern interpretations. Under Sours, Ode To Odyssey simplifies the notoriously labour-intensive Ramos Gin Fizz by using egg white substitute while keeping it light and creamy, while Occidental enriches the Martini with limoncello. The bar pays just as much attention to non-alcoholic drinks, with Hope on the Horizon showing champagne is not always necessary when you have a vivacious yuzu-lavender kombucha.
600 North Bridge Rd, Parkview Square, ground floor, Singapore 188778. Book here.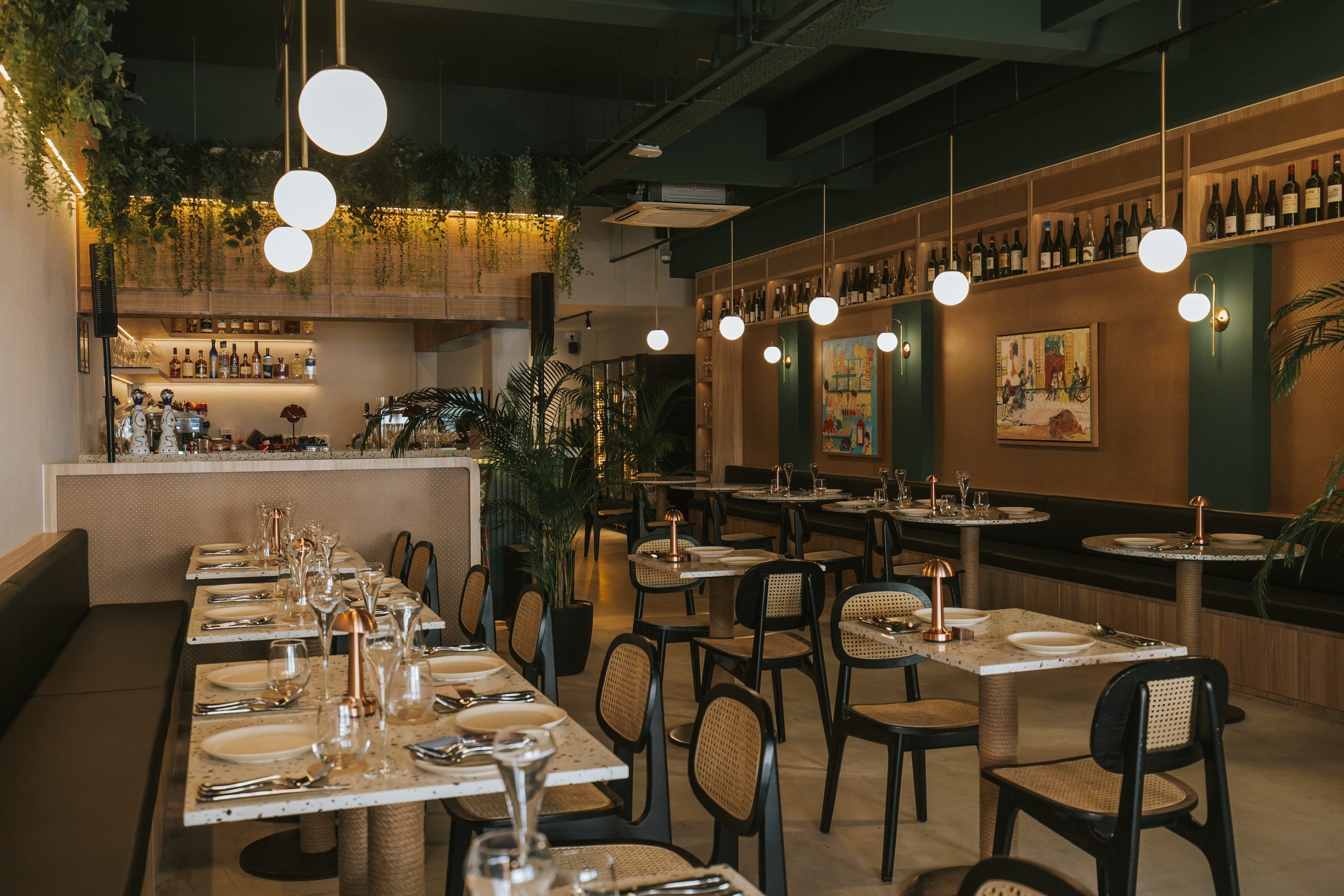 Salt & Palm
Joo Chiat gets even cooler with the opening of Salt & Palm. The venue was created by Mark and Natasya Soetantyo, two siblings who first opened in Sydney in 2018 before branching out here in March. Dishes include mushroom rendang, Balinese babi guling presented porchetta-style, and pandan coconut creme brûlée, while the wines range from a naturally-made pet nat chardonnay to a grippy Super Tuscan. Like the food, cocktails emphasise the Nusantara connection from spiked cendol to Kecup Manis, which tops pandan-infused rum and cold brew coffee with sweet soy sauce.
467 Joo Chiat Rd, Singapore 427678. Book here.
March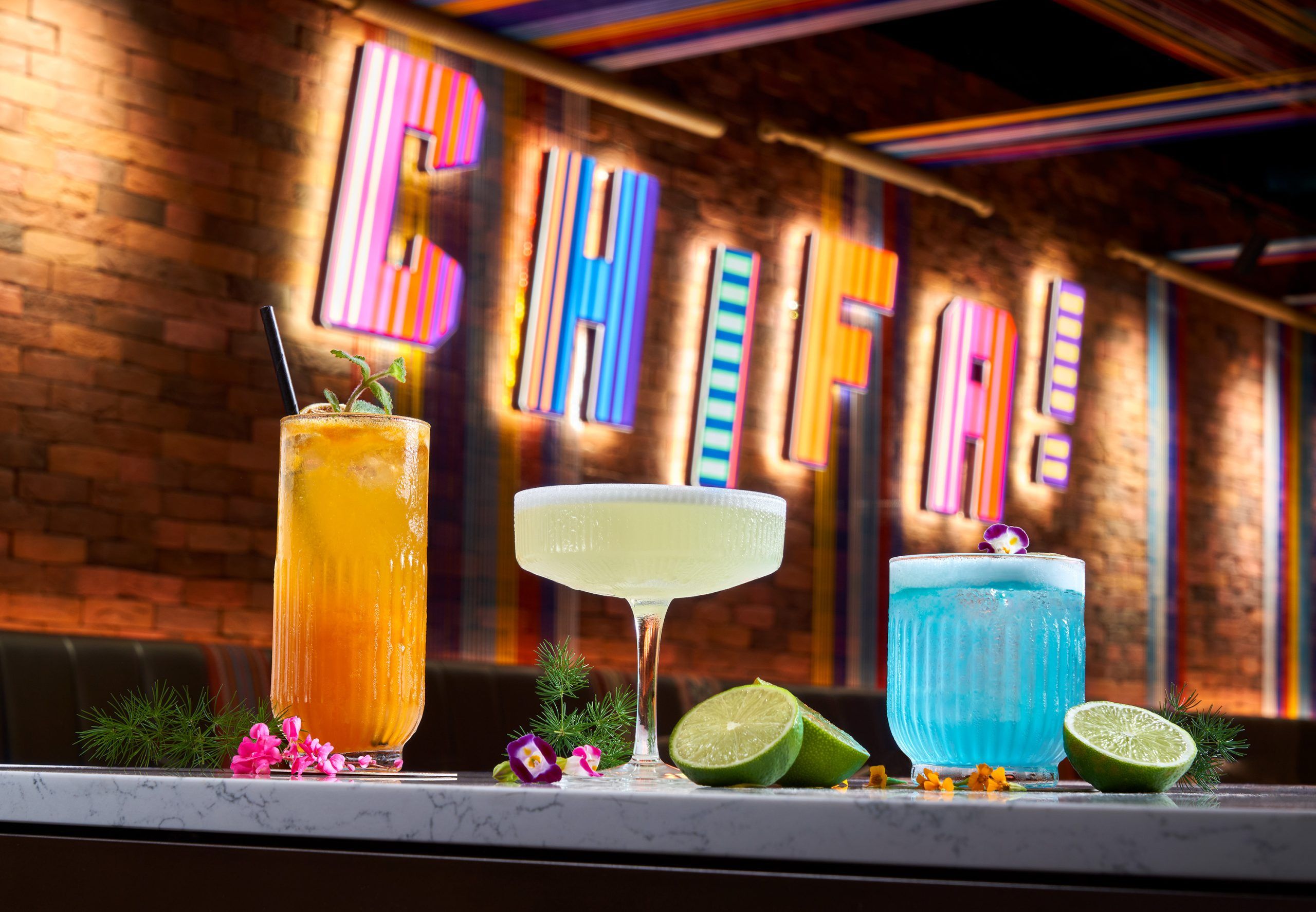 Chifa!
Asian immigrants in Peru gave the South American country more than just Nikkei food, as Chifa! demonstrates. The new concept at Resorts World Sentosa is named after the term for Peruvian-Chinese cuisine, which they have translated into dishes like yellowfin tamarind ceviche and wok-fried seafood XO aeropuerto (quinoa and jasmine rice with seafood and seasonal vegetables sautéed in XO sauce). To drink, Peru's national spirit pisco is showcased in cocktails such as the ginger ale and passionfruit Chicano de Chifa, and with condensed milk in Leche de Monja.
Resorts World Sentosa, 8 Sentosa Gateway, Ave8, Singapore 098269. Book here.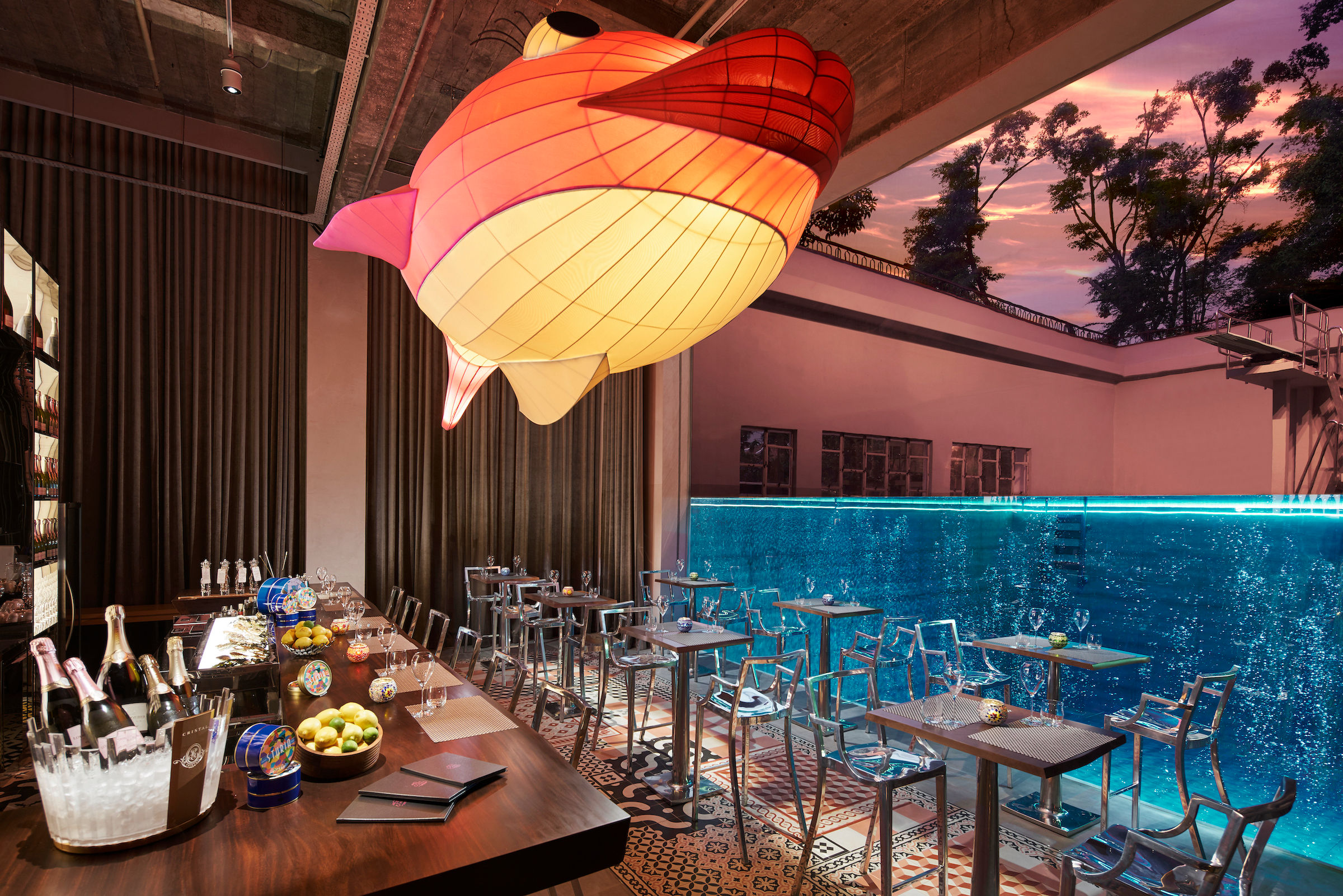 Fish Pool
You can drink with the fishes once again at the refreshed Fish Pool. The NCO Club venue now has a list of cocktails inspired by the tropics and its surrounding elements. Ocean Inspiration takes cues from the sea with two kinds of whiskies, tropical house mix, and oyster saline tincture; while Mori Ne Geijutsu looks inland with junmai sake, orange liqueur, and sparkling fruit sake. There is also R&T Heights, a spirit-forward, clarified cinnamon rum- and tonic-based blend. The raw bar also has new seafood dishes featuring Asian, European, and Latin American flavours, and a nightly underwater performance by Singapore's first mermaid performer, Syrena.
32 Beach Rd, The NCO Club, Singapore 189764. Book here.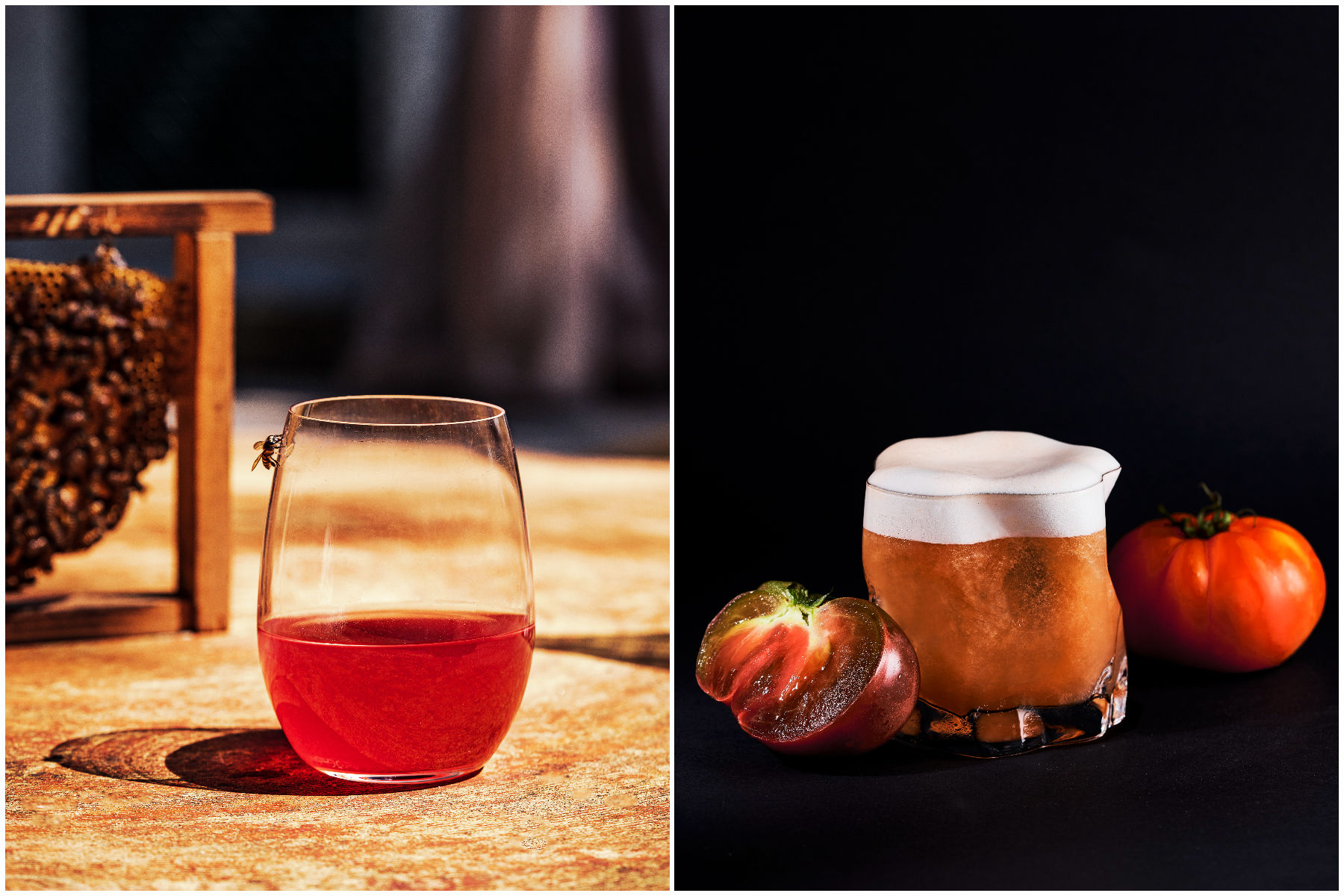 Jigger & Pony
Jigger & Pony marks its 11 years in operation with a cocktail menu titled Identity, which traces the evolution of Singapore's best bar and muses about its future. Topics like sustainability are explored through the Ugly Tomatoes cocktail, which uses unsellable heirloom beefsteak tomatoes and mixes it with gin, and a house-made herbal liqueur called kummel. Local produce is also celebrated in Honey Magnum, featuring raw honey from a Singapore beekeeper, together with bourbon, strawberry wine, and beetroot. The drink is then aged in beeswax to impart a slicker texture.
165 Tanjong Pagar Road, Amara Hotel, Singapore 088539. Book here.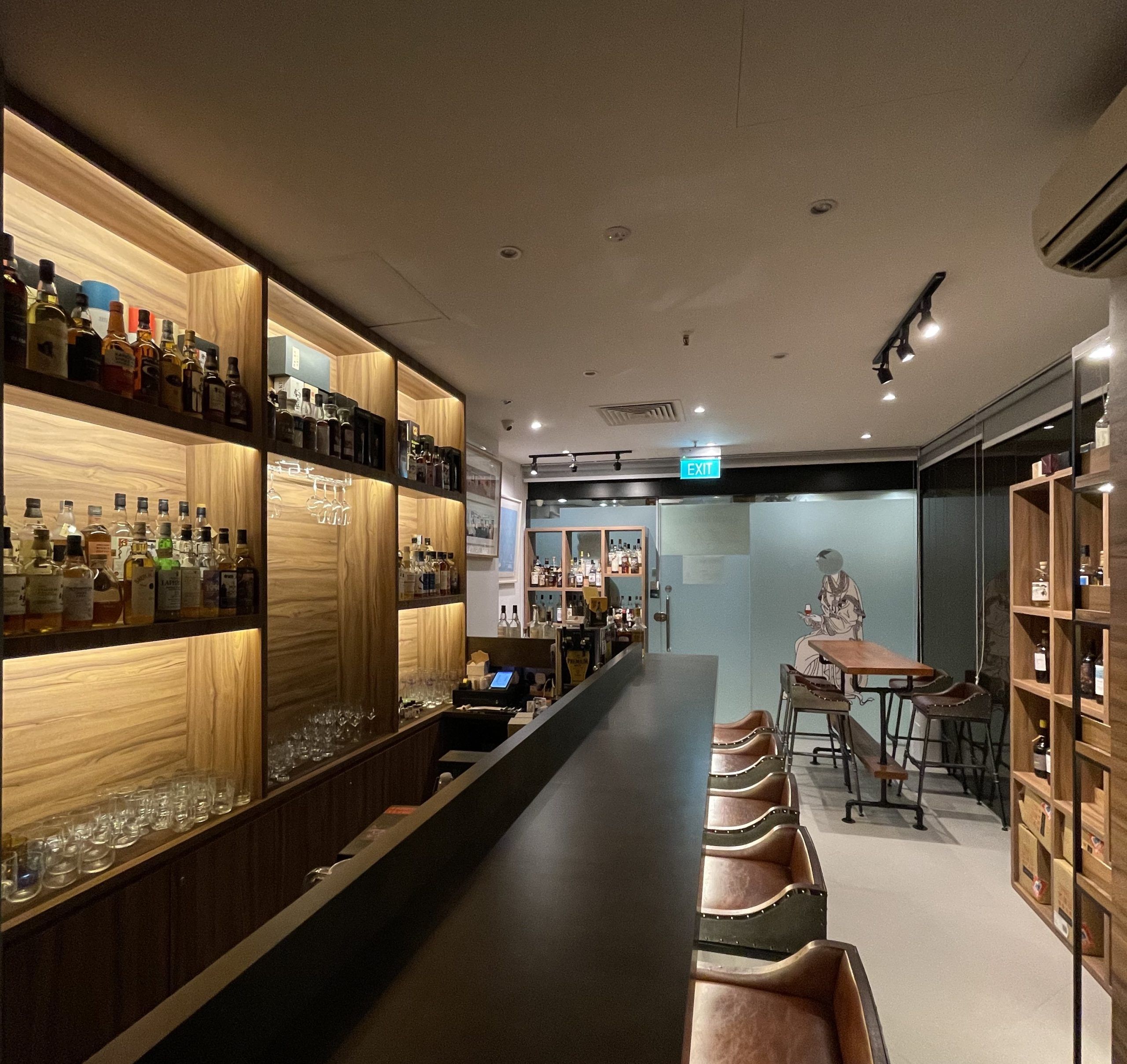 Samsu Huay Kuan
Samsu gets its name from a moonshine-like Chinese rice liquor, but the alcohol here are slightly more refined. They carry an extensive range of independent bottlers of whisky and rum, as well as collectible and rare spirits from around the world. A recent lineup include special anniversary whiskies for Bar Tarlogie Sona in Osaka, and Kornog single malts from Glann Ar Mor distillery in Brittany, France. The goal, however, is to keep things approachable. "Sometimes, visiting a whisky bar can be a daunting experience with lots of bottles to choose from," said founder Jeremiah Kee. "We have kept prices affordable and accessible for all who are curious."
100 Orchard Rd, #02-33 Concorde Hotel & Shopping Mall, Singapore 238840. Book here.
February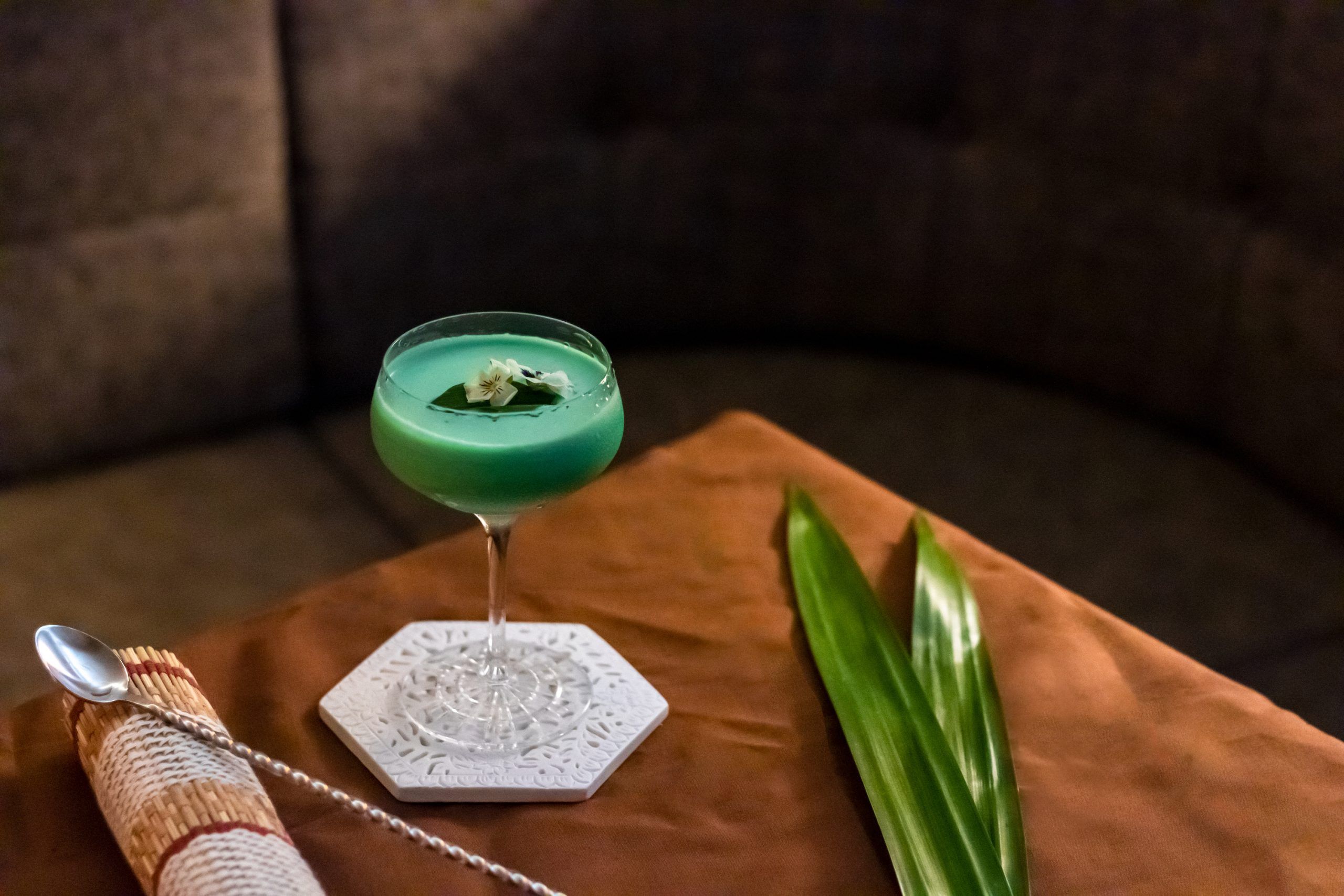 Sarai
Fine-dining Thai restaurant Sarai has revamped itself with a new food menu, interior, and bar programme. Helmed by Chimkit "Lisa" Khamphuang, the à la carte and tasting menus draw upon dishes popular among the Thai royal family such as deep-fried wagyu beef with sticky rice, dried prawns and wild ginger wrapped in betel leaves, and roasted duck soup with young coconut and shiitake mushroom. For drinks, different regions of Thailand are represented by nine cocktails such as the Pandan Grasshopper (rum, peppermint liqueur, pandan, and coconut milk) and Floating Market (vodka, caramel, calamansi, and chocolate).
163 Tanglin Rd, #03 – 122 Tanglin Mall, Singapore 247933. Book here.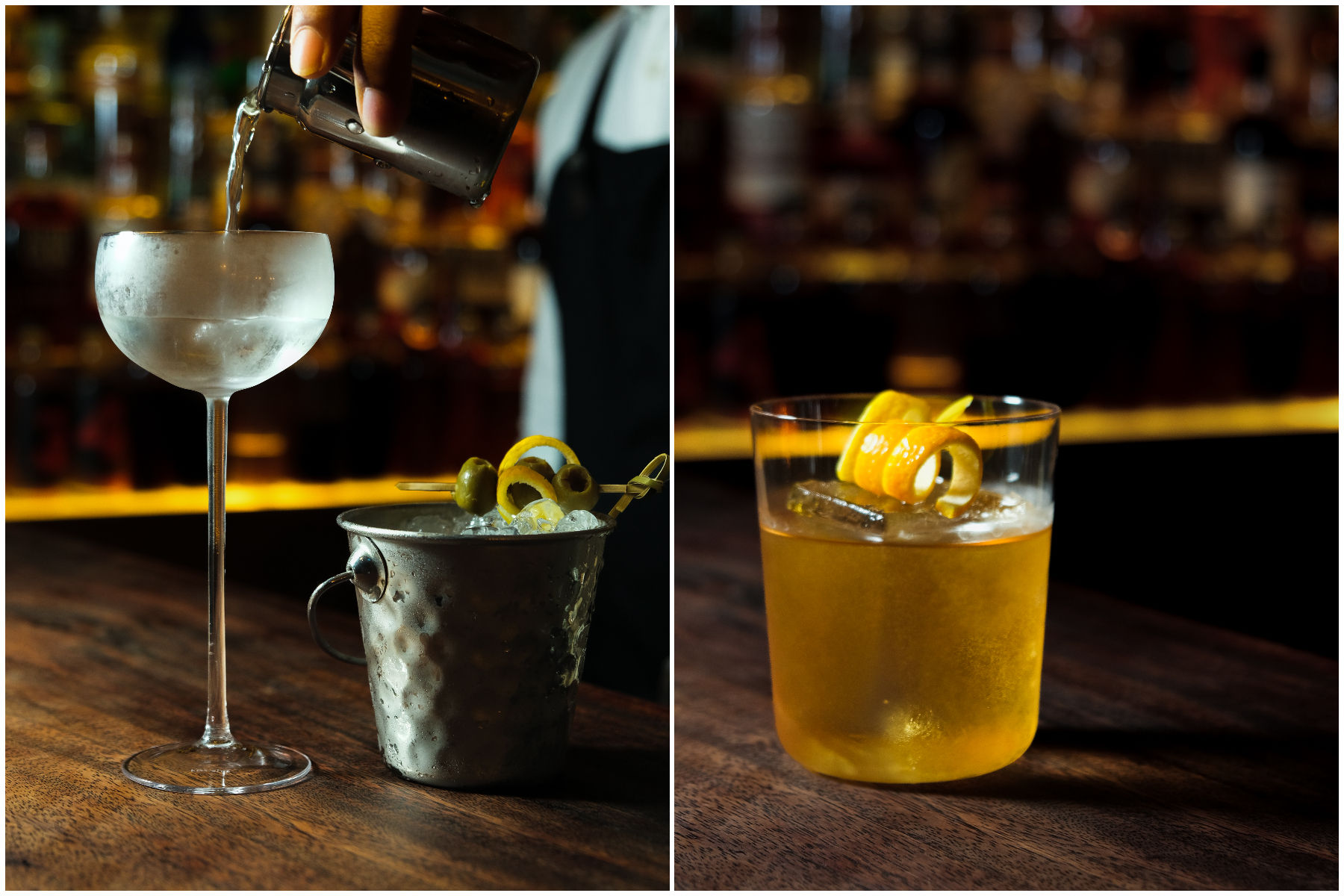 Underdog Inn
Underdog Inn rides on its dark horse appeal to upend Singapore's bar scene. Opened by the same people behind Low Tide, Sago House, and Ghostwriter, the venue took over previous tenant Burger Bar, kept its 18 taps, spruced up its New York tavern interior, and added open hearth cooking. Chefs Peter Smit and Graeme Goronovsky are responsible for nose-to-tail dishes like pig's head scrumpet and bone marrow mash, while bartenders Jay Gray and Lee Rizali are serving 12 cocktails on draught including Martini and Old Fashioned, which can be adjusted to taste. The rest of the taps are taken up by six beers on rotation, and they also have a tight list of French and Italian wines.
115 Amoy St, #01-03, Singapore 069935. Book here.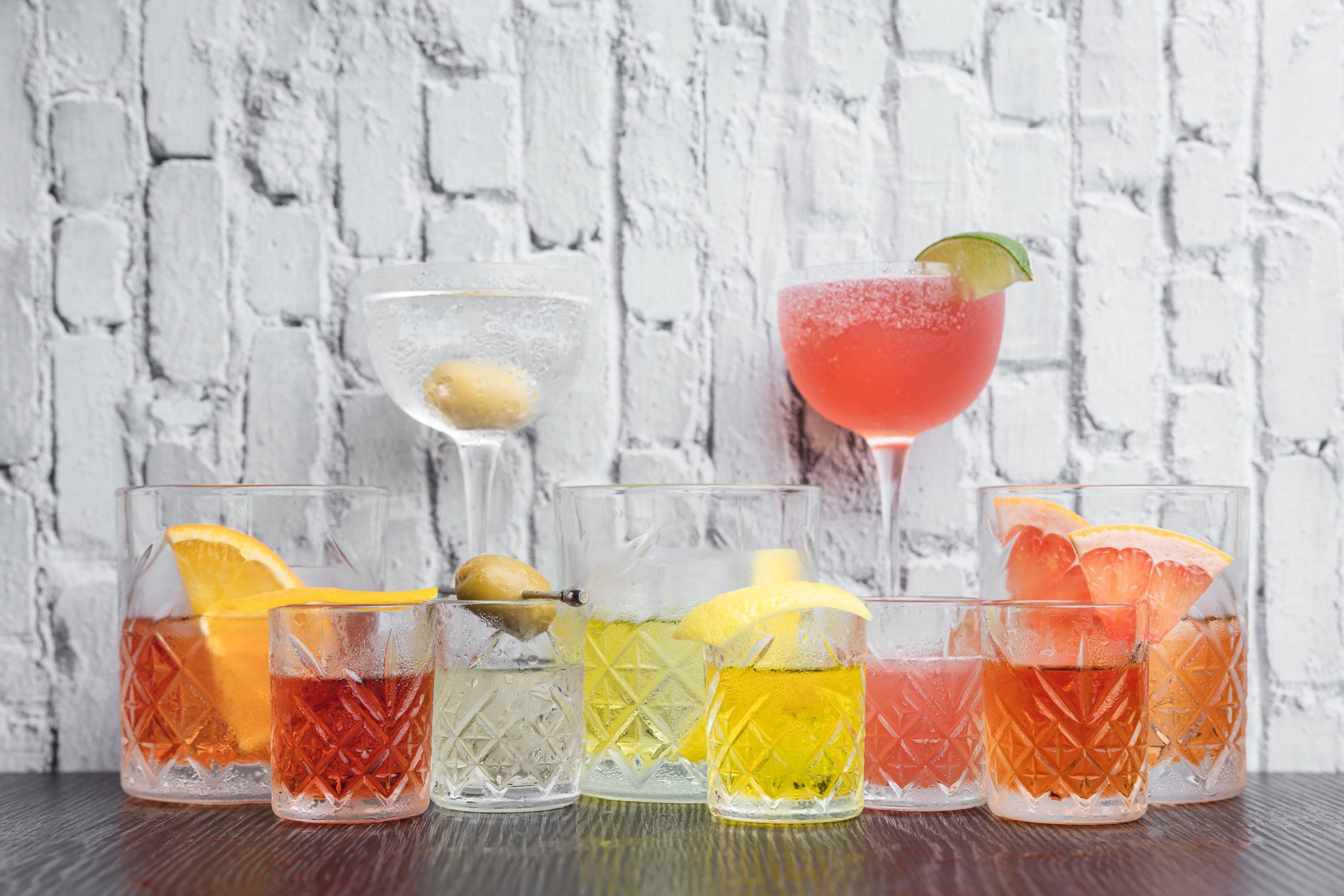 Wildfire Burgers
Wildfire Burgers slowly spreads around Singapore with its third location at Robertson Walk. Replacing Lil' Tiger, the newest branch serves crowd favourites like the Classic 001 cheeseburger and The Eggstarter, as well as two new dishes: chargrilled Argentinian grain-fed Angus striploin and chopped Caesar salad. What the latest outlet does differently is offering a bar programme. The venue has cocktails like Mezcal Negroni and Daiquiri in a one-shot format for S$9++, or in a flight of six for S$48++. Full serves are also on the menu, as well as highballs, craft beer, and American wine.
11 Unity St, #01-07, Singapore 237995, Book Here
January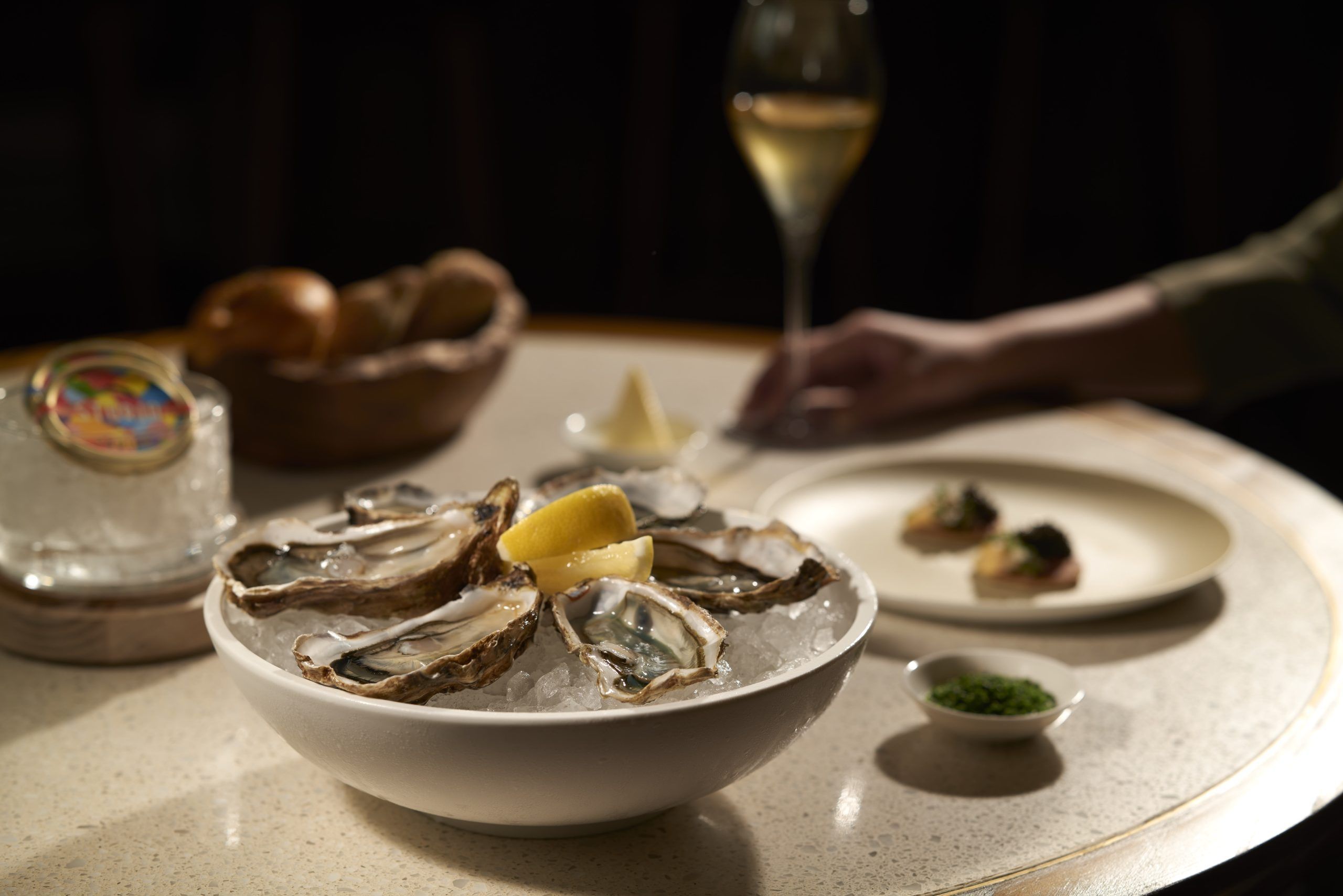 Chef's Table: Oyster and Champagne Bar
Capella has revamped its private dining space, Chef's Table into the Oyster and Champagne Bar. With wicker furniture, copper pots, and a raw bar, it resembles a bistro in an expensive home.
The concept allows diners to try five kinds of oysters side by side. Of the three French Fine de Claire varieties, the balanced and mild Vertes separate the assertive David Hervé from the delicate Saint Kerber. Irish Kelly oysters are fatter, and Canada's Fanny Bay has a quiet tang.
Russian, French, and Chinese caviar can also be sampled back to back. Chef's Table supervisor Marie Pusung described them in terms of a film. "The Kaviari is like an action movie, while the Oscietra is a love story. The Sturia Vintage has a bit of both."
Available by the glass, Roger Coulon Heri-Hodie Premier Cru is a non-vintage champagne that mixes aromas of marzipan and green apple with a sharp finish. Another popular option is the Jean-Louis Vergnon's Eloquence, which offers notes of red apple and almond, plus a hint of umami. The latter is sumptous with items from the Chef's Reserve Platter, especially rich Japanese sea urchin and intensely sweet Alaskan king crab legs.
1 The Knolls, Singapore 098297. Book here.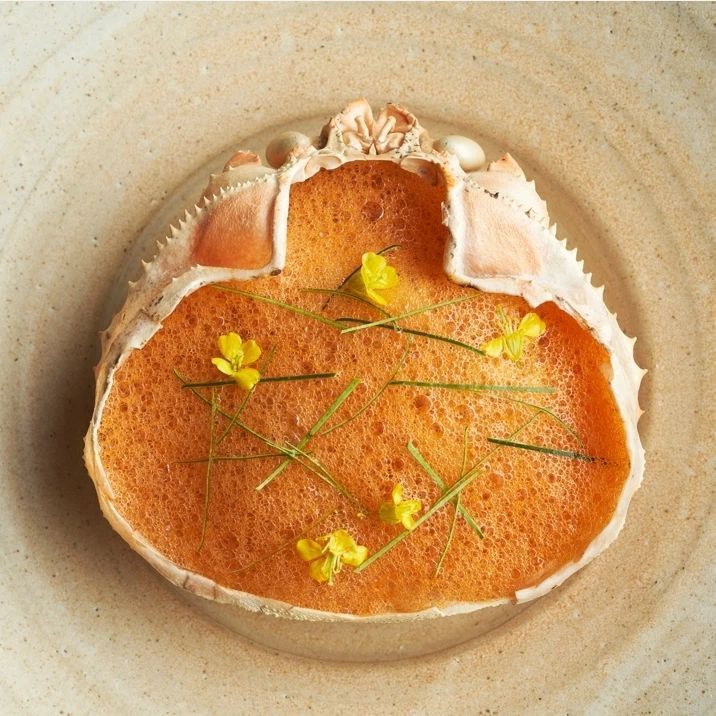 Lolla
Last November, Lolla collaborated with Denmark-based Empirical Spirits on a cocktail pairing for their seasonal tasting menu, which was successful enough that the restaurant decided to list four of them as their signature cocktails.
Created by Empirical brand manager and Operation Dagger alumni Sasha Widjidessa, the drinks do not adhere to any classic cocktail template. Instead, ingredients are incorporated with culinary techniques such as sous vide. With a plum-based spirit, Peas Please recalls flavours of marzipan, yuzu, and basil, which sit nicely with salads and parmesan. You Say Tomato, I Say Tomato is built on a Mexican chilli spirit, and its smokiness cuts through buttery dishes like Lolla's signature sea urchin pudding.
Made with the same chilli spirit, Lolla Luau is reminiscent of charred pineapple. Drunk alongside a river crab cooked in coconut milk and garnished with kaffir lime leaf, the combination is similar to tom yum soup. The Last Straw-Berry has a fruity, bubblegum-like aroma, but grows serious thanks to an oily texture, and aromas of apple zest and vanilla.
22 Ann Siang Road, Singapore 069702. Book here.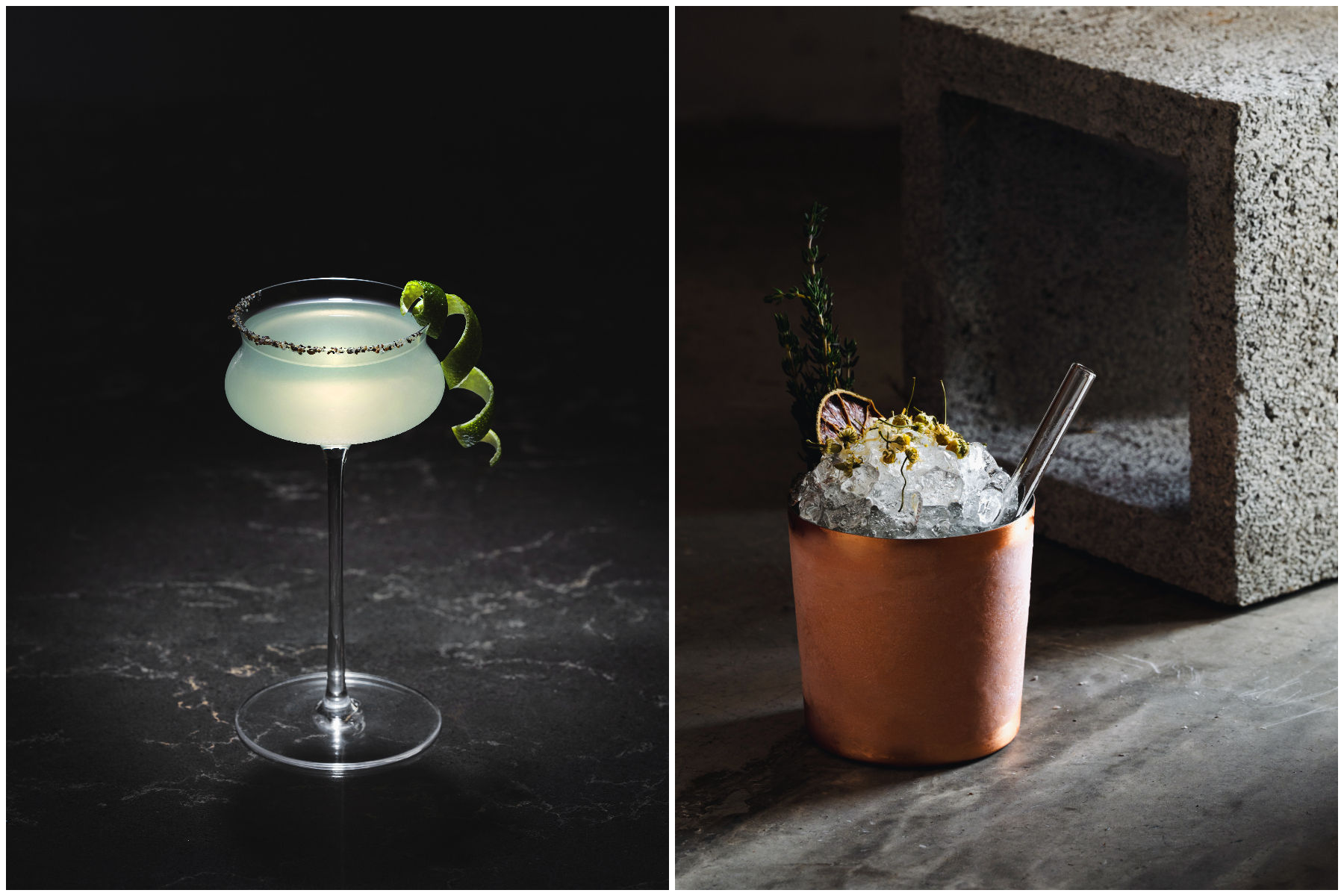 Lumo
Modern European restaurant Lumo's latest cocktail menu took cues from colours that evoke certain emotions. Part of the blush red ruga hue, Manakin is a spicy and smoky number with mezcal, tequila, and bird's eye chilli, while Serenity under the azure-leaning blua inspires calm through chamomile-infused Chita whisky, chamomile tea, and thyme-infused honey. All the cocktails are built with sustainability in mind, with most ingredients used entirely to show "respect and appreciation" for them, said head bartender Aaron Lancelot.
50 South Bridge Road, Singapore 058682. Book here.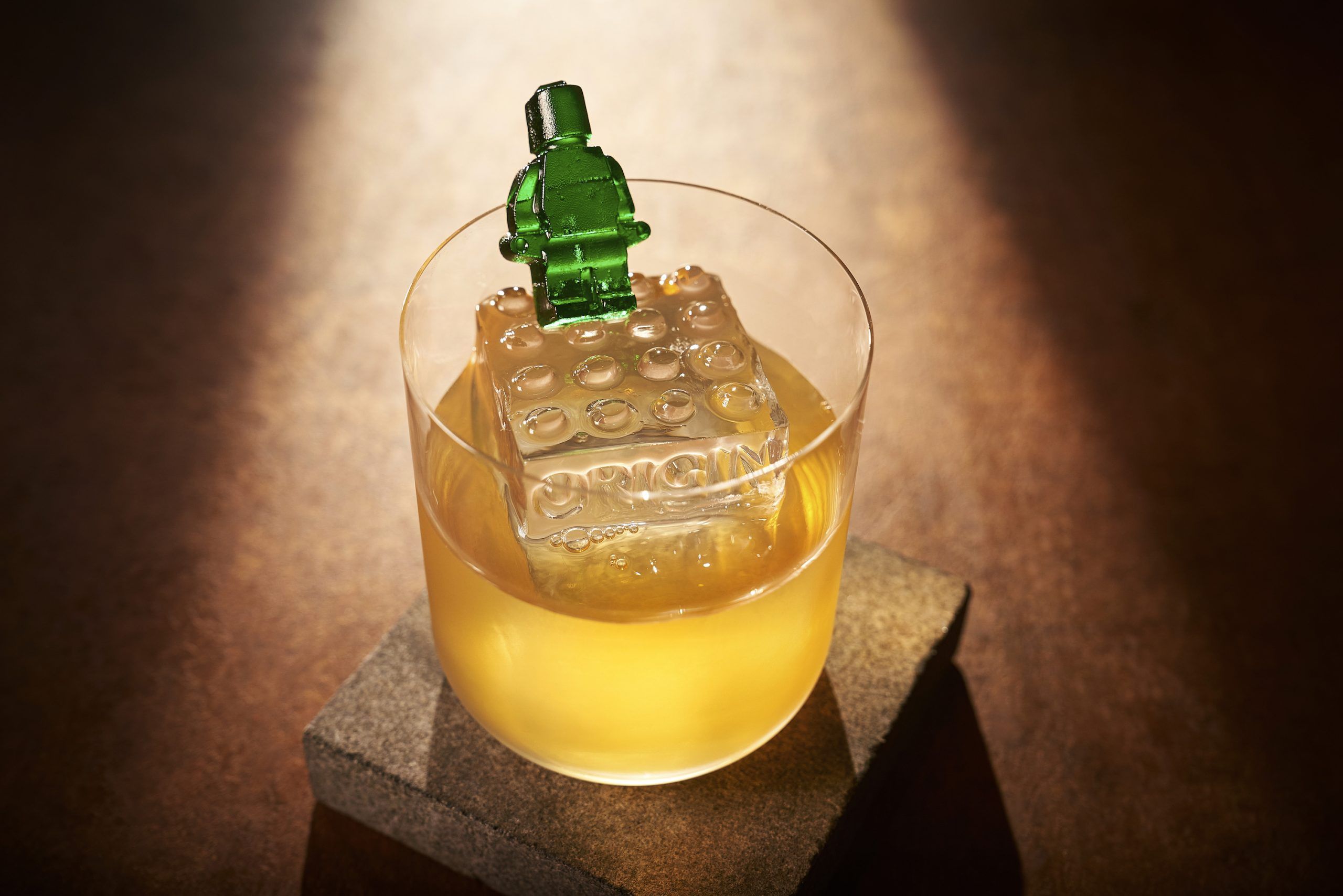 Origin Bar
Nostalgia is always nice in hindsight – can we go back to 2022 and seven percent GST? – and Origin Bar at Shangri-La hotel doubles down on this sentiment with 18 new drinks inspired by time travel. From 1860, the minty and fruity Chicle celebrates the creation of chewing gum, and Atomico marks the invention of the nuclear bomb in 1942 by fusing rum with yuzu, sake, and wasabi. Drinkers can also go back to the very beginning of life with Dark Matter, which combines tequila, amaro, chocolate, and smoke into a complex and intense sip.
22 Orange Grove Road, Singapore 258350. Book here.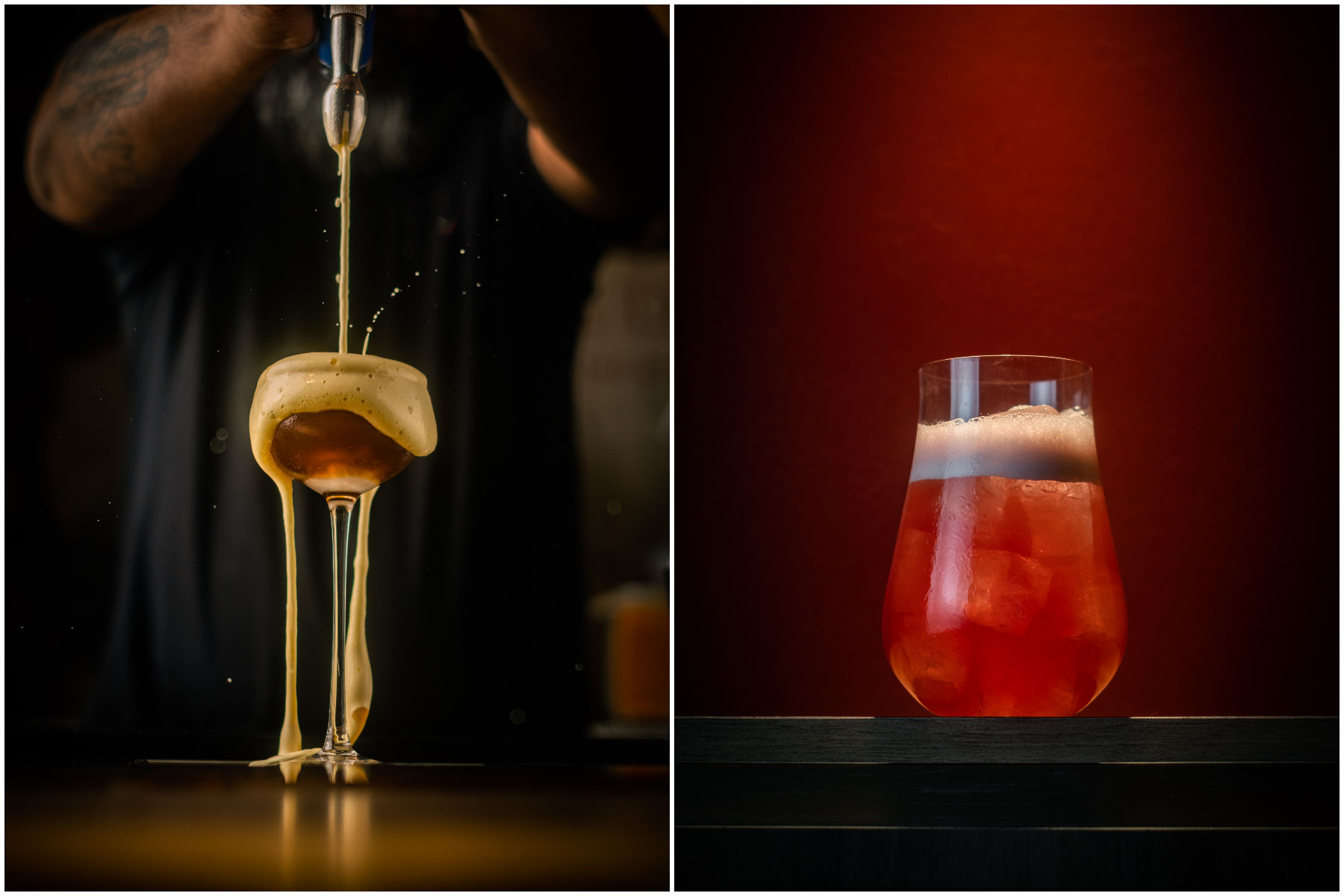 Papa Doble
Papa Doble is in a strange place. The bar went from being The Old Man Singapore to its current moniker early last year, kept its former offerings, got on Asia's 50 Best Bars list under its new name, refreshed its entire team, and launched a new cocktail menu over Christmas 2022. Even founder Andrew Yap admits it. "Even till this day, Papa Doble remains in a state of partial opening."
The bar still pays tribute to Ernest Hemingway, this time by retracing the literary giant's journey through eight signature cocktails. A visit to Singapore is represented by a gin drink with DOM Benedictine, clarified pineapple, and pomegranate coulis, while Thailand is symbolised by chamomile-infused single estate vodka, clarified starfruit, torched ginger-infused honey, and fleur de sel. Other stops include Africa, France, Bahamas, and Italy, with vastly different ingredients from mandarin dijon foam to mascarpone gelato cream.
55 Keong Saik Road, #01-04, Singapore 089158. Book here.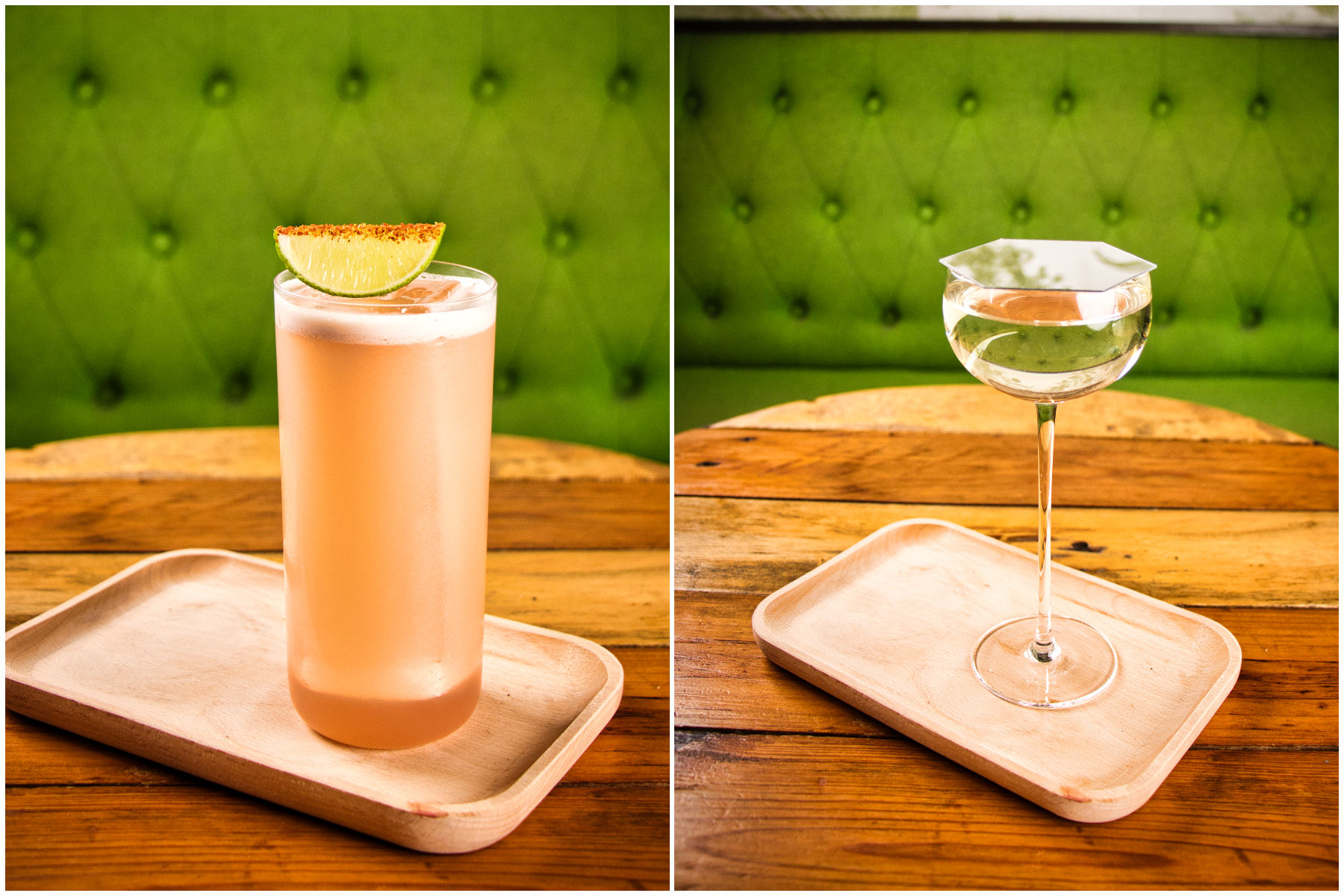 Tippling Club
Playing all the greatest hits from the 40s to the 90s is Tippling Club, which has created a jukebox of cocktails based music from the past six decades. Laid down by head bartender Arathorn Grey, the 31 drinks are named after an artist and their song, with ingredients telling their stories. Learnin' The Blues by Frank Sinatra features the crooner's favourite spirit, Jack Daniel's, as well as amontillado sherry and amaro, of of which are barrel aged in an ex-ruby port cask. There's also Funky Monks by Red Hot Chili Peppers, which highlights punchy agricole rhum with ginger and togarashi lime garnish.
38 Tanjong Pagar Road, Singapore 088461. Book here.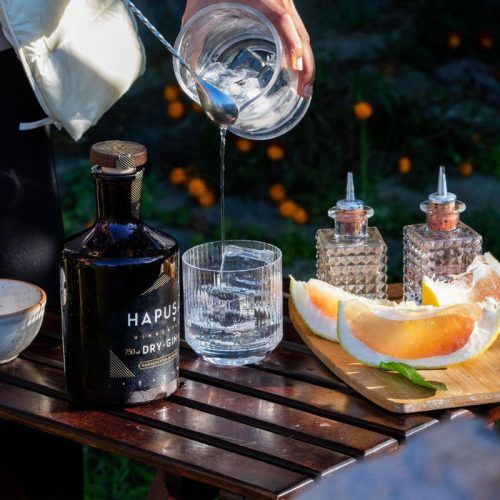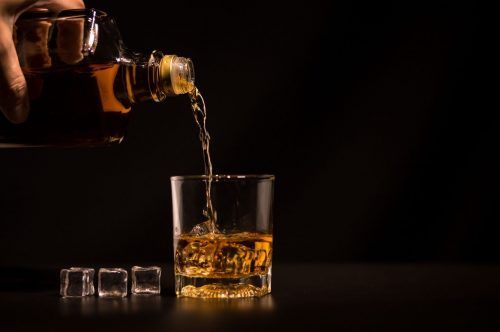 (Hero and feature images credit: Shangri-La Singapore)
This story was first featured on Lifestyle Asia Singapore