Perhaps one of the most exciting spirits releases of this year hails all the way from Jamaica, when Appleton Estate rum released new expressions of their famed Hearts Collection, the product of a collaboration between Joy Spence and Luca Gargano. It stands as a testament to the rich heritage and unwavering commitment of Appleton Estate, one of Jamaica's most iconic rum producers. This exclusive collection, consisting of some of the world's most exquisite aged rums, is a tribute to the time-honored craft and artistry that has defined the brand for centuries.
The journey of the Hearts Collection begins in the lush and fertile Nassau Valley of Jamaica, where the Appleton Estate has been cultivating sugarcane and crafting exceptional rums since 1749. Over the centuries, Appleton Estate has refined its distillation techniques, blending methods, and aging processes to create rums that are celebrated worldwide for their depth of flavor and complexity.
Crafted by Appleton Estate's legendary Master Blender Joy Spence in collaboration with Rum Expert-Collector Luca Gargano, the marques from each Hearts Collection vintage are personally selected by Joy from nearly 200,000 barrels aging in Appleton Estate's warehouses – one of the largest and oldest collections in the world. Terroir is central to her blending philosophy when it came to crafting the Hearts Collection. The native Jamaican was keen to base her decisions – which were supported by Gargano himself – around her homeland's rich terrain. As she noted in the press materials for the new collection, "Rums aged in tropical climates develop richer, fuller flavours much more quickly than spirits aged at cooler climates, so when you taste a rum aged for over 20 years like our new releases from the Hearts Collection, it's a really extraordinary experience." The new vintages
Joy continues her impressive work with two new additions to the Hearts Collection – a 1993 vintage and a 2002 vintage. As with its predecessors, these vintages were distilled in Appleton Estate's iconic 100% copper Forsyth pot still, which gives each expression from the Estate its signature orange peel top note. The distinct rich bronze hue is then achieved by maturing them in Number One Select American Oak barrels.
The 1993 vintage, named for the fact that it was distilled in 1993 (bottled in 2022), has been aged 29 years and has an ABV of 63%. It has been a crowd favourite since its introduction, with its distinct aromas of nutmeg and cinnamon, hints of mint, warm butterscotch, toasted oak and honeyed vanilla. 80 out of the 3600 bottles of this vintage will be made available in Singapore.
Meanwhile the 2002 vintage (distilled in 2002 and bottled in 2022, thereby aged 20 years) has a 63% ABV, which helps bring out its vibrant flavour profile, which notes of orange blossoms wrapped with molasses, warm vanilla, medium roasted coffee and caramel, with a rich, smooth honeyed taste on the palate. We at AUGUSTMAN became fast fans of these new expressions of the Hearts Collection, and jumped on the opportunity to speak to the maven behind these drinks herself, Master Blender Joy Spence.
AM: How did you become a Master Blender? Was it a calling or something you just fell into?
Joy: There was a bit of chance involved, but it worked out wonderfully! Before I enrolled to further my studies as a chemist, I taught the subject in a school that was right beside J. Wray & Nephew, the company and distillery that produces Appleton Estate rums. In between quieter periods, I'd look over to see what's happening on the other side because I've always been a fan of rum, even though at the time, it was quite rare in Jamaica for women to drink rum.
Once I completed my Master of Science degree in Analytical Chemistry at the University of Loughborough, I decided to apply for a role at Appleton Estate. They didn't have a specific position available, but Owen Tulloch, who was the master blender at the time, recognized my skills and saw a big opportunity. In 1981 he hired me as Chief Chemist at Appleton Estate, and in that role, I worked very closely with Owen who mentored me over 16 years. When he retired, he passed the torch to me and the rest is history!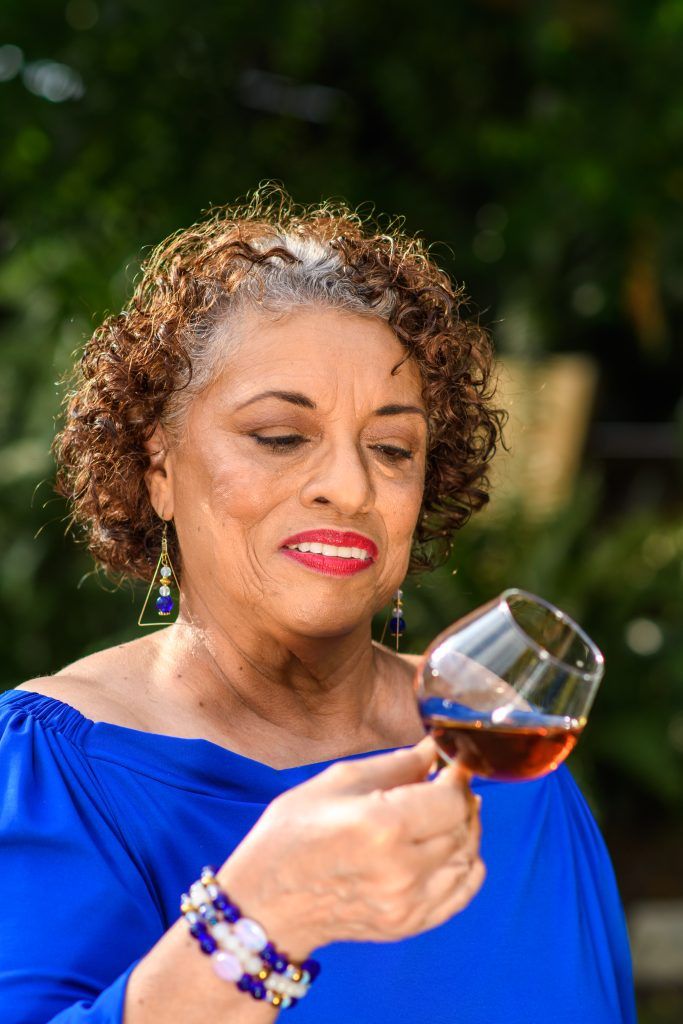 Why rum? Why not any other spirit or alcohol?
Jamaica is famous for our rums. It's a spirit that all of us Jamaicans know and love. It's one of our biggest exports and our nation's pride. My interest in rum started out of curiosity from a chemistry point of view because I wanted to learn the science behind it. When I first started, I found myself amazed by the complexities and flavours that rum can achieve. Owen saw that interest and took the time to teach me ways to create different profiles. The further I go in this rum journey, the closer I am to home because rum is Jamaica.
Tell us about the Hearts Collection. How did it come about?
Appleton Estate's Hearts Collection is a series of rare single marque, pot still rums with age statements of 20 years and beyond. The idea came about when Luca Gargano, one of the world's foremost rum collectors finally visited the estate. It was also the first time we met and I recall hitting off immediately as we talked about rums and sampled some of my personal favourites from our warehouse.
Talks of collaborating came naturally during that visit and we eventually decided to name it the "Hearts Collection" to represent our shared love for the spirit, the heart of Jamaica where the rum was crafted, and the heart of the raw materials used.
How did you select the barrels? What was the flavour profile you were looking for? Every barrel is selected based on instinct. There are nearly 200,000 barrels ageing in our warehouse at any given time and I would choose specific barrels using the sensory skills I've honed over the years in search of a certain funkiness you find in aged, pot still rums that is complex, intriguing, and highly sought-after.
With each release, I would hand select barrels and invite Luca back for a blind tasting. Somehow, we'd always end up shortlisting the same barrels as our favourites which would then become our next release.
What do you think makes it different from other Appleton Estate rums or any other rums in the market? Firstly, the Collection's 100% forsyth pot still rums showcase distinct characteristics that are only achievable through this traditional technique – pot-still rums grant a unique dark and rich aroma to the spirit with a complexity that is fruity and syrupy.
Compared to most single marque rums on the market that averages around 10-12 years, rums within the Hearts Collection vary from 18 – 37 years, which makes it richer and more profound.
No other blends were incorporated into the liquid to maintain its truest form – we like to call the Hearts Collection the untamed essence from the heart of Appleton Estate.
And lastly, only a limited number of casks are bottled which makes each bottle a historical artefact, like a spirit locked in time.
Do you think there's a difference in how men and women in general appreciate rum? If there is, how has this affected your approach towards blending?
Having travelled around the globe to spread the appreciation for rum and Appleton Estate, I don't think there's a noticeable difference in how men and women appreciate rum. Drinking rum to me, is like how you would approach whisky, cognac or wine. My approach at Appleton Estate has always been a balance of science and craft. The science part excels when it comes to instrumentation, blending and ageing processes, while craft relies on sensory skills that allows me to detect and differentiate aromas.
Has your identity – cultural, ethnic/racial and gender – ever factored into your work?
Alcohol was, and still is, a male-dominated industry so yes, I've experienced resistance and doubt when I first became Master Blender in 1997. I had to work twice as hard to prove others wrong and gain recognition. But having already worked in the field for as long as I have, I do my best to focus on the positive – or in this case, focus on the joy that I'm able to bring to others though making the blends I love.
written by.
Suffian Hakim
Senior Writer, Augustman Singapore
Best-selling novelist, playwright and screenwriter Suffian Hakim is AUGUSTMAN Singapore's Features Editor. He writes articles on arts, culture, entertainment, cars, watches, travel and more - all in an effort to properly investigate and define that nebulous, all-encompassing L-word: lifestyle.