Seah Im Road isn't a significant Singapore landmark, but its namesake hawker food centre reveals otherwise. Located near Harbourfront MRT station, Vivocity, and in close vicinity to Sentosa Island, Seah Im Food Centre enjoys heavy foot traffic from office workers, residents, and tourists, who are attracted by the wide variety of food choices.
The southern food centre, which recently reopened after a six-month interior renovation, has offered affordable food in the area for over 30 years since opening in 1984. Before Harbourfront Centre and Vivocity even existed, the Harbourfront Precinct homed the now-defunct World Trade Centre and still-operational bus interchange at the foot of Mount Faber.
Seah Im Food Centre is the go-to hawker hub in Harbourfront
As the Harbourfront district flourished over the years, this food centre remains an affordable eating spot. From tourists to Sentosa, Mount Faber hikers, and white-collared workers from nearby offices, to residents from Telok Blangah and Kampong Bahru, many often visit this hawker hub to have a satisfying value-for-money meal. Explorers who visit Labrador Park, Henderson Waves, and Horticulture Park also often make the food centre their pit stop to reward themselves with delectable dishes after a fruitful hike.
At Seah Im Food Centre, a diverse food spread featuring different cuisine awaits. Frequent diners here usually rave about stalls offering local favourites like boneless duck rice, epok-epok, Yong Tau Foo, lor mee, fried chicken rice, Indian rojak, and more. Some hawker stalls have even been in business since they started operating in 1984 – a testament to the quality of food there. This food centre also has halal-certified hawker stalls selling food for the Muslim demographic.
Although air-conditioned food courts have been sprouting in Harbourfront Centre and Vivocity, many still flock here for value eats that are worth the sweat.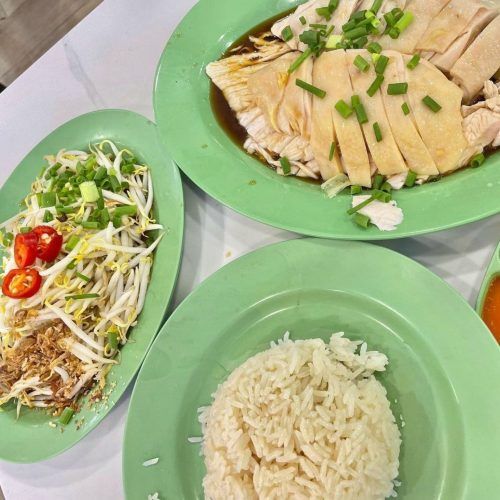 Here are the 10 best hawker eats to order in Seah Im Food Centre at Harbourfront.
Jump To / Table of Contents 2 Seah Im Road, #01-45, Singapore 099114
Many can attest to Muslim-owned eatery Aspirasi Food Galore for their famed crispy fried chicken rice. They have been serving this dish for three decades since 2002 and we can see why it's so well-loved. Besides the fragrant golden-brown skin and tender meat, their house-made fiery sambal and crunchy batter crumbs are extremely satisfying. Other highlights on the menu include fried chicken tomato rice with either lemon or sweet and sour sauce.
Image credit: @melvyn_caffeine/Instagram 2 Seah Im Road, #01-36, Singapore 099114
Epok-epok (or curry puff pastry) makes for a great snack at any time of the day and MakanBoleh delivers a delish version of it. In addition to the all-time favourite classic curry potato filling, the sardine version also appeals with its tangy seasoning. Another deep-fried delight you can munch on is the sweet jemput-jemput (fried banana balls). If you're really hungry, this family-owned Muslim eatery also offers a rotating menu of mains like Nasi Lemak, Lontong, and Nasi Campur.
Image credit: @allfoodoldskool/Instagram 2 Seah Im Road, #01-56, Singapore 099114
Noodles reign supreme at Shi Ji Noodle Stall, not just for their springy strands, but for the delicious dishes like lor mee, duck noodles, and prawn noodles. The lor mee is the undisputed star here as it tends to sell out before lunchtime ends.
We recommend selecting the kway teow–bee hoon combination as it soaks up the savoury starch broth well. The bowl also contains a chock full of ingredients such as fish cake, ngoh hiang, and braised egg. Those hungry for meat can add on slices of braised duck meat too.
Image credit: @saunda_ya_xue/Instagram 2 Seah Im Road, #01-52, Singapore 099114
Tian Ji Niang Dou Fu, now known as just Niang Dou Fu, differs from counterparts from other stalls. They sell fixed pieces according to the number of ingredients you desire, which eliminates the typical dilemma of choosing your own. Besides familiar favourites like tofu and fishball, Tian Ji Niang Dou Fu fried pieces like dumplings and meat-stuffed ngoh hiang are worth ordering (they remain crispy as they are served in a separate bowl). In addition to soup and dry (chilli) versions, diners can also select the coconut-infused laksa broth base too.
Image credit: @missha_2122/Instagram
05
Cai Ji Boneless Duck Rice and Porridge 2 Seah Im Road, #01-58, Singapore 099114
For those who value convenience just as much as taste, Cai Ji Boneless Duck Rice and Porridge is a good option. The aromatic tender braised duck is served bone-free, and shines alongside the flavoured yam rice drenched in a starchy dark sauce. Those who prefer a heartier plate can add on ingredients like braised pig skin, pork belly, pig's ears, and innards to create a delicious platter.
Image credit: @lingomania2021/Instagram 2 Seah Im Road, #01-44, Singapore 099114
If the name of this store sounds familiar, you're not wrong – it's named after Thailand's first prime minister, Thaksin Shinawatra. This Halal-certified eatery is known for their comforting Thai-style beef noodles served in herb-infused broth. A unique item on their menu is the beef Pad Thai, which features rice noodles stir-fried and tossed in high heat to achieve a wok-hei, which complements well with the juicy sliced beef.
Image credit: @a.happysoul_5/Instagram
07
Cheng Ji Chao Xia Mian Hao Jian 2 Seah Im Road, #01-59, Singapore 099114
As its name suggests, this stall manned by a husband-wife duo serves Fried Hokkien Prawn Noodles and Orh Luak (Oyster Omelette). Both dishes are well received by diners as they are affordably priced even by hawker food standards. The former will find fans in those who like a wetter version of the dish, complemented by sliced squid and juicy prawns. On the other hand, their Oyster Omelette is served with crispy charred bits from the flavourful starch oyster mixture that's a joy to munch on.
Image credit: @iammeryl/Instagram
08
Mohamed Arafat Muslim Food 2 Seah Im Road, #01-48, Singapore 099114
While a standard Chinese rojak dish comes with fixed ingredients, Indian rojak allows one to curate their own platter of delicacies. Here, select from fried dough and prawn fritters, seasoned cuttlefish, fried tofu, battered-covered potatoes, and more at Mohamed Arafat Muslim Food. Before serving, they are deep-fried once more for extra crispiness, and accompanied by the stall's signature sweet and spicy peanut gravy for dipping.
Image credit: @thedeadcockroach/Instagram 2 Seah Im Road, #01-32, Singapore 099114
Malay cuisine is packed full of flavours and Haji Daliman Korner does it justice with their well-prepared dishes. Typically, Mee Rebus comes with yellow alkaline noodles, gravy, bean sprouts, and tofu. Here, sticks of grilled meat satay (chicken or mutton) are included for additional satisfaction. Another favourite on their menu is the Gado Gado. An Indonesian salad which is similar to lontong, the dish here consists of bean sprouts, boiled egg, tempeh and more, drenched in a sweet peanut gravy.
Image credit: @a.happysoul_5/Instagram
10
Kheng Nam Lee Curry Rice 2 Seah Im Road, #01-53, Singapore 099114
A stall raved among foodies and netizens, Kheng Nam Lee Curry Rice is famous for their crispy pork chop and chap chye (braised mixed vegetable stew), both of which attract a long queue. Their soft-tasting curry – sweet with a hint of spice – pairs perfectly with white rice and the rest of the ingredients they offer. Also favoured among diners is the fresh and tender Assam fish that never fails to whet appetites.
Image credit: @longwalkstothefridge_/Instagram