KL Hokkien Mee, also known as Dai Lok Mee (meaning thick noodles in Cantonese), is a must-eat whenever one visits Malaysia. But you don't have to travel across the causeway to enjoy this delicious hawker fare, one can enjoy this fragrant noodle dish in its best authentic form in Singapore too at these establishments.
Hokkien Mee, which comes in variations within Asia, can usually be enjoyed by street hawker stalls and restaurants. Originating from Fujian, China, the dish evolved into two versions, the first is the familiar white version simmered with pork bone stock, while the second is the black variant infused in thick dark soy sauce. KL Hokkien Mee is the latter, and it's just as delicious as its white counterparts
With many Malaysians coming over to Singapore to start their own businesses, especially in F&B, this makes it easier for locals to find places that offer the best KL Hokkien Mee in the town.
What is KL Hokkien Mee?
KL is the abbreviation of Malaysia's capital city, Kuala Lumpur. The unique noodle dish has become one of the most popular dishes to have amongst Chinese Malaysians, so its unsurprisingly as popular here.
Using thick yellow egg noodles as the base, it is often fried with pork lard (as oil), leafy greens like cabbage, as well as prawns, and sliced pork belly before getting coated in viscous caramelised dark soy sauce.
What does KL Hokkien Mee taste like?
Those who adore rich, smoky, and savoury flavours will best enjoy KL Hokkien Mee. The chewy and eggy noodles make the perfect component for soaking up the sweet-salty dark soy sauce made fragrant by tossing in pork lard. Of course, wok hei is another factor important to enhance to taste of KL Hokkien Mee. High heat is required to achieve the smoky flavours emitted during frying the noodles in the wok for this elusive flavour to shine.
Of course, health-conscious diners can swap out pork lard with vegetable oil for a less sinful meal, but this will affect the intended flavours that make KL Hokkien Mee such a delicious eat.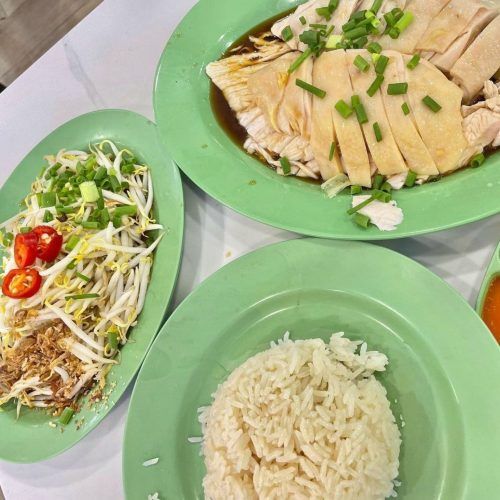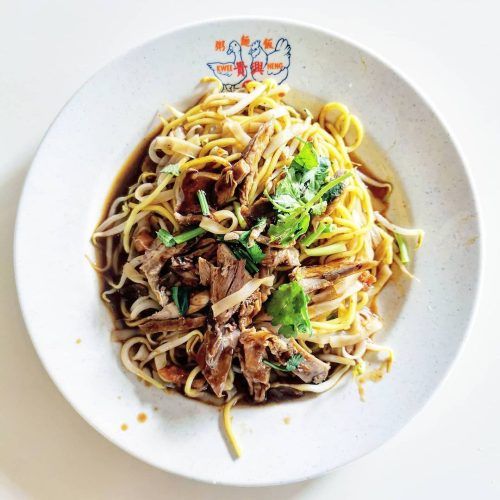 Here are the best places to have KL Hokkien Mee in Singapore:
Jump To / Table of Contents 601 MacPherson Road, Grantral Mall #01-31, Singapore 368242
Hei Bai Chao is a Malaysian cuisine-focused food stall located within M. Connect Food Court in the Macpherson neighbourhood. Helmed by the sibling owners who are also behind Daruman Tavern, it's easy to spot this brightly lit stall. Hei Bai Chao's KL Hokkien Mee has all the essential ingredients like pork belly, prawns, cabbage, fried pork lard bits, and noodles infused with ample wok hei.
Opening Hours: 11am – 9.30pm (Monday to Sunday)
(Image credit: @hei_bai_chao_sg/Instagram) 27 Bendemeer Rd, #01-659, Singapore 330027
Traditional taste meets contemporary design and presentation with Ah Fu & Co's KL Hokkien Mee. Behind the stove is a Penang-born young hawker-owner whose nickname is Ah Fu. Leaning towards a takeaway concept, Ah Fu & Co's hippy graphic packaging inspired by Chinese-American restaurant takeout boxes has been a draw with diners, let alone the deliciously smoky noodles that lie within.
Customer can customise their dry-style Dai Lok Mee by building on the base of noodles, cabbage, and onion with desired protein options like chicken, pork, beef, or prawn.
Opening hours: 11am – 8pm (Monday to Sunday)
(Image credit: @yau_gui/Instagram) Various locations including i12 Katong and Jurong Point
Operated and managed by local F&B establishment Fei Xiong group, Malaysia Boleh! is a food court concept that gathers the best Malaysian dishes. Of course, KL Hokkien Mee is included on their list. Available in a couple of their outlets across the island, the stall, named Sultan Street KL Hokkien Mee, serves straight-up familiar traditional KL Hokkien Mee with all the usual works.
The version here doesn't disappoint with the generous ingredients blanketed under the glistening fragrant pork lard and dark soy sauce-coated black noodles.
Opening hours: 10am – 10pm (Monday to Sunday)
(Image credit: @nickblitzz/Instagram) 227 Orchard Rd, Orchard Gateway B2-12, Singapore 238858
Housed in the newly opened seven-stall EatAlley Food Court at Orchard Gateway, Hong Lai Hokkien Mee, also known as Kedai Kopi Dan Makanan Hong Lai in Kuala Lumpur, has been drawing a crowd who wish to taste their best dish: the signature KL Hokkien Mee. The original flavours are maintained here as each stall is represented by cooks selected and trained by the stalls' respective founders.
The intense flames that are constantly emitted from the stove ensured the dish's smokiness and wok hei. Coated with the mildly sweet dark soy sauce and pork lard, the thick egg noodles shine through alongside the fresh prawns and crunchy cabbage.
Opening Hours: 10:30am – 9pm (Monday to Sunday)
(Image credit: @wwhylehh/Instagram) 25 Springside Green, The Brooks II #01-14 , Singapore 786015
Although Daruma is associated with Japanese culture, the food at Daruma Tavern is Asian-Western fusion eats. One of their best dishes that's popular among diners in Singapore is the KL Hokkien Mee.
Here, the establishment follows tradition to ensure the essential ingredients are included here. Expect ample lard, pork belly, and sliced fish cake within the wok hei-kissed dark soy sauce egg noodles that are packed with robust flavours. Did we mention it's topped with sinfully indulgent chunks of pork lard?
Pro tip: Add a little sambal on the side for a spicy kick and wash it down with a refreshing glass of craft beer.
Opening hours: 10am to 12am (Monday to Friday), 9am to 12am (Saturday to Sunday)
(Image credit: @shermzeats/Instagram) 261 Serangoon Central Drive and 2 Yishun Industrial Street 1, #01-12, Northpoint Bizhub
With two outlets in Singapore, JB Tai Pai Tong serves a wide variety of Malaysian zi char favourites. Of course, one of its best sellers in Singapore is the KL Hokkien Mee. Staying true to its roots and flavours, JB Tai Pai Tong doesn't mess with the expected ingredients which help deliver an authentic plate of slurp-worthy noodles.
Wok hei is unmissable in this wok-fried thick noodles that are drenched in sweet dark soy sauce, accompanied by fresh leafy greens and seafood bits.
Opening hours: Serangoon – 11am – 11pm (Monday to Sunday); Yishun – 11:30am to 9:30pm (Monday to Sunday)
(Image credit: @lorongfoodie/Instagram) 31 Kelantan Lane, #01-12, Singapore 200031
A reputable name for zi char, Ipoh Tuck Kee is affiliated with Restoran Tuck Kee in Ipoh, Malaysia. With outlets in Clementi, MacPherson, and Jalan Besar, they are known for the signature moonlight hor fun Yu Kong Hor. But not to be overshadowed is the KL Hokkien Mee.
The smoky wok hei is ever present here and emerges prominent from the dark soy sauce-coated thick egg noodles. Instead of pork belly, sliced lean meat appears here alongside leafy greens and fragrant pork lard bits.
Opening hours: 11 am–2:30 pm, 4pm–10:30 pm (Monday to Sunday)
(Image credit: @mao.oft/Instagram)