Margaret Drive Hawker Centre rarely comes to mind when identifying Singapore's storied food culture. Located west of Singapore, the establishment recently got a facelift thanks to the new BTO (Build-to-Order) HDB apartments, reopening in August last year to the joy of residents near and far. Despite its extensive makeover, traces from the past – such as an iconic chicken rice stall – can still be found at the food stalls in Margaret Drive Hawker Centre, and we're all for it.
The significance of Margaret Drive Hawker Centre
With an influx of residents in the new Margaret Drive and Dawson neighbourhood, the need for a hawker centre to provide food options became evident. So along with the rebuilt estate, the revamped hawker centre returned with new fixtures and fittings. This two-storey food hub is also essential to the neighbourhood due to the permanent closure of Tanglin Halt Hawker Centre. Both food spots are a 15-minute walk, on average, from each other.
Because of Tanglin Halt Hawker Centre's closure, a handful of its food stalls had to relocate to the new hawker centre. Amongst them is the renowned Hakka Thunder Tea, as well as Queenstown Lontong. Located at SkyResidences @ Dawson, the new foodie's paradise officially opened on 1 August 2022, a mere 10-minute walk from Queenstown MRT Station.
Besides the above-mentioned stalls, the hawker centre also offers a wide selection of food that's bound to satisfy any craving. From the refreshing sweet treats from Ah Luck Desserts and the thirst-quenching speciality drinks at Ichigo Cottage to the comforting dishes at Chef Hainanese Western Foods and Nine Miles Chicken Stew, food options are indeed aplenty.
Tong Kee Chicken Rice also make their return to the new hawker centre. Serving the iconic hawker staple since the old hawker centre's existence, the stall is still loved by many for its succulent steamed and roast chicken, as well as its famously fragrant rice.
For a guide to the best stalls at hawker centres all over Singapore, click here.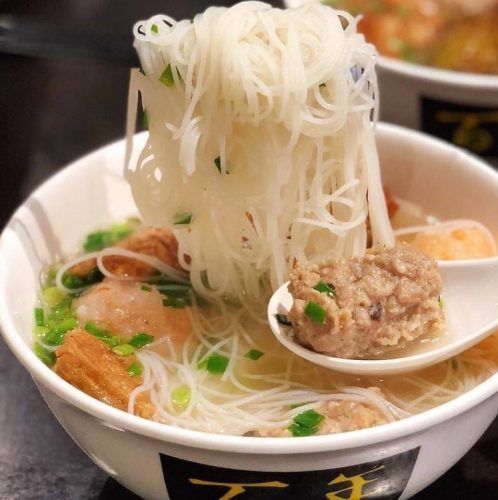 (Image credit: Dael Sim/Google Images)
From chicken rice to lontong, get the best of local food from these 8 food stalls at Margaret Drive Hawker Centre:
This story first appeared in Lifestyle Asia Singapore
Jump To / Table of Contents 38A Margaret Drive #01-27 Singapore 142038
Don't be deceived by the lontong's simple ingredients. When done right, this humble-looking dish can pack a flavourful punch that'll excite tastebuds. Queenstown Lontong has been delivering an excellent version that fans have been devouring clean since its establishment in the 1960s. Their version has large chunks of rice that are soaked in a milky sweet broth similar to laksa gravy. Give yours a spicy kick here by mixing in their house-made ikan bilis-based sambal chilli too.
Besides Lontong, they also have familiar Malay dishes such as Nasi Lemak, Mee Rebus, Mee Soto and Soto Ayam on their menu. This stall regularly fights with Tong Kee Chicken Rice for having the longest queues at Margaret Drive Hawker Centre, so be prepared to wait.
(Image credit: @vyeo123/Instagram) 38A Margaret Drive #02-34 Singapore 142038
Another reputable food establishment that migrated over from Tanglin Halt Hawker Centre is Hakka Thunder Tea. The move didn't stop their loyal fans from following them to their new location, as reflected by the length of the queue throughout the day. Hakka Thunder Tea, or lei cha fan (direct translation), is a vegetarian rice bowl with a green tea-based broth that blends herbs like mint and mugwort. You get to choose between a white or a healthier brown rice base here.
Besides the usual generous toppings of stir-fried cabbage, spinach, diced tofu, and peanuts, diners can also add the store's house-made Hakka fried yong tau foo for extra protein.
(Image credit: @w3nbin89/Instagram) 38A Margaret Drive #01-36 Singapore 142038
Tong Kee Chicken Rice is synonymous with Margaret Drive Hawker Centre, as they established their name in 1969 at the old hawker centre. The business is currently in its second generation and is helmed by the owner's son. No doubt the delicious formula from the heirloom recipe served the family well.
Diners often go for its signature roast chicken, which is firm but still remains succulent and juicy even after getting portioned into smaller pieces. Two thumbs up to the fragrant and flavourful chicken rice too.
(Image credit: @kingfoodylog/Instagram) 38A Margaret Drive #01-28 Singapore 142038
A cup of traditional kopi or teh goes well with any hawker meal. But Ichigo Cottage serves more than just the familiar beverages and canned drinks. Here, you can get premium drink options like ceremonial grade Uji matcha latte and Tie Guan Yin. Tea connoisseurs can also brew tea such as sencha fresh with the provided teaware.
(Image credit: @ichigocottagesg/Facebook)
05
Chef Hainanese Western Food 38A Margaret Drive #01-32 Singapore 142038
Helmed by a father-son duo, this stall serves hearty portions of grilled Hainanese-style Western food, but only during dinner time. The greatest hits come in the form of a Mixed Grill Platter – consisting of pork chop, tender chicken chops, fish cutlet and chicken sausage. Its accompanying sides of coleslaw, baked beans, baked potato, and fries are generous and will certainly satisfy those with big appetites.
(Image credit: @almeric7/Instagram) 38A Margaret Drive #02-28 Singapore 142038
Also migrated over from the now-defunct Tanglin Halt Food Centre is Ah Luck Desserts. Directly translated to ah liu (six in mandarin), the Chinese beverage and dessert stall offers refreshing sips like soybean, grass jelly-based drinks, lime juice, and even milk tea with pearls. On the dessert end, there are crowd favourites like Mango Pomelo Sago, Red Bean Soup and Peach Gum Collagen dessert.
(Image credit: @CK C/Google Images)
07
Nine Miles Chicken Stew 38A Margaret Drive #02-32 Singapore 142038
Although named Nine Miles Chicken Stew, this stall's focus dish is Cantonese-style congee. You'll find familiar nourishing options like Century Egg and Pork Porridge and Sliced Fish Porridge ($3.50 or 4.72 SGD approx.) topped with chopped scallions and fried dough fitter (you tiao) pieces. Definitely an ideal choice for breakfast or a light lunch. Besides the silky smooth congee, they also offer side dishes like Claypot Liver, Claypot Sliced Pork, and Ginger & Onion Sliced Fish.
(Image credit: Pohboon Yeo/Google Images)
08
Farokh and Nisa Family Food 38A Margaret Drive #02-25 Singapore 142038
For comforting home-cooked Muslim fare, head to Farokh & Nisa Family Food. Savour humble but hearty dishes like Nasi Goreng Ayam and Kway Teow Goreng. The portions here are generous, so be sure to come very hungry. Those looking for a snack can settle for a Roti John, which is stuffed with well-marinated mutton bits pan-fried with an egg mixture.
(Image credit: Ta K/Google Images)
(All USD conversions done at the time of writing)