Celebrate Dragon Boat Festival 2023 by savouring these best bak chang (also known as bak zhang, zongzi, or rice dumpling) in Singapore. Singaporeans would be familiar with this popular seasonal dish. Bak chang is the Hokkien name for a glutinous rice dumpling, which is made by wrapping meat (bak) in a dumpling (chang). The dumpling is then encased in a banana leaf, and cooked either by steaming or boiling. The dish is traditionally consumed around the Dragon Boat Festival, which falls on 22 June 2023 and commemorates the Chinese poet Qu Yuan. According to legend, Qu attempted suicide by drowning himself in a river, and people tried to distract evil spirits away from his body by splashing the water with their paddles and throwing rice dumplings in as an offering. While the term bak chang is best known in Singapore, in Mainland China, the name "zongzi" is preferred. Various dialect groups also have their own versions of it. Hokkien bak chang, for instance, uses pork belly and chestnut, while the Cantonese style has split mung bean and waxed sausage. Peranakan cuisine has also given birth to the Nyonya bak chang, which dyes the rice blue using butterfly pea flower. To celebrate Dumping Festival 2023 in Singapore, food producers like Joo Chiat Kim Choo still maintain the old way of making bak zhang, while Chinese restaurants including Beng Hiang, Crystal Jade, and Paradise Group have since gotten in on the act with their own takes for 2023. Then there are contemporary flavours such as an onigiri-inspired bak chang, stuffings of white pepper crab, and a sweet rendition similar to Thai-style coconut sticky rice. Vegetarians are not left out either, with options like cordyceps flower with purple glutinous rice. Read on to find out where to find the best version of the bak zhang this year.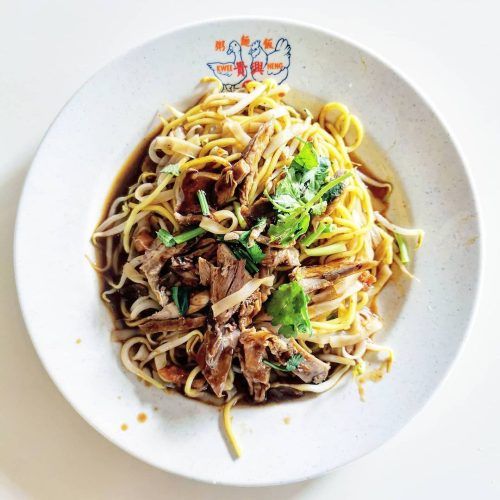 (Hero and feature image credit: Beng Hiang Restaurant & Crystal Jade)
Where to find the best bak chang/rice dumplings in Singapore for Dragon Boat Festival 2023
Jump To / Table of Contents
Frequently Asked Questions (FAQs)
Question: What are rice dumplings?
Answer: Rice dumplings are a traditional Chinese dish made out of glutinous rice, and stuffed with either sweet or savoury ingredients. They are then wrapped in bamboo leaves and either steamed or boiled.
Question: What are rice dumplings called in Singapore
Answer: In Singapore, rice dumplings are typically referred to as bak chang, a Hokkien term. They are also called zongzi, a name more common in Mainland China.
Question: How much is a rice dumpling?
Answer: Classic rice dumplings are usually priced at around S$5 each. Versions with premium ingredients can cost over S$20 per piece.
Question: When is dumpling festival?
Answer: Rice dumplings are traditionally eaten around Dragon Boat Festival, which falls on the fifth day of the fifth month according to the lunar calendar.
Question: Are rice dumplings healthy?
Answer: Based on a 2021 report by the Singapore Heart Foundation, a rice dumpling contains between 300 to 400 calories.
Question: When should I eat rice dumplings?
Answer: While rice dumplings are commonly consumed during Dragon Boat Festival, some Singapore food producers sell them year-round.