Hainanese kueh, turtle soup, and Michelin-backed fishballs: These hawker stalls serve the best food at Kim Keat Palm Market and Food Centre.
Built in the 1970s, the hawker centre is in the bowels of Lorong 7 Toa Payoh and far off the tourist trail. Neighbourhood landmarks like Sri Vairavimada Kaliamman Temple and Lian Shan Shuang Lin Monastery surround it, as do Toa Payoh Polyclinic. CBD, this is most certainly not.
Yet Michelin deemed Kim Keat Palm worthy of a visit, and awarded Hai Nan Xing Zhou Beef Noodle and Lixin Chao Zhou Fishball Noodle with a Bib Gourmand in 2023. A constantly long line snakes from Lai Heng thanks to its affordable mixed vegetable rice. Likewise outside Min Kee, which draws diners with its rendition of Tanjong Rhu wanton noodles.
Dishes vanishing rapidly from Singapore can also be found here. Kok Kee does claypots of herbal turtle soup, while Hainan Cuisine & Snacks continues its founder's speciality of yi bua, a Hainanese kueh. Halal-certified Japanese food can be found at Oiishii Corner, and Dove Desserts keeps it traditional with their homemade Nyonya chendol. Discover them and more below.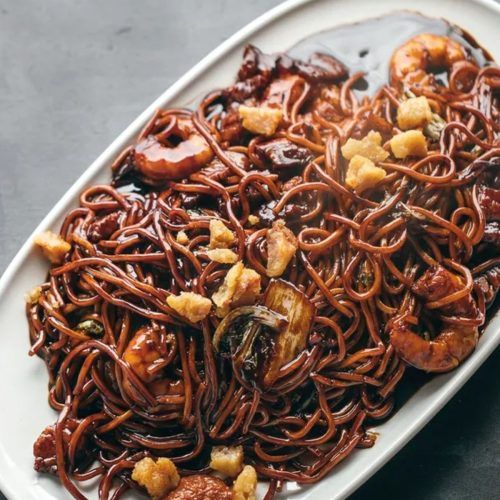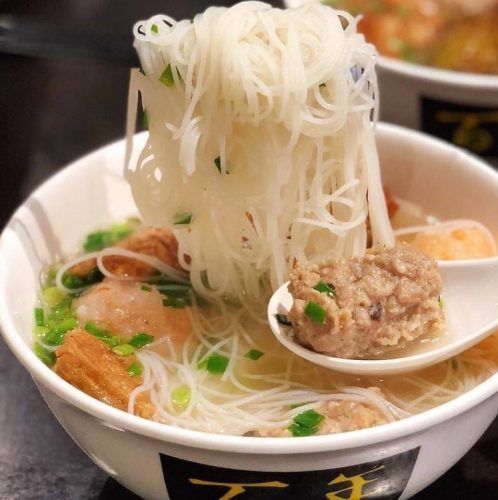 Kim Keat Palm Market and Food Centre is located at 22 Lorong 7 Toa Payoh, Singapore 310022.
10 hawker stalls for the best food at Kim Keat Palm Food Centre
Jump To / Table of Contents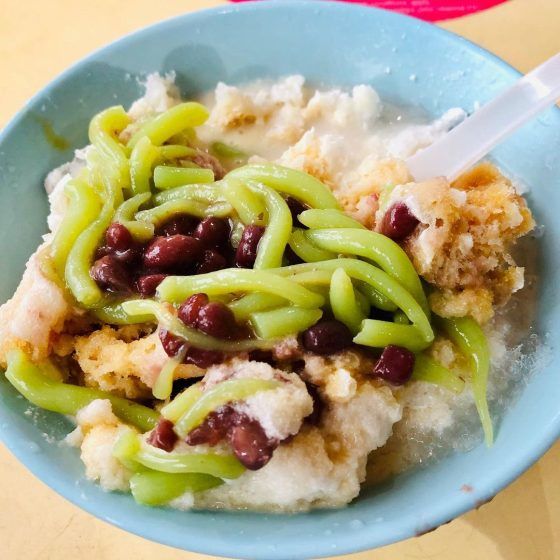 22 Lor 7 Toa Payoh, #01-21, Singapore 310022
Dove Desserts stemmed from founder Helen Lai Ai Lian's memories of enjoying traditional desserts in her youth, and led her to open this stall almost two decades ago. Her homemade Nyonya chendol is praised for using freshly squeezed coconut milk and finely shaved ice, while the cheng tng eschews more recent additions for resolutely classic ingredients. Dove Dessert also has creations like chendol agar-agar.
(Image credit: @jamietan04/ Instagram)
02
Hai Nan Xing Zhou Beef Noodle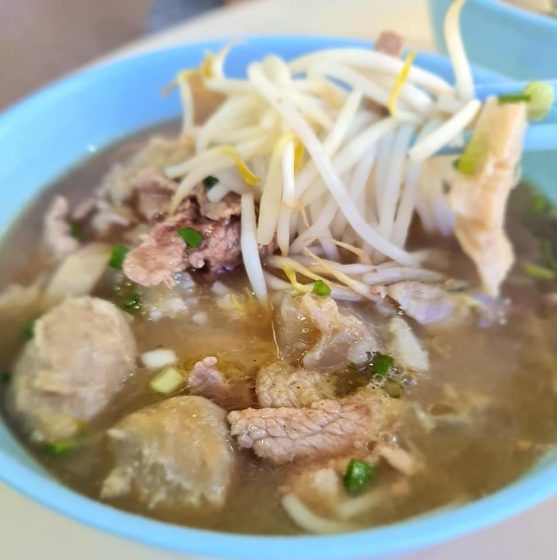 22 Lor 7 Toa Payoh, #01-06, Singapore 310019
A Michelin Bib Gourmand winner for years, Hai Nan's iconic beef noodles comes either in a soup or dry option featuring combinations of sliced beef, beef balls, tendon, and tripe. The soup version is rich in collagen, a result of simmering beef bones for a long time, while the dry alternative has a velvety-thick sauce full of spice and garlic.
(Image credit: @woktravels / Instagram)
03
Hainan Cuisine & Snacks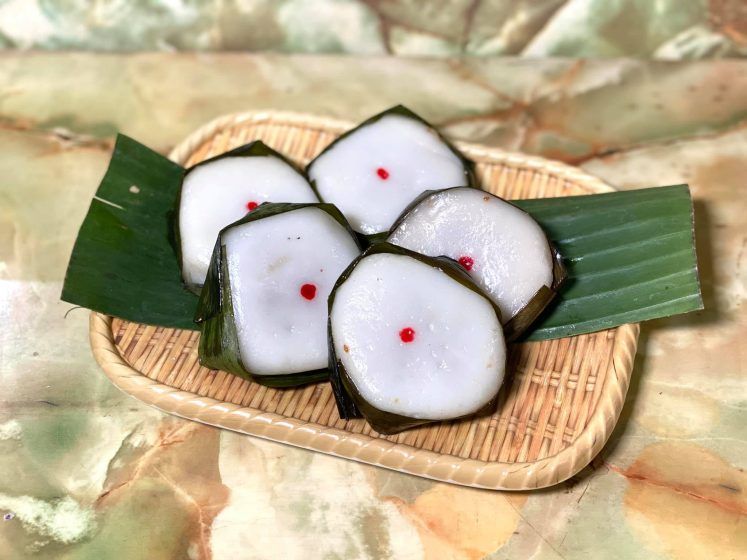 22 Lor 7 Toa Payoh, #01-35, Singapore 310022
This stall traces its roots back to the 1970s when Yeoh Min Lin started selling the Hainanese kueh, yi bua at the adjoining market to support her five children. Her version became popular in the 2000s, so she moved to the hawker centre and made it her signature. The pale white snack is derived from chewy glutinous rice flour and stuffed with a zesty mixture of coconut, ginger, gula Melaka, and sesame seeds, then wrapped in a banana leaf and steamed. The stall also sells Hainanese laksa, kaya, and peng kueh.
(Image credit: Hainan Cuisine & Snacks Hainan Xiaochi Yi Bua 海南小吃 意粑 / Facebook)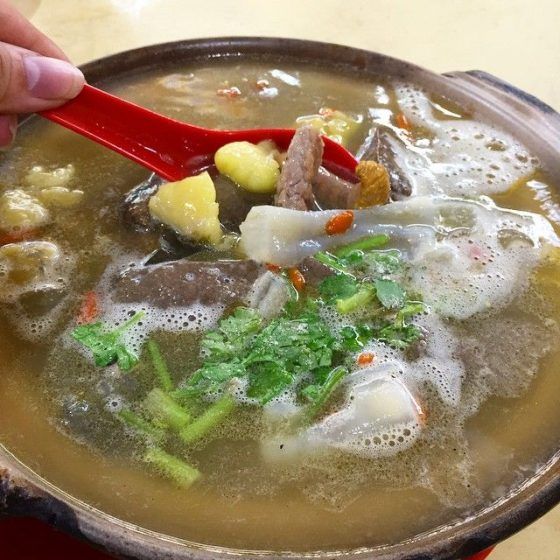 #01-39 Lor 7 Toa Payoh, 310019
Kok Kee focuses on turtle soup, a dish disappearing quickly from Singapore's hawker scene. Praised for its medicinal properties, the meat is braised in a claypot with herbs and spices until it takes on an earthy character, and the soup turns rich with collagen. They also sell black chicken and ginseng chicken soups, which can be spooned over yam rice.
(Image credit: @cyanyan / Instagram)
05
Lai Heng Mixed Veg Rice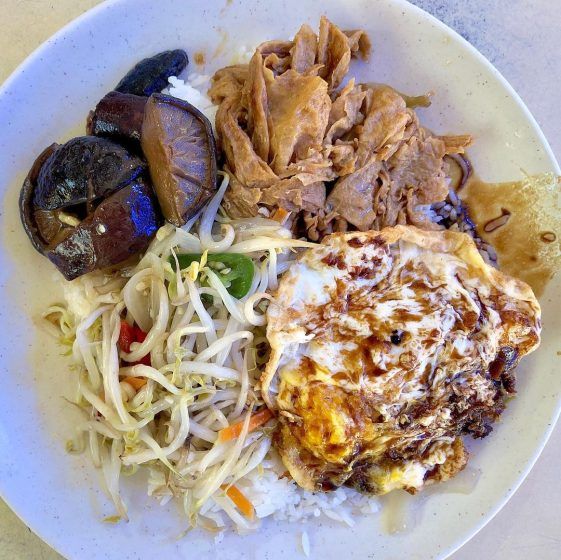 22 Lor 7 Toa Payoh, #01-07, Singapore 310022
Lai Heng may have dropped the word "economical" from their name, but as of press time, the stall sells rice with two respective sides of vegetables and meat for S$3. The options is vast too, including beansprout, sweet and sour pork, braised potato, stir-fried long bean, braised cabbage, fried chicken drumstick, lady's finger, beancurd skin, scrambled egg, and much more.
(Image credit: @yummicraft / Instagram)
06
Lorong 7 Kway Chap & Braised Duck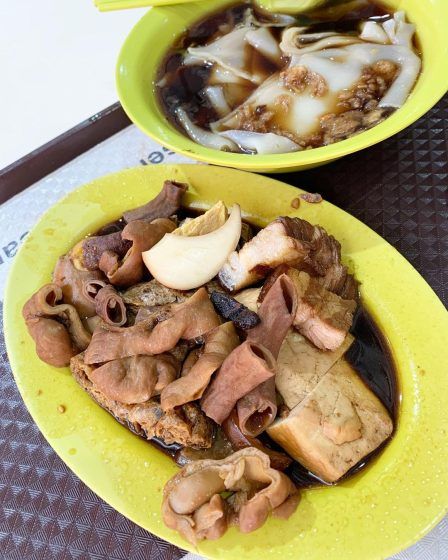 22 Lor 7 Toa Payoh, #01-32, Singapore 310022
The Lorong 8-based Guan Kee rules among kway chap hawkers in Toa Payoh, but this stall offers a worthy and nearby alternative. The rice noodle sheets are thin and glossy, paired with softly sweet slices of intestine and pork belly. The duck rice is a crowd favourite too, featuring tender meat and rice soaked in the herbal braising liquid.
(Image credit: @hungermanaged / Instagram)
07
Lixin Chao Zhou Fishball Noodle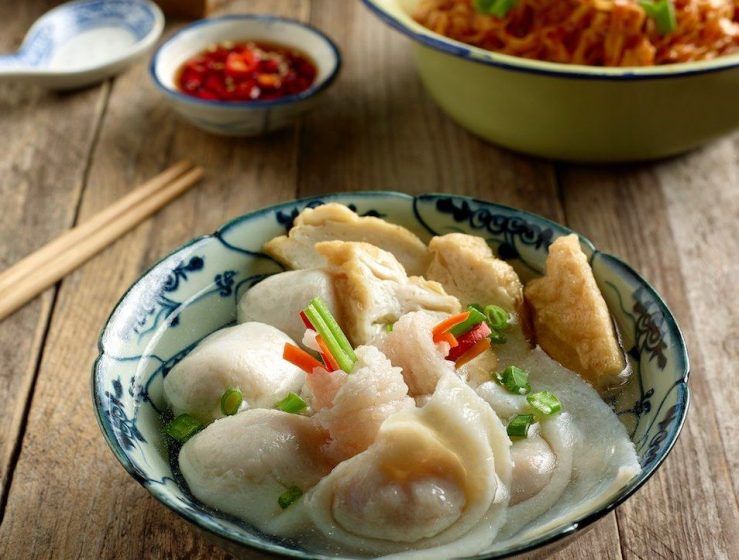 22 Lor 7 Toa Payoh, #01-20, Singapore 310019
Lixin's story goes back to 1968 when founder Lim Lee Seng started selling fishball noodles from a pushcart. Their fame grew when they moved to the now-shuttered Bendemeer Road Hawker Centre in the early 70s, and continues at their current location in Toa Payoh. Now run by the second generation, they still make the signature fishball and fishcakes the old way – hand-shaped using pure yellowtail – while the fish dumpling skin is rolled paper-thin and wrapped around juicy minced pork. Lixin was recognised with a Michelin Bib Gourmand in 2023.
(Image credit: Lixin Teochew Fishball Noodle / Facebook)
08
Min Kee Tanjong Rhu Wanton Noodle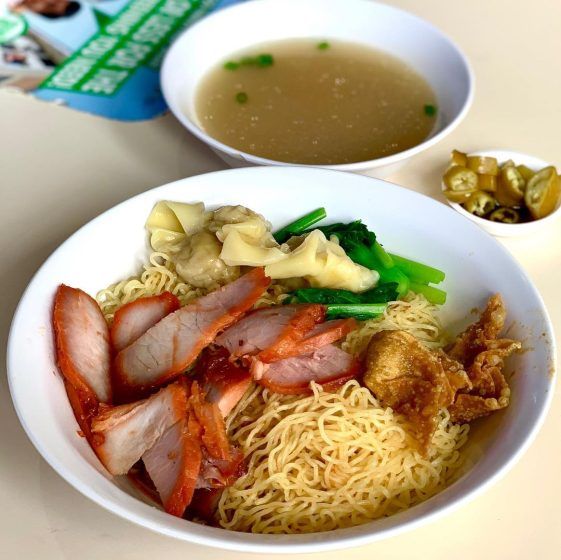 22 Lor 7 Toa Payoh, #01-49, Singapore 310022
The Tanjong Rhu brand of wanton noodles is littered throughout Singapore and varies widely in quality. Fortunately, Min Kee stays at the sharper end of the heap. In business since 1986, they cook the noodles by blanching it in both hot soup and cold water to give them a springy texture, and the wantons have a silky skin. Min Kee offers various options of dressing your dish from plain to chilli ketchup, and the chilli with black sauce offers both heat and lusciousness.
(Image credit: @george.kooi / Instagram)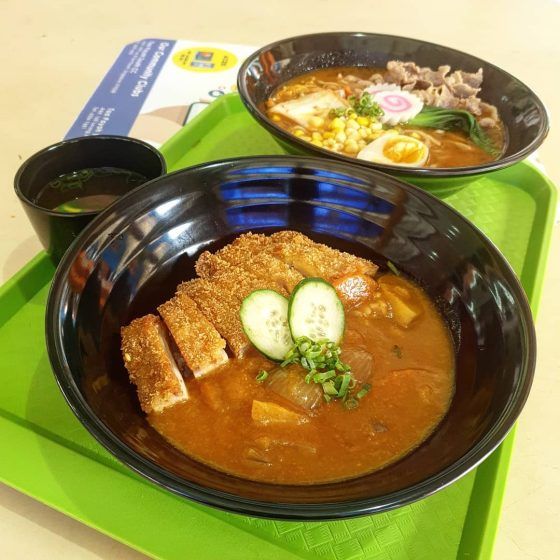 22 Lor 7 Toa Payoh, #01-61, Singapore 311022
Oiishii Corner brings Japanese food to a wider audience by being both Halal-certified and affordable. Dishes like ramen and udon contain no alcohol, and feature chicken, beef or salmon instead of pork. Prices mostly hover around the S$5 to S$6 mark, and the stall is generous with their portions.
(Image credit: @sarthahirah / Instagram)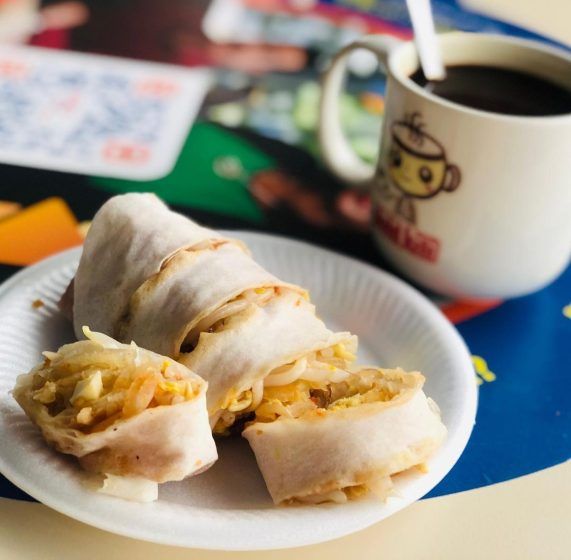 22 Lor 7 Toa Payoh, #01-61, Singapore 311022
Old Long House specialises in popiah with a long heritage. The business was founded in 1930, spent years at Long House coffeeshop, then moved to their current spot when Long House closed. The dish still adheres to their original recipe, which has no MSG, artificial colourings, and preservatives. The stall also does not use pork and lard, and seafood in the turnip. For popiah parties, Old Long House sells platters on their website.
(Image credit: @jamietan04 / Instagram)