More than just a buzzword, sustainability has become a common goal for both consumers and F&B businesses.
The practice for restaurants equates to operating in a way that protects, preserves or restores the natural environment. In this day and age, it is important for everyone to do our part to mitigate the environmental impact. In the realm of F&B, that could mean a lot for Mother Earth and also for consumers who want to adopt healthier more balanced diets.
In light of that, we spotlight seven restaurants and bars in Singapore leading the charge in offering guilt-free sustainable dining and drinking experiences.
7 Restaurants in Singapore for guilt-free sustainable dining and drinking:
This story was first published on Prestige Singapore.
Jump To / Table of Contents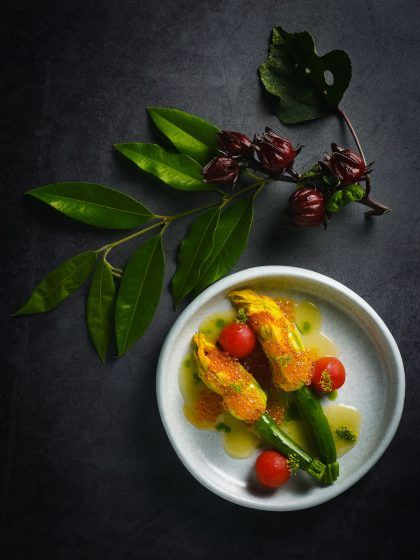 88 Market Street, CapitaSpring, Singapore 048948
These two sister restaurants are the latest launches within 1-Arden, a multi-concept lifestyle destination at CapitaSpring tower that seeks to be a model of sustainability and culinary brilliance by lifestyle and F&B group, 1-Group. Kaarla puts the spotlight on Coastal Australian Cuisine, while Oumi offers modern Japanese Kappo dining.
Not only do the two share a space on the 51st floor, Kaarla and Oumi are both underpinned by the same principles of Environmental, Social, Governance (ESG) and UN Sustainable Development Goals (SDG). They are committed to maximising fresh produce with a "nose-to-tail" approach and using seasonal, responsibly sourced and ethically raised produce from Australia, Japan and local farms in Singapore.
While they have ensured their sources are sustainable, it simply cannot beat getting produce from one's own backyard. Just outside of Kaarla and Oumi is the 1-Arden Food Forest – the world's highest urban farm spanning 10,000 sq ft and organised into five themed gardens: Singapore Food Heritage Garden, The Wellness Garden, The Mediterranean Potager Garden, The Japanese Potager Garden, and The Australian Native Garden.
In partnership with social enterprise Edible Garden City, 1-Group set up the Food Forest to support the ecosystem of farm-to-table dining at its restaurants. Guided by a philosophy of "lifestyle thrivability", the culinary teams work closely with the urban farmers to showcase sustainable dining and drinking. Diners and members of public can also visit the garden, learn more about the possibilities of local agriculture and hopefully be inspired to grow their own food.
To showcase Kaarla's closed-loop culinary approach, which creates little to no waste in food production, the restaurant offers the Kaarla Closed Loop Salad, put together only with the Food Forest's bounty. The ingredients vary according to what is in season and can include roselle leaves, Filipino spinach, marigold, Egyptian star, cat whiskers, wild watercress and more – all tossed in a fermented calamansi juice dressing and laid on a bed of tiger nut curd and pickled daikon.
Projects like the Food Forest avoids over-harvesting. Kaarla's Our Zucchini dish with mussels, tomato and trout roe features zucchini flowers harvested from either the Food Forest or locally.
When it comes to the drinks, craft cocktails also follow the seasons and harmonise Japanese and Australian ingredients – with some grown in the Food Forest. Oumi's Silk Merchant cocktail is composed of gin infused with fresh strawberries and lemon myrtle from the Food Forest, together with red shiso umeshu, ginger liqueur, honey, fresh yuzu and a frothy egg white foam.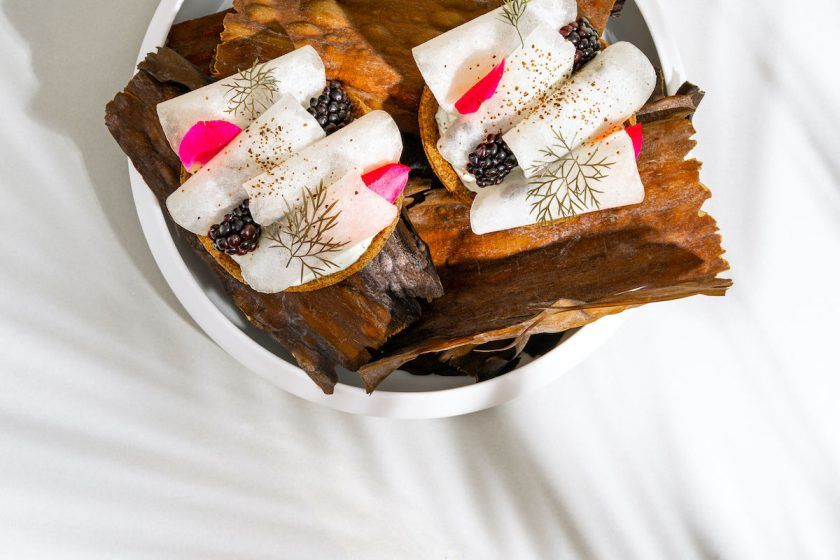 1 Nanson Road, #02-07, InterContinental Singapore, Robertson Quay, Singapore 238909
Named after a common edible plant that sprouts in abundance across Denmark, Mallow is a playful, vegetable-forward concept by Singaporean pastry chef Janice Wong that hopes to inspire new ways of living through imaginative cocktails and small plates. The muse for Mallow was Christina Rasmussen, a Danish- American chef and forager who was the head forager for Noma (ranked The World's Best Restaurant 2021) and conscious dining group Ark Collection.
Wong personally invited Rasmussen to create and operate the concept of Mallow, building it around her background in foraging and her artistry in creating dishes out of plants grown and picked from native soil. The hope is to serve a menu of flavourful cocktails and bites with a mindful and minimalist approach that inspires patrons to live a little more consciously.
A great way to experience this is through The Taste of Mallow, a six-course degustation menu paired with four cocktails. Ingredients are locally sourced, but the flavours and philosophy behind the dishes are largely European, drawing inspiration from Rasmussen's Danish heritage and expertise in Copenhagen's culinary circles. One of the snacks on the degustation menu, Tartlet Tears, is a reinterpretation of an old kelp tart recipe from her time at Noma. She has refreshed it with a briny cream filling made with oyster leaf, as well as blackberries, thinly sliced kohlrabi, bronze fennel, kelp "pepper" and rose petals.
To go with the food, Sasha Wijidessa, who previously headed the now- defunct Operation Dagger and is currently the Asia brand ambassador for Empirical Spirits, puts forward an exciting menu of conscious cocktails made with unusual spirits and ingredients. Her Orange Julius has a base of Ayuuk, which is an earthy, smoky spirit from Empirical Spirits, blended with egg yolk, orange and apricot for a citrusy, creamy concoction reminiscent of its namesake.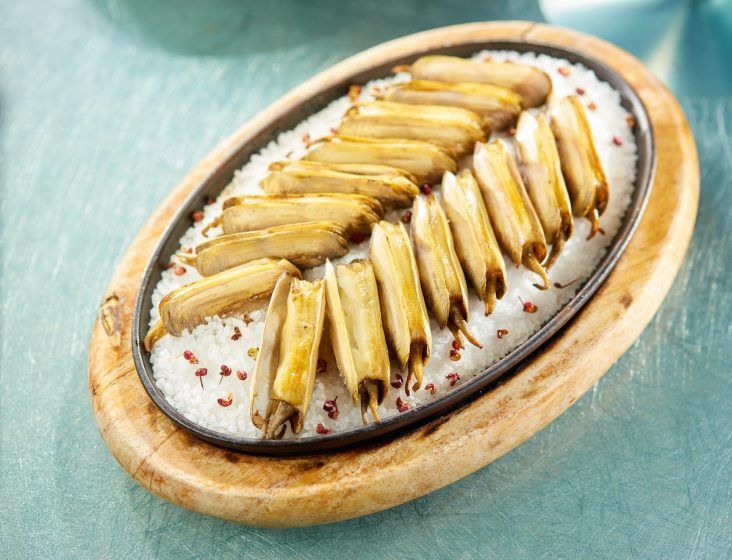 While clams tend to be farmed using high-tech aquaculture, the famous Duotou clams of Fujian province in China are still grown the ancestral way dating back over 600 years. They are named after Duotou fishing village in the city of Putian, which boasts a geological phenomenon of black mud tidal flats that evolved over the past millennium to become enriched with minerals, brine algae and organic matter.
This 20,000 micron layer of supercharged mud contains practically no sand, and boasts a higher than normal salinity level thanks to the 18 to 20 per cent salinity of the bay's seawater. Together, they make the perfect breeding ground for Duotou clams, also known as Chinese razor or Agemaki clams, which are sweeter and fatter than those from anywhere else in the world.
Working in tandem with the environment and the clams' growth cycle, the farmers space baby clams by hand in September, and wait six months for them to reach roughly 6cm in length before the harvest season from spring to summer. This traditional method is a painstaking one, as the farmers labour over their own designated swaths of open-water mud and do not deploy machinery. The clams are so expert in digging deep Putien's Salt-baked Duotou Clams Left: Putien's Red Mushroom Duotou Clam Soup that they are anchored in depths of up to 30cm, which translates to over two hours of back-breaking work for harvesting every single bucket.
At Putien, the official promoter of Duotou clams in Singapore, diners can savour the fruit of this ancient practice from now until August. The bi-valves come encased in a unique golden shell, bearing flesh that is plump, sweet and crisp to the bite. Showcasing the succulent texture, delicate savouriness and sheer freshness of the clams, which are shipped here twice a week, are nine cooking styles offered by the restaurant – from baked in salt or rice wine, to deep- or stir-fried, to soup-boiled or a classic garlic steam.
Eat as the locals do by ordering the clams baked over a hotplate of salt studded with Szechuan peppercorns. For something unconventional, try them boiled à la minute, at your table, in a clear broth enhanced with rare wild red mushrooms from the Wuyi Mountains in Fujian, which is a Unesco World Heritage Site. Prized in Traditional Chinese Medicine and also known as the Oriental truffle, the dried red mushrooms have an earthy, wine-like flavour, and release their natural red pigment during the flash-boiling process, imparting to the soup a delightful pink blush.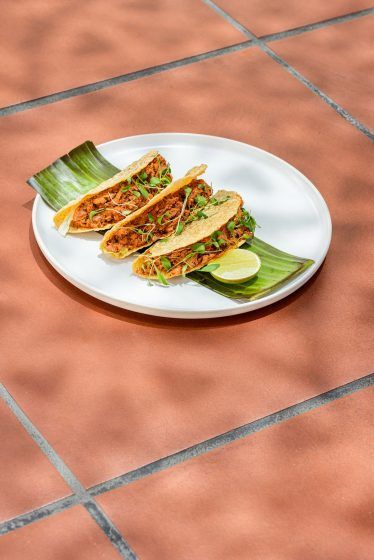 30 Victoria St, #01-31 Chijmes, Singapore 187996
A striking cerulean blue bar top takes centre stage at Analogue Initiative, its form rising and falling throughout like undulating waves. What is even more impressive about this visual treat is the fact that the 3D-printed bar top was made from 1,600kg of recycled plastic bottles – a labour-intensive feat that took five months to complete. The surrounding smaller tables are also consciously crafted from mycelium, a root-like structure of fungi.
These eco-friendly fixtures are intended to make a statement and cement the bar's drive for sustainability. Founder Vijay Mudaliar, who is also behind the award-winning bar Native, and his team at Analogue aim to set the standard for restaurants and bars of the future. They hope to introduce new perspectives on food and flavours with a fully plant-based menu, and an inclusive drinks programme that gets creative with both alcoholic and non-alcoholic cocktails.
Ingredients here hint at what the future of farming and diets could be, in light of rising temperatures that have altered crop harvests. Diners will see carob in place of chocolate, tonka bean instead of vanilla, and chicory instead of coffee. Cocoa lovers will appreciate the dessert-like Carob cocktail, which is made with carob, a legume from the Middle East that is commonly used as a chocolate substitute. In this concoction, it is distilled and mixed with pumpkin seed cream, mint, and sugar substitute xylitol to create an explosion of chocolate and mint flavours.
The dishes here are also packed with enough flavour that one hardly misses the meat. A crowd favourite is the Jackfruit Tacos, which features the fruit slow-cooked until tender in an aromatic rendang, then stuffed into a crispy taco shell with butterhead lettuce and micro coriander. Before serving, the tacos are lightly toasted over a binchō-tan grill to enhance its rich and meaty flavours. There is also the addictive plant- based Nuggetz that look indistinguishable from fast-food-chain nuggets, but are just as, if not more, crispy, juicy and satisfying. These are made from soy protein and served with a sweet and spicy house-made curry crack sauce.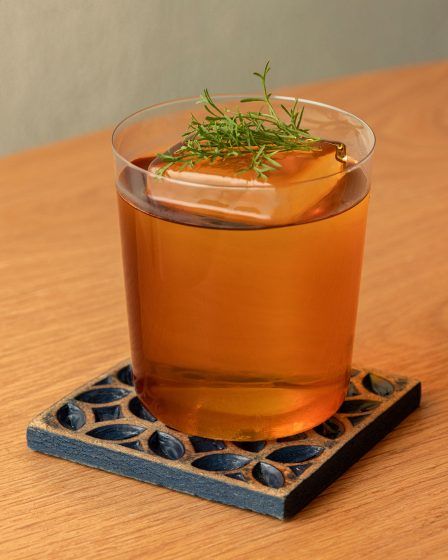 52a Amoy St, Singapore 069878
Since Native opened its bar in 2016, it has prided itself on using only local and regional ingredients, quickly earning its status as the forerunner of sustainability and zero waste drinking in Singapore and even the region. Building on these same principles, the brand has now grown and expanded its space, taking up all three floors of its existing shophouse unit and opening a restaurant on the ground floor.
Head chef MJ Teoh and her team pay homage to their heritage and Southeast Asian roots in the food, adding touches of their culture and memories. Their menu is plant-forward; with more than three-quarters being vegetarian or vegan.
In Native's Miang Kham, Teoh recreates her memory of the first time she tasted this Thai wrap at culinary school, reinventing it with flavours of rojak. Served deconstructed for diners to DIY, the dish consists of a pineapple shoyu paste made with the liquid from fermented pineapple trimmings left over from the Pineapple Arrack cocktail served at the bar upstairs. This is to be combined with ginger flower, lemongrass, borlotti tempeh crisps and toasted coconut, and wrapped in wild pepper leaves.
When using meat in the only dish at the restaurant that contains a land animal, the Nose to Tail Chicken Pao Fan, the team ensures that every part of the bird counts. Slices of tender thigh meat from the organic, free-range chicken sit atop a bed of rice in a bowl of comforting broth made from roasted chicken wings and feet. Bite-size pieces of chicken gizzards add texture to the dish, along with a side of puffed rice made from unused cooked rice and a fiery dose of Ah Moy's chilli – made according to Teoh's mother's recipe.
This chilli sauce is so well-loved that the team decided to also use it in the one of the restaurant's cocktails, all of which are designed to pair well with the food. Called Ah Moy's Mary, the drink is Native's version of a Bloody Mary, made with shiitake distillate, black garlic, pickled cucumber, cherry tomatoes, Ah Moy's chilli and local Kwong Woh Hing light soy sauce.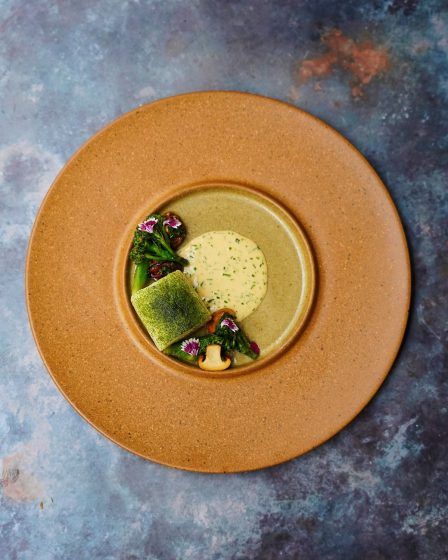 Growing up on a farm in Stanthorpe, Queensland, Australia, chef-owner Drew Nocente has a deep-rooted respect for produce, farmers, and the belief of never allowing food to go to waste. His father taught him how to maximise the use of every part of an animal through techniques like curing and ageing, which are expressed in the name of Nocente's restaurant, Salted & Hung.
Together with his team, Nocente pushes a philosophy he calls Zero Food Waste Dining, where every ingredient is cleverly and creatively utilised to its full potential to achieve minimal waste. This philosophy not only applies to the food, but extends to every part of the kitchen and restaurant.
No single-use vessels are allowed at Salted & Hung, and all single-use plastics in the kitchen such as cling wrap, garbage bags and disposable packaging have been swapped out for biodegradable versions. In the Salted & Hung's signature Aged Turbot dish dining room, no plastic straws are used, while marble coasters have replaced paper ones. The team also strives to find ways to upcycle kitchen waste, such as turning scraps from the kitchen into compost, and using abalone shells (from an abalone dish) to make cutlery holders and steak knife handles.
A great representation of Nocente's food philosophy is the restaurant's signature dish, the Aged Turbot. Every part of the fish, from fin to innards, is used in the three elements of the dish: Turbot, Turbot Tea Broth and Turbot Liver Vin Jaune sauce. The turbot fillet is first aged for five days to enrich its flavours, then rolled and slow-cooked to perfection. The skin and turbot trimmings are fermented into a garum that is later used to season the vegetables. Next, a sauce is made from the turbot liver and Vin Jaune, while the turbot bones are hung and dried for 14 days to make the dashi broth.