Scotts Square has always been a mall for unique tastes and innovation. Brilliantly off-kilter streetwear brand Stüssy has its chapter store there, and Planet Plus is a favourite with eclectic offerings for those in the know.
It is also a mall with iconic F&B establishments. Wild Honey has always been among the most accessible fine-dining spots along the Scotts Road stretch. Eggslut's opening saw long snaking street-level queues, and even today, it can sometimes be difficult to get a seat there during peak hours. Pizza Express in the basement consistently sees a steady stream of foodies who love its more unusual pizza offerings.
Kakushin is perhaps definitive of Scotts Square's appeal: taking the iconic and the innovative, and combining them to offer something familiar in Japanese omakase dining but elevating it with some novel ideas. The space sets it up, with palettes of gold and black, as well as textures of refined Japanese wood and Italian marble to effectively give a sense of luxury to proceedings. The thing about my job is that I've seen many gorgeous interiors – it is easy to get that with interior designers in Singapore. But I've been to spectacular-looking restaurants which were gastronomic disappointments. What will truly capture the imagination, ultimately, is the food. And Kakushin does not disappoint.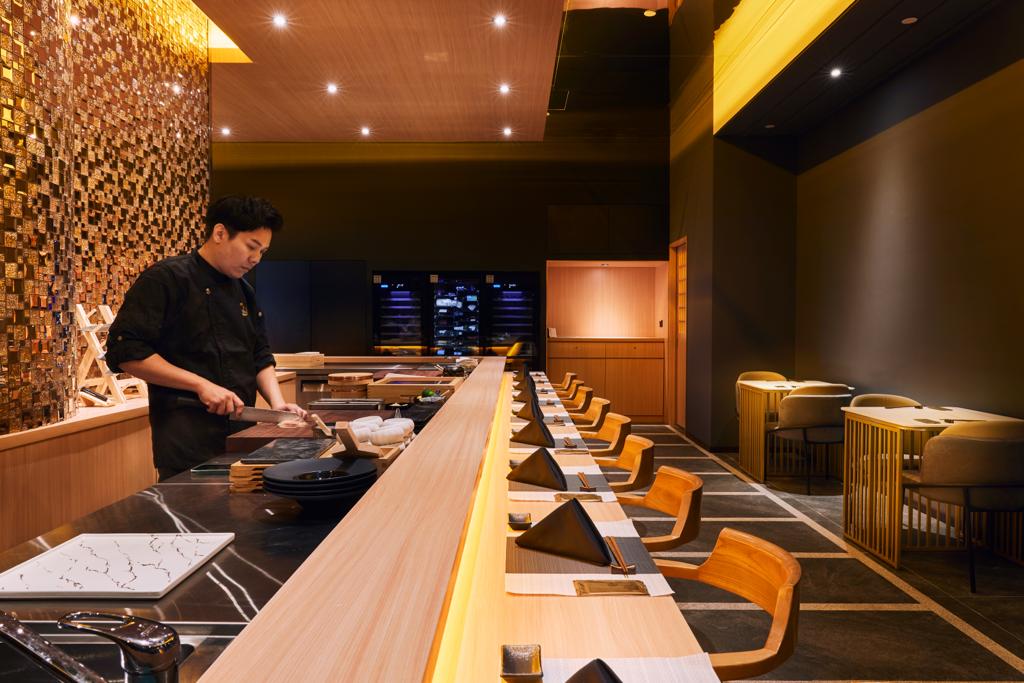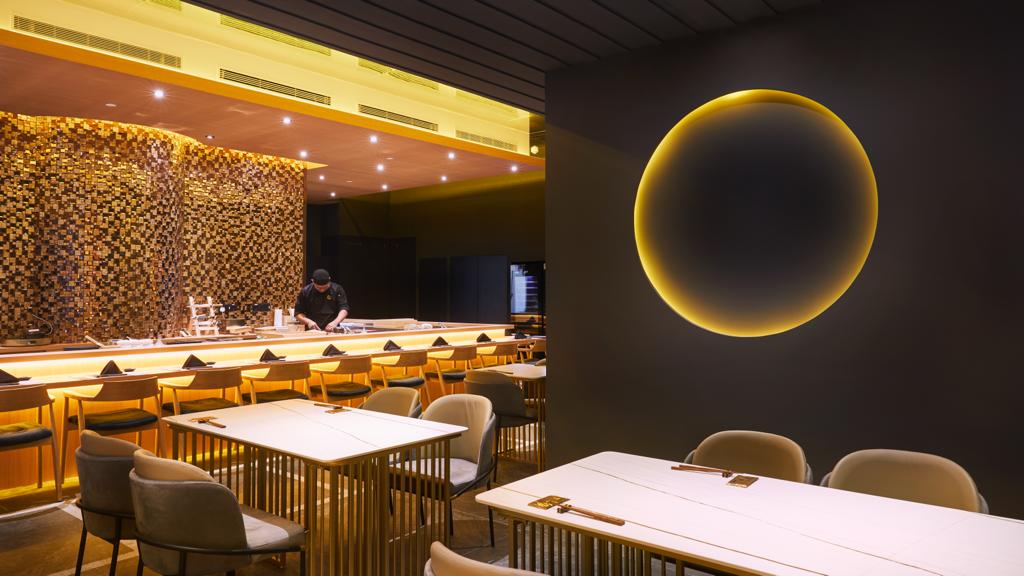 It boasts a menu ennobled by fresh, premium produce. The à la carte menu exemplifies this with amazing sashimi and sushi options, and a mouthwatering Sous Vide Kagoshima Beef Short Rib as well as a delectable Chargrilled A5 Kagoshima Wagyu with Truffle Balsamic Sauce. But it's in its Omakase menus that Kakushin really shines – guests can choose between a Lunch Omakase and a Dinner Omakase (S$228 for seven courses, S328 for nine courses).
I tried the Lunch Omakase, which comes in at S$168 for a six-course or between S$30 and S$82 for a Chef's five-course set, depending on the main you pick for that set. I had the six-course, which is enough to give any visitor a strong sense of Chef Daniel Chan's culinary philosophy. It is also ample for you to enjoy the fact that Kakushin's ingredients are handpicked – almost curated – and directly imported by Chef Chan and his team from well-known Japanese markets such as Toyosu Market as well as specialty farms in Japan.
With these ingredients, the culinary team cooks up a storm, a gastronomic journey that excites the palate in creative, outstanding ways.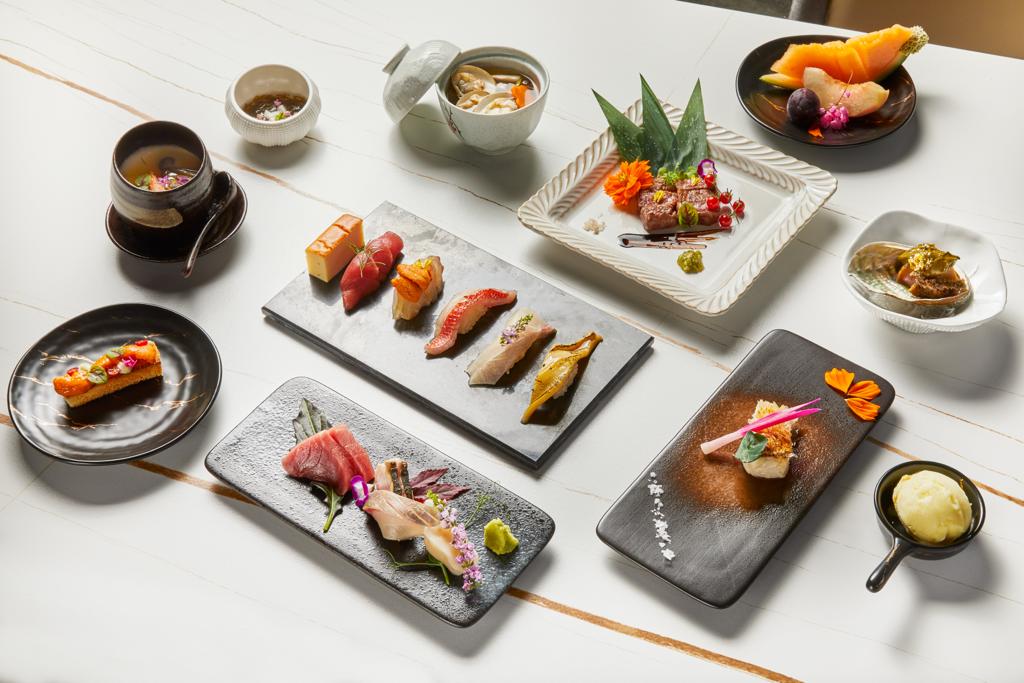 The first course already teases at the manner in which Kakushin procures its ingredients, with a seasonal appetiser. We had a deliciously fresh, juicy oyster, its flavours enhanced by generous toppings of salmon roe and passionfruit bits. This was followed by the exquisite Usuzukuri, a carpaccio-style sashimi packed with umami flavours. It was the perfect opening, priming the palate for the kinds of flavour profiles to come, and the gateway to what Kakushin does best: sushi. I was thoroughly impressed with what Chef Chan and his team have conjured here.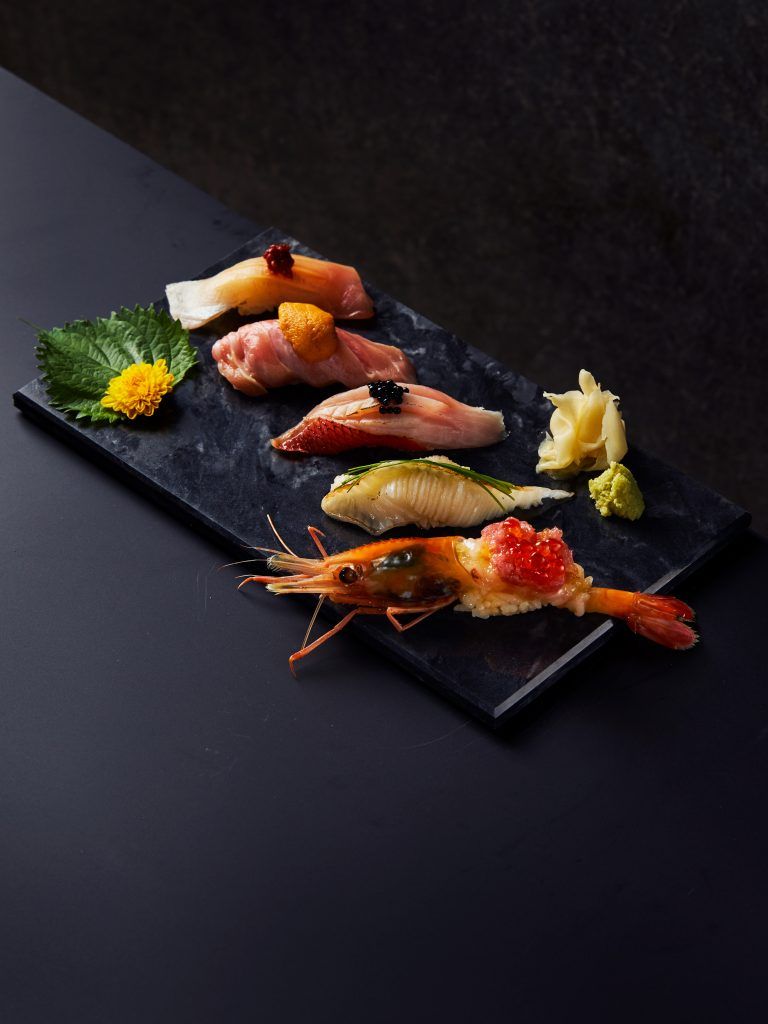 The first genuinely outstanding one was the flounder fish sushi, seared and served with kombu, a kind of edible kelp that helps bring out the umami goodness of the fish. The blue fin tuna and crystal prawn sushi was just as stunning, the flavours of the seafood combining together in an unexpected manner, each elevating the flavour profile of the other. You'll see this repeatedly in the menu: Chef Chan likes the dance of flavours, and is a master in complex flavours, cleverly using different ingredients to complement one another.
This is epitomised in my favourite sushi – which also uses flounder fish, but the flesh closer to the fin, where there is a higher fat concentration. Chef Chan serves the lightly seared fish simply with salt and lemon, which bring out the fatty goodness of the fish in a marvellous way. It's a deceptively uncomplicated, straightforward dish, but it is testament to how much the Chef and his team can achieve so much with so little.
The fifth course was the signature Kakushin Omakase Soup, one final reminder of Chef Chan's mastery before the Omakase came to a close with a
platter of seasonal Japanese fruits and house-made Japanese ice-cream.
Having opened late last year, Kakushin is slowly gaining traction as a Japanese fine-dining destination. Its popularity has not grown organically, perhaps due to Scotts Square's rather niche audience, but I highly recommend a visit, to at least sample Chef Chan's more unique sushis and partake in his ingenious approach to Japanese cuisine.
It is definitive of Kakushin's ethos. Founder Maggie Lai says, "With Kakushin, our aim is to showcase the best of what Japan can offer with an imaginative twist. We believe that we can bring the omakase experience to a new level and yet, still have our guests resonate deeply with the heart and soul of each dish placed before them."
Kakushin is at 6 Scotts Road, #02-03 Scotts Square, Singapore 228209, tel: 9728 6813. Opening hours: 11.30am – 3pm and 6pm – 10pm (Tuesdays to Sundays)
written by.
Suffian Hakim
Senior Writer, Augustman Singapore
Best-selling novelist, playwright and screenwriter Suffian Hakim is AUGUSTMAN Singapore's Features Editor. He writes articles on arts, culture, entertainment, cars, watches, travel and more - all in an effort to properly investigate and define that nebulous, all-encompassing L-word: lifestyle.