CORPORATE lunches and company dinners are always a tough nut to crack. If you default to the simple and bland, it becomes a boring, drawn-out affair. But many restaurants who try too hard to buck the trend fall by the wayside with poorly-concocted dishes and less-than-ideal pairings.
This Chinese New Year, we have shortlisted five upmaraket restaurants who've nailed their innovations and which present both classic and redefined cuisine that'll delight your guests or family.
Be it to continue a profitable relationship with the clientele or strike a good, lasting impression with bosses, here are the choice locations to host a top-end CNY feast this year.
Violet Oon Singapore If you have been to any of Violet Oon's branches, you'd know how they never fail to put a good old Peranakan and Nyonya twist to our local delights, while giving us a taste of home. This Lunar New Year looks to deliver on that premise. Its rendition of yusheng – loosely described as a Cantonese-style raw fish salad – by throwing in a tropical twist with kaffir lime leaves, pink ginger flowers and green mangoes.
On its seasonal menu is also its hee peow soup, which comes with a generous serving of whole baby abalones, house-softened sea cucumbers, homemade prawn dumplings and crab balls. These dishes will definitely help strike a conversation or two. These dishes are available for pre-order (of at least 2 days) at all 4 of Violet Oon's restaurant branches in Singapore.
Jade Restaurant at The Fullerton Hotel If you are looking for some Cantonese cuisine, we figured Jade Restaurant would not only help impress your tastebuds, but also your clients and boss — which you probably would want a shot at.
For the Chinese New Year period, Jade Restaurant's executive chef Leong Chee Yeng has curated six festive menus for you to take your grand pick, promising that precious ingredients are gathered from all corners of the world. Its eight-course Grand Fullerton Golden Feast meal tops the list, featuring a range of alluring delicacies including the Gold Rush Yu Sheng with lobster, the Australian abalone and of course, how can we miss out its Crispy Suckling Piglet Skin with caviar in the Year of the Pig?
We reckon asking your clients out to the Jade Restaurant would present itself more than a lunch invitation, but a sensory feast that they will learn to savour and appreciate.
Cherry Garden at Mandarin Oriental Hotel On top of ushering in the year of the Earth Pig with hearty dishes such as braised pig trotters (with abalone on the side), the Marina Mandarin restaurant is bringing back their endless font of joy and "treasures" in the legendary 22 kilogram pen cai.
Expect the gigantic tub – with a girth that even a large man could not wrap his arms around – to make many rounds as your clients or relatives work the ladle into the rich and savoury broth. Collagen, not thickener or starch, supplies the mild viscosity that allows you the multiple helpings you need to snag one of every type of delicacy – from fishmaw and lobsters to abalone.
As for desert, we highly recommend not missing out on chef x's signature nian gao. The heavenly balance of crunch, chewiness and reined-in sweetness makes for perfect notes to end the meal on.
Uni Gallery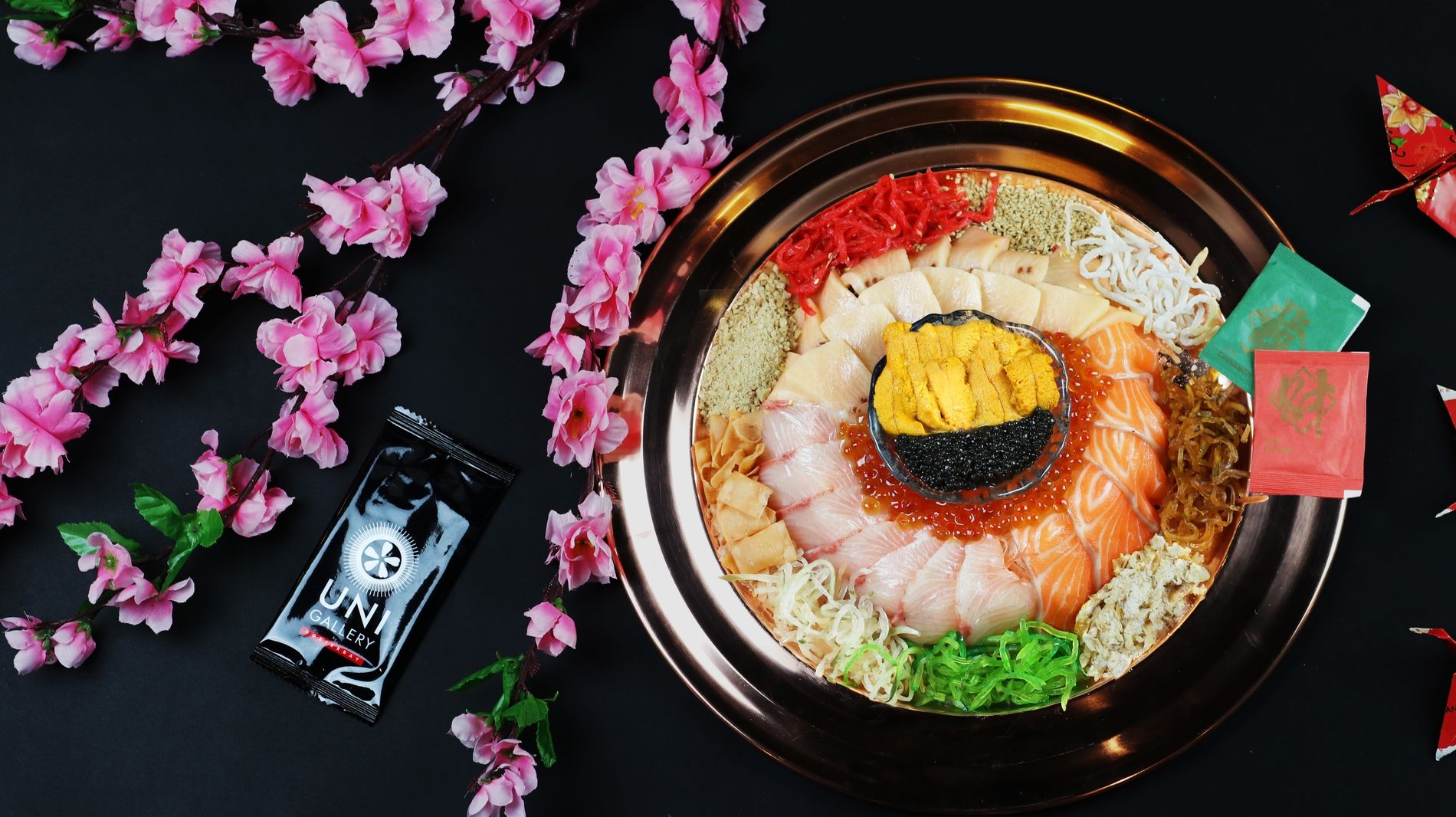 Since we are talking about yusheng, we thought we'd touch on Uni Gallery since it is serving up three different kinds of yusheng for you to pick. Its latest creation is the Uni & Caviar Sashimi Yusheng Platter, with (of course) the creamy Canadian Uni and Polanco Caviar taking centrestage. Uni tells us they are transforming the traditional dish into one that's "fit for the king", and who are we to deny this claim? The dish is completed with a dose of ikura and sashimi including salmon, kampichi and mekajiki — in essence, it's ostentatiously opulent.
The Butcher's Kitchen This Chinese New Year, The Butcher's Kitchen — the restaurant arm of The Butcher in Australia– has prepared a fusion of Chinese and Western dishes including the Char Siew Pasta with Truffle. Tossed and infused with the restaurant's homemade char siew sauce, the pasta features its signature glazed pork belly char siew which they guarantee will melt in your mouth.
And of course, the restaurant will be jumping on the mala hotpot trend that has hit our shores for a good while now. For its seasonal menu, it will also be launching a mala hotpot flavoured pasta, topped with roasted pork belly.
PHOTOS: Respective restaurants.