The BT21 franchise is now offering fancy BTS merchandise via online shops and physical stores worldwide. So, where can you find the best BT21 stores to fulfil your BTS fantasy?
BT21 is a popular brand with eight characters: KOYA, RJ, SHOOKY, MANG, CHIMMY, TATA, COOKY, and VAN. Created by BTS and Line Friends under their Line Friends Creators Project in 2017, each character represents a BTS member in one way or the other.
BT21 stores offer you quirky apparel featuring these characters: T-shirts, customised neck pillows, face cushions, plush toys, stickers, tumblers, keychains, mugs, posters and whatnot. So whether you're a BTS fan or not, the BT21 merchandise will definitely appeal to you.
Looking to buy BTS merchandise, but don't know where to go? We've curated a handy guide about the best BT21 stores around the globe that are worth the hype. Keep reading!
[Hero and feature image: bt21_official/Instagram]
Top BT21 stores around the world offering BTS merchandise
1. Seoul, South Korea
If you want to witness the LINE FRIENDS collection in all its glory, Seoul has you covered. From life-size statues of some of the most famous characters to electronic gadgets, clothes, accessories, eye masks, phone covers and more, the stores offer high-quality product lines to choose from.
What's more interesting is that these LINE FRIENDS & BT21 flagship stores have an in-house cafe to curb your hunger pangs. Here you can choose from a variety of desserts, smoothies, sundaes and coffee served in your favourite character design cutlery!
Further, get a tour of the amazing model house of BROWN & FRIENDS, featuring dedicated rooms for each character. BROWN & FRIENDS, BT21 and ROY6 members will also accompany you at each step of the staircase, thanks to the stores' character-themed staircases.
Here are the LINE FRIENDS flagship outlets in Seoul
1. Gangnam Flagship Store
Address: 437, Gangnam-daero, Seocho-gu, Seoul
2. Hongdae Flagship Store
Address: 141, Yanghwa-ro, Mapo-gu, Seoul
3. Play Insadong store
Address: 49, Insadong-gil, Jongno-gu, Seoul
You can also find your favourite BTS-themed products in LINE FRIENDS' online website for Korea.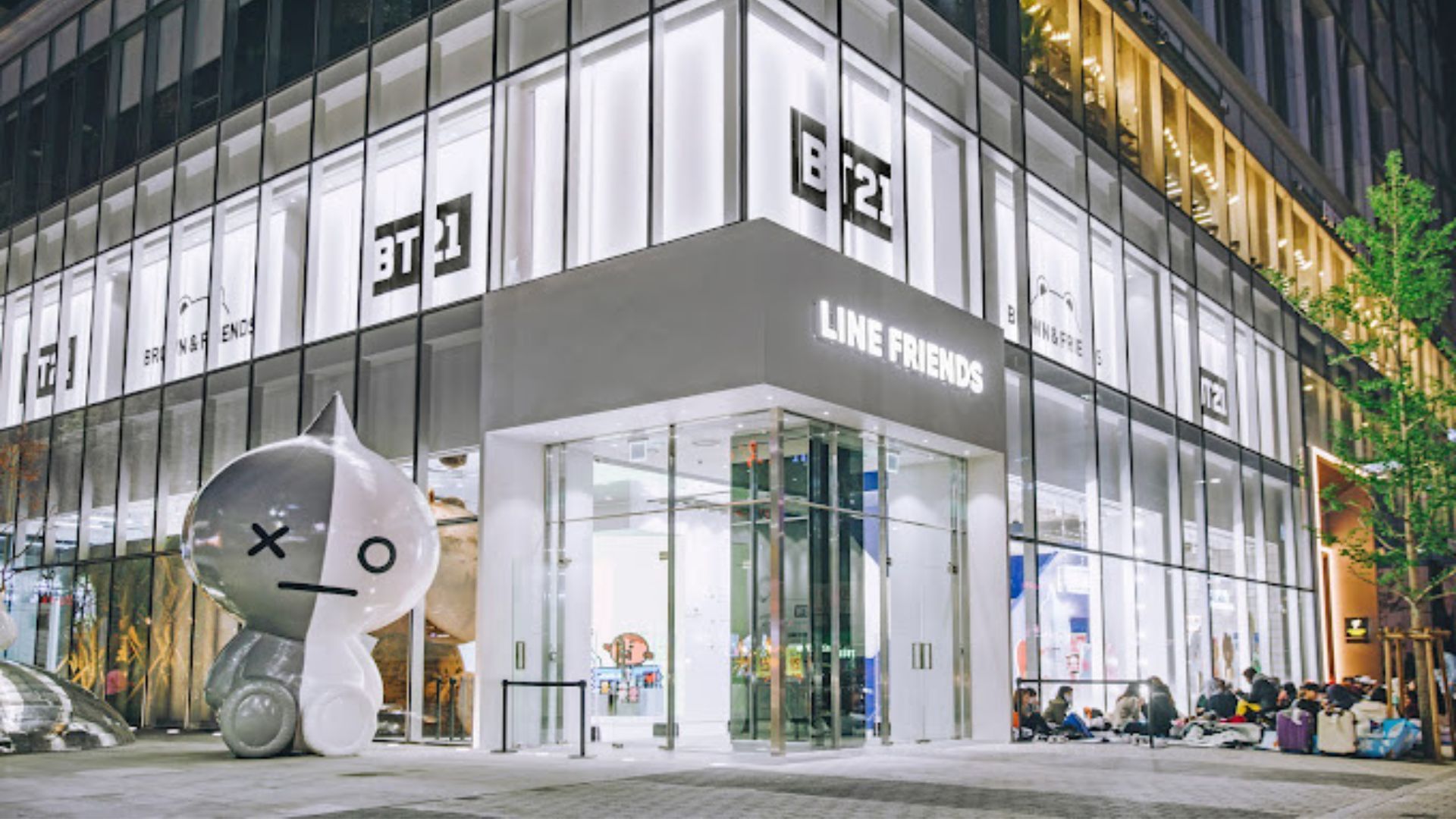 2. New York, USA
LINE FRIENDS debuted its first official US store in the heart of New York's Time Square. The store, which is spread over a large-scale, 430-square-metre space, enjoys the prime location of Broadway, which sees a significant tourist influx on most days. The futuristic space-themed area boasts a massive BT21 character statue and several character-themed products ranging from plush, apparel, and fashion accessories.
However, the major highlight is the BT21 video clip, which is on display on the Times Square LED Billboards. Apart from BT21, you'll find other major LINE FRIENDS characters like Choco and Brown on glorious displays. Don't miss stopping by the enormous Mega Brown statue, which sits right in the middle of the store.
Address: 1515 Broadway, New York, NY 10036
All BTS fans can also shop the BT21 merchandise via the LINE FRIENDS official US web store.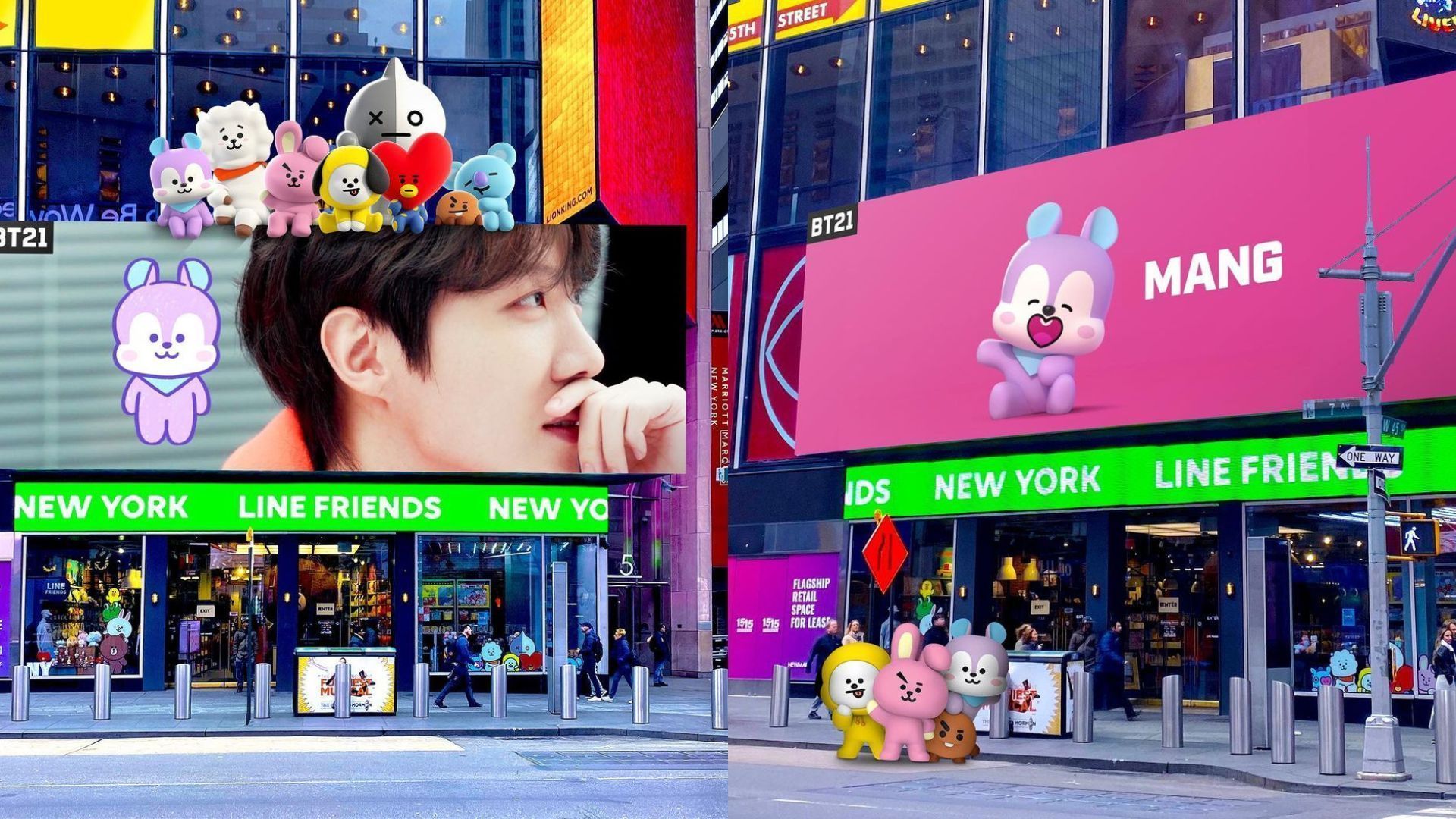 3. Los Angeles, USA
The second and largest LINE FRIENDS US store stands on Hollywood Blvd., right where Hollywood's Walk of Fame adorns the street. Apart from offering the famed BTS merchandise, the store has unique photo Instagrammable zones and displays for fans. You'll also find a Mega TATA character standing at the entrance, in addition to framed handprints of BTS members which are unique to the LA flagship store.
Address: 6922 Hollywood Blvd #101, Los Angeles, CA 90028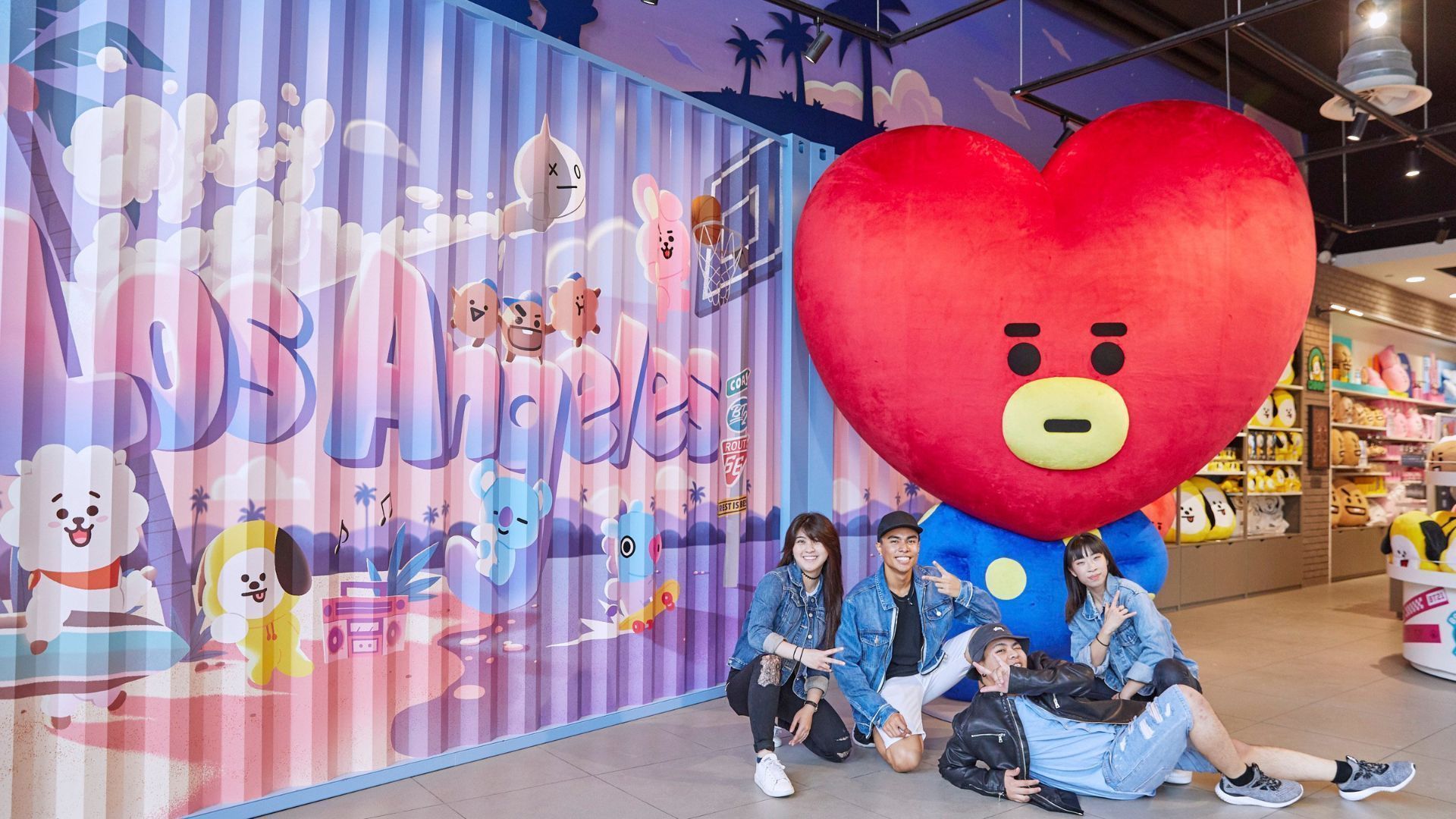 4. Tokyo, Japan
Japan's Flagship LINE FRIENDS store was opened on Meiji Dori Street in Harajuku, Tokyo. There's a whole floor dedicated to BT21 merchandise, where you'll find statues of characters on display and a big screen showing how the characters came to fruition. There's an expansive collection of everything from BTS character-themed t-shirts, phone covers, tote bags, clocks, key holders and a plethora of other things.
All BTS and BT21 fans can browse through the exhibition of original character sketches by the members as well as find detailed information on each of their animated versions.
Address: 4 Chome-31-12 Jingumae, Shibuya City, Tokyo 150-0001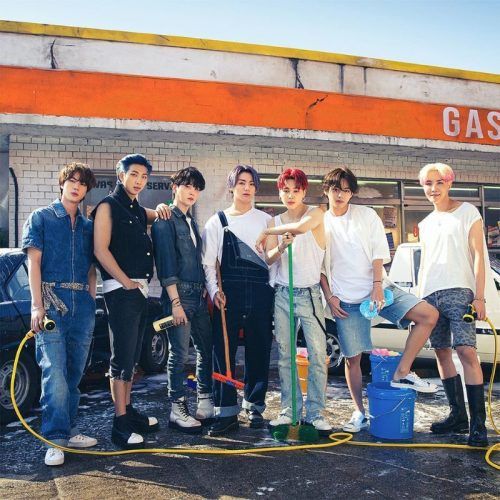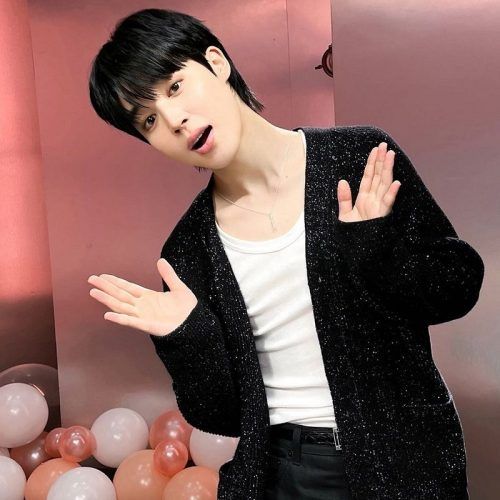 For all those who can't visit the physical LINE FRIENDS store, there's an official web store in Japan where you can start building your cart the right way.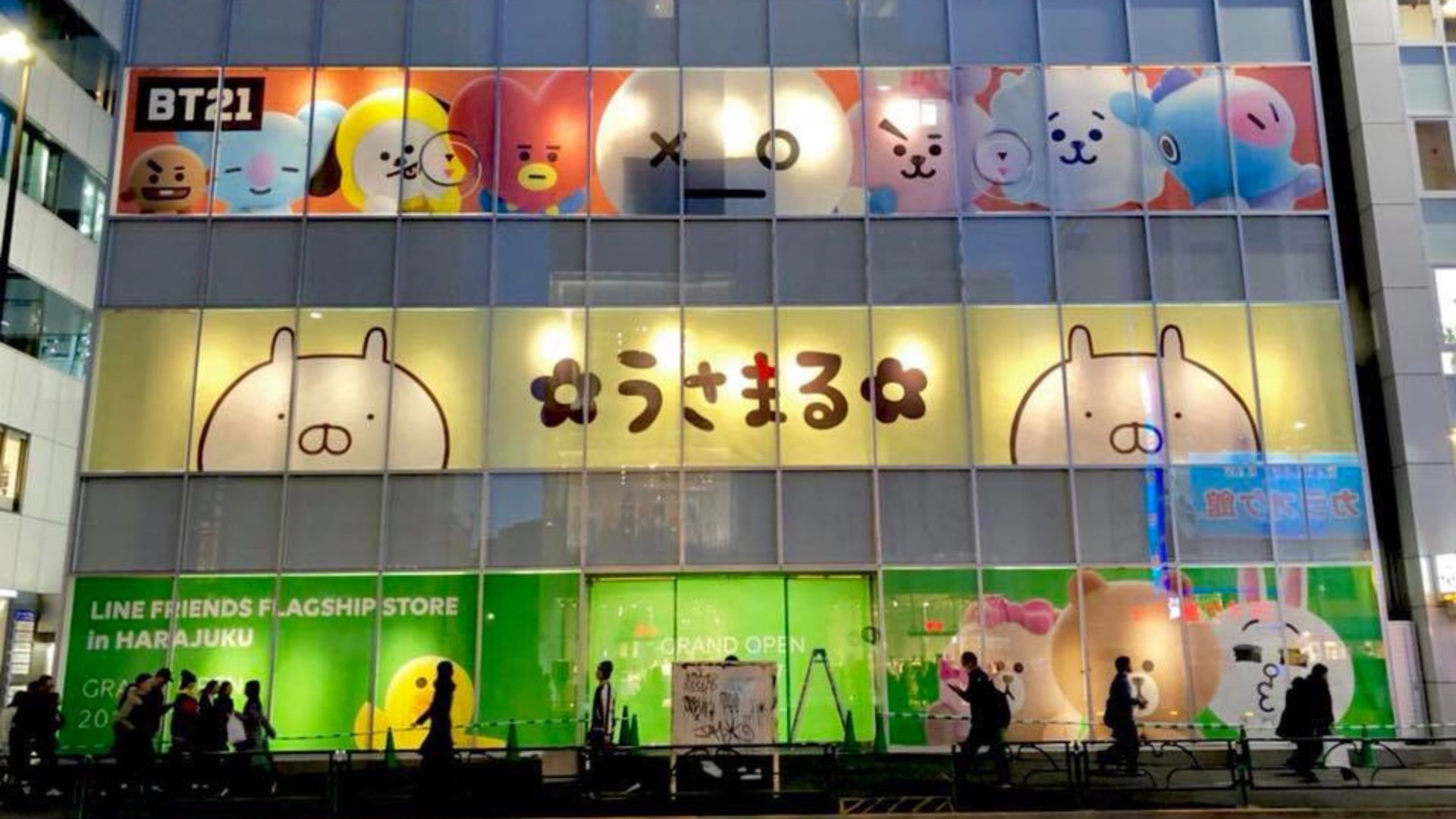 5. London, UK
While there are no official LINE FRIENDS stores in London, you'll get your hands on the BT21 merchandise via resellers.
Oseyo Chinatown Branch London: Oseyo brings a slice of South Korea to the heart of London and is ideal to stock up on all your K-pop stationary, K-beauty favourites and more. Among the hidden treasure here is some Line Friends merchandise comprising CDs, posters, stationery, books, towels etc. However, the price is almost double of what you'd pay at official LINE stores in South Korea or to re-sellers on Amazon, eBay or Instagram.
Address: 73-75 Charing Cross Rd, London WC2H 0NE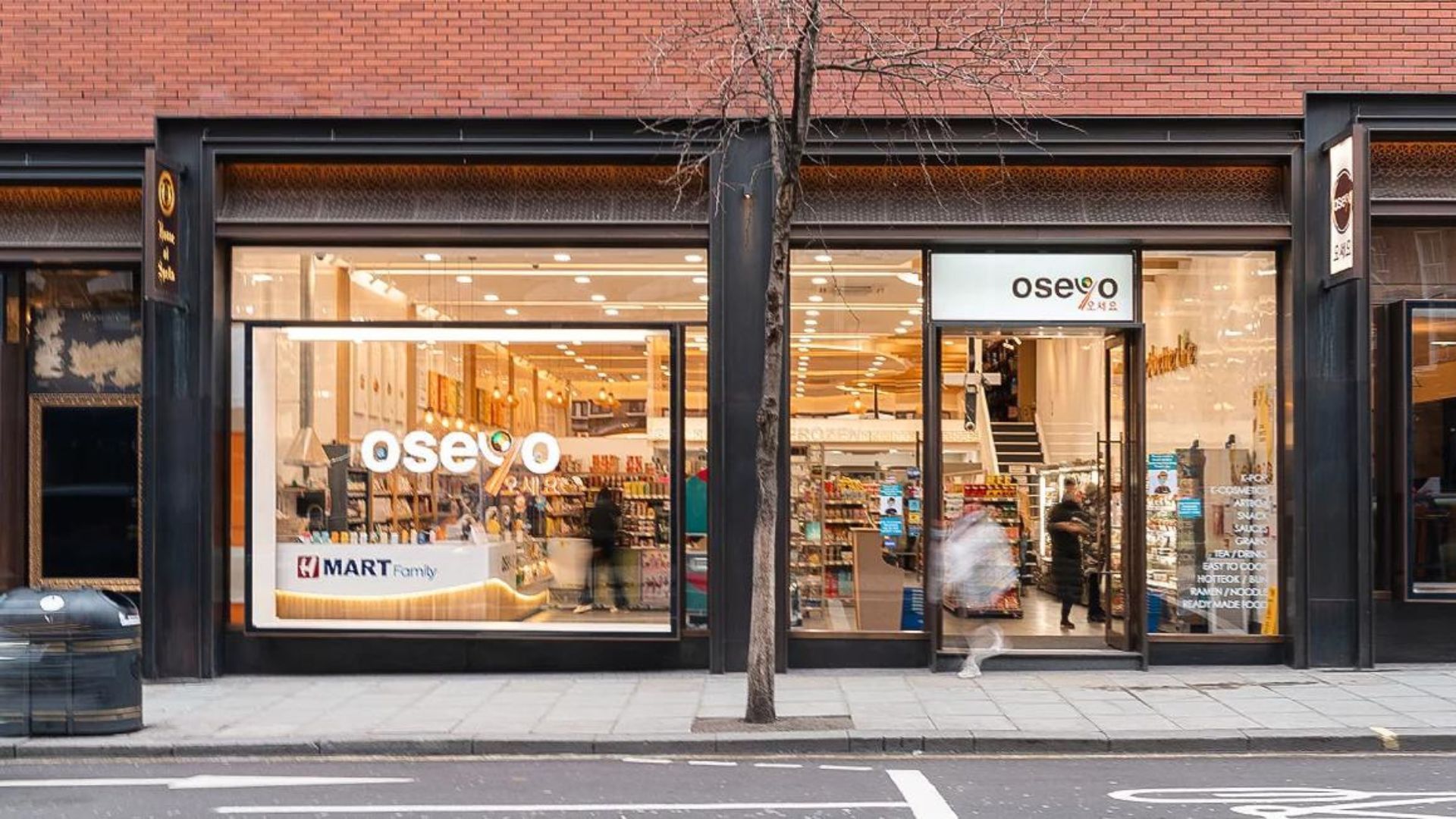 SOKOLLAB Soho Store: Located at Soho Square Garden, the store specialising in K-beauty and K-pop products has a good collection of BT21 merchandise as well. Located five minutes from Oseyo Chinatown, its price range is also much more affordable.
Address: 19 Soho Square, Soho, London W1D 3QN
View this post on Instagram
ARTBOX Covent Garden: A dream destination to buy character goods and stationery from South Korea and Japan, this store stocks original BT21 merchandise. For those of you who can't visit the physical store in London, ARTBOX has an online website offering free delivery across the UK.
Address: 44-46 Shelton St, London WC2H 9HZ, UK
View this post on Instagram
6. Chennai, India
The popular retail company Winterbear teamed up with LINE FRIENDS to bring six PLAY LINE FRIENDS pop-up stores across India. Chennai's VR Mall houses the first one, having everything from T-shirts, customised neck pillows, face cushions as well as plush toys. The flagship store was welcomed with massive fanfare from all Indian K-pop lovers. Apart from BTS, the store has products featuring members of BLACKPINK, EXO and more. You can also shop for BTS' famous coffee as well as ramen products here.
Address: VR Chennai, 100 Feet Rd, Thirumangalam, Anna Nagar, Chennai, Tamil Nadu 600040
Official BT21 merchandise and other LINE FRIENDS products are also available online in India via Winterbear's web store.
View this post on Instagram
7. Maharashtra, India
After the overwhelming response to BT21's Chennai outlet, Winterbear launched a store in Mumbai as well as Pune. Offering everything from plush toys to stylish apparel, accessories, and stationery, there's something for every BTS fan out there. The BT21 franchise expansion is a testament to the passionate BTS fan base in the country.
Apart from the aforementioned cities, Winterbear will be bringing the BTS universe to Bengaluru, Hyderabad as well as Delhi in the near future.
Winterbear Mumbai address: Phoenix Marketcity Kurla (Lal Bahadur Shastri Rd, Patelwadi. Kurla, Kamani, Kurla West, Kurla, Mumbai, Maharashtra 400070)
Winterbear Pune address: Phoenix Marketcity Viman Nagar, Pune (Phoenix Marketcity Pune, S No. 207, Viman Nagar Road, Viman Nagar, Pune – 411014

This story first appeared on Lifestyle Asia Bangkok
Frequently Asked Questions (FAQs)
Question: Is BT21 owned by BTS?
Answer: The BT21 brand was launched by LINE FRIENDS in October 2017. LINE FRIENDS and BTS have co-created the characters having resemblance to each band member.
Question: What does BT21 stand for?
Answer: The name BT21 was inspired by a comment from BTS member Suga. It comes as a combination of the group's name BTS and the 21st century.
Question: Why is BT21 so popular?
Answer: BTS' unparalleled popularity is what led to the creation of the BT21 franchise. It offers exclusive BTS merchandise across several prime locations in the world, making it extremely sought-after among all K-pop fans.