Golf is an outdoor sport, and Singapore is one of the best places in the world for a round of the game. But there is a major hindrance: the weather. The heat and humidity of our island nation can make it difficult for anyone to tee off on the greens without breaking into a major sweat. And perhaps this is why indoor golf courses in Singapore are becoming increasingly popular with many who need to practise and others who simply want to play a round for leisure.
All the indoor golf facilities in the Lion City are fully air-conditioned. Each of them is equipped with state-of-the-art simulators, which let golfers not only get the best experience of virtual versions of real-world courses but also gather data to help them improve their skills. More advanced simulations are almost on par with some of the world's best golf courses, and, therefore, help players become more adept at playing outdoors.
But data is not all; some of the facilities also have pro golfers as on-site coaches to help serious players train better for golf tournaments. Owing to their expertise, the coaches are better able to translate the data points into action for players.
Since facilities have specific sections, called bays, more than one player can play at the same time. All facilities provide golf clubs to players either free or at a nominal charge, but most of them recommend that players bring their own clubs.
At the same time, the facilities are designed to create a fun-filled environment. Some of them even have specific areas and indoor greens for children to learn golf. To make the experience more luxurious and comfortable, some facilities have their own menus offering delicious food and drinks to help players enjoy as they play or to regain energy after a tiring game.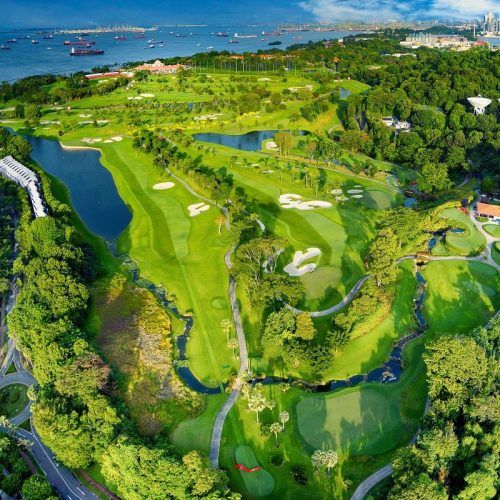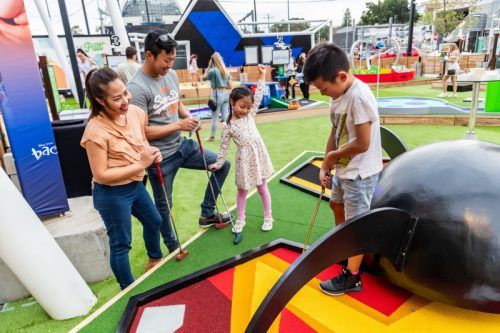 These are the finest indoor golf courses in Singapore
(Main and Featured images: Alpha Indoor Golf)
This story first appeared in Prestige Online Singapore
Jump To / Table of Contents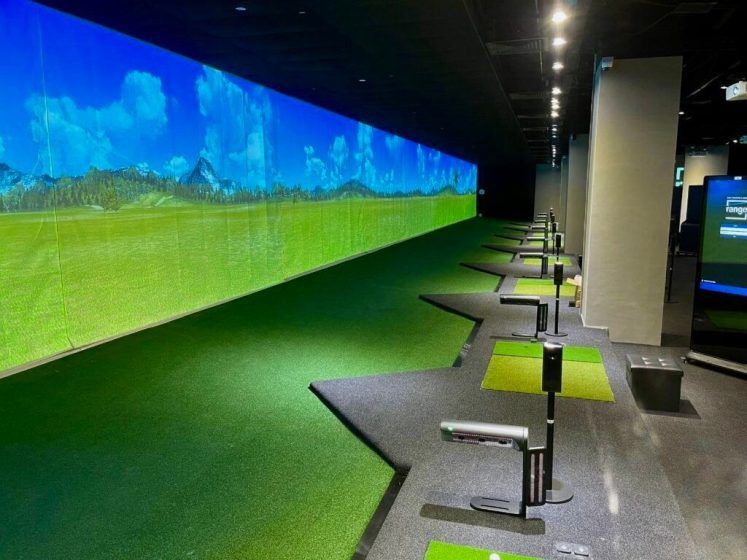 2 Handy Road #01-16 (The Cathay), Singapore 229233
GolfX is the first Singaporean indoor golf facility equipped with Golfzon's technology, which lets players choose games ranging from 9 to 18 holes on a world-class simulator in the facility's private Screen Golf rooms.
From the Pebble Beach Golf Links in the US and St. Andrews Link in the UK to KN Golf Links in Vietnam and The Hong Kong Golf Course, Seoul-headquartered Golfzon offers more than 190 virtual versions of real-world golf courses for players to practise.
At GolfX, eager learners can take golf lessons from staff members who have years of Tour experience. Their guidance can help improve skills, enhance the golfing experience and receive immediate feedback on performance — all of which are equally effective for outdoor practice.
Image credit: GolfX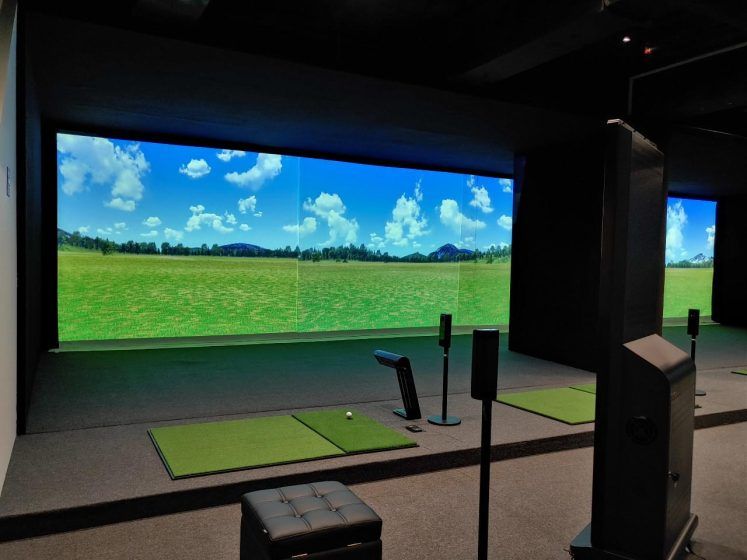 12 Queen Street #02-01, Singapore 188553
The indoor golf experience provided by Friends Golf lets players not only perfect their swing but also relish some of the finest Korean snacks at its café. On the menu are fine dishes such as tuna kimbab and rose tteokbokki as well as alcoholic beverages such as chamisul.
Founded in 2021, Friends Golf is the perfect place for a professional lesson in golf. Players can try their hand at the seven driving ranges at the Friends Range, under the guidance of professional coaches. There are also four standard screen rooms for right-handed players and one duo screen room for both right- and left-handed players.
Image credit: Friends Golf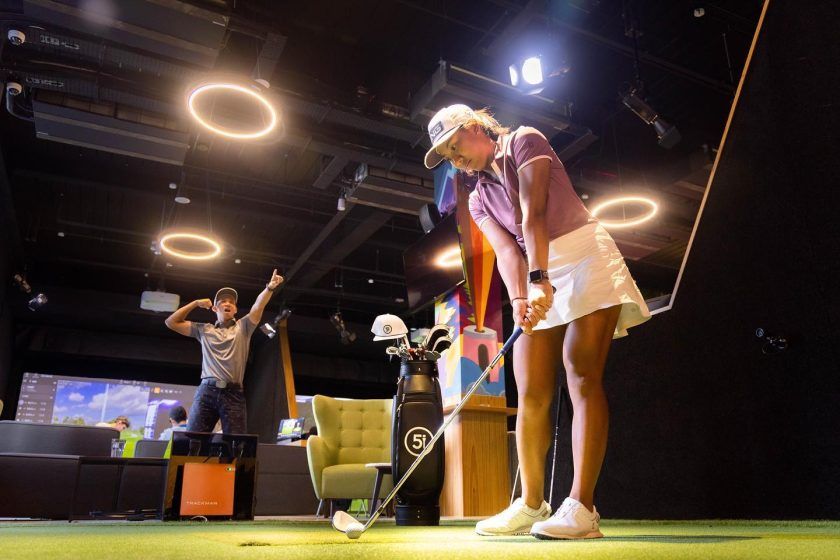 139 Cecil Street #13-01, Singapore 069539
The world-famous indoor golf facility was founded in New York City by Mike Doyle and Jared Solomon along with Nora Dunnan and Katherine Solomon in 2017. Today, it is present in multiple American cities.
The Singapore location is the company's first international facility. At Five Iron Golf in Singapore, players have the advantage of TrackMan — a high-definition technology used by Tour professionals, which provides excellent inputs with regard to parameters such as ball speed, attack angle and face angle.
Besides general driving range and course play, golfers — both professionals and leisure players — can engage in fun-filled games such as Capture the Flag. The facility also organises the Five Iron Leagues in which teams of four compete over a period of eight weeks. The grand prize for the 2023 league, which starts on 10 April in Singapore, is a two-night stay in Thailand's Renaissance Phuket Resort & Spa and two rounds of an 18-hole championship course at Aquella Golf & Country Club.
Image credit: Aloysa Atienza & Five Iron Golf Singapore/@aloysaatienza and @fiveirongolfsg/Instagram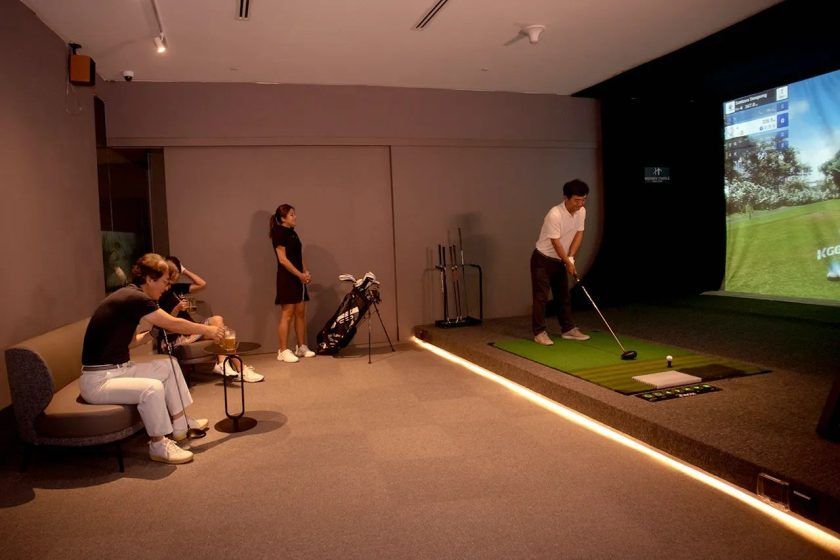 River Valley — Furama Riverfront, 405 Havelock Road #02-01, Singapore 169633 / Bukit Timah — 896 Dunearn Road #01-01cd, Singapore 589472
River Valley — +65 8200 9649 / Bukit Timah — +65 8186 1490
Hidden Castle Golf uses the KGOLF BGS2.0 golf simulator technology to deliver a premium golfing experience to players. The simulator is equipped with advanced features such as Smart Mirror Touch Kiosk and Spin Tracking Capability. While the former helps the player correct their stance, the latter tracks the degree of spin of the ball as it would on a real golf course.
Leisure players can enjoy a game of golf on any of the more than 100 simulation courses. The facility also offers an engaging 'game mode' to encourage families to take to the sport. Both private rooms and bay simulators are available for players.
Hidden Castle Golf is present at two locations, one at River Valley and the other at Bukit Timah.
Image credit: Hidden Castle Golf
05
The Par Club Singapore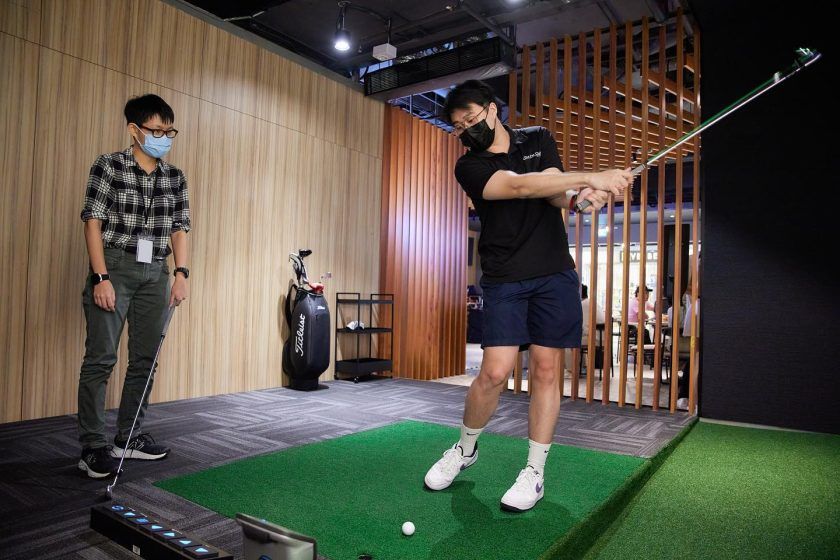 6 Raffles Blvd, Marina Square #02-309 to 312, Singapore 039594
Four regular bays and three private rooms provide an unparalleled experience to all levels of players at The Par Club Singapore. What makes the facility even more interesting is its huge putting green at its centre, where players can perfect their putting game. This all-round playing experience is further enhanced with the new GC3 system from San Diego-based Foresight Sports.
The simulator is one of the most advanced in the world. The GC3 system is a machine that has three precision cameras working in tandem to track both the ball and club statistics. A screen on the GC3 displays necessary information such as speed, launch angle, carry, side spin and back spin for the player and the in-house coaches to analyse.
And once a game is done, players can perhaps find their favourite food and drink from The Par Club Singapore's scrumptious menu.
Image credit: The Par Club SG/@TheParClubSingapore/Facebook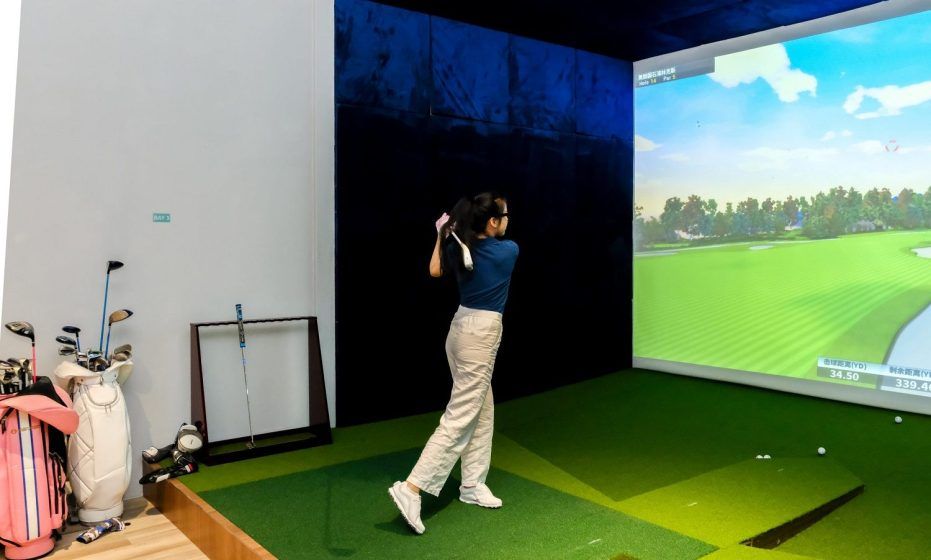 100 Turf Club Road #01-02, Horsecity, Singapore
In October 2022, Alpha Indoor Golf announced its new driving Range on its Deluxe Bay. The range is priced at SGD 45 per hour all day, while a game in peak hours on the Deluxe Bay costs SGD 75 per hour. The facility also has VIP Bay, which is the costliest at the facility — priced at up to SGD 90 per hour at peak. The bays at Alpha Indoor Golf are spacious.
Image credit: Alpha Indoor Golf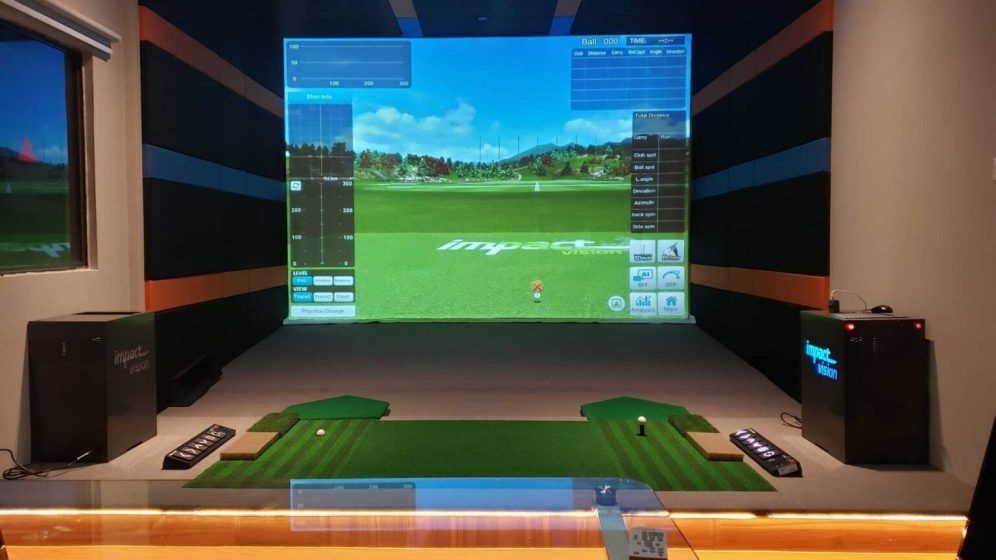 12 Kallang Avenue #03-10, Aperia Mall, Singapore 339511
City Golfer has three regular bays and one VIP room, each of which is designed for both experts and amateur golf players. Left-handed players can play in the VIP room alongside right-handed players.
An exciting feature of this golf course is that those who get a hole-in-one are awarded 10 hours of free playtime worth SGD 600. The prize, according to the facility, is valid for one month and applicable to regular bays only.
Image credit: City Golfer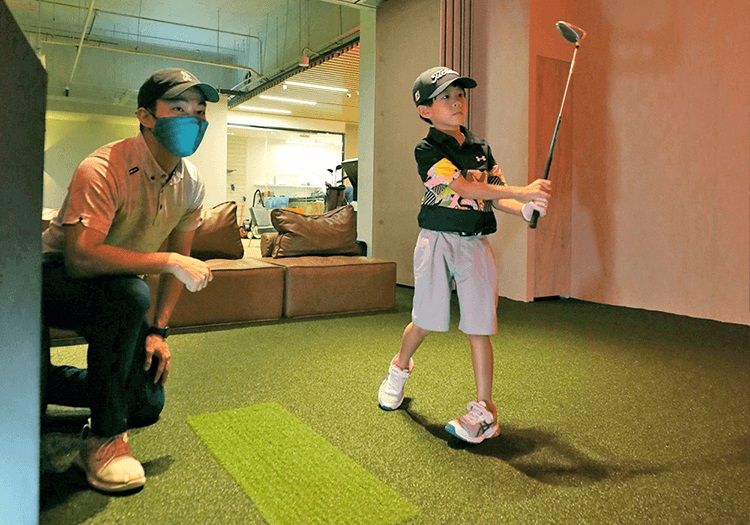 SAFRA Mount Faber #01-11, Singapore
Spread across 465 sq metres, Premier Golf is one of Singapore's largest golf facilities. There are two private suites along with four bays for players to swing their clubs and fine-tune their shots. Foresight FSX Play simulators and high-speed cameras track the ball and swing movements to deliver technologically relevant data feedback to players.
But what makes Premier Golf particularly exciting as a facility is its sand bunker — the first of its kind at an indoor golf course in Singapore. The indoor bunker takes the challenge to the next level, quite like golfers face on real courses. The facility also has Singapore's largest indoor shortgame arena, where players can practise putting.
And even though the facility recommends players bring their own clubs, it provides the finest Titleist golf clubs with Vokey wedges, Titleist golf balls, and Scott Cameron putters at zero extra cost.
Image credit: Premier Golf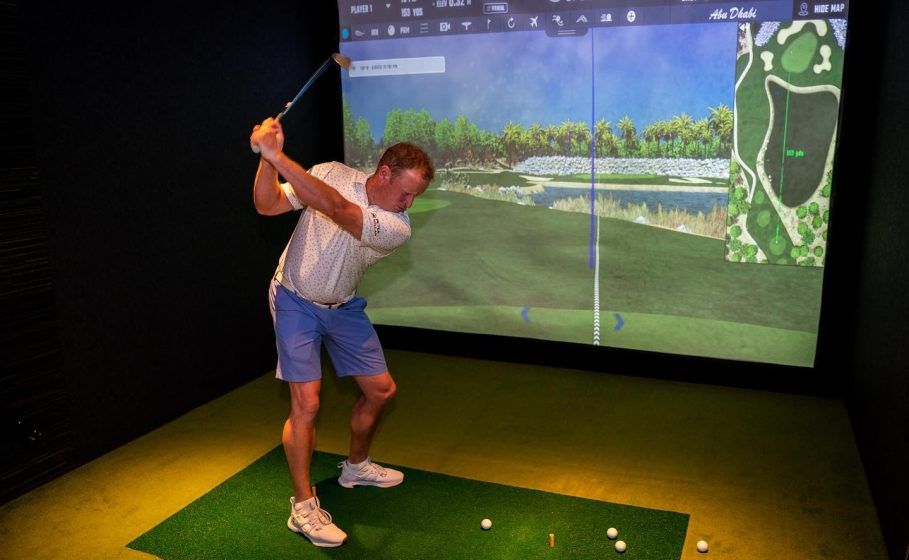 168 Robinson Road, Capital Tower #01-07, Singapore 068912
When Ryder Cup winner Jamie Donaldson was in Lion City for the Singapore Classic 2023 – DP World Tour in February, he visited Clubhouse SG and played a few rounds with other guests.
In fact, golfers and non-golfers alike can visit Clubhouse SG. While there is a fantastic indoor golf course for the players, those who simply want to relax can do so at the premium bar at the facility.
For golfers, there are three Foresight GC Hawk simulators to assist them with the tee off. Both right-and left-handed players can practise their skills at the facility's simulators. There are more than 110 courses to choose from. Every bay at Clubhouse SG has its own set of golf clubs to cater to everyone from ladies to kids, which means that players are not required to bring their own clubs.
To unwind, there is an extensive food and drinks menu with items such as tapas, sandwiches, Single Malt whiskies and craft beers.
Image credit: CLUBHOUSE SG/@theclubhousesg/Instagram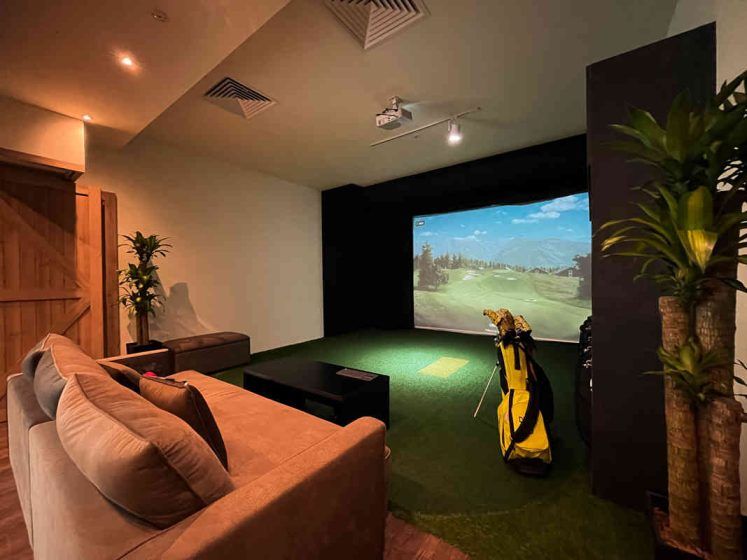 Oasis Science Park, 87 Science Park Drive #02-01/02, Singapore 118260
Par Tee is spread over an area of over 930 sq metres, making it one of the biggest indoor golf facilities in Singapore. There are four open bays which can be booked any time of the day. But those who wish for more luxury can book any of the six private areas. Of the six, three are suites and can accommodate 6-20 people, depending on the suite booked. The other three are private rooms, each of which is designed for up to five people.
The facility is equipped with TrackMan 4 Golf Simulator. There are over 100 golf courses to pick from, including international ones such as UK's St. Andrews Links, Spain's Real Club Valderrama and Ireland's Muirfield Village.
It is not just a great playing experience that awaits golf lovers at Par Tee; it is also the special collection of golf merchandise for sale at the facility that is worth checking out. Additionally, it also has a special area where golfers can get their clubs repaired or custom tuned.
Image credit: Par Tee
Frequently Asked Questions (FAQs)
Question: Where can I play golf indoors for fun in Singapore?
Answer: There are many places to pay indoor golf in Singapore. Among them are GolfX, Five Iron Golf, The Par Club, Clubhouse and The Par Tee.
Question: Is golf an expensive sport in Singapore?
Answer: Indoor golf is less expensive than the sport anywhere in the world. However, prices at indoor golf facilities may vary.
Question: How much does it cost to set up an indoor golf course?
Answer: A low-budget golf simulator can cost anywhere between USD 3,000 to USD 5,000. Estimates suggest that setting up an entire facility could be anywhere between USD 50,000 and USD 250,000.
Question: Where is the best indoor golf course in Singapore?
Answer: Almost all indoor golf courses in Singapore offer the best of experiences to both expert-level players needing practice and those playing for leisure.
written by.
Manas Sen Gupta
Manas enjoys reading detective fiction and writing about anything that interests him. When not doing either of the two, he checks Instagram for the latest posts by travellers. Winter is his favourite season and he can happily eat a bowl of noodles any time of the day.