While K-dramas have always been hailed for their romantic shows, Chinese romances are not far behind. From Meet Yourself becoming China's most-watched show in 2023 to Eternal Love (2017) being the best domestic commercial success with over 50 billion views on streaming sites, romantic Chinese dramas are steadily creating their mark in the entertainment world.
According to media outlet Jing Daily, Meet Yourself, starring Chinese star Liu Yifei, garnered over 1 billion views in the first ten days after its release on 3 January 2023. Not just that, swoon-worthy fantasy romances like Love Between Fairy and Devil (2022) are sure to tug at your heartstrings.
From elaborate costume dramas based on epics to shows filled with fateful plot twists, C-dramas pack a lot of the tropes that K-drama fans would be familiar with. Hence, these best Chinese dramas are perfect for the romantic binge you were searching for.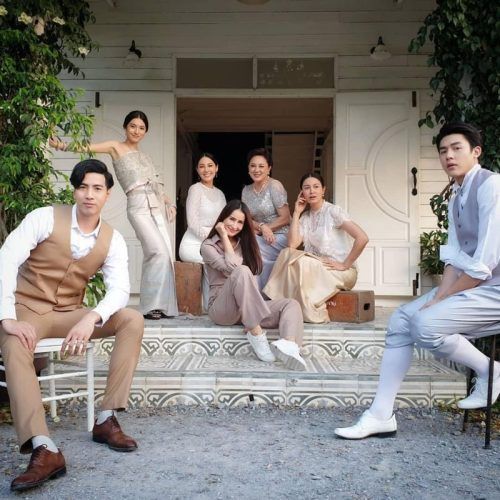 10 best Chinese romantic dramas in 2023 to keep you hooked
Hidden Love (2023)
Directed by: Lee Ching Jung
Cast: Zhao Lu Si, Chen Zhe Yuan, Victor Ma
Episodes: 25
Synopsis: Since her high school days, Sang Zhi (Zhao) has had a crush on her older brother's friend Duan Jiaxu (Chen). But circumstances lead the duo to lose touch with each other. Years later, Sang is a university student when fate brings Duan back to her life.
About the show: This romantic drama series is adapted from the web novel Secretly, Secretly; But Unable to Hide It by Zhu Yi.
Watch here
Meet Yourself (2023)
Directed by: Ding Zi Guang
Cast: Liu Yifei, Li Xian, Hu Bing Qing, Tu Songyan
Episodes: 40
Synopsis: Xu Hong Dou's (Liu) life is turned upside down after the death of her best friend. Unable to cope with the loss, she decides to take a break and heads out to the quiet village of Yun Miao in Yunnan Province. There she meets Xie Zhi Yao (Li), who motivates her to start a tourism business with him. As the two start working together, love blossoms.
About the show: According to Yunnan's Department of Culture and Tourism, Yunnan received 682 million tourists and generated USD 112 billion in tourism revenue within the first 10 months of the show airing.
Watch here
Love Between Fairy and Devil (2022)
Directed by: Yi Zheng
Cast: Yu Shu Xin, Dylan Wang, Zhang Ling He, Xu Hai Qiao
Episodes: 36
Synopsis: Almost 30,000 years after the first God of War's sacrifice, flower fairy Orchid (Xin) attempts to help the new God of War reinforce peace in the Universe. In the process, she ends up awakening the devil lord, Dongfang Qing Cang and unknowingly casts the 'One Heart' curse where their sufferings and experiences become intertwined. As Dongfang Qing Cang starts searching for a cure, the curse continues bringing them closer than ever.
About the show: Considered one of the most romantic Chinese dramas, Love Between Fairy and Devil is based on the novel Cang Lan Jue (2010) by Jiu Lu Fei Xiang.
Watch here
Falling Into Your Smile (2021)
Directed by: Qiu Zhong Wei
Cast: Xu Kai, Cheng Xiao, Zhai Xiao Wen, Yao Chi
Episodes: 31
Synopsis: The beautiful and smart Tong Yao (Cheng) is approached to join the all-male gaming team ZGDX OPL when its captain Lu Si Cheng (Xu) injures his hand. Despite the prejudices surrounding female gamers and her rude team captain, Yao hustles hard to keep her ground. Meanwhile, Lu Si starts seeing Tong's appeal, impressed by her dedication.
About the show: One of the most popular sports-based Chinese dramas, Falling Into Your Smile is inspired by the web book You're Beautiful When You Smile by Qing Mei. Additionally, female lead Cheng received great public appreciation for her strong portrayal of gamer Tong Yao in the show.
Put Your Head On My Shoulder (2019)
Directed by: Zhu Dong Ning
Cast: Xing Fei, Lin Yi, Tang Xiao Tian, Liang Ai Qi
Episodes: 24
Synopsis: Unsure of her plans after graduation, accounting major Si Tu Mo (Xing) meets a genius Physics major Gu Wei Yi (Lin) and accidentally ends up rooming with him. While the current living arrangement shakes up her daily routine, Mo can't help but fall for the messy but otherwise good-hearted Wei Yi.
About the show: This romantic comedy is based on the web novel of the same name by Zhao Qian Qian.
Watch here
Meteor Garden (2018)
Directed by: Lin He Long
Cast: Shen Yue, Dylan Wang, Darren Chen, Caesar Wu, Connor Leong
Episodes: 49
Synopsis: An ordinary girl Dong Shancai (Yue) gets enrolled at the most prestigious school in China and encounters F4, an exclusive group of the four wealthiest boys at the institute. Soon, their tsundere leader Daoming Si (Wang), starts dating Dong. While the former's powerful family opposes their relationship, Daoming, proves himself to be an amazing boyfriend by vowing to be with Dong forever.
About the show: One of the best Chinese romantic dramas, Meteor Garden is a remake of the 2001 Taiwanese series of the same name and the K-drama Boys Over Flowers (2009).
Watch here
Ashes of Love (2018)
Directed by: Chu Yui Bun and Cheng Feng
Cast: Deng Lun, Yang Zi, Luo Yunxi, Liao Jin Feng, Xia Zhi Yuan
Episodes: 63
Synopsis: Trapped in the Flower realm, princess Jin Mi (Yang) is unable to express romantic feelings for anyone due to an 'unfeeling pill' that she was fed in her childhood. Years later, she encounters an injured fire deity, Xu Feng (Deng). After tending to Xu's wounds and nursing him back to health, she requests him to take her along with him to explore the other realms. During their adventures together, Xu, who is unaware of her curse, ends up falling for Jin.
About the show: The show is adapted from the web novel Heavy Sweetness Ash-Like Frost by Dian Xian.
The Eternal Love (2017)
Directed by: Lam Yuk Fan, Yu Cuihua and Ren Haitao
Cast: Mark Chao, Yang Mi, Dilraba Dilmurat, Alan Yu
Episodes: 58
Synopsis: Deities Bai Qian (Yang) and Ye Hua (Chao) fall in love but struggle to stay together in both their mortal and immortal forms. An epic tale of romance ensues when the devotions of the star-crossed lovers are put to the test for three lifetimes.
About the show: One of the most popular fantasy Chinese romance dramas, the TV series is based on the 2009 xianxia novel To The Sky Kingdom by Tang Qi Gong Zi.
Watch here
The Fox's Summer (2017)
Directed by: Yu Chung Chung
Cast: Tan Song Yun, Jiang Chao, Daniel Zhang, Wang Yan Zhi
Episodes: 21
Synopsis: Gu Cheng Ze (Jiang) is the CEO of Gu Mall Corporation. But since he was an adopted child, Cheng Ze is tasked with guiding Gu Jin Yu (Zhang), the true heir, to take over the company. Cheng Ze crosses paths with Jin Yu's former lover and fashion designer, Li Yan Shu (Tan Song Yun) in the process. Chaos ensues when both Cheng Ze and Jin Yu fall for Yan Shu.
About the show: This romantic Chinese drama is adapted from the webtoon When the President Falls in Love by Shen Cang Mei.
Stay With Me (2016)
Directed by: Ruan Wei Xin
Cast: Joe Chen, Wang Kai, Kimi Qiao
Episodes: 38
Synopsis: Li Wei Wei (Chen) is a talented fashion designer, who lost parts of her memory in a near-drowning incident. Soon, she is shocked to learn that the boyfriend she remembers, Chen Yidu (Wang), is now her rival at work. On top of it, her childhood best friend, Huo Xiao (Qiao), is now her fiance. Determined to prove her loyalty to her one true love, Wei Wei sets on a heartwarming and emotional journey to win back Yidu.
Watch here
Frequently Asked Questions (FAQs)
What is the best Chinese romance drama?
– Some of the best romantic Chinese dramas are 'Meteor Garden', 'Hidden Love', 'Eternal Love', 'Ashes of Love' and 'Put Your Head On My Shoulder'.
What is the top Chinese drama?
– Some of the top Chinese dramas are 'The Glory Of Tang Dynasty', 'Sweet dreams', 'The Ghost Bride', 'Story of Yanxi Palace' and 'The Devil Punisher'.
(Hero and featured image: Courtesy Netflix)
This story first appeared on Lifestyle Asia Hong Kong
written by.
Sushmita Mahanta
A PhD research scholar, Sushmita is a full-time writer and a part time poet. Notepads are Sushmita's one true love -- the unbothered victims drowned in the ink of her pen. An avid fan of K-pop and K-dramas, she mostly writes about Korean culture and entertainment. When not writing, Sushmita is dancing, reading, collecting books, learning about fashion, art, motion pictures, and appreciating BTS.