Gothic castles, an eerie atmosphere, low-hanging cobwebs, unusual characterisation and a gripping storyline encompass the works of one of the best cinematic minds of Hollywood. Such is his Burton-esque style of filmmaking, that anyone known to this technique can easily single out the acclaimed and experimental director's works. Thus, if you wish to rewatch some of the best Tim Burton movies and TV shows, here's a list you can bookmark and some things to know if you are new to his style.
Tim Burton: Animator to filmmaker
After quitting a high-flying job as a Disney animator, Burton decided to pursue his own independent career in making films. He debuted with the short film Vincent in 1982, followed by Frankenweenie in 1984, that set him apart from other filmmakers of the time. With a background in animation, he soon carved a niche for himself in the commercial movie-saturated Hollywood. After this, Burton forayed into mainstream movies with Pee-wee's Big Adventure (1985), Beetlejuice (1988) and Batman (1989).
Soon, Tim Burton's movies became crowd-pullers for their stunning visual appeal, eccentric plots and equally phenomenal performances from some of the best actors and composers who became the director's muse and frequent collaborators. These include Johnny Depp, Helena Bonham Carter, Winona Ryder and Danny Elfman.
What is the Burton-esque style?
Very few directors understand Mise-en-scène like Tim Burton. From stark scene lighting and adept use of dark shadows to featuring a lone hero and hellish, nightmare-like settings, some believe that Burton's films are a genre in themselves which is cultivated carefully with well-planned cinematic tropes.
The lonely hero in any Tim Burton movie, for instance, eschews the path taken by a typical hero in other films. While the protagonist, in some films, is generally a geek who seeks attention and companionship, gothic characters or crime fighters in his other movies seem completely at ease with their solitude.
In terms of filmmaking, Tim Burton movies present a chiaroscuro of light and darkness and a juxtaposition of gothic and idyllic elements. For instance, while in Beetlejuice, there is a vivid contrast between Adam and the corpse of Barbara, as well as the glitz of the Deetz family, the dichotomy comes through the scissor-handed Edward and an artificially vibrant and bold suburban town in Edward Scissorhands.
However, the obvious dark and eerie gothic treatment faded over the years and Tim Burton movies became more inclined towards commercially viable recipes. His later films, such as Big Fish (2003), Big Eyes (2014) and Miss Peregrine's Home for Peculiar Children (2016), do bear the Burton-esque style, but it is mainly the '80s and '90s runners which made him cement his position along with stalwarts such as Stanley Kubrick, David Lynch and Alfred Hitchcock.
Here are the best works of Tim Burton every goth lover must watch
(Main image credit: Beetlejuice/ IMDb; feature image credit: Big Eyes/ Photo by Leah Gallo – © 2014 The Weinstein Company. All rights reserved./IMDb)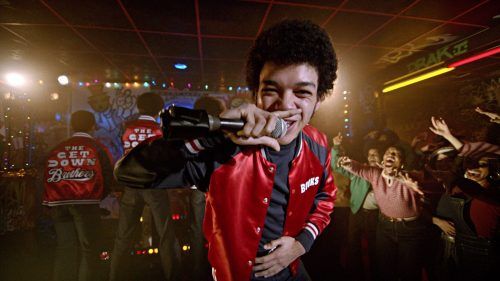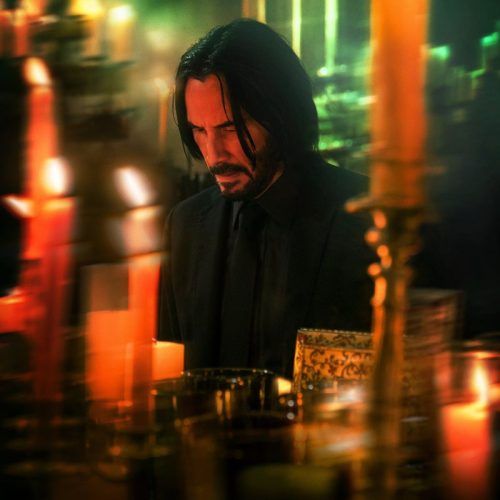 Jump To / Table of Contents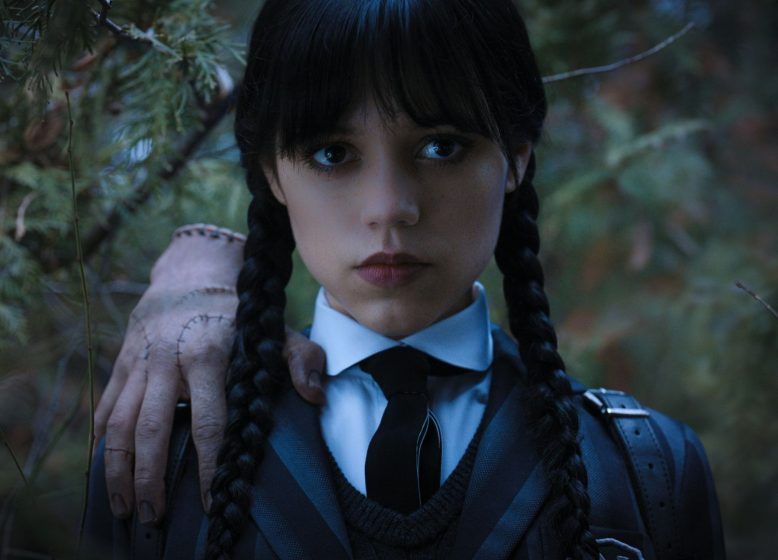 Cast: Jenna Ortega as Wednesday Addams, Gwendoline Christie as Principal Larissa Weems, Riki Lindhome as Dr Valerie Kinbott, Emma Myers as Enid Sinclair and Percy Hynes White as Xavier Thorpe.
Synopsis: This Addams Family spinoff is based on the deeds of Wednesday Addams. The series revolves around her, as she tries to get a hang of her emerging psychic abilities while escaping a murder spree and untangling the mystery that had shrouded her parents 25 years ago. Wednesday juggles all this along with maintaining complicated relationships at Nevermore Academy.
About the series: The eight-part season 1 of the series marks Burton's first step in the television realm.
(Image credit: Wednesday/IMDb)
02
Pee-wee's Big Adventure (1985)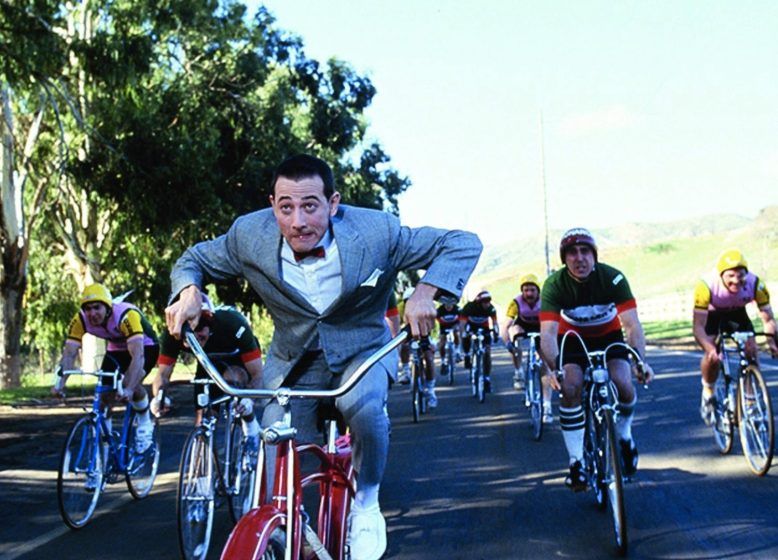 Cast: Paul Reubens as Pee-wee Herman, Elizabeth Daily as Dottie, Mark Holton as Francis Buxton, Diane Salinger as Simone.
Synopsis: Pee-wee is a man-child who is in love and obsessed with his red bicycle, which is being eyed by his neighbour and rich kid Francis. The latter, too, is an equally funny man-child. When Pee-wee goes out to visit his friend Dottie, the bicycle goes missing. He thinks it could be at the Alamo, and thus, sets out on the craziest adventure of his life.
About the film: This was Burton's first feature film to hit the big screen, and it is full of iconic Burton-esque elements, which would go on to become his staples. The vivid set design and childish visual aesthetics make it a children's film, but it also carries hints of sinister elements that pique adults' interests. This film also saw the first collaboration of Burton and composer Danny Elfman — a pair that hit off instantly.
(Image credit: Pee-Wee's Big Adventure/ © 1985 – Warner Bros./ IMDb)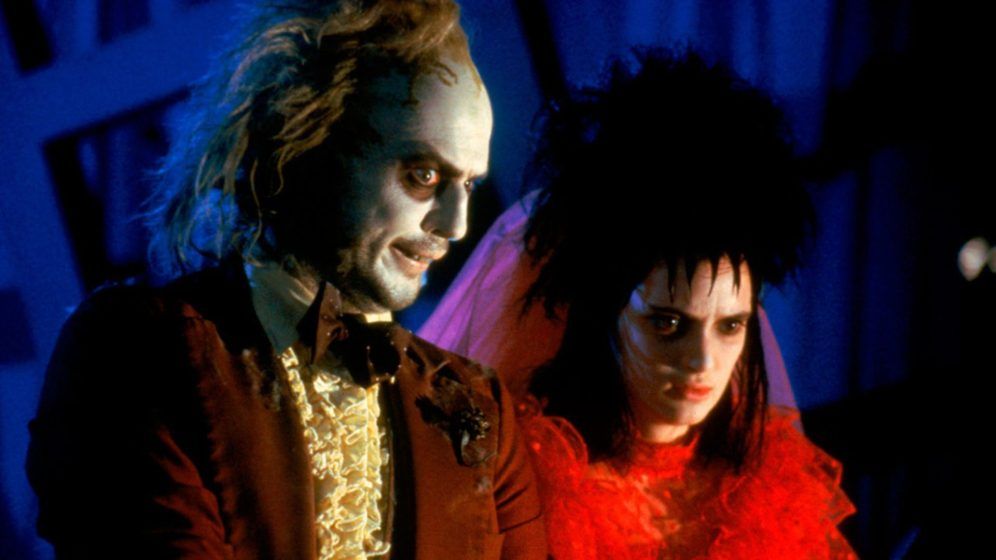 Cast: Michael Keaton as Beetlejuice, Alec Baldwin as Adam, Geena Davis as Barbara, Winona Ryder as Lydia
Synopsis: When Adam and Barbara, a married couple, are killed in a tragic car accident, they find themselves returning as ghosts to the house where they once lived as mortals. However, there is one hiccup. The house is sold to an eccentric family whom Adam and Barbara want to kick out. This is where the obnoxiously notorious demon spirit Beetlejuice enters.
About the film: This funny and macabre Tim Burton movie, his second feature run, hits all the right Burton-esque sweet spots. The set is extremely vivid and bold. The actors are made to appear in imaginative avatars and Burton, once again, treads the path of bright lighting and graphic set design. The film also gives Ryder one of her career-best roles as the daughter of the couple.
Awards Won: 1989 Oscar for best makeup, best supporting actress (Sylvia Sidney), best horror film and best makeup at Academy of Science Fiction, Fantasy & Horror Films, USA 1990.
(Image credit: Beetlejuice/ © Courtesy of Tribeca Film Festival/IMDb)
04
Sweeney Todd: The Demon Barber of Fleet Street (2007)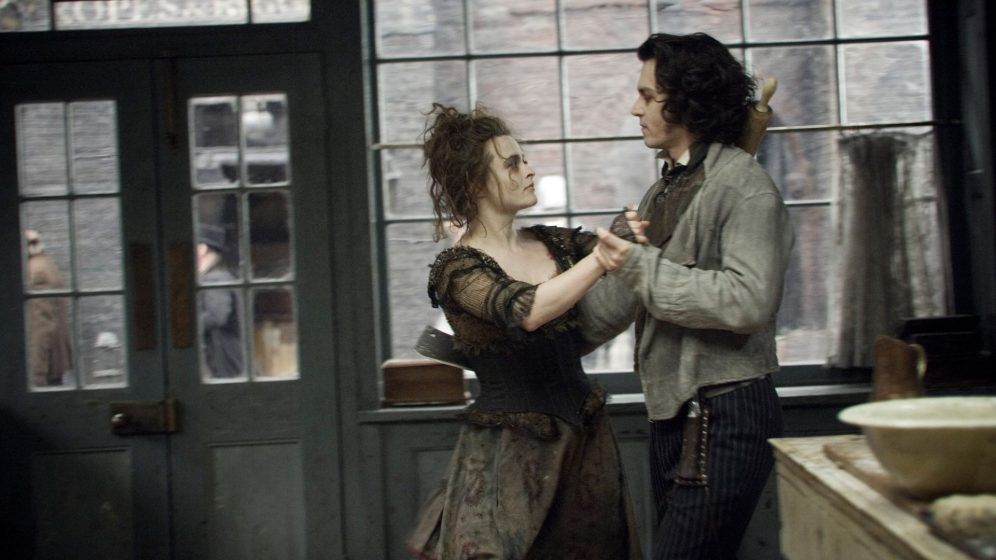 Cast: Johnny Depp as Sweeney Todd and Benjamin Barker, Helena Bonham Carter as Mrs Lovett, Alan Rickman as Judge Turpin, Sacha Baron Cohen as Adolfo Pirelli
Synopsis: When the wicked Judge Turpin lusts for London-based barber Benjamin's wife, he deports Benjamin to Australia for 15 years on account of a false murder. On returning, Benjamin thirsts for revenge. He takes on the name of Sweeney Todd and goes on a murder spree, slashing the throats of men in power who ruined his life. Sweeney is aided by his landlady Mrs Lovett who makes the most 'delicious' pies out of these victims.
About the film: This is undoubtedly one of the best Tim Burton movies of the modern era. The director's creative flair is evident from the brilliant musical treatment he gave to the movie based on Stephen Sondheim and Hugh Wheeler's landmark stage show. The gory scenes and the phenomenal performances by Depp and Carter accentuate Burton's visual aesthetics of the Victorian era.
Awards Won: 2008 Oscar for best achievement in set design, Depp nominated for best performance by an actor in a leading role and Colleen Atwood for best achievement in costume design.
(Image credit: Sweeney Todd: The Demon of Fleet Street/IMDb)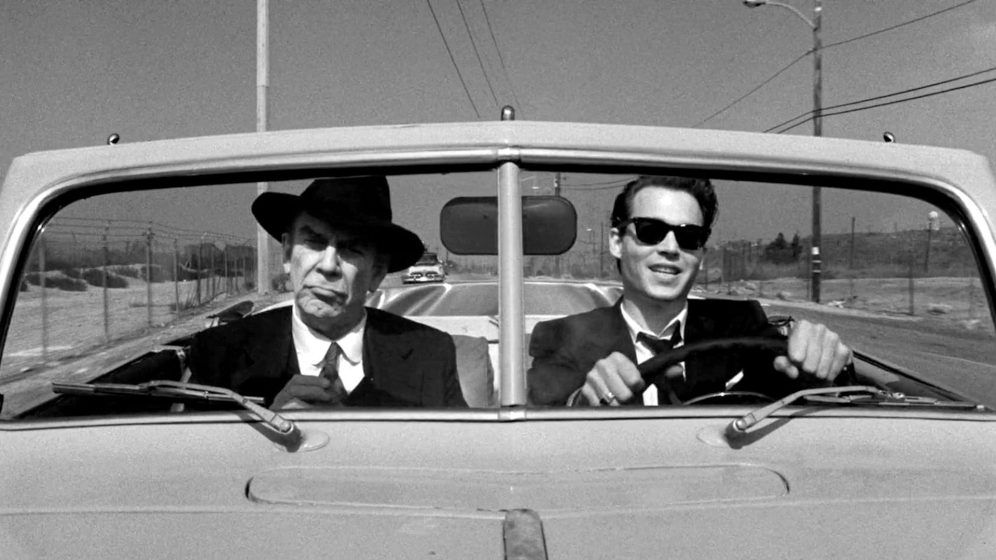 Cast: Johnny Depp as Ed Wood, Martin Landau as Bela Lugosi, Sarah Jessica Parker as Dolores Fuller and Bill Murray as Bunny Breckinridge
Synopsis: We all like a good and inspiring biopic, but only Burton knows how to churn out an evergreen classic from the life of a comical esoteric film director, Ed Wood. Ed is an outrageously obnoxious director who is behind flop flicks like 'Plan 9 for Outer Space' and 'Glen or Glenda.' Bela is Ed's muse and along with a small crew, they make a slew of low-budget films.
About the film: The movie is based on Rudolph Grey's 1992 book Nightmare of Ecstasy. The comical trope of a failed auteur proved to be extremely successful and made the movie one of the most entertaining Burton films.
Awards won: Landau won the 1995 Oscar for best actor in a supporting role and the film won best makeup.
(Image credit: Ed Wood/ IMDb)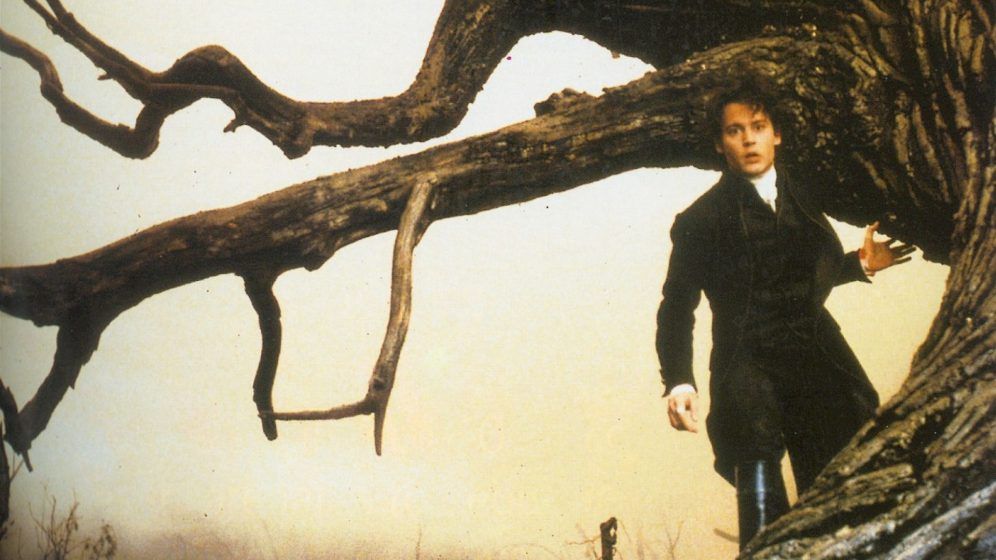 Cast: Johnny Depp as Ichabod Crane, Christopher Walken as Headless Horseman, Christina Ricci as Katrina Van Tassel, Casper Van Dien as Brom Van Brunt
Synopsis: Loosely based on the 1820 book by Washington Irving titled The Legend of Sleepy Hollow, the film sees Ichabod as a constable with the New York Police who is sent to the eerie and mysterious suburban town of Sleepy Hollow to probe a series of mutilated deaths and workings of a certain Headless Horseman.
About the films: The shrouded and looming atmosphere and an underlying macabre tone of spook, horror and fantasy make Sleepy Hollow a classic title in Burton's filmography.
Awards won: 2000 Oscar for best art direction-set decoration and 2000 BAFTA Awards for best production design and best costume design.
(Image credit: Sleepy Hollow/ IMDb)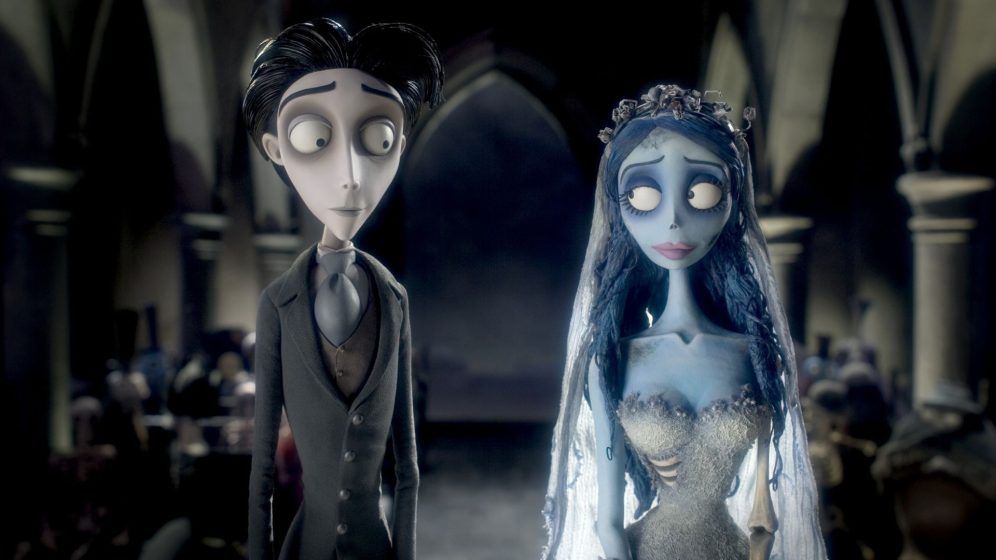 Cast: Johnny Depp as Victor Van Dort (voice), Helena Bonham Carter as Corpse Bride (voice), Emily Watson as Victoria Everglot (voice)
Synopsis: Tim Burton returns to his roots as an animator with this entertaining big-screen run. The film depicts a horrifying 19th-century Russian folktale where a young man inadvertently marries the corpse of a woman while on his way to his would-be wife's home. A strange condition follows, accepting which, the mortal pair would be allowed to keep up their marriage.
About the film: This is one of the very few Burton films which show his expertise with animation while keeping up the light-hearted humour along with a dark story. The angular stop-motion animation perfectly accentuates the graphically vivid setting of Burton-esque flicks. No wonder it bagged Burton his first Academy Award nomination.
(Image credit: Corpse Bride/ Photo by – – © 2005 WARNER BROS. ENTERTAINMENT INC./IMDb)
08
Edward Scissorhands (1990)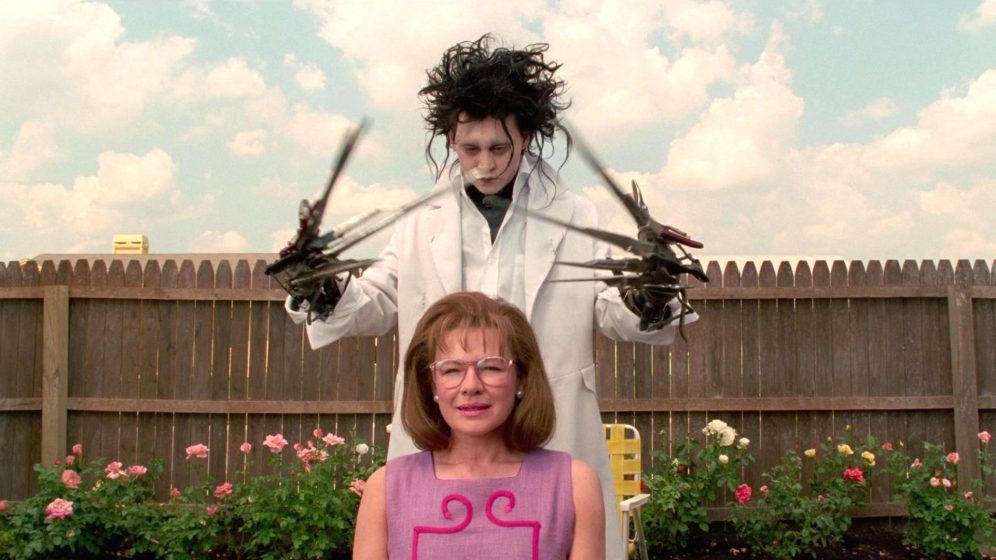 Cast: Johnny Depp as Edward Scissorhands, Winona Ryder as Kim Boggs, Dianne Wiest as Peg Boggs, Vincent Price as The Inventor
Synopsis: Burton creates a dystopian world where a mad inventor creates an artificial human named Edward, but dies suddenly, leaving the project incomplete. Now, albeit Edward is functional, he is seen as an otherworldly figure because of the massive scissor blades he has instead of his hands. When suburban saleswoman Peg finds him and takes him home, Edward falls for her daughter Kim.
About the film: Burton unleashes his creative prowess and weaves a modern fairytale where his whacky depictions and designs get a romantic angle as well. It is also a critique of those who have ever felt outcast, while the Burton-esque undertones become more pronounced when Edward wields his bladed 'hands' to chop off hedges and trim hair.
Awards won: Nominated for best makeup at the 1991 Academy Awards; won best production design at the 1992 BAFTA Awards.
(Image credit: Edward Scissorhands/IMDb)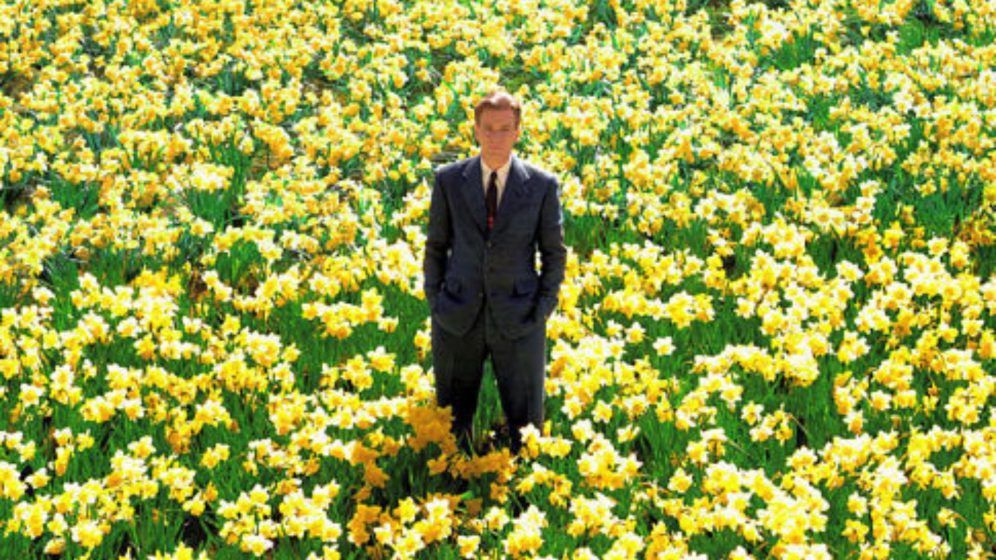 Cast: Ewan McGregor as young Edward Bloom, Albert Finney as adult Edward Bloom, Billy Crudup as Will Bloom, Danny Devito as Amos Calloway and Helena Bonham Carter as Jenny, the witch.
Synopsis: Edward is a travelling salesman known for spinning yarn and telling lofty tales. When he falls very sick in his old age, his son Will returns to his Alabama residence to be with his father. Even on his deathbed, Edward recollects stories from his prime when he met a witch, joined the circus and befriended a giant, while Will tries to separate fact from fiction.
About the film: This movie is based on Daniel Wallace's book Big Fish: A Novel of Mythic Proportions and shows a completely different side of Tim Burton's directorial vision, as he eschews the path of dark and macabre settings. Instead, this fantasy flick gave him the opportunity to fill the screen with larger-than-life visuals and vibrant settings.
Awards won: Danny Elfman nominated for the 2004 Oscars for best music; nominated for best film, best screenplay-adapted, best performance by an actor in supporting role (Albert Finney), best production design, best achievement in special visual effects, best makeup and David Lean award for direction at the 2004 BAFTA Awards.
(Image credit: Big Fish/ © 2003 Columbia Pictures Industries, Inc. All Rights Reserved./ IMDb)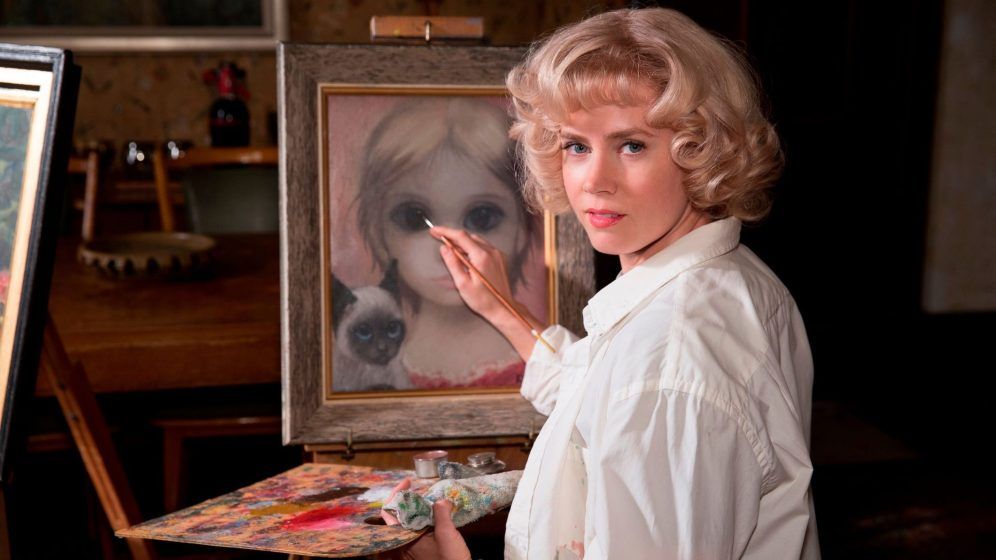 Cast: Amy Adams as Margaret Keane, Christoph Waltz as Walter Keane, Danny Huston as Dick Nolan, Krysten Ritter as Dee-Ann
Synopsis: Margaret is a supremely gifted artist trapped in a loveless marriage with Keane, a mediocre artist. However, in the 1950s and '60s, when her paintings of children, characterised by big saucer-like eyes, gain global applause, her husband takes all the credit.
About the film: One of the most iconic Tim Burton movies, Big Eyes is a smooth departure from the Burton-esque style of filmmaking. The focus is more on the actors instead of the grand set design, and instead of an overdose of goth, a deep feminist cry is heard, making the project forever relevant. For this movie, Burton also reunited with his Ed Wood screenwriters Scott Alexander and Larry Karaszewski.
Awards won: Adams won best performance by an actress in a motion picture – comedy or musical at the 2015 Golden Globes and was also nominated for best leading actress at the BAFTA Awards.
(Image credit: Big Eyes/ © 2014 – The Weinstein Company/IMDb)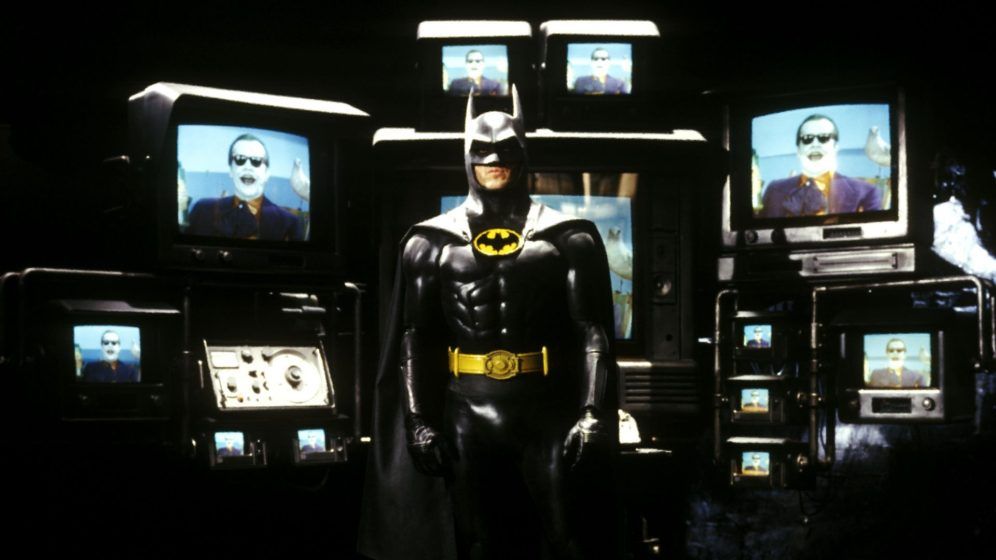 Cast: Jack Nicholson as Jack Napier and Joker, Michael Keaton as Bruce Wayne and Batman, Kim Basinger as Vicki Vale, Jack Palance as Carl Grissom
Synopsis: Burton taps into Gotham City and its billionaire vigilante Bruce Wayne, aka Batman. The city is controlled by the mafia boss Carl Grissom, but when there is a fallout between him and his trusted henchman Jack Napier, the latter is thrown into a chemical vat. However, he survives and returns as the demented Joker and unleashes a reign of terror. Now, Batman must protect Gotham City, Bruce must keep his identity as the Caped Crusader a secret and safeguard his love interest — reporter Vicki — while fighting his archrival.
About the film: With this film, Burton forays into the realms of superhero movies and comes as a major surprise success, as both Burton and Keaton come with a heavy comic background. However, the comic book hero is given an amazing big-screen run with Burton's visual aesthetics. His singular view of Gotham City renders the fictional place almost a Modernist-German expressionist touch. Such is his contribution that Christopher Nolan's 2008 The Dark Knight seems impossible without this.
Awards won: 1990 Oscar for best art direction- set decoration; Danny Elfman nominated for best album of original instrumental background score written for a motion picture or television at the 1990 Grammy Awards.
(Image credit: Batman/ © 1989 Warner Bros./IMDb) Cast: Danny DeVito as Penguin, Michelle Pfeiffer as Selina Kyle and Catwoman, Christopher Walken as Max Shreck, Michael Keaton as Batman
Synopsis: Gotham City is, once again, under the clutches of terror as a demented and strange-looking devil named Penguin resides in the city sewers. He joins forces with rich businessman Max Shreck to destroy Batman. However, when Max's assistant Selina finds out about this plan, Max tries to kill her. In a classic twist in the story, she ends up joining the men as the alluring Catwoman. But things take a different turn when she meets Batman.
About the film: Tim Burton rarely revisits his old films, but riding high on the success of the previous Batman movie, the director returned with yet another superhit action flick with the superhero. Featuring a Burton-esque style of filmmaking, the diabolic Penguin and Catwoman elicit an almost horror-meets-fantasy effect in the audience's minds.
Awards won: Nominated for best makeup and best effects, visual effects at 1993 Academy Awards; winner of best makeup at the 1993 Academy of Science Fiction, Fantasy & Horror Films, USA.
(Image credit: Batman Returns/ © 1992 – Warner Bros. Entertainment Inc./IMDb)
13
Alice In Wonderland (2010)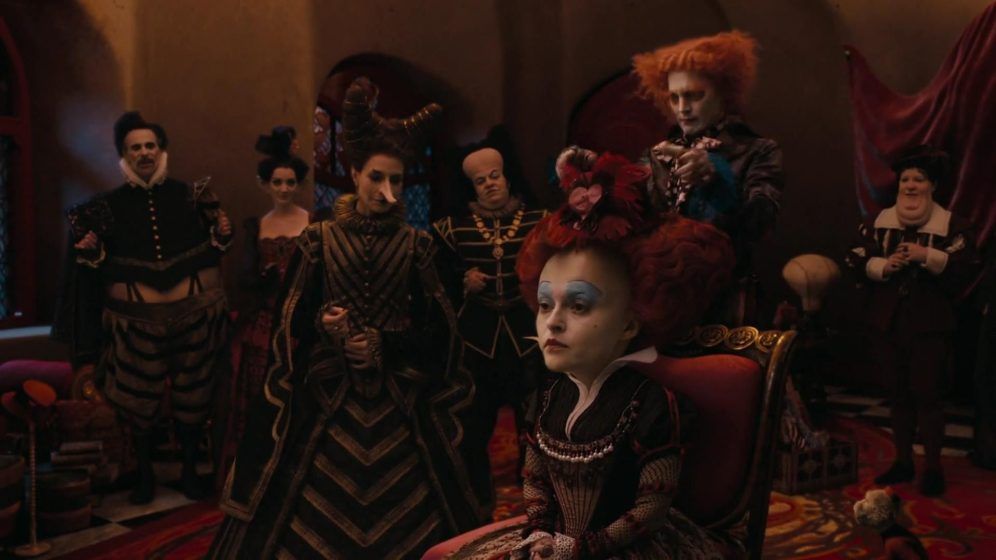 Cast: Johnny Depp as Mad Hatter, Helena Bonham Carter as Red Queen, Mia Wasikowska as Alice Kingsleigh and Anne Hathaway as White Queen
Synopsis: Based on the classic 1865 novel by Lewis Carroll, the film depicts Alice returning to Underland when she finds a white bunny at a garden party with her fiancé and falls down the hole with it. She is reunited with her friends — Mad Hatter and Cheshire Cat — as the place reminds her of the dreams she had as a child. Alice realises that she is destined to help the habitants of this world and end the terror rule of Red Queen.
About the film: Since Burton is a director known for his creative grand visuals and eccentric sets, a fantasy story like this becomes a playground for his aesthetics. The campy makeup and the larger-than-life characters add to the grand spectacle.
Awards won: Best achievement in costume design and best achievement in art direction at the 2011 Academy Awards.
(Image credit: Alice In Wonderland/IMDb)
14
Charlie and the Chocolate Factory (2005)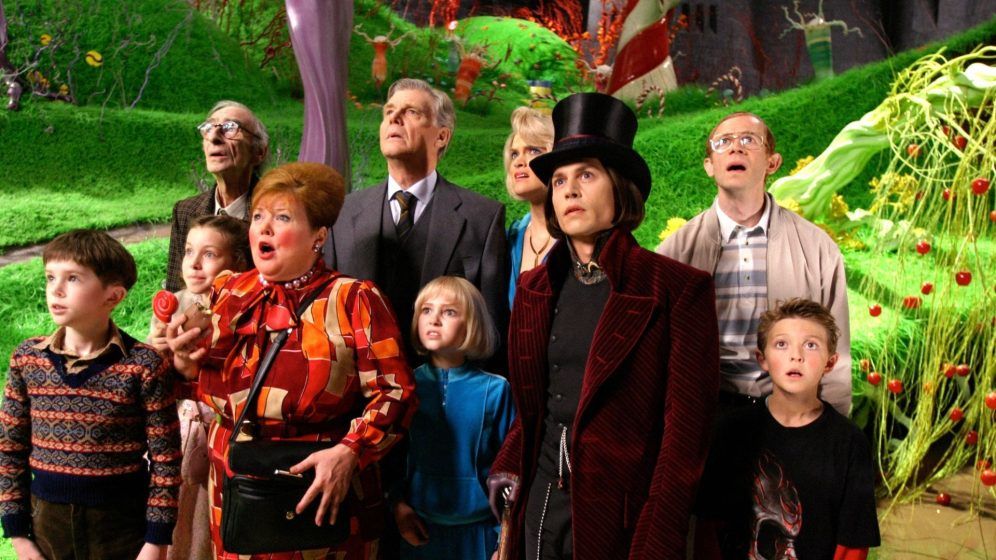 Cast: Johnny Depp as Willy Wonka, Freddie Highmore as Charlie Bucket, David Kelly as Grandpa Joe, Helena Bonham Carter as Mrs Bucket
Synopsis: Charlie is a humble young boy living in abject poverty with his parents and grandparents. When chocolate baron Willy Wonka decides to let five selected children inside his highly secret chocolate factory, he releases five golden tickets in his chocolate bars. The lucky ones who get them would be eligible for a tour of the Wonka Chocolate Factory. Freddie and Grandpa Joe join a group of crazy winners and enter this unique place, operated by tiny figures called Oompa-Loompas. As the film progresses, Willy's intentions become clearer, with the children revealing their true selves.
About the film: Another classic example of Burton-esque style is witnessed in this adaptation of Roald Dahl's children's story of the same name. The imaginative graphic world of the psychedelic factory, the bold costumes, makeup of the characters and the sinister undertone of Willy Wonka's workings make it a celebration of Tim Burton's aestheticism.
Awards won: Nominated for best achievement in costume design at the 2006 Oscars.
(Image credit: Charlie and the Chocolate Factory/ © 2005 Warner Bros. Entertainment Inc./IMDb)
15
Miss Peregrine's Home For Peculiar Children (2016)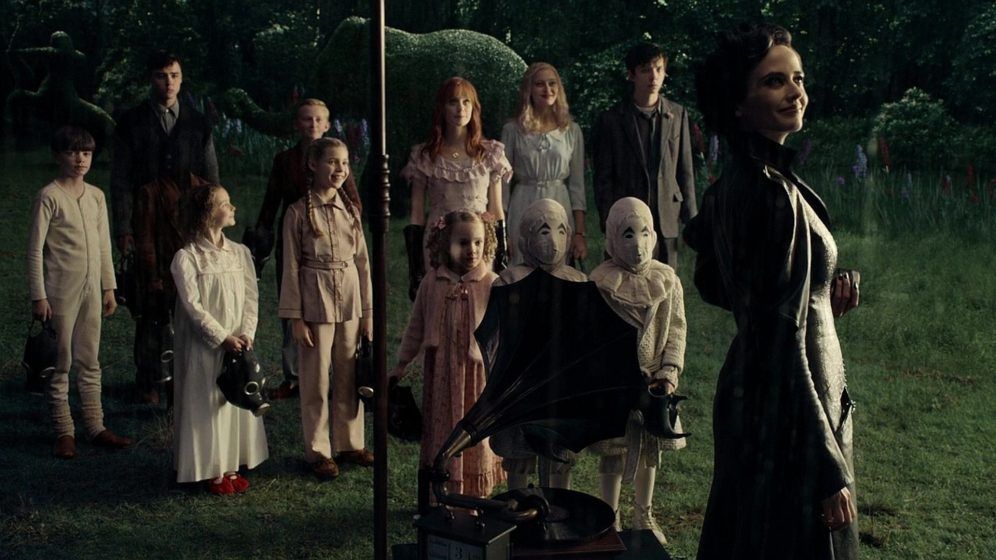 Cast: Eva Green as Miss Peregrine, Asa Butterfield as Jake, Judi Dench as Miss Avocet, Samuel L. Jackson as Barron
Synopsis: When Jake's grandfather leaves him with some interesting clues, they lead him to a mysterious school run by a certain Miss Peregrine. What makes the school so unique is the fact that the students who reside here are nowhere near to being ordinary. They possess special abilities and powers, and Miss Peregrine keeps them in a time bubble to protect them from evil forces.
About the film: Based on the bestselling novel of the same name by Ransom Riggs, the peculiarity and scope of gothic depiction make this film a Burton favourite. However, when compared to the other masterpieces from the director, this tends to be on the lower ranks.
(Image credit: Miss Peregrine's Home For Peculiar Children/IMDb)
written by.
Trinetra Paul
Trinetra is an ardent foodie and bibliophile who writes about films, travel, food and lifestyle. As a writer and literature student, slam poetry and storytelling are her go to jam. When not working, Trinetra is busy looking for her next place to visit or binge-watching Instagram videos for travel inspiration.