From tearjerkers to thrillers – the Korean entertainment industry has the most diverse set of romantic dramas on offer. That said, the secret to picking one that's guaranteed to keep you hooked through to the end credits might lie in the stars. Here's a look at the title you might lose sleep over, based on your zodiac sign.
Witty banter, grand gestures, sizzling chemistry – few shows portray matters of the heart with as much expertise and allure as romantic Korean dramas. The scripts are engaging – spanning across genres like crime thriller, comedy, historical, and fantasy. The protagonists, meanwhile, are well-rounded – with many going down in the history of social media trends as absolute boyfriend or girlfriend goals. No surprises why these titles are the backbone of the Hallyu wave and the lifeblood of the country's entertainment industry. However, bearing in mind how each can be quite distinct from the other – your mileage (as with most things in life) may vary. Our recommendation? Taking cues from the cosmos. This, especially since our astrological signs point to our most dominant traits and might hence, help us find our version of the perfect happily ever after. Here's what you should watch this weekend, based on your zodiac sign.
Korean dramas that will set your romantic heart aflutter, based on your zodiac sign
Aries: Healer
Aries is known to be bold and passionate. Those born under this sign would enjoy romances with heavy doses of adventure. The fast-paced Healer fits the bill. The story follows a night courier (Healer) who transports high-value items for well-paying clients (illegally) under the radar. His most intriguing assignment involves hunting down a girl named Chae Young-shin – an entertainment journalist at a small-time publication. He then poses as rookie reporter – Park Bong-soo – to stay close to her. Meanwhile, he also crosses her path as the Healer. As the two fall in love, they get caught up in an old murder case connected to a group of journalists who ran an illegal broadcasting station. The drama has mystery, action, and plenty of sizzling chemistry to offer – something this fire sign would enjoy. Not to mention, the protagonists are just as spontaneous and courageous as Aries.
Taurus: Wok Of Love
Taurus is known to be grounded and homely. Ruled by Venus, those born under this sign find joy in luxuries and indulgences, including food. The way to their hearts is, hence, through their stomach. An ideal romantic Korean drama for them? Wok Of Love. The story follows star chef Seo Poong who's heartbroken after his wife cheats on him with the head of the hotel he worked at. Vengeance on the brain, he heads to a competitor restaurant across the street to lure his regular customers away. Also working there? Dan Sae-woo – a former heiress who goes bankrupt when her wealthy father is arrested on the day of her wedding. The two work on rebuilding their lives, discovering love along the way. Besides being heartwarming, the show is hailed for its accurate depiction of a commercial kitchen – something this practical earth sign would enjoy. Not to mention, the characters are quite lovable, strong, and hard-working – all qualities associated with Taurus.
Gemini: What's Wrong With Secretary Kim?
Geminis are known to be outgoing, humorous, and charming. Those born under this sign are easily bored and would enjoy a romantic comedy that's fast paced enough to keep them engaged. What's Wrong With Secretary Kim checks all of the boxes. It follows Lee Young-joon – an arrogant and intelligent chairman who can't do without his dedicated and dependable secretary Kim Mi-soo. Things go awry when she decides to quit after working by his side for nine years. As spends a considerable amount of time (and money) trying to understand why, the two fall in love. Along the way are spontaneous romantic dates, grand presents, and some of the best on-screen chemistry in Korean drama history. There's plenty of banter, fun flirting, and quirky animation details to keep this fun-loving, romantic, conversationalist air sign intrigued.
Cancer: Hometown Cha Cha Cha
Cancers are known to be emotional and nurturing. Those born under this sign would enjoy a romance that's comforting and heartwarming. Hometown Cha Cha Cha fits the bill. The story goes that one city-girl dentist Yoon Hye Jun moves to a coastal village to set up a practice. There she meets small-town jack-of-all-trades Hong Du-sik, beloved by all. The two immediately lock horns, slowly falling for each other. The two are quite thoughtful, affectionate, and supportive of each other – music to a Cancer's ears. Not to mention, the seaside views will make this water sign feel right at home.
Leo: The King's Affection
Leos are known to be confident, fun-loving, and generous. Represented by the lion, they're the kings of the cosmic jungle – giving them an air of regality. Those born under this sign would enjoy classic, traditional romances with a side of excitement. A perfect match? The King's Affection. Set in the Joseon period, the story goes that the wife of the crown prince of the kingdom gives birth to fraternal twins. This was believed to be an ominous sign at the time and to ward off bad luck the daughter Dam-yi is about to be killed. The mother, however, begs for her life to be spared, sending her away in secret later. Years later, however, the son and heir to the throne passes away. To prevent the royal line from destabilizing, the daughter returns to take his place, posing as the prince herself. Afraid to have her secret out, she turns reclusive and refuses to interact. The only exception? Her good-looking, cheery royal tutor Jung Ji-woon. The show explores themes of loyalty and grit – both qualities associated with this fire sign, especially when in love. Not to mention, it has enough humor and charm infused to keep Leos engaged.
Virgo: Romance Is A Bonus Book
Virgos are known to be ambitious workhorses. Those born under this sign would find themselves drawn to more practical depictions of love. They'd relate to the grit and dedication of the protagonists of Romance Is A Bonus Book. It follows Cha Eun-ho, a successful and confident (youngest) editor-in-chief of a publishing company who finds himself caught up in the life of his childhood friend Kang Dan-yi – a former copywriter who's divorced unemployed, and a single mother who's on the lookout for work. As the two get closer, he has to compete with book cover artist Ji Seo-joon who's also attempting to woo her. There's a certain practicality, honesty, and enduring quality to the relationships in this show that this earth sign would find quite relatable and desirable. Not to mention, there's plenty of emotional depth and humor for Virgos to pick apart and enjoy.
Libra: Suspicious Partner
Libras are known to be romantic and charming. Those born under this sign seek harmony and balance in every aspect of their life and relationships are central to their world. They'd root for the romantic leads in the legal drama Suspicious Partner. It follows the life of prosecutor Noh Ji-wook and his trainee Eun Bong-hee who get caught up in a mysterious murder case. When the latter becomes the suspect, she relies on the former to clear her name and restore justice. Along the way, they banter, look after each other, and give in to their obvious chemistry by falling in love. The excitement of the equation they share as well as the promise of justice and a happy ending will keep this air sign hooked. Not to mention, the show is quite popular – an adjective most associated with Libras.
Scorpio: Hotel Del Luna
Scorpios are known to be passionate and loyal. Those born under this sign enjoy all things dark, mysterious, and intriguing and would enjoy a romance that has it all. Enter, Hotel Del Luna. The story goes that the CEO of said hotel Jang Man-wol is cursed to run the place – which caters to the supernatural – to make up for a set of sins she can no longer remember. Her only hope of escaping this prison? To find someone who's made a bigger mistake than her. Along the way she meets Goo Chang-sung – a successful manager of a multinational hotel corporation who's forced to join her due to a deal his father made. As they navigate working together, they fall in love. The show has a gothic touch as well as a certain emotional depth to it that would particularly fascinate this water sign.
Sagittarius: Crash Landing On You
Sagittarius is known to be free-spirited and lively. Not one for traditional romances, those born under this sign would enjoy a drama that tickles their sense of adventure. Crash Landing On You checks these boxes. It tells the tale of South Korean millionaire businesswoman Yoon Se-ri who has a paragliding accident that lands her in North Korea. There she's discovered by North Korean military captain Ri Jeong-hyok. As she attempts to flee the country unscathed with his help, they fall in love. Travel, adventure, suspense, heartbreak, sizzling chemistry – this show has it all, which would appeal to this fire sign. The danger of star-crossed love and the leads' cultural differences would intrigue them as well. Not to mention, there's an underlying optimism and determination to the story that's very reflective of a Sagittarius' own approach to life and romance.
Capricorn: Descendants Of The Sun
Capricorns are known to be pragmatic and loyal. Those born under this sign would enjoy enduring romances. Enter, Descendants Of The Sun. It follows South Korean Special Forces agent Captain Yoo Shi-jin and Haesung Hospital surgeon Kang Mo-yeon who try to pursue a relationship while grappling with their respective hectic schedules. Fate brings them together in the war-torn country Urk where doctors and the military work in tandem to keep the peace. Along the way, they engage in witty banter, flirt, and tackle near-death experiences – sticking together through it all. Their dedication to their respective professions as well as stellar work ethic is something this workhorse earth sign would relate to and admire. Not to mention, their loyalty to each other forms the basis of their relationship – a trait most associated with Capricorns.
Aquarius: My ID is Gangnam Beauty
Aquarius is known to be rebellious and eccentric. Those born under this sign are progressive and would enjoy a romance that defies the status quo. My ID is Gangnam Beauty fits the bill. It follows Kang Mi-rae who goes under the knife to get a fresh start after being bullied for being unattractive. In college, she meets Do Kyung-suk who went to the same middle school and is now drawn to her. He sees through people and is quite stand-offish with most. Things take a turn for the worse when Mi-rae starts being ridiculed for getting plastic surgery with phrases like 'Gangnam plastic surgery monster.' Kyung-suk stands up for her. Soon, they fall in love. Body image, self esteem, bullying, mental health – this Romantic Korean drama touches upon a lot of subjects that the opinionated Aquarius would enjoy diving into. The leads grow and tackle their insecurities together, challenging societal notions just like this air sign.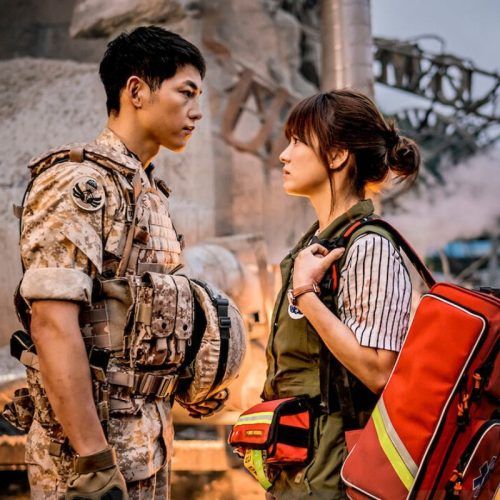 Pisces: The King: Eternal Monarch
Pisces are known to be romantic and imaginative. Those born under this sign would enjoy a fairy-tale-like love story. Enter, The King: Eternal Monarch. It tells the tale of a Korean emperor from the kingdom of Corea who's on a quest to capture his father's murderer. In the process he crosses into an alternate universe, arriving in present-day South Korea. There he meets a fierce female detective who closely protects the people around her. The two fall in love and the king is quite loyal and sincere, dedicated to this romantic interest. Not to mention, he'd move mountains to be close to her and hopes he could make her his wife. If that doesn't make this water sign weak in the knees,we don't know what will.
Which of these romantic Korean dramas are you adding to your watchlist?
All images: Courtesy IMDB
This story first appeared on Lifestyle Asia India
Frequently Asked Questions (FAQs)
Question: What are the best romance K-dramas to watch?
Answer: Crash Landing On You, Descendants Of The Sun, What's Wrong With Secretary Kim, and Hometown Cha Cha Cha are some of the best K-dramas around.
Question: Which kdrama has more kissing scenes?
Answer: What's Wrong With Secretary Kim?, Healer, Business Proposal, Nevertheless, It's Okay to be not Okay, Suspicious Partner have quite a few kissing scenes.
Question: Which is the hottest K-drama?
Answer: Nevertheless, What's Wrong With Secretary Kim, Lovestruck in the City, My Name are amongst the steamiest K-dramas.