Breaking and making records, winning awards, capturing hearts, and making soul-stirring music is just another day in the life of Taylor Swift. Since her debut in 2006, she has remained devoted to her music, enchanting fans with her gift for storytelling through heartfelt songwriting. Currently, she is captivating audiences on her Eras Tour, where she delivers a breathtaking 3.5-hour-long show featuring 44 full-length songs setlist from her extensive discography. Now that we've got the dates of the Asian leg of the Eras Tour — including her six Singapore shows in March 2024 — let's explore the most-streamed songs by Taylor Swift on Spotify.
Throughout her glorious 17-year career (and counting), Taylor Swift has achieved extraordinary milestones, boasting an impressive collection of 10 chart-topping albums, including two re-recordings (Note: Speak Now TV (Taylor's version) is set to release on July 7 and also the Eras Tour Singapore ticket sales open to the general public on the same date). With 12 Grammy Awards in her bag, this singer-songwriter has rightfully earned her place as one of the greatest songwriters of our generation. Moreover, T Swift commands one of the largest and most dedicated fan bases in the world, who affectionately call themselves Swifties. Even as she transitioned from Country music to American Pop, her reign remained unchallenged. So there's no way you can deny it when Barbara Walters said, "Taylor Swift is the music industry."
Now Taylor has become an inseparable part of our lives, and we can't just "Shake It Off." Her songs make us feel things we never felt, and her lyrics perfectly sum up our situation when we can't articulate it ourselves. From the sweet and simple "Love Story" to the empowering "Anti-Hero", her whole discography has kept us "Enchanted" through the Midnights. We have spent countless nights trying to uncover the clues and easter eggs she left us in her music. Without further ado, here are the best and most-streamed Taylor Swift songs you ought to listen to, before her upcoming concerts.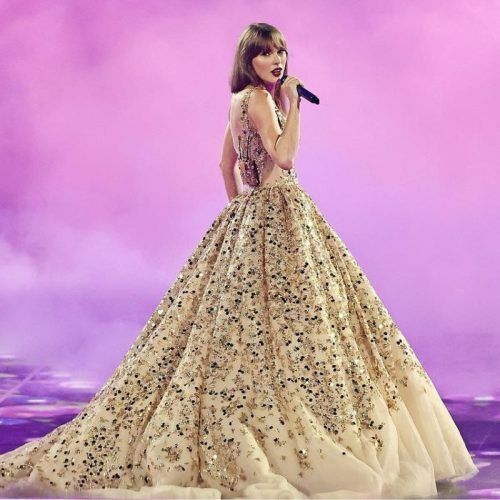 13 most-streamed songs by Taylor Swift on Spotify
I Don't Wanna Live Forever from Fifty Shades Darker (2016)
Streams: 1.4 Billion
Written By: Jack Antonoff, San Dew, Taylor Swift
Produced By: Jack Antonoff
For the soundtrack of the second installment of the Fifty Shades series, Swift collaborated with former One Direction member Zayn Malik. This song marked her entrance into the realm of more mature and sensual music. It received critical acclaim for the chemistry between Taylor Swift and Zayn Malik's vocals and their ability to convey the intense emotions of the song. The sultry, emotionally charged pop ballad explores the themes of a passionate love affair where the lovers want to stay in their relationship despite its ups and downs. In the song, Taylor sings the line "until you come back home" an auspicious 13 times.
Blank Space (2014)
Streams: 1.3 Billion
Written By: Max Martin, Shellback, Taylor Swift
Produced By: Max Martin, Shellback
"Black Space" is a hit single from Taylor Swift's first pop and fifth studio album 1989. The electropop song, co-written by Swift herself, presents a satirical and self-aware take on Swift's media portrayal as a serial dater and addresses the public perception of her romantic relationships. Through this song, she directly challenged the tabloid narratives often surrounding her personal life.
Even the song's music video, which portrays Swift as an eccentric and possessive lover (aka a crazy girlfriend), also became a viral sensation and got more than 3 billion views on YouTube. It even stars her beloved feline pet, Olivia Benson. The song title "Black Space" serves as a metaphor for the empty space that the character aims to fill with fleeting romances. It still remains one of her most iconic songs that solidified her transition from country to pop music by winning the 2015 Grammy Award for Best Pop Solo Performance.
Shake It Off (2014)
Streams: 1 Billion
Written By: Max Martin, Shellback, Taylor Swift
Produced By: Max Martin, Shellback
The lead single from 1989 encourages listeners to brush off others' judgment and unrealistic expectations while embracing a positive outlook and staying true to themselves. The catchy pop song has an upbeat tune, uplifting lyrics, and an anthem-like vibe that resonates with audiences everywhere. Taylor's delivery of an empowering message championing indifference in the face of criticism, marks her "swift" transition to pop music. The feel-good song has become a staple in her live performances and a fan favourite.
Anti-Hero (2022)
Streams: 953 Million
Written By: Max Martin, Shellback, Taylor Swift
Produced By: Max Martin, Shellback
It's not even a year since the song dropped and it already has close to a billion streams. The lead single from Taylor's tenth studio album Midnights is essentially a pop song with a hint of 1980s rock. Swift criticises herself in the song's lyrics, referring to herself as "the problem" and disclosing her fears, anxiety, and sadness. She covers topics like ghosting acquaintances, disguising narcissism as altruism, worries that relationships are transactional, and her difficulty mingling with people on a regular basis because of her celebrity status.
One of the most-streamed songs of Taylor Swift, "Anti-Hero" is quite a complex song but it's also powerful and moving. The dark introspective lyrics will resonate with the listeners who are fighting their own inner demons. The music video for this song is also written and directed by this multi-talented songstress.
Look What You Made Me Do (2017)
Streams: 885 Million
Written By: Fred Fairbrass, Jack Antonoff, Richard Fairbrass, Rob Manzoli, Taylor Swift
Produced By: Jack Antonoff, Taylor Swift
"Look What You Made Me Do" was released as the lead single from her sixth studio album Reputation in 2017. It was personally a difficult time for Taylor as she was constantly attacked for her personal life. The song showcases a darker and more assertive side of Taylor Swift's music. The song lyrics address Swift's public image, media scrutiny, and her responses to criticism and conflicts with various individuals in the industry. It can be seen as an empowering anthem about reclaiming control and ownership of the narrative that surrounds her.
With a pulsing beat, a powerful bassline, and lyrics with a mixture of tenacity and assurance, the song showcases her growth as an artist and her willingness to embrace a more edgy and experimental sound. Though the song received mixed reviews upon release, it still debuted at number one on the Billboard Hot 100 chart.
Lover (2019)
Streams: 852 Million
Written By: Taylor Swift
Produced By: Jack Antonoff, Taylor Swift
Aiming to create a romantic love ballad that couples can dance to, Taylor wrote the song "Lover" in the middle of the night on her piano. It's the title track of her seventh studio album. The lyrics of the song convey a feeling of warmth and satisfaction, and emphasise the simplicity and beauty of a loving relationship. The bridge of the song is beautifully crafted to resemble marriage vows. It creates a dreamy ambience with its romantic lyrics and mellow vocals.
Later, Swift collaborated with Canadian singer Shawn Mendes to create a duet version of this beautiful song. The song resonates with fans for its heartfelt portrayal of love and its ability to evoke a sense of nostalgia and tenderness.
Cardigan (2020)
Streams: 774 Million
Written By: Aaron Dessner, Taylor Swift
Produced By: Aaron Dessner, Taylor Swift
When the whole world was in quarantine due to Covid, Taylor released some of her best works. Upon its drop, this song gathered a massive fanbase and turned out to be one of Taylor Swift's greatest hits and most-streamed songs. The intense lead single from her eighth studio album, Folklore, is an indie folk-pop ballad that explores themes of nostalgia, lost love, and the comfort found in cherished memories. According to Swift, "Cardigan" is about "a lost romance and why young love is often fixed so permanently within our memories". The song features delicate instrumentation, including piano, acoustic guitar, ethereal atmospheric sounds, and her own 'high heels on cobblestones' sounds.
The beautiful song with introspective lyrics moves listeners of all ages and furthers Taylor Swift's position as a versatile and accomplished artist.
Wildest Dreams (2014)
Streams: 767 Million
Written By: Shellback, Max Martin, Taylor Swift
Produced By: Shellback, Max Martin
"Wildest Dreams" is another song from T Swift's album 1989. It is a hazy, moody pop ballad with synth-pop overtones from the 1980s. It features an atmospheric arrangement featuring string instruments and Swift's heartbeat as its beat. These little touches make her songs so special. In the song, she yearns for a romantic relationship that seems like a lovely but transient dream, which is passionate but melancholy. The song's lyrics reflect the strong feelings and desires that come up in relationships, despite understanding their inevitable end.
When "Wildest Dreams" started trending again on Tiktok in 2021, Swift released Taylor's version of the song. The rerecorded version was also featured in the trailer of the animated adventure film, Spirit Untamed.
You Need To Calm Down (2019)
Streams: 748 Million
Written By: Joel Little, Taylor Swift
Produced By: Joel Little, Taylor Swift
Featured as a single in her seventh studio album Lover, "You Need to Calm Down" is an upbeat and catchy pop anthem that carries a message of promoting inclusivity, embracing individuality, and standing against hate and discrimination. The song's lyrics condemn homophobia, internet trolls, and other forms of negativity, while urging listeners to embrace their unique identities and rise above the crowd.
The music video of the song is very colourful and features a star-studded cast of celebrities and LGBTQ+ icons and advocates. The song is influenced by her own experiences with online hate while also addressing crucial social issues, advocating for equality and celebrating individuality.
ME! (feat. Brendon Urie of Panic! At The Disco) (2019)
Streams: 746 Million
Written By: Joel Little, Brendon Urie, Taylor Swift
Produced By: Joel Little, Taylor Swift
"ME!" featuring one of Taylor's best friends Brendon Urie of Panic! at the Disco was released as the lead single from Swift's seventh studio album, Lover. It's a very bubblegum pop element-heavy song with a marching band-inspired bridge and a spoken-word section. The song's lyrics encourage listeners to love and accept themselves for who they are, flaws and all. The song promotes empowerment and self-assurance with a cheerful and uplifting message. Although it's a very catchy song, some critics said it was too bubblegum and lacked depth compared to Swift's previous work. But it's still one of the top 10 most-streamed songs by Taylor Swift.
Style (2014)
Streams: 740 Million
Written By: Max Martin, Ali Payami, Shellback, Taylor Swift
Produced By: Max Martin, Ali Payami, Shellback
"Style" is one of Taylor Swift's most iconic songs from the album 1989. Exploring the complexity of a passionate and intense relationship, this catchy pop song is irresistible. The song's lyrics depict a passionate romance that is marked by strong chemistry and appeal. Swift reflects on the lingering memories and the persistent style of the relationship as she digs into the range of emotions felt in a turbulent love affair. Taylor's alluring and sultry vocals with clean atmospheric synth, perfectly capture the seductive and nostalgic nature of the song.
Swifties are quite sure that the song alludes to her former relationship with Harry Styles, hence the name "Style." Nevertheless, It's a fan-favourite and a significant addition to her discography.
Love Story (2008)
Streams: 725 Million
Written By: Taylor Swift
Produced By: Nathan Chapman, Taylor Swift
"Love Story" by Taylor Swift is not only one of her most streamed songs, it's also the song that brought her international fame and made her a music sensation. And to think she wrote it down in one sitting after having a fight with her parents about a boy who wasn't well-liked by her family. She reimagined William Shakespeare's classic tale of Romeo and Juliet as a reference. But Swift gave them a happy ending, contrary to Shakespeare's tragic finale. The song tells the story of a clandestine romance between two people from rival families who express their wish to be together against all odds.
The lead single in her second studio album Fearless proves Taylor's storytelling ability and the heartfelt, emotional, and timeless appeal of the song make it a fan-favourite, therefore, a most streamed song. "Love Story" has become a popular choice among Swifties for marriage proposals.
Delicate (2017)
Streams: 720 Million
Written By: Shellback, Max Martin, Taylor Swift
Produced By: Shellback, Max Martin
It's one of the songs in her album Reputation that sends a little "Lover" vibe. It explores the vulnerability and uncertainty that lingers in the early stages of a new relationship. The song depicts Taylor's hesitation and desires to keep a romance under wraps, fearing the judgment and scrutiny that often accompany her public image. It's rumoured to be about her then-boyfriend English actor Joe Alwyn. The song conveys a sense of self-discovery and the importance of embracing one's authentic self in matters of the heart. The song incorporates Swift's signature catchy melodies and hooks, which contrasts with some of her older work by having a more polished and mature feel.
(All statistics are accurate as of 4 July 2023)
This story first appeared on Prestige Online Malaysia
written by.
Pallabi Bose
After graduating from Calcutta University, Pallabi started her writing career as a freelancer. "She's so pieces" is the phrase that describes her the best. Pallabi is another typical introvert who loves to hide behind written words. Music is her comfort language. Binge-watching and eating delicious foods is her favourite pastime.