Come 2026, hospitality establishment Accor will take the Orient Express brand from land to sea with its first luxury superyacht Silenseas.
What to expect from the world's largest sailing yacht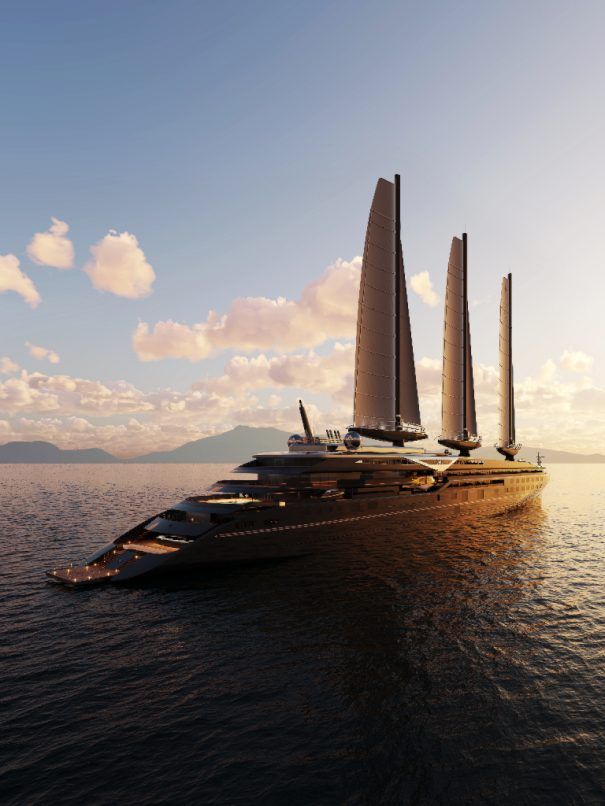 (Image credit: © Martin Darzacq)
On January 12, Accor announced that they will enter the cruise industry with Orient Express' first ship Silenseas. Another typical vessel? Nope. It's touted to be the world's largest sailing yacht and superyacht, according to Accor.
This groundbreaking project sees Accor teaming up with French shipbuilders Chantiers de l'Atlantique to create the impressive 722-foot-long (220-metre) ship that includes three masts standing over 300 feet high.
Orient Express Silenseas consists of 54 suites to accommodate 120 passengers. However, the tour de force room has got to be the 1,215 square metres presidential suite that includes a cosy private terrace facing the picturesque ocean.
This Orient Express ship will also be a more intimate vessel compared to Ritz-Carlton's 298-passenger Evrima superyacht. Hence, rates will be priced more expensive, Accor CEO Sébastien Bazin told Bloomberg.
Guests can also expect to enjoy various facilities and entertainment options like a dedicated oyster bar, a cabaret, and a speakeasy bar. Elsewhere, music buffs can record their own songs in its private recording studio.
French architect Maxime d'Angeac, currently tasked with Accor's upcoming Orient Express train and Orient Express hotel in Rome, will also execute the superyacht's interior design. This also makes it a made-in-France designed creation.
A sustainable sail (Image credit: © Maxime d'Angeac & Martin Darzacq)
Cruises aren't the most sustainable mode of transport as it's almost impossible to achieve an emission-free ocean cruise.
Hence, Accor plans to make Silenseas a more sustainable option by using a hybrid propulsion system operated by wind energy instead of diesel fuel to run the superyacht. It will also be equipped with an engine that powers on liquefied natural gas (LNG), which would reduce carbon dioxide emissions by 20% compared to using diesel, Accor shared.
The Orient Express Silenseas will sail the Mediterranean riviera starting summer of 2026, with port calls including Portofino, Capri and Saint Tropez, and the Caribbean in the winter. Reservations are also expected to start in 2024.
"With Orient Express Silenseas, we are beginning a new chapter in our history, taking the experience and excellence of luxury travel and transposing it onto the world's most beautiful seas," said chairman and CEO of Accor Sébastien Bazin about this launch to Condé Nast Traveller.
"This exceptional sailing yacht, with roots in Orient Express' history, will offer unparalleled service and refined design spaces, reminiscent of the golden age of mythical cruises. It is a boat designed to make dreams a reality, a showcase for the best of French savoir-faire," Bazin explained.
(Hero and feature image credit: Orient Express Silenseas 3D rendering © Martin Darzacq)
This story was first published on Lifestyle Asia Singapore