The globe and its myriad of air travel networks stretched out before me like a lover's whisper, beckoning me with promises of adventure and discovery. Planning a holiday begins in the heart before it begins in the mind, an alchemy of contrasts – is there such a thing as a leisurely adventure? Since 1898, Rimowa has been a pioneer in providing the ultimate mobility solutions for discerning travellers around the globe. Its recent Never Still collection, featuring bags engineered for daily needs, exemplifies this industrial know-how and the brand's masterful craftsmanship – like scars on a mountain biker, every ding, every nick, every scratch is evidence of an epic journey of discovery.
As I fished the credit card from my wallet to key in crucial details for ticket payment and hotel bookings, excitement coursed through my veins, a pulsating rhythm urging me to escape the confines of the familiar and embrace the unknown. With each destination that danced in my mind, my heart quickened with a wanderlust
that only a true vagabond could understand – it was hard to keep still. Rimowa Suitcase
Made in Italy, the German Maison's Flap Backpack Large has been reimagined in nylon, offering an unmistakable modern appearance while echoing the brand's signature design with light and a water-repellent material that offers a slight gloss sheen reminiscent of Rimowa's iconic aluminium suitcases and its identifiable grooves embroidered unto its nylon surface.
With the map sprawled across 22 inches of LED screen before me, its many lines and contours evocative of veins and arteries, carrying the lifeblood of my dreams, I traced the routes with my finger, imagining the sights, the sounds and the flavours that awaited me in each corner of the globe with this new lightweight bag. Stylish in bespoke metallic hardware rendered in a sleek black matte finish, the practical design is completed with padded webbing straps and a matte black leather-made reinforced bottom offering protection when haphazardly placed on the floor. The anticipation of travelling with such a trusty companion swelled within me like a crescendo, each location a new note in the symphony of my existence. Packing became an art form, a meticulous opera of selecting the essential and discarding the excess. My backpack, adorned with scars from past travels, stood as a testament to the memories I had woven into the fabric of my being. Incidentally, I had chanced upon Rimowa's original aluminium collection when an inopportune moment rendered the cabin bag I had with me at the time unusable. It was there, after a shopping trip at Galeries Lafayette, I found my contents spilling out across Avenue des Champs-Élysées in Paris and decided to limp my way as best as I could towards Rue du Faubourg Saint-Honoré, where I set my eyes on the most fascinating colourway I had seen: a Rimowa. It was then and there, fears of a damaged and distraught gave way to the romance of hallmarks of a thousand inevitable dents and scratches of time. I entertained the notion that a well-worn bag held not just my belongings but the stories of a thousand encounters, the laughter shared, the tears shed, and the fleeting connections that transcend time and space; in that sense, sans airport stickers of a bygone era of air travel, the knocks on each aluminium surface make your Rimowa luggage a vehicle for storytelling.
There was something deeply poetic about a well-made piece of luggage, a testament to craftsmanship and reliability. It was as if the bag itself whispered secrets of the world, its silent presence speaking of countless journeys and steadfast companionship. They say "a chain is only as strong as its weakest link", a truth – but in the case of Rimowa, a truism. Analogously, crumple zones in a vehicle help transfer some of the car's kinetic energy into controlled deformation, or crumpling, at impact. This may create more vehicle damage, but the severity of personal injury likely will be reduced. Hence, it might seem, with the many times I have written to the Civil Aviation Authority of Singapore to claim repairs on broken, if not outright torn off, wheels on the bottom of my Rimowa luggages, the perception would be that these expensive pieces of travel accoutrement might appear impractically frail. But the reality is that these are designed to be broken off, rather than risk comprising the structural integrity of the suitcase and risk its contents spilling inside baggage handling at the airport. I stroked the metal of my Original Cabin Camouflage, its rich patina an echo of the places it had ventured, the dusty roads it had traversed, and the rough embrace of foreign lands it had endured. Fingers traced in scratch and indentation, though the hows and wheres were no longer remembered, the sensation of a journey or more often a frantic run across terminals to catch last-minute or connecting flights were enough to raise heart beats above resting.
As I carefully packed my belongings, folding my clothes with a reverence usually reserved for holy rituals, I couldn't help but feel a thrill in the air. The scent of adventure mingled with the faint musk of luggage "fresh" from the stale storeroom, the excitement of discovery intermingling with the nostalgia of memories yet to be made. Each item found its place in the puzzle of my luggage, fitting snugly like the pieces of a carefully composed poem.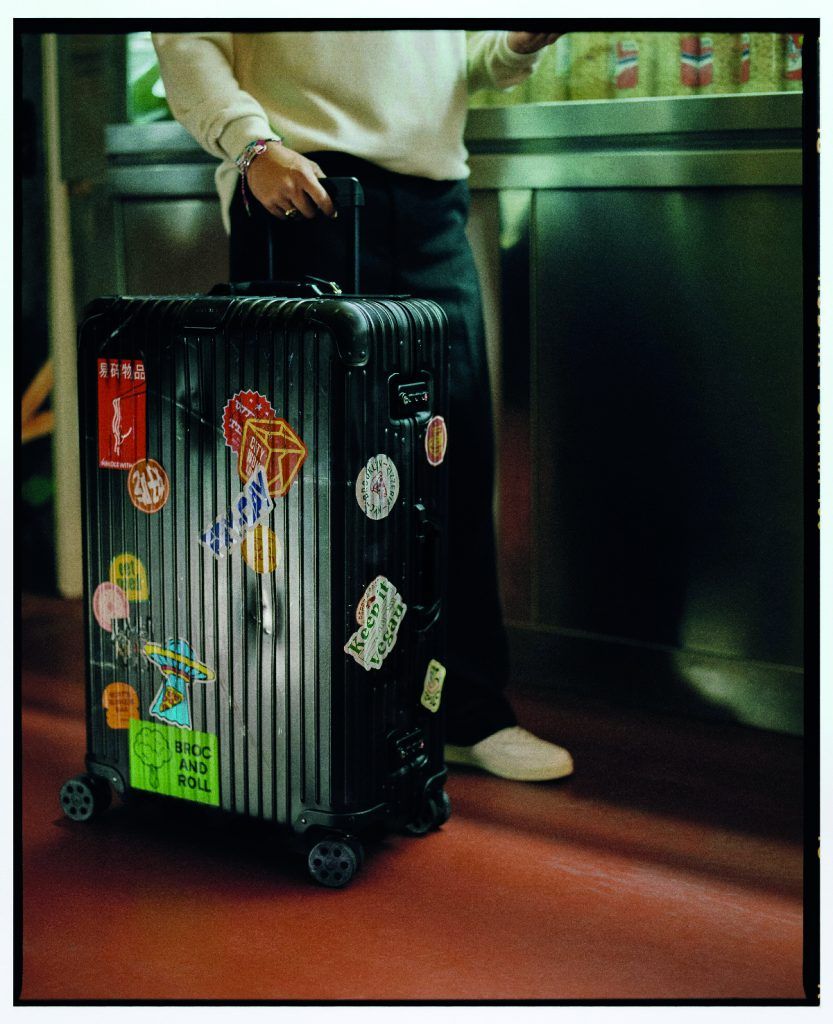 And so, armed with my well-made bags and the spirit of those who came before me, I embarked on my pilgrimage. I embraced the chaos of airports, the jostling crowds and the cacophony of languages, knowing that within the whirlwind lay the symphony of my own existence. Each step I took, each flight I boarded, brought me closer to the unknown, to the places that awaited, and to the people who would forever change the trajectory of my life.
Renowned as one of the most recognisable luggage of all time, every item from Rimowa offers the very best of German engineering and design. Now, the Original range has been expertly reimagined in Arctic Blue with considerable technical expertise. This know-how is apparent in the range's every detail, from the stage-
free telescopic handle and the brand's pioneering Multi-Wheel system to the TSA approved locks to secure belongings during travel. Launched early June, the seasonal range also features Rimowa's patented Flex Divider, a compression system that allows travellers to pack more whilst keeping items in order. Crafted for a lifetime of meaningful journeys, the latest suitcase collection benefits from the Maison's lifetime guarantee.
In the spirit of legendary globetrotters, I set forth with a hunger for experiences, a thirst for connection, and an insatiable appetite for the world. For it is in the journey itself, the winding roads and unexpected detours that we truly find ourselves. And with my well-made bags by my side, I knew I carried not just my belongings, but the stories of countless souls who had embarked on similar odysseys before me, safe in the knowledge that wherever I went, my baggage both material and emotional remained secure.
written by.
Jonathan Ho
Managing Editor
Jonathan Ho might have graduated with a business degree but he thumbed his nose at commerce and instead opted for a harder life in journalism. He edits Augustman, a title he first joined when he became a writer after a career in advertising and now, earns a living writing commentaries on the luxury industry.