Two to three years ago, travelling was virtually impossible. Heck, we were not even allowed to travel within the country or leave the house, for that matter. During these cloistered times, responsible avid travellers and those who seek solace abroad found themselves in a state of despair; the ambiguity of the future pulverised more than just the economy.
After months following the implementation of the strict travel restrictions, a light shone ever-so-subtly at the end of the tunnel. Frowns became smiles when Royal Caribbean launched the Cruise to Nowhere – a remedy that could satiate the thirst for travel whilst adhering to the regulations. Then, it seemed like a temporary solution that would be obsolete as soon as the COVID-19-related border measures lifted. No one would have predicted the rise in popularity of cruising post-pandemic. While the Cruise to Nowhere did indeed cease operations when air travel returned in full force, this concept of a cruise vacation started receiving quite the traction, with many noticing the beaucoup benefits.
"During the pandemic, our Cruise to Nowhere sailings in Singapore were extremely popular, giving local residents the chance to experience our ships as the destination and enjoy the wonders of cruising with Royal Caribbean despite not including ports of call. Many first-time Singaporeans got hooked on the cruise experience due to the mix of adventure through activities such as rock-climbing, bumper cars and iFly as well as relaxation at the Vitality Spa and adult's only solarium," Royal Caribbean's Vice-President and Managing Director of Asia Pacific, Angie Stephen, says in an exclusive interview.
"Think of cruise as a product. It allows you to pursue hedonism during your commute," Pinnacle (top-tier) member of the Norway-founded, Miami-based cruise line, Vensen Wong highlights in a separate discussion. "Not to mention, it gives you the best of both worlds; during port days, you get to explore the city. It's almost like a floating hotel that takes you from city to city, country to country, which makes cruising ideal for revenge travelling." Indeed. After all, revenge travelling is all about travelling excessively to compensate for lost time during the pandemic. When talking about the other benefits of cruising, Stephen mentions that "cruising makes it simple for guests to experience the region they are holidaying in; guests only have to pack and unpack once, there's no time spent between flights and air transfers, and there's minimal to no planning required beforehand – the cruise takes care of it all."
Wong shares the same sentiments. "It's the ideal vacation for those who want an exciting adventure without having to put in the work. Your meals, destinations and activities can be booked in advance with a few simple clicks on just one site," he says. "It also promotes transparency as the prices, to be stated upon making your bookings/reservations, are fixed and aren't subjected to changes. The prices of the services are also readily available online, which allows the patrons to properly budget his/her expenditure."
Diving deeper into the perks of cruising, the 21-year-old mentioned that cruises are a good way to meet people from all walks of life. "It encourages bonding to a certain extent. While activities are abundant onboard, there are days during my voyages when I crave human interaction and just want to chill out and have a conversation." With everything – ranging from dining and activities to luxurious amenities – just a stone's throw away, it is evident that convenience is also a key USP.
Icon Of The Seas Icon of the Seas, Royal Caribbean's largest undertaking to date, surpassing its Spectrum of the Seas cruise in size, further challenges the notion of conventional travelling with unprecedented features. Set to launch in late 2023, ahead of its January 2024 debut in Miami, the paragon of an inclusive, family- friendly luxury cruise places the needs of all travellers at the forefront.
"Icon of the Seas is an evolution from the other iterations. We take note of our customers' feedback and use these data to afford better experiences," says Michael Bayley, CEO of Royal Caribbean International. "We strongly believe that the Icon can offer the best holiday. It is a bold statement to make, but I'm confident. We have a legacy to upkeep." Jason Liberty, President and CEO of Royal Caribbean Group, adds, "With each new ship, we raise the bar in the travel industry while enhancing what our guests know and love. From the moment they [patrons] step onboard, every experience is specifically designed to give them the best vacation anywhere on land and at sea. With Icon of the Seas, we've taken this to a new level and made the ultimate family vacation."
Whether the said family vacation means getting away as a family, couple or friends, Icon's all-encompassing line-up features a variety of firsts and next-level favourites that promises to entertain people from all walks of life (even fans of the traditional vacations and solo travels).
A First-Of-Its-Kind Combination Of Different Vacations
Whether it's a beach retreat, resort escape or theme-park adventure, there are adrenaline- pumping thrills, cutting-edge entertainment, unrivalled ways to chill with countless ocean views and pools, and a blend of more than 40 new and returning dining, bar and nightlife options to tantalise guests. With five new neighbourhoods within the eight, each destination aptly titled based
on its theme, the latest cruise "creates a vacation that makes all that possible in one place for the thrill-seekers, the chill enthusiasts and everyone in between, without compromise," mentions Bayley.
At Thrill Island, home to the largest waterpark at sea, vacationers can test their limits, scale new heights and reach top speeds with six record-breaking slides, including the industry's first open free-fall slide and cruising's first mat-racing duo, to name a few. Daredevils are also encouraged to "live on the edge" at Crown's Edge, where they can swing 47 metres above the ocean.
On the other hand, Chill Island champions peace and relaxation, housing four of the seven pools onboard, each with prime ocean views: the vibrant Swim & Tonic, the line's first swim-up bar at sea; Royal Bay Pool, the largest pool at sea; Cloud 17, an adults-only retreat; and the serene, infinity-edge Cove Pool. Following the theme of serenity, the Hideaway, a neighbourhood 41 metres above the ocean, marries the good vibes of beach clubs with the uninterrupted ocean views only a cruise can offer. At the heart of it, the first suspended infinity pool at sea – surrounded by a multilevel sun terrace with whirlpools, a variety of seating and a dedicated bar – seamlessly blends into the backdrop of blue sky, creating a sense of endless water to swim in. For young families, Surfside makes a simultaneous play for adults and kids possible; grown-ups can soak up the breathtaking sceneries at the Water's Edge Pool as they keep an eye on the kids at Splashaway Bay and Baby Bay. Just steps away are a myriad of dining options, the signature carousel, an arcade, and Social020, a facility only for teenagers.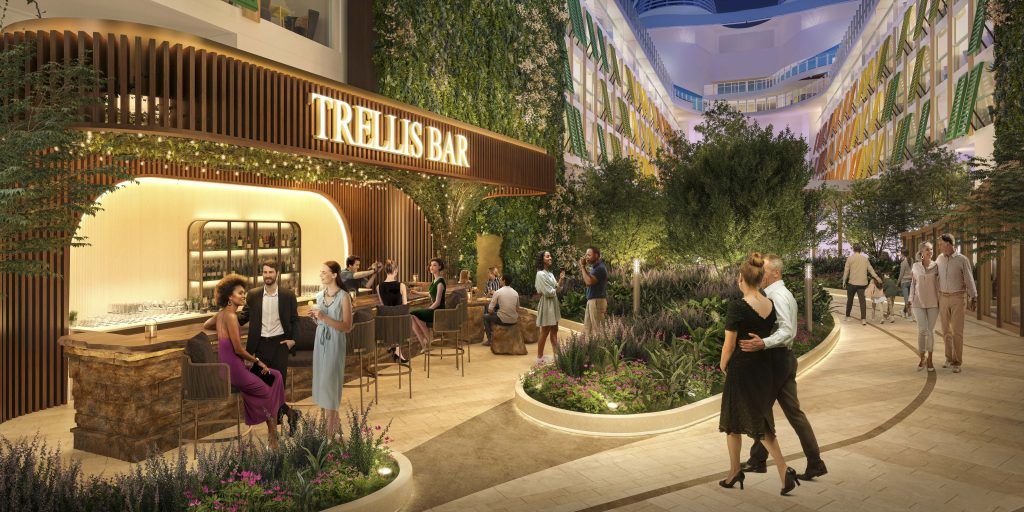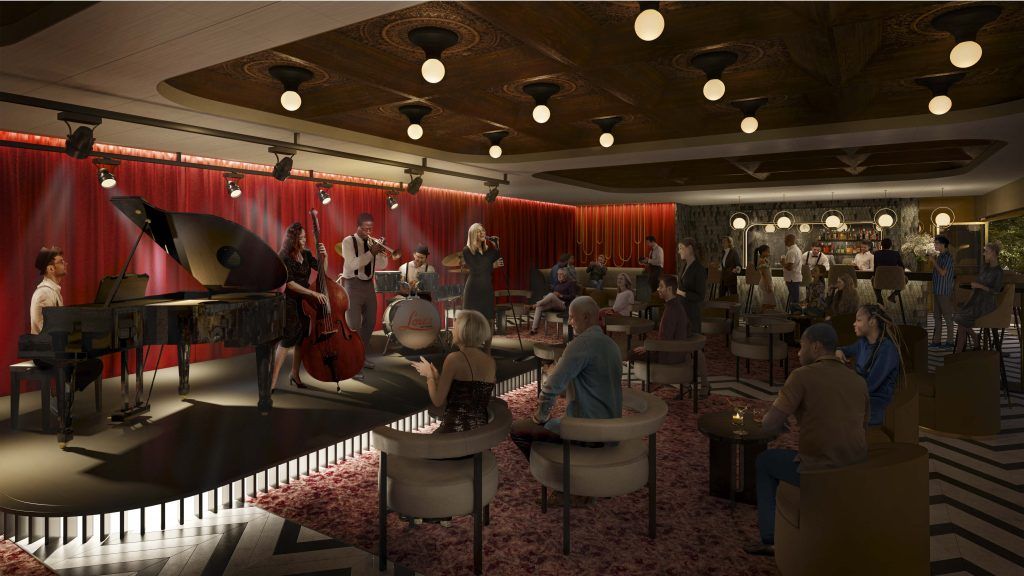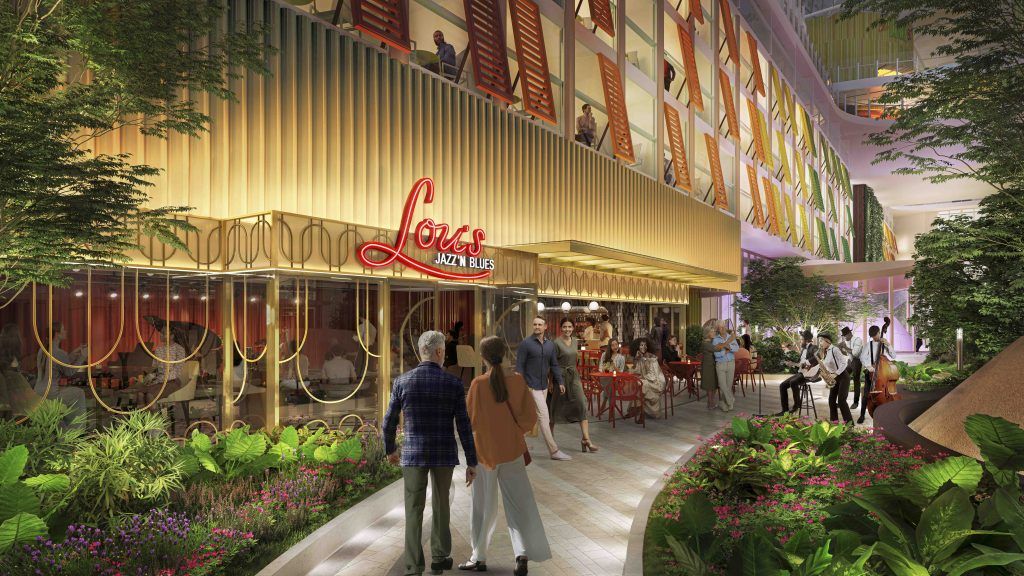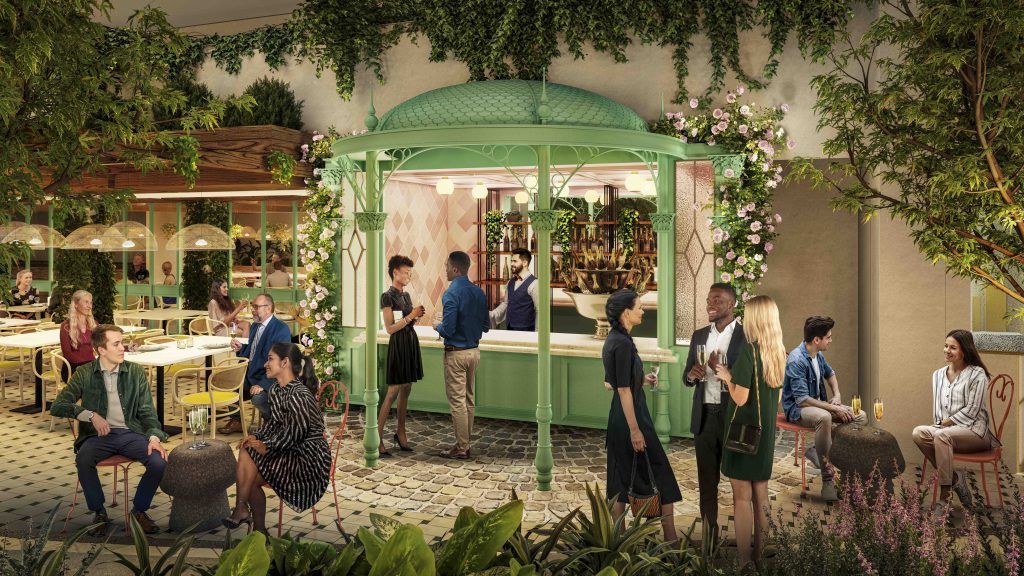 Finally, the fan favourite AquaDome is perched at the top of Icon, where guests can take in wraparound ocean views and an awe-inspiring waterfall as they enjoy a bite or drink. By night, it becomes a vibrant place great for a night out, complete with restaurants, bars and the cruise line's marquee aqua shows at the next-level AquaTheater that takes artistry and cutting-edge technology to new heights, with features like a transforming pool, four robotic arms and state-of-the-art projection. That's not all the updates, though. Royal Caribbean's penchant for innovation continues to permeate through its signature neighbourhood. A grander Royal Promenade features its first floor-to-ceiling ocean views, with more than 15 restaurants, cafes, bars and lounges; a lusher and livelier Central Park has more entertainment and ways to dine; and the largest Suite Neighbourhood is four decks of luxury, offering a multilevel suite sun deck – The Grove – that has a private pool, whirlpool and dining, and a two-storey Coastal Kitchen. More returning favourites include experiences like new takes on mini golf at Lost Dunes, rock climbing at Adrenaline Peak, and Absolute Zero, Royal Caribbean's largest ice arena, as well as dining venues such as Giovanni's Italian Kitchen & Wine Bar on the Royal Promenade and the Asian-inspired Izumi in Central Park.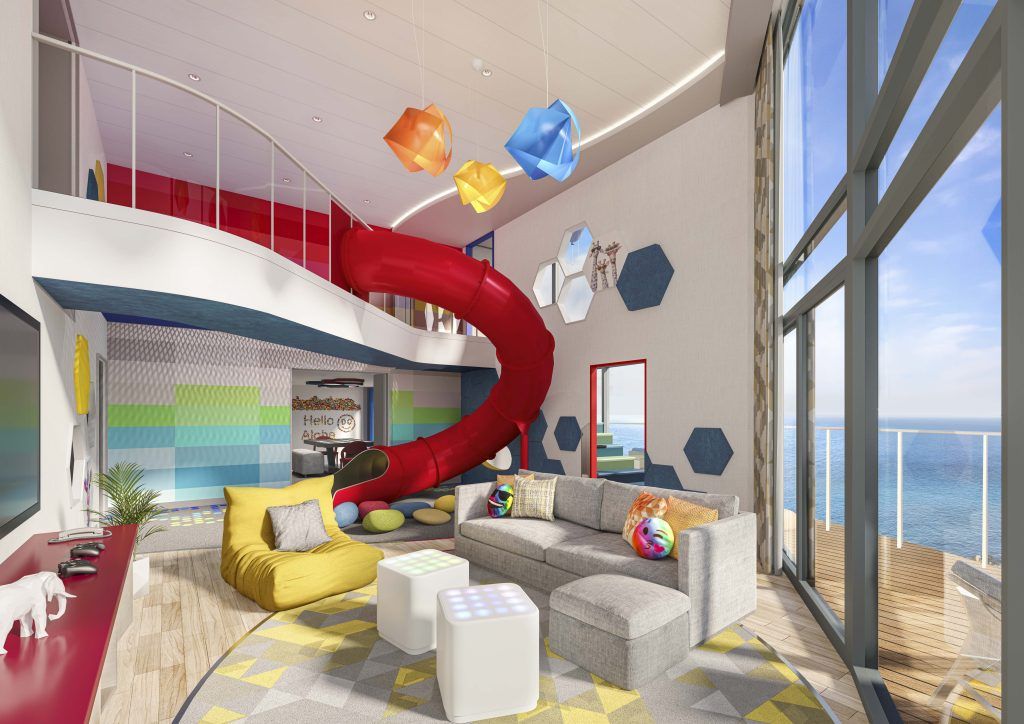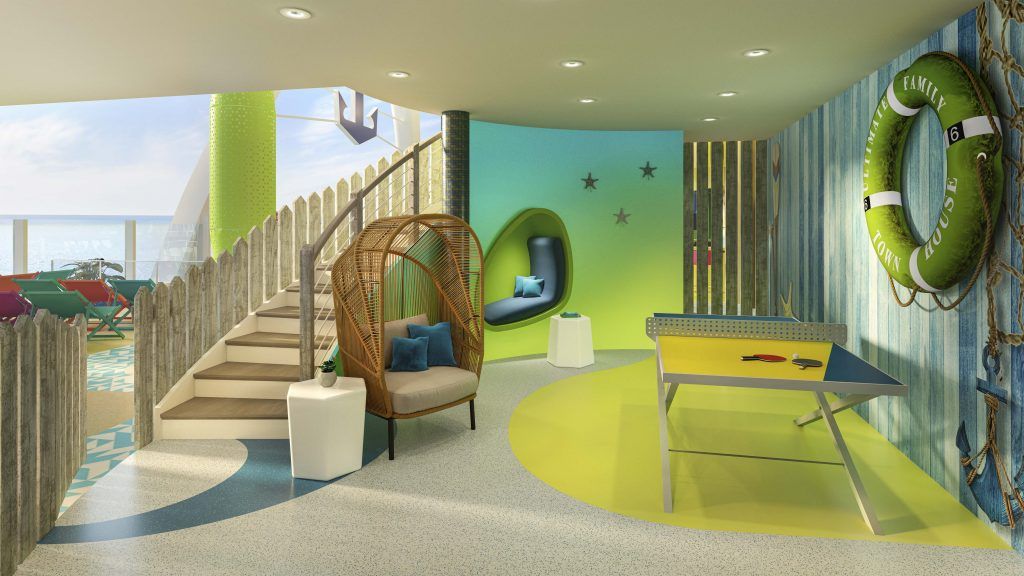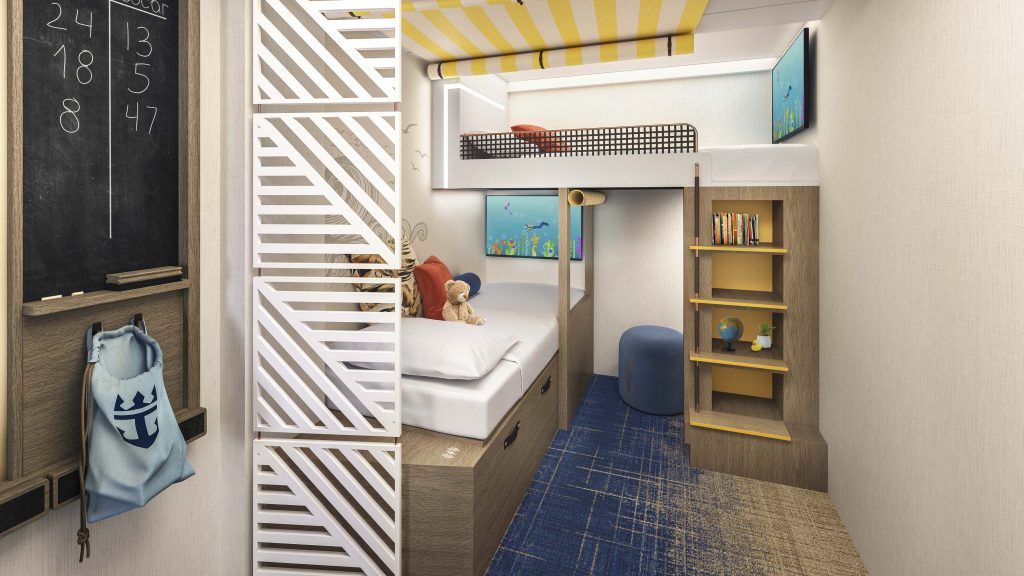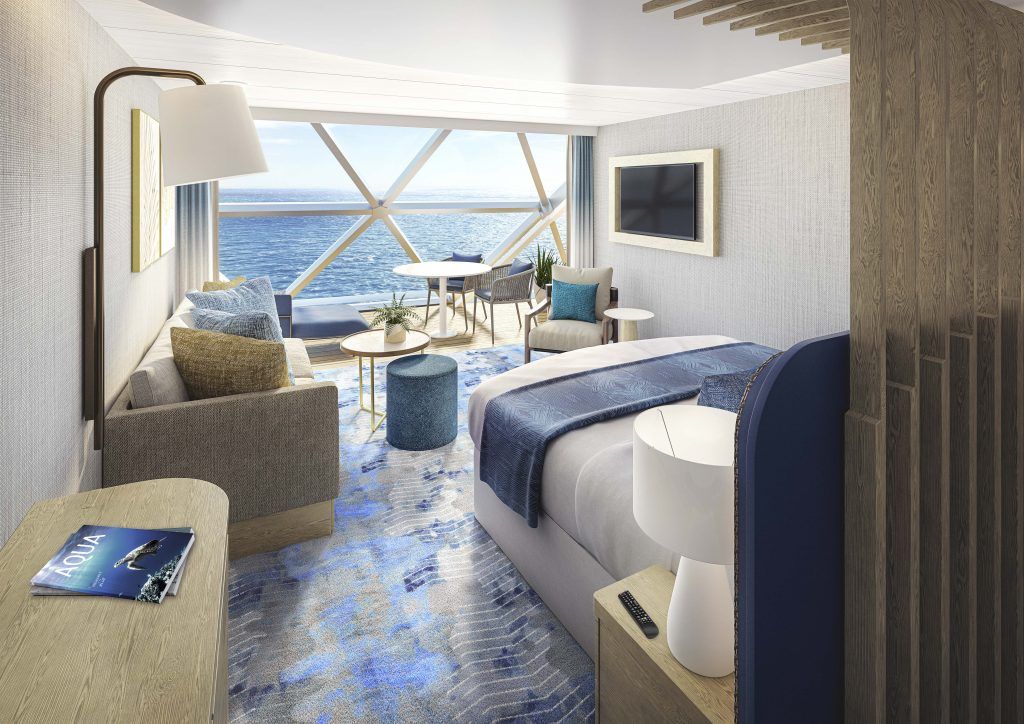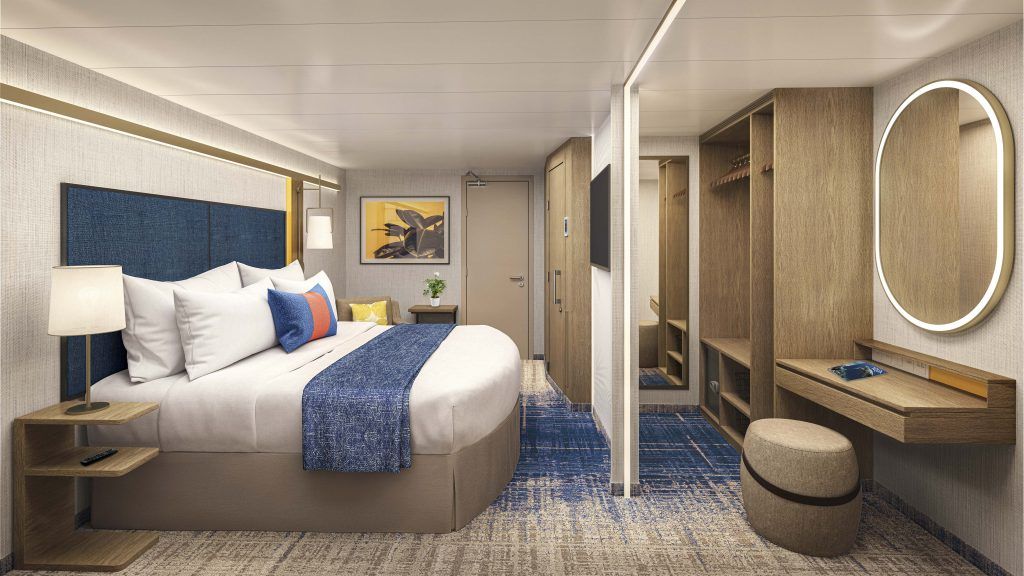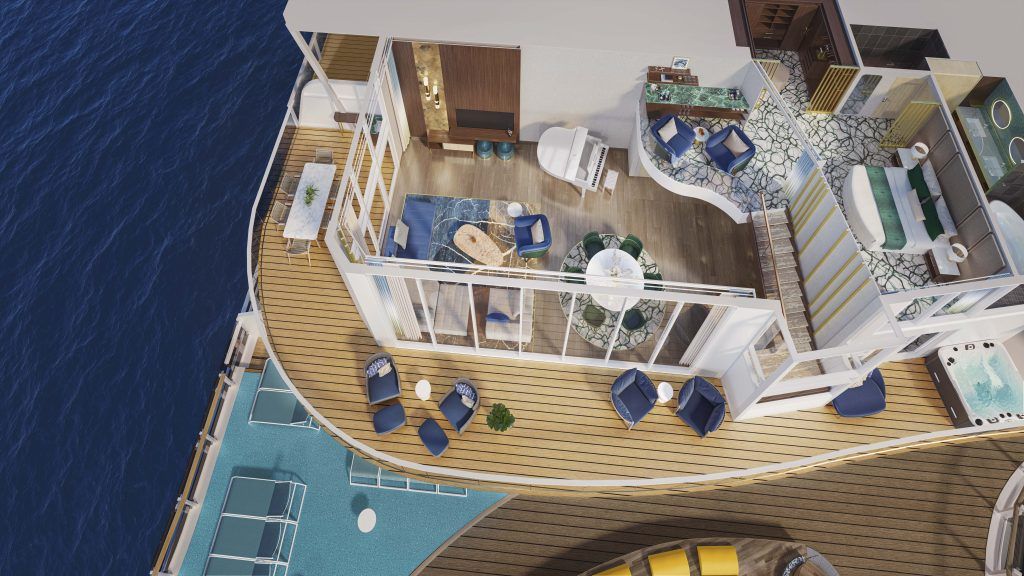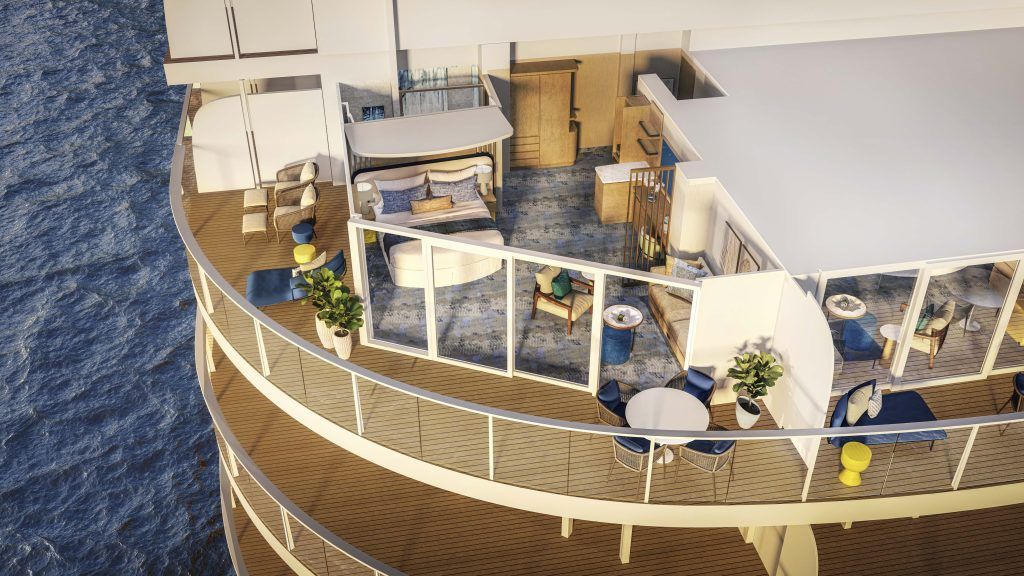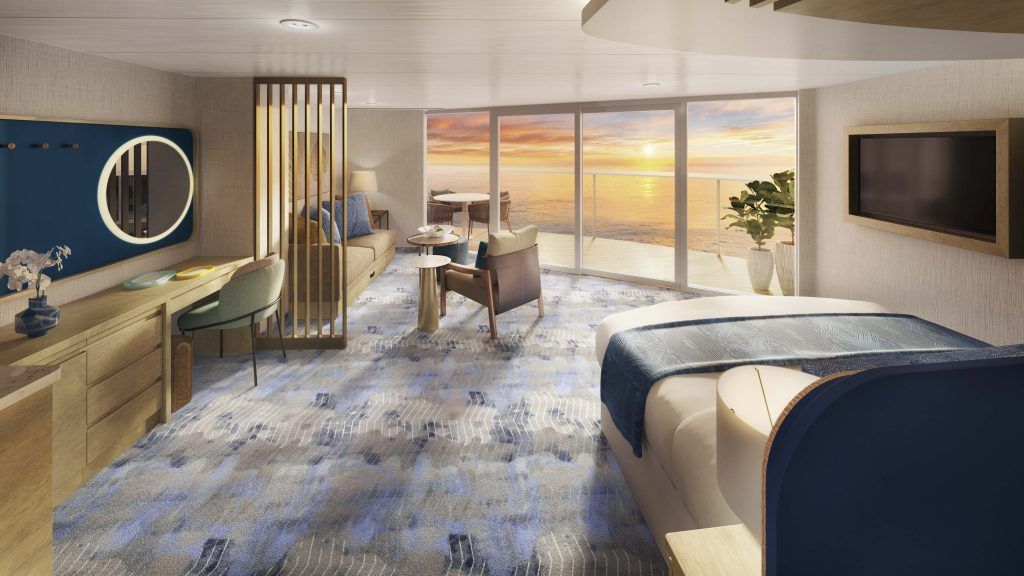 And needless to say, the rooms are thoughtfully designed for every type of vacationer, from solo travellers to large families. A party of eight can opt for the three-storey high Ultimate Family Townhouse, complete with its own white picket fence, mailbox, in-suite slide and butler (aka Royal Genie).
Sailing year-round with seven-night Eastern and Western Caribbean vacations from Miami, Icon will visit Royal Caribbean's top-rated private island destination, Perfect Day at CocoCay, The Bahamas, where adventurers can create their ideal vacation day. In-store is everything thrill and chill, from Thrill Waterpark's 13 waterslides, including North America's tallest; to Coco Beach Club, featuring The Bahamas' first overwater cabanas; and Up, Up & Away, a helium balloon adventure. When Icon arrives, the cruise line will debut the island's adults-only oasis, Hideaway Beach, with an expansive pool, private cabanas with pools, and unmatched views of the ocean hues. Vacationers will also visit Caribbean gems like Cozumel, Mexico; Philipsburg, St. Maarten; and Roatán, Honduras.
Sold?
No doubt, Icon of the Seas is an architectural marvel and makes a good case for vacation on sea over land. As one who always stands by the latter, I can't deny that the facilities of cruises are enthralling. Intrigued by this modern way of a holiday, I could foresee myself making a booking once the opportunity arises. My only gripe is the potential turbulence onboard.
(Images: Icon of the Seas / Royal Caribbean)
written by.
Amos Chin
Senior Writer (Print & Digital)
Fashion and beauty enthusiast, Amos covers the style and grooming beats within his title and occasionally handles the styling and art direction of sundry advertorials. Powered by a visual communication degree, a diploma in fashion, and years of experience in content strategising, the Gen Z knows a thing or two about producing intriguing content. Work aside, he really enjoys talking about true crime stories and tattoos (he has a couple of them).