Alpha… Bravo… is this a departure from Tumi's "military grade" DNA?
Adam Hershman: Tumi's design philosophy has not really changed. The company has always been focused on creating products that combine design, performance and functionality. Over the years, the brand's tendency to be product and consumer focused has allowed us to be entrepreneurial and innovative in these areas. When you look at the assortment we have today, we are most known for our classic Alpha, we also have the iconic Bravo; yes, we have military type performance elements and high grade fabrics but we also have other products like the hard side collections that are much more sleek in design, fewer zipper pulls and fewer pockets that are visible. We also have the Harrison which is much more minimalist and so I think that's been a consumer demand that we've meeting and because of our DNA, been constantly innovating and elevating the offerings to meet those needs while still retaining that critical functionality for a product to be considered a Tumi creation.
Since the age of steamer trunks, has luggage really evolved? Isn't it basically the same rectangular box?
Adam Hershman: The luggage industry has had a myriad of innovations over the years. Perhaps you recall a time when you would go to the airport with a suitcase that didn't have any wheels on it? Then all of a sudden, luggage got put on wheels and that was a major breakthrough for the industry: two wheels and then four wheels and arguably, these are the two biggest innovations that really changed the game because it changed fundamentally, what you are able to do with a suitcase versus a regular steamer trunk – you could stack them but they were difficult to transport. Today, you can put a bag on a four wheeled suitcase and transport both at the same time. This makes your experience as a user easy and comfortable.
Additionally, the luggage industry has changed in the materials we use. A lot more lightweight materials that are also incredibly durable. These hand scratches well, take bumps and bruises from travel. Even the wheels themselves have become more advanced as materials opened new possibilities and potential, even USB charging ports have been built into suitcases and Tumi has been part of the group pioneering these enhancements.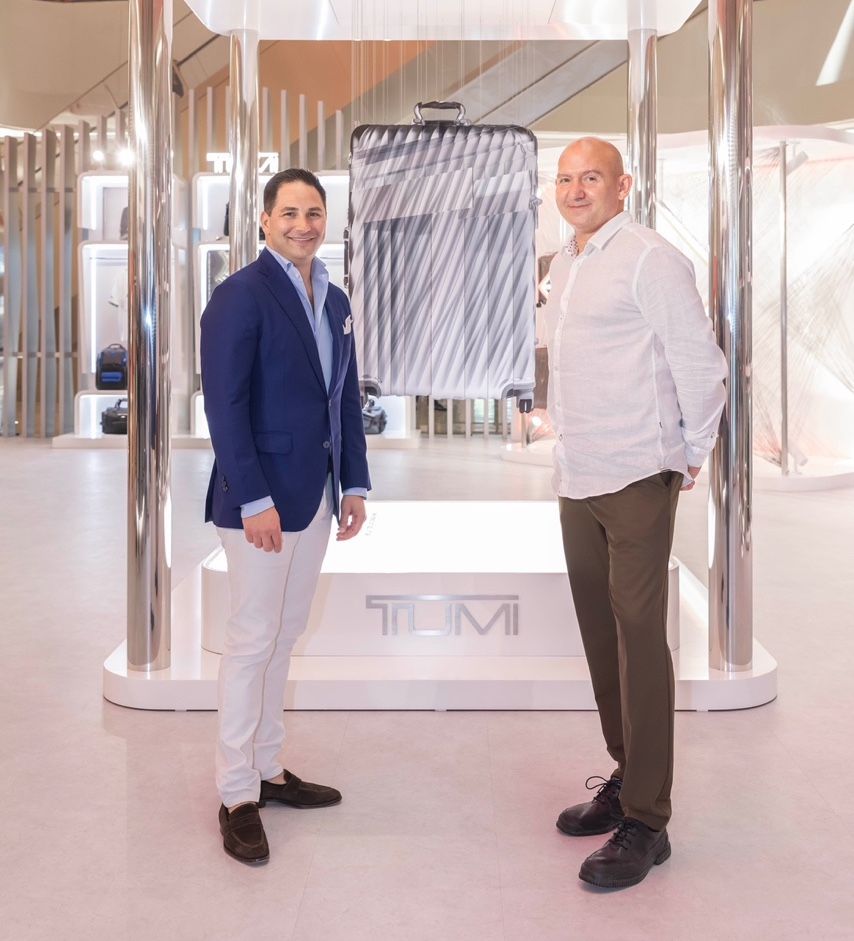 What would you say is Tumi's biggest contribution to consumers?
Adam Hershman: Tumi provides a product that is high quality and incredibly reliable. The brand engenders a lot of trust, when you buy a Tumi, you are buying a product that's really well designed, so you're going to trust that that element will represent you well, last a long time and not break down. It's that reliability of a travel partner and every sense it entails, that's our biggest contribution.
Michael, you play with the viewer's perception, how did you discover the power of perspectives?
Michael Murphy: The first sculpture I ever made was multidirectional illusion. It stemmed from how much time I spent in nature, out in the woods and looking into the clouds and seeing animals in them. The same thing can be done with trees. It's all these strange things from everyday life that just happens to line up to create a new silhouette or perspective and that's always been fascinating to me. So I started experimenting by re-arranging things until they started becoming representational.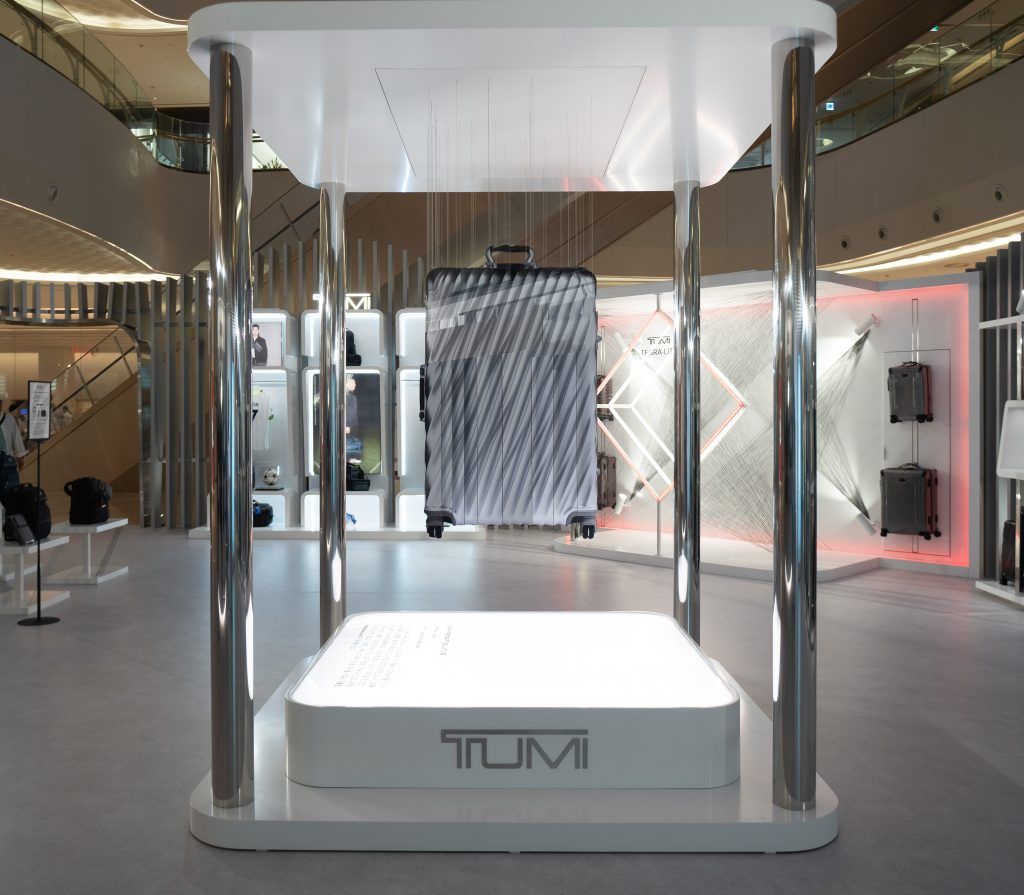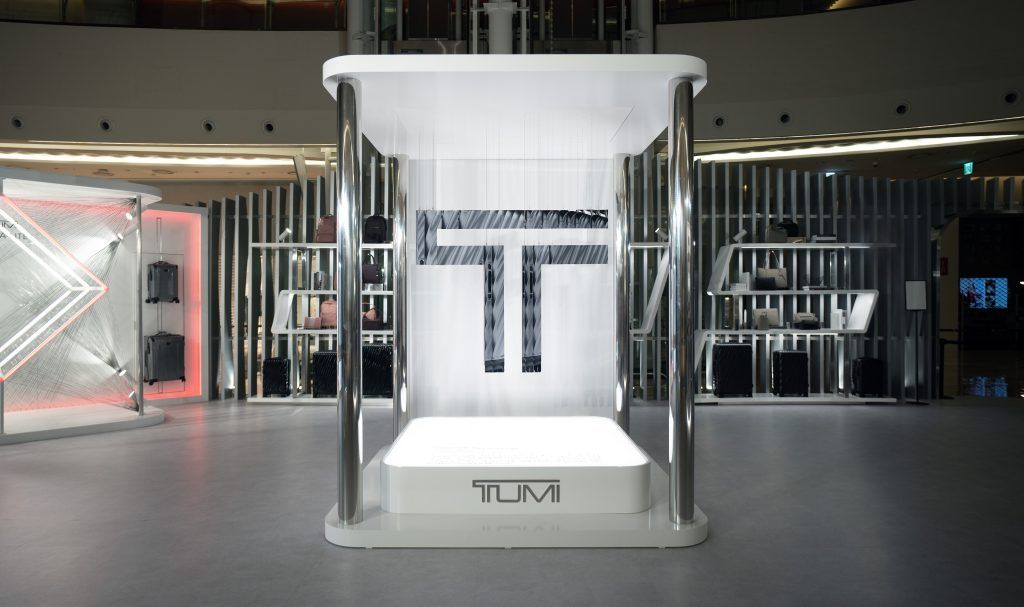 I first encountered your sculpture at Watches & Wonders in the Reverso, which is more complicated? Making the 19 Degree luggage or the watch?
Michael Murphy I would say that Tumi is simpler yet more sophisticated because with most of my pieces, every single part of the artwork is essential: take one part out and the illusion fails, with Tumi, there aren't that many parts. With the Reverso, I was literally exploding the watch and getting all the pieces inside and out of the timepiece and reassembling them into the likeness of a watch. It's really different beasts, with Tumi, I didn't really have to disassemble the luggage into its components; I was working more with their iconic logo and the 19D travel case and merging the two together, it was more experimental process for me with Tumi.
Adam, Michael makes a good point about apparent simplicity. I recently discovered that the 19 Degree luggage had internal hooks for me to attach my suit hangers to them, what other innovations have gone into a luggage that people that think about?
Adam Hershman: One of my favourites is that the beauty of Tumi is that every detail is very deliberate. Something as simple as a zipper, it's not special to a regular person but someone in Tumi will tell you that many things go into a zipper like the fact that they're designed to come off when they exceed a certain amount of force tension. Why? Because if it doesn't pop off, it's going to rip your bag open and leave your belongings all over the place. These are design elements that makes Tumi "essentially beautiful" – every thing is beautifully designed but yet there are so many extra elements that help people perfect their journey.
Our split case also opens like a clamshell. One side has a separate closure that keeps things compartmentalised and there are pockets that are layered into the interior alongside a strapping system to help you keep things organised. It's important to have this kind of compartmentalisation else things will fall and wrinkle and you want to avoid those things as much as you can. We also include a trifold sleeve for garments in many of our suitcases, which makes it easy to pack and unpack while knowing where everything is.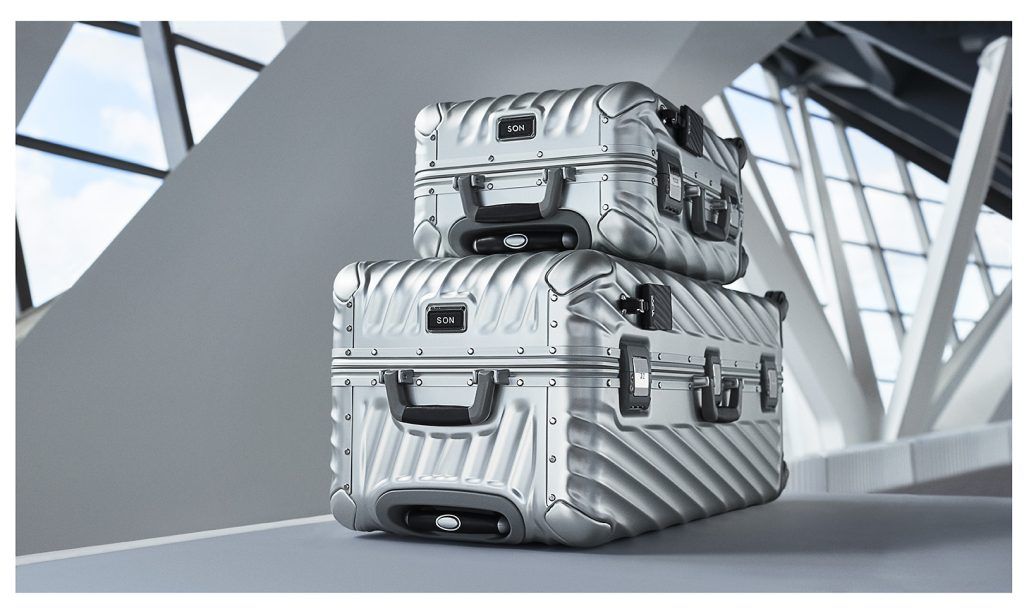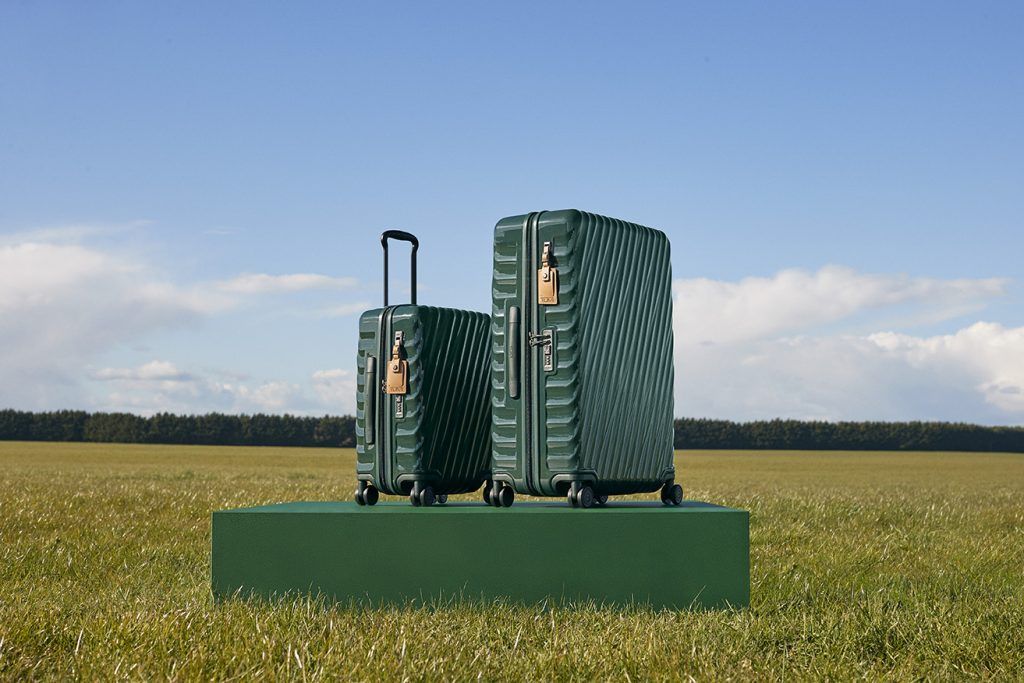 What is the consumer's first encounter with Tumi?
Adam Hershman: It varies. We run different campaigns and we have so many products today. Had you asked this question 20 years ago, I would tell you – Alpha. But now, we have such a range and so many expressions that how we're constantly acquiring new customers has evolved. Last year, our collaboration with Razer, was the first time that many of the eSports enthusiasts encountered Tumi. The important thing is whatever a consumer encounters, it has to be a product that represents the best of our values and DNA.
Michael, many of our first encounters with your work would be the Obama piece, why do you think its been so enduring and popular?
Michael Murphy He's a really unique character in American politics. We've never had any like him. He's historic, a person of colour we've had as an American president and I would say that most of my popular artworks have been ones about iconic subjects like Michael Jordan or his Air Jordan shoes. Things like that permeate people's consciousness and subconsciousness.
When something is iconic, there's a lot of other culturally relevant materials supporting it like Time Magazine and other really memorable photo spreads. You also see thousands of Air Jordans on kids and you go to an airport, you see thousands of Tumi bags. Being a part of everyone's consciousness helps.
As an artist, do you have a preference what works you are remembered by?
Michael Murphy I like all of my work, I'm happy to be remembered for any one of them. It has to pass my test before I make it. I often tell my clients that we can't move forward unless both of us like the design because I'm not just representing them, I'm representing myself. When it comes to leather goods and travel goods, there's rarely a singular icon. Is there something emblematic to you?
Adam Hershman: To be fair, I'm in the industry so there's a bias and I tend to look at these things a little more carefully – I do think there's a lot of brands who have been doing well to develop icons that go beyond their signature. At Tumi, you see many shapes and design elements that reoccur across our products. 19 Degree is very iconic even without a massive Tumi logo on it. Alpha or Bravo have recurring themes like monogram patches, you see ballistic fabric, not everything is going to be loud in your face. It's more of a quiet luxury. Brands are leaning into motifs and design codes that are more on the subtle side. We want to be consistent without slapping logos everywhere.
Michael Murphy: I love that the logo is not all over it. I've always felt that it was rude for companies to use their customers like an ad. I will not wear something that has a logo on it. I always tell salespeople that you're not going to turn me into your billboard.
There's a joke among frequent fliers that the more beautiful your luggage is, the less careful the baggage handlers are, do you factor that in when you're making luggage?
Adam Hershman: [laughs] I don't think we keep that in mind but we do have high durability factors. We take into account where bags could fail? We think about how ew could reinforce that particular area, we tend to think about scenarios just so that we can make all our bags and suitcases as durable as they could be. Temperatures changes are also something we think about, there are lots of different things that bags go through invaliding moisture and sun exposure, this is how we apply our minds to it.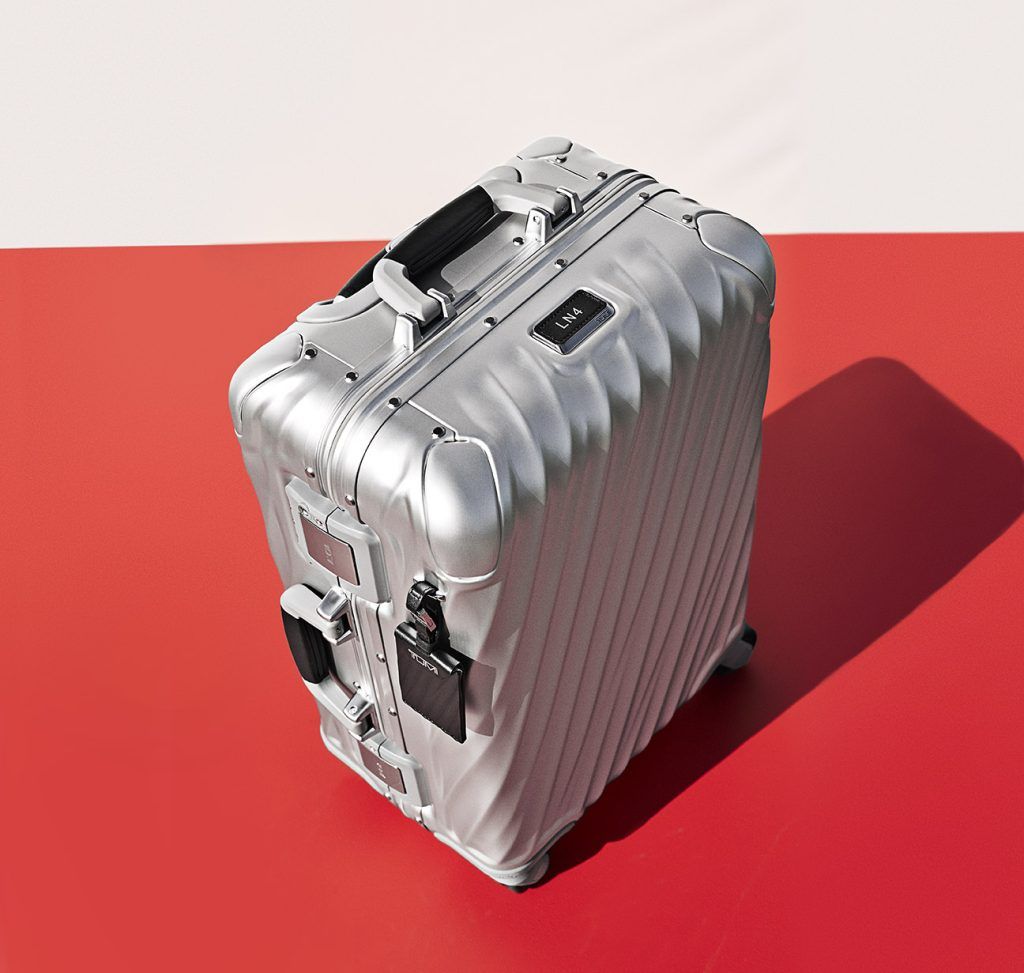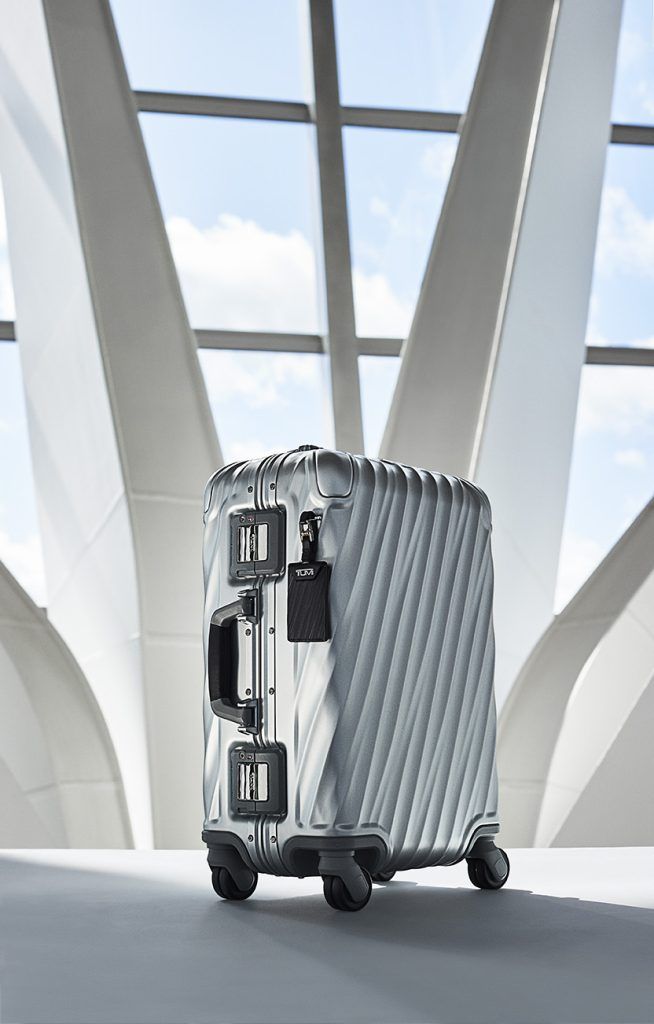 Luggage that is too durable is a terrible business model though…
Adam Hershman: [laughs] I think the foundation of a company that is very successful over a long period of time is quality. None of them deviate from that, Tumi included. We are very proud of how long our bags last. Everyone has a story about their Tumi and you see people bringing their bags in for a repair after 10 years, it's a point of pride for the company that we make bags and suitcases that people want to keep it around.
From a business standpoint, your DNA is a lot about high design, high performance and high quality, so it builds a lot of trust and so the customer gives us opportunity to move into other areas. We started in luggage and now we make business bags and then they wanted something from day to day, so we started making backpacks. We've been able to evolve to meet the different needs of our consumers and we've been very fortunate this way. Tumi does well as a gift as well, in addition to its other end uses. To have a business that is almost 50 years is very special to me.
Michael, artists often feel great pressure to create their next hit, do you feel any pressure in that regard or are you content to let that process happen organically?
Michael Murphy: I'm aware of the pressure [laughs] and I've felt it at times but I've never reached a point where I didn't know what was next. I have several projects in mind and they're each stepping stones to the larger goal that I've been trying to get to over the last 25 years.
I just built my first artwork in VR and its an opening credit sequence for a new TV show. I eventually did what I did in a virtual world and there was no gravity or strings and very few restrictions in the virtual realm, I did what I did but like a superhero. There's a never ending river of new technology and I'm always using technology to innovate, it never gets old and there's never a dead end.
Adam, since travel exploded, have there neem new data points that can push Tumi in a new direction?
Adam Hershman: Post pandemic, you see a lot of people looking to reconnect. People are taking longer trips and a lot of leisure trips. Particularly, we've seen folks coming to us for larger suitcases. People have also been going back to work and upgrading their business attire and more demand for multi functionality, these guys want to bring a bag to work, to the gym, to dinner and even to the plane because their day looks like that now. That kind of demand is something we've been designing for. Active lifestyles have become much more relevant to our consumers and so we have a lot of functionality built in to dress that – from pockets to hold water bottles to better ways of organising and separating shoes or dirty clothes from other compartments. We've definitely seen our business accelerate.
written by.
Jonathan Ho
Managing Editor
Jonathan Ho might have graduated with a business degree but he thumbed his nose at commerce and instead opted for a harder life in journalism. He edits Augustman, a title he first joined when he became a writer after a career in advertising and now, earns a living writing commentaries on the luxury industry.