"Hello, You!" If you read that in Joe Goldberg's voice, then we surely make a great team — just like Joe and Rhys. While the duo has brought the series, which started back in 2018, to its conclusion in the heart of England, we thought of inspiring your next vacation with the filming locations of You season 4. Take a look.
The final part of You season 4 dropped on 9 March 2023, and we cannot get enough of it. The way the story unfolds not just for Joe — rather Jonathan Moore (Penn Badgley) — but for every character sets this last season apart from the previous ones. The first part of season 4 that released on 9 February 2023 shows Joe starting his life afresh as an American literature professor at Darcy College. He's seen teaching young students while trying to make a life for himself, which somehow lands him into a group of friends from the elite society of London. All goes well until they start getting brutally murdered by an 'Eat-the-Rich' killer, and Joe finds himself stuck in the middle of the chaos.
Filmed at different locations throughout London, the city serves as the perfect setting for the intriguing series with quintessentially British locations and aesthetic views. And if you're a part of the You fandom, you would love to learn about these filming locations across the city.
Some of the best You season 4 filming locations travellers can actually visit
Royal Holloway, University of London — Darcy College Joe's new life as Professor Moore at Darcy College is filmed heavily at the Royal Holloway's campus. From the red-brick façade of the building and the sprawling green lawns to the quad and literature department, most Darcy College locations are set in this beautiful campus, situated in Egham, Surrey. While Joe is always shown walking from his flat to the university and back, it is actually a 40-minute ride by train from London. Formed from two colleges, it has two founders — social pioneers Thomas Holloway and Elizabeth Jesser Reid. Besides its grand architecture, what also makes this place worth visiting is the Picture Gallery and Art Collections which are open for public visits throughout the year. From Victorian paintings, sculptures and prints to works of artists such as Augustus John, William Powell Frith and Graham Sutherland, it also holds temporary exhibitions in a separate dedicated space in the Davidson Building.
Book your stay near the royal holloway university here
Knebworth House — Hampsie House Remember the castle-like family estate of Lady Phoebe (Tilly Keeper) that the entire group escaped to for a getaway in episodes four and five? Well, that gorgeous countryside mansion is actually the Hertfordshire Tudor mansion.
With its intricately designed turrets, a palatial make and Victorian interiors, the mansion serves as the perfect backdrop for the story to take an unusual turn. For that matter, the grandeur of this property can also be seen in other movies and shows, including The Crown season 1 (2016), season 2 (2017) and season 4 (2020), The King's Speech (2010) and Batman (1989).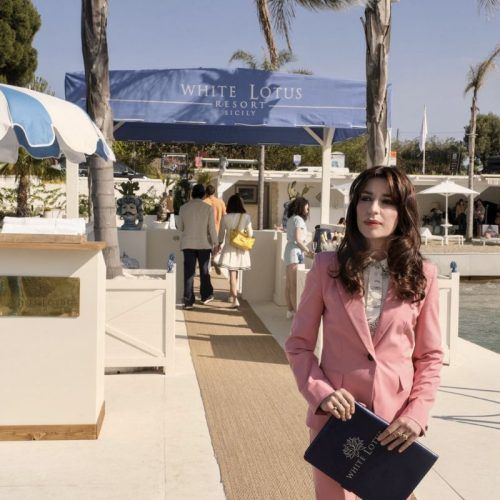 Visiting the Knebworth House is a must, as you can explore a lot here. While its impeccable architecture makes it a marvel, the Knebworth Gardens are a delight to revel in. You can witness a maze, flower-lined borders, vast green lawns and an area with a Dinosaur Trail of 72 life-sized dinosaurs and prehistoric creatures. The place offers a fun-filled experience for people of all ages indeed. The property also comprises an adventure playground, a gift shop, a garden terrace tea room and holds exhibitions, too.
Additionally, the neighbouring woods (Hampsie Woods), where the gang goes hunting, has been actually shot at the Black Park Country Park.
book your stay near knebworth house here
St Pancras International — St Pancras Station Wearing a cap and hiding behind The Daily Day newspaper, Joe follows Marienne (Tati Gabrielle) to this station, when she tries to get on a train to Paris. Aesthetically British, with an unmissable grandeur, the St Pancras International is the place where one can take the famous Eurostar to France, separately operated and owned by Getlink. In fact, the You season 4 filming location is not just about trains. It's a hub where one can enjoy shopping, dining and travelling under a single roof. Offering a variety of restaurants and bars serving soul-satiating delicacies and stores to shop till you drop, the station also has many art installations and statues for admirers of art. Additionally, it also holds poetry events at its premises every year that support local schools.
book your stay near st pancras international here
Four Seasons Hotel — Phoebe's Flat Located at the Ten Trinity Square, Central London, the Four Seasons Hotel serves as a filming spot for heiress and socialite Lady Phoebe's exquisite residence. While other Four Seasons properties have also been used to film popular shows like The White Lotus (2021-2022), this one fits well with Phoebe's elite status, owing to its modern and luxurious interiors. Set in the heart of the city with gorgeous views of the Tower Bridge and the Tower of London, this five-star property makes for a great place to stay when in the city. Comprising guest rooms, suites and even residences for private stays and family gatherings, this hotel has all types of accommodation to suit everyone's needs. Additionally, their range of dining experiences would further elevate your stay. Not to forget the spa and wellness services as well.
book your stay at the four seasons hotel here
White Waltham Airfield — Tom's Aircraft Hanger Tom Lockwood (Greg Kinnear) is seen spending a lot of his time at his aircraft hangar outside London. The scenes were filmed at the White Waltham Airfield. Privately owned by the West London Aero Club, the Airfield turns out to be just the right escapade for Kate's (Charlotte Ritchie) billionaire father, who is obsessed with flying and planes.
Set on over 8,00,000 square metres of land in Berkshire countryside, this airfield is one of the oldest and quite well-known in the country. It is one of the best places to learn to fly.
book your stay near the white waltham field here
Kynance Mews — Joe's Flat (exterior) Kynance Mews is a popular cobblestone street in South Kensington with an arched entrance featuring a row of gorgeous flats. This neighbourhood has been used to portray the exterior of Joe's London flat. However, the rest of the street is shown using a studio backlot at the Warner Bros. Studios in Leavesden.
book your stay near the kynance mews here
Royal Victoria Dock — London Footbridge Well, this one may be a spoiler for those planning to watch the series so be prepared. Remember Rhys (Ed Speleers) and Joe's final scene where the latter pushes his 'dark side' over the bridge and then jumps in the water? This emotional scene was actually shot at the Royal Victoria Dock located near the University of East London. Right from the location and the setting to getting the final moments between the pair right, the makers of the show stitched up the scene to perfection. Built in the mid-19th century — a perfect example of Victorian engineering — these docks serve as a great destination for all kinds of tourists. From holding exhibitions, events and distinct watersports to offering a wide array of restaurants, bars and gardens to unwind, the Royal Docks are just the right spot for all things culture, adventure and cuisine. It is also developing and expanding as a business hub amid all these fun attractions and beautiful views.
book your stay near royal victoria dock here
Lincoln's Inn — Darcy College Library While most of the college scenes have been shot at the Royal Holloway, Darcy College's library scenes were filmed at Lincoln's Inn. It is a society for barristers, students and judges aimed at the training and development of its members throughout their legal careers. Being one of London's four Inns of Court, it is one of the most prestigious locations and has been in existence for over 600 years. It also houses a chapel. However, this You season 4 filming location is only accessible to the members and barristers and is not for the general public.
book your stay near lincoln's inn here
(Main Image Credit: You Netflix/Instagram ; Featured Image Credit: IMDb)
This story first appeared in Travel+Leisure Asia
written by.
Divya Arora
With an academic background in Public Relations, Divya has a flair for writing about topics spanning genres like lifestyle, beauty, fashion, travel, FnB, tech and entertainment. She fancies everything that's a wholesome blend of contemporary finery and timelessness. Quirky earrings and tees are her weakness. When not creating content, you will find her devouring food, snuggling in with a book and a cup-a-chai, admiring skies or revisiting Hogwarts.