As summer officially bids its farewell and September nudges us back into the daily grind, Hollywood's luminaries gather for one last sun-soaked extravaganza – the 2023 Venice Film Festival.
However, this year's fest takes on a more intimate vibe, courtesy of the ongoing SAG-AFTRA strike, resulting in a cosier, albeit star-studded, red-carpet affair. Amidst the swirling uncertainty, there still emerged a glimmer of hope as independent film talents have been graciously spared from the promotional ban.
While some Hollywood A-listers missed taking on the Venetian laguna due to the strike, the 80th Venice Film Festival turned out to be a confluence of cinematic excellence coupled with a captivating showcase of style and unbridled flair.
From George Clooney's slick black statement at the DVF awards to a cadre of dapper gents rocking bow ties in the front row of the Armani Privé show, these men aren't just here for the films—they've come to make a statement at this high-fashion soirée. Here are our top picks.
Best-dressed male celebrities at the 2023 Venice Film Festival
Patrick Dempsey's striped elegance
Patrick Dempsey at the 80th Venice Film Festival. pic.twitter.com/Sj3E4uuhUY

— Itboytrends ♡ (@itboytrendsnyc) September 1, 2023
The beloved Dr. McDreamy aka Patrick Dempsey made a striking appearance at a photocall for his upcoming movie Ferrari during the 80th Venice Film Festival. The 57-year-old actor exuded timeless charm in a navy suit adorned with brown stripes, effortlessly layered over a beige knit shirt. Completing his ensemble, he chose a pair of brown penny loafers. Patrick's salt-and-pepper hair was impeccably styled into a coiffed updo, complemented by his distinguished grey stubble. Basically, he was giving the 'hot dad on the loose' you would want to run into.
Adam Driver's Venetian elegance
Adam Driver perfectly captured the essence of Venice with his impeccable style. He looked sharp in an Italian black and white suit, featuring broad lapels that added a touch of casual elegance. His long hair, stylishly parted on the side, enhanced the overall appeal of his clean look.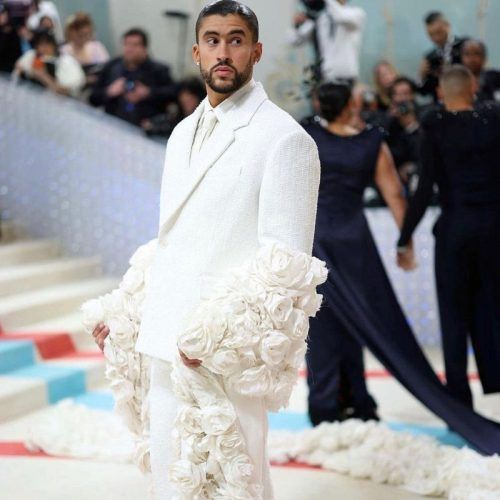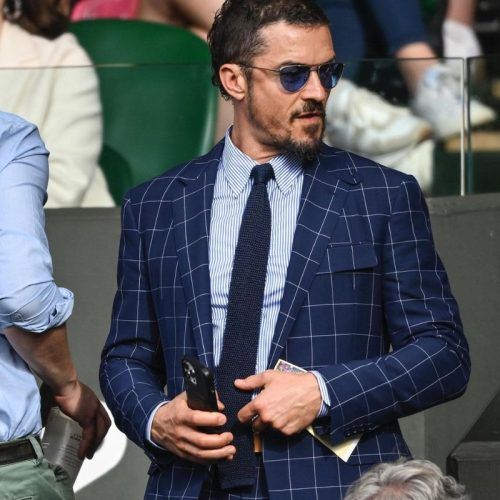 George Clooney's timeless all-black ensemble
#LookOfTheDay: Amal and George Clooney at the Venice Film Festival. pic.twitter.com/It21AWhpGP

— About Her (@AboutHerOFCL) September 2, 2023
George Clooney, accompanied by his wife Amal Clooney, graced the annual DVF Awards hosted by fashion designer Diane von Furstenberg during the 2023 Venice Film Festival. George exuded timeless charm in an all-black ensemble, comprising a sleek suit, open-collar shirt and polished shoes. Meanwhile, Amal, this year's DVF Leadership Award honoree, radiated elegance and grace in a romantic blush pink lace gown with a sheer overlay on the skirt.
Lukas Gage's monotone take on ivory
View this post on Instagram
Actor, writer and producer Lukas Gage made heads turn at a Variety event during the 2023 Venice Film Festival, where he received the Breakthrough Actor award. He sported an understated yet captivating ivory suit, featuring a suit jacket adorned with a delicate silver lapel pin, perfectly complemented by matching trousers and a knitted turtleneck t-shirt. Completing the look with a pair of white sneakers, Lukas exuded an effortlessly chic monotone vibe.
Lukas' husband and celebrity hairstylist Chris Appleton joined him on the red carpet and looked like a vision in his light grey monochromatic look.
Pablo Larrain's navy nobility
Pablo Larraín, the mastermind behind the Netflix sensation El Conde, brought his unique charm to the Venice Film Festival. Amidst the glitz and glamour of the event, the Chilean filmmaker served us several looks, but this one totally caught our fancy. Larraín donned a suave navy blue double-breasted suit and paired it with a lighter shade of a blue polo shirt and black dress shoes. Suave and sophistication all rolled-in-one in this monotone masterpiece!
Regé-Jean Page's understated glamour
View this post on Instagram
Regé-Jean Page graced the Venice Film Festival with an understated yet utterly glamorous look. At the Giorgio Armani show that unveiled the latest Armani Privé collection, the Bridgerton star was seen radiating sophistication.
Draped in a sleek black tuxedo, he effortlessly commanded attention with the sublime broad-flossy lapel detail of his jacket. The fit of his tailored trousers, the shine of his oxfords, the deep allure of his silk shirt and his clean 5-am stubble—all these elements converged to craft a magnificent look that made him stand out from the glittering crowd (for all the right reasons).
Lucas Bravo's relaxed take on suiting up
View this post on Instagram
The Emily in Paris actor took a refreshingly relaxed approach to suiting up at the Privé show during the Venice Film Festival. Seated in the front row to support the seasoned designer, Lucas exuded effortless cool in a classic black double-breasted suit. What set Lucas apart from the crowd was his choice to keep things laid-back rather than going for the dressy-formal look. He also skipped the tie and left his shirt neatly buttoned up. His nonchalantly tousled long crop hairstyle added to the overall ease of his look. Bravo, Mr. Bravo!
Jesse Williams's slick way of suiting up
Jesse Williams come il vino 🍷pic.twitter.com/JnR2G3lsjK

— Rosa🌹 (@Rosa86299368) September 3, 2023
Jesse Williams, the dashing star from Grey's Anatomy, made a splash on the red carpet by the serene blue lagoon in an indigo blue suit that perfectly accentuated his piercing blue eyes. His slick outfit consisted of a tailored suit jacket and matching trousers, exuding an air of sophistication. But Jesse didn't stop there; he took his style game to the next level with a flossy blue bowtie and polished black oxfords. While his fit was neat and natty, it was his bold buzz-cut hairstyle that added a touch of total badassery to the entire look.
Jacob Elordi's oh-so-perfect fall look
Jacob Elordi at the 80th Venice Film Festival.

— @21metgala (@21metgala) September 4, 2023
Jacob Elordi arrived at the Venice Film Festival for the premiere of his upcoming film Priscilla where he would be seen playing the rock-and-roll legend Elvis Presley. While Elordi donned a sleek black double-breasted suit for the premiere night, it was his off-beige suit with subtle hints of grey that truly caught our attention.
In this ensemble, the Euphoria actor channelled the perfect fall look as the earthy tones beautifully encapsulated the season's cosy vibe. The longer fit of his suit jacket also complemented his impressive 6.5-foot frame. But it didn't stop there—Jacob's messy light brown crop hairstyle further enhanced the overall fall aesthetic of his outfit.
Jonathan Cohen's fresh French energy
Jonathan Cohen, the charismatic French actor, brought a burst of fresh French energy to the Venice Film Festival for the premiere of his film Cédric Kahn. Jonathan stole the spotlight by sporting a chic black paisley print scarf paired with a grey-striped double-breasted suit. His choice was a delightful refresher from the sea of bowtie-laden suiting styles on the red carpet.
He further donned tinted yellow sunglasses, infusing a hint of retro charm into his look. Completing the ensemble were his scanty short curls, which added a touch of effortless cool to his overall appearance.
Well, in the world of movies and fashion, the 2023 Venice Film Festival, once again, proved to be a true spectacle of glamour and style. Stay tuned to this space for more updates on the hottest fits seen in Venice.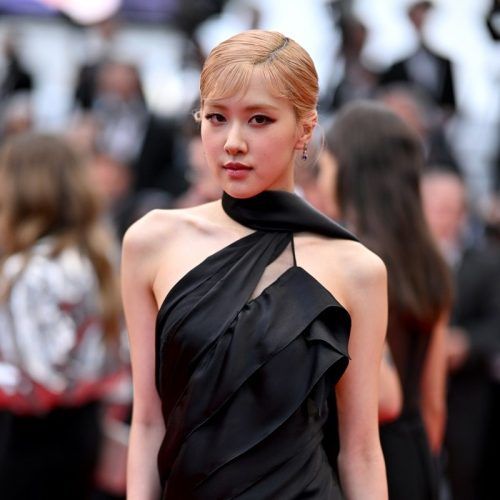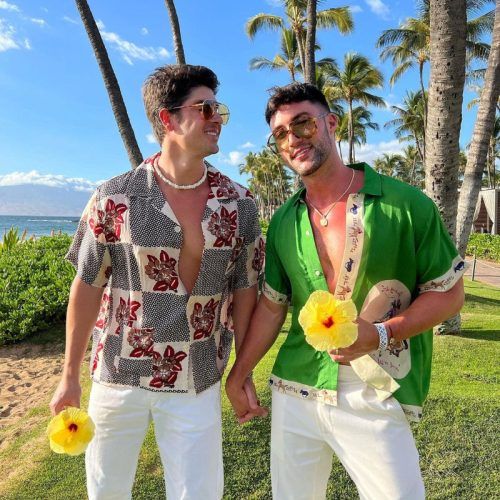 Frequently Asked Questions (FAQs)
– Who was the best-dressed male celebrity on the Venice Film Festival 2023 red carpet?
Regé-Jean Page, Lucas Bravo, Patrick Dempsey, Adam Driver, George Clooney, Lukas Gage and Pablo Larraín were some male celebrities who brought their impressive fashion statements to the red carpet at the 2023 Venice Film Festival. Each of them had their distinct style and charm, making it a tough decision to pick just one.
(Header and feature image courtesy: Instagram/La Biennale di Venezia)
written by.
Kratagya Rathore
Senior Digital Writer, Growth, Augustman
Kratagya Rathore could possibly be your passport into the world of style, grooming, skincare, and mindful living. Fashion is as imperative to him as his daily 10,000 steps count. He is a raconteur, almost living his life in a musical; A social firefly who is also fluent in silence. A journalism grad, Kratagya has previously worked for Times Internet and The Times of India.