The Jonas Brothers are on 'The Tour' and we can't keep calm as our hearts are beating not only for their melodious songs but also for their slick and stylish outfits. In the glitzy world of pop stars, Kevin, Joe and Nick Jonas stand tall as the paragons of style, talent and individuality, each possessing his own distinct fashion flair yet colliding together on stage in the most suave manner possible.
It's fitting then that the Jonas Brothers' tour 2023 is all about commanding the spotlight not just with their music, but also with their outfits that range from sequined jackets and sheer tops to textured tanks.
View this post on Instagram
So, since the Jonas bros continue to bring their fashion A-game to the stage, we thought, why not do a quick round-up of their best and flashiest outfits? After all, some style inspiration from our favourite pop idols can never hurt. The best of the Jonas Brothers' concert outfits
Exuding all-white sophistication Nick's ensemble, composed of a ribbed vest, a flowing white overshirt and relaxed trousers, offers a stellar look that can be effortlessly adapted for a night of clubbing around town. The addition of a golden watch and a linked chain not only completes the ensemble but also makes it immaculately sophisticated.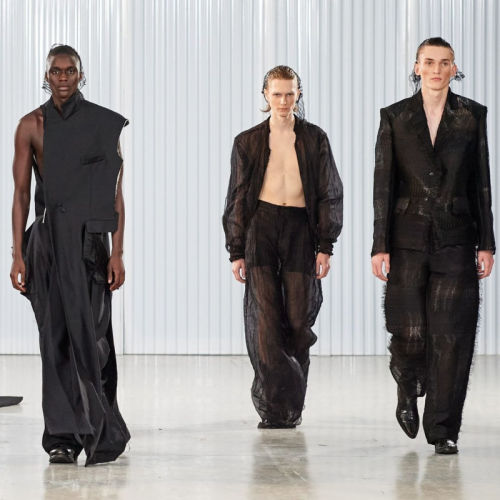 Colour blocking all the way During another remarkable The Tour performance, Nick showcased his prowess in colour blocking. Donning a vibrant blue boxy-fit shirt with brick-red trousers and white sneakers, the 'Sucker' singer gave us a masterclass in bold stage fashion.
Making power dressing casual Joe Jonas redefines power dressing with an air of nonchalance. An oversized blazer effortlessly meets a laid-back tank top, a non-serious spin on a suit we are totally digging. Do note the rugged charm lent by a dash of chest hair and accentuated by an almost choker-like pendant.
Mesh and sequins: A Rockstar affair Joe brought in his 34th birthday during the Boston leg of The Tour, in a commanding all-black ensemble. The sheer mesh T-shirt flawlessly worked with an edgy cropped leather jacket and dazzling sequined trousers. The whole ensemble is giving 'rockstar aura' and we are here for it. His tousled curls only add to his charming look.
A case for adult overalls Joe Jonas continues to push the envelope with his unique fashion sensibilities. Adult overalls take centre stage during a rehearsal after being seamlessly paired with a polo shirt and pristine white sneakers. Gentlemen, this is how you elevate everyday wear to an art form.
Kevin's sequined reverie Fellow trooper and the elder Jonas brother Kevin proves his fashion prowess by conjuring a '90s vibe in a sky-blue sequined bomber jacket paired with casually fitting light-washed denim jeans. A harmonious fusion of retro and contemporary, encapsulating the Jonas brothers' style prowess.
Crochet polos: A triumph in texture Kevin once again shines, this time embracing 2023's biggest trend – crochet outerwear with a suave green and black chequered number. This ensemble was a triumph of texture and style and was showcased to perfection at the Yankees Stadium.
With The Tour beginning early in August, the trio is embarking on a journey that will see them perform a staggering 67 songs per night, culminating in a three-hour extravaganza across the United States. So we can't wait to savour even more style inspiration from the Jonas Brothers' tour 2023.
(Main and feature image credits: Instagram/Nick Jonas)
written by.
Kratagya Rathore
Senior Digital Writer, Growth, Augustman
Kratagya Rathore could possibly be your passport into the world of style, grooming, skincare, and mindful living. Fashion is as imperative to him as his daily 10,000 steps count. He is a raconteur, almost living his life in a musical; A social firefly who is also fluent in silence. A journalism grad, Kratagya has previously worked for Times Internet and The Times of India.