With a slew of iconic supermodels in dazzling angel wings, the annual Victoria's Secret fashion show has always been a sight to behold. The fantasy bras, bejewelled lingerie, legendary performances and a few slip-ups have lined the 23-year runway journey, which began in 1995. As the show returns in 2023 after a four-year hiatus, take a look at some of the most memorable moments.
Over the years, names like Tyra Banks, Heidi Klum, Adriana Lima, Naomi Campbell, Alessandra Ambrosio, Kendall Jenner and Gigi Hadid have etched their names in the lingerie behemoth's history. Right from the arrival of these emblematic angels to the display of each costume accompanied by musical performances by Rihanna, Adam Levine, Justin Timberlake, Justin Bieber and more — every thoughtful element has elevated Victoria's Secret annual fashion shows.
Who can qualify as a Victoria's Secret angel?
While anyone who walks the VS ramp is a top-tier model, not all of them are Victoria's Secret angels. Only those with signed contracts with the brand get the coveted title. They are required to be available for photoshoots and VS events as well as fulfil other obligations. Technically, only they are allowed to wear angel wings, but there have been a few exceptions to this rule.
Despite the ornamented spectacle, the Victoria's Secret brand and angles have been embroiled in controversy for lack of body diversity and for promoting a notion of stereotypical beauty. A 2022 report by PopSugar also quoted the ex-CEO of Victoria's Secret and parent company L Brands boss, Ed Razek, who refused to have transgender people on the runway "because the show is a fantasy".
On 10 May 2023, L Brands announced that the company is planning on reinventing this annual catwalk tradition as the Victoria's Secret World Tour. Creations of 20 designers from all over the world, along with VS signatures would be displayed and the event would be turned into a documentary. It will be available to stream from 26 September 2023.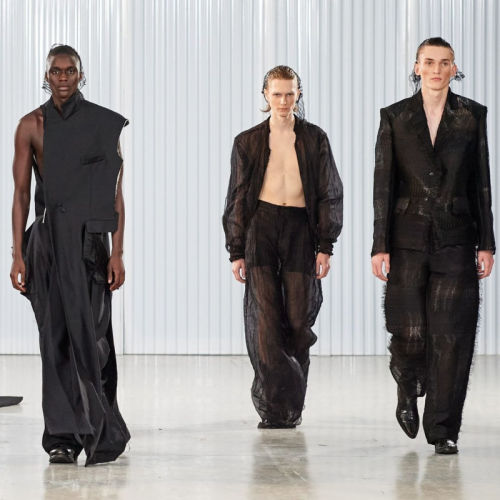 The most iconic moments from Victoria's Secret fashion shows
Stephanie Seymour launches the show in 1995 New York's elite socialites and buyers came down to The Plaza Hotel as the lingerie brand held its first show ever. Supermodels lined up for the highly anticipated, though untelevised, show as American model and actress Stephanie Seymour launched it. The debut runway show didn't have the ornate angel wings yet.
Looking back today, the first Victoria's Secret fashion show might seem quite conservative, but it didn't fail to stir the fashion air back in the day. However, the looks completely changed in the following editions and Seymour was spotted in barely-there costumes with other runway divas — Daniela Pestova, Karen Mulder, Tyra Banks and Heidi Klum.
Tyra Banks' Victoria's Secret 1996 debut Although dark-skinned supermodels like Naomi Campbell had graced Victoria's Secret show in 1995 and 1996, when Tyra Banks walked for the first time in 1997, she became the brand's first African-American contract model — a welcome step towards inclusivity.
The following year, she became one of the few models who wore the famed angel wings. A complete dominator on the runway, mishaps are no match to her indomitable spirit. In 2002, just when she was about to walk, her lingerie train was torn by some objects, but she did not let that hinder the show and even shimmied a little Flamenco dance in the black costume set. In 2005, she decided to draw the curtains over her decade-long career with Victoria's Secret. Banks' final VS walk was dramatic and memorable. Dressed in a petite black lace number and huge black feathered wings, she ditched the typical pose and blow-a-kiss gesture. Instead, she walked boldly with showing off her muscles.
In another set, Banks came in a red bra set with medals and coloured fringes covering her bottom. A similarly coloured cape on her shoulders and a bejewelled 'V' orb completed her final look.
Gisele Bündchen wears the most expensive fantasy bra Getting the opportunity to be the model wearing Victoria's Secret fantasy bra is an honour. But Gisele Bündchen took things notches higher in 2000 by donning the most expensive bra of the lot. The Brazilian diva appeared in the Red Hot Fantasy bra worth USD 15 million, shortly after she signed a multi-year contract with the label.
A piece of exotic art, the bra was studded with 1,300-carat diamond and Thai rubies that earned it a position in the Guinness Book as the most expensive lingerie ever created. Bündchen modelled the set at a special event and in a VS campaign.
Heidi Klum becomes the first model to wear the fantasy bra on the televised Victoria's Secret show A glittering 90-carat centrepiece diamond and 1,200 Sri Lankan pink sapphires adorned this incredible fantasy bra, aptly dubbed the Heavenly Star bra. It cost a staggering USD 12.5 million. It may have been the sixth fantasy lingerie for the brand, but it was the first one to be worn on the runway in Victoria's Secret history. This is not the only time Klum wore such a statement. In 2003, she donned the red Very Sexy fantasy bra, which was tagged at USD 11 million. The top featured a multicolour detailing with 2,800 jewels that took almost 370 hours to make. A huge 70-carat Excelsior diamond, the second-largest of its kind, dangled from it.
In 1999, she wore the Millennium bra to herald the 21st century. Priced at USD 10 million, the top featured a starry-sky-inspired motif adorned with over 2,000 diamonds and sapphires inlaid in platinum.
When Destiny's Child owned Victoria's Secret fashion show
The 2002 Victoria's Secret fashion show took on a melodious turn as Destiny's Child performed a soulful version of "8 Days of Christmas". Beyoncé, Kelly Rowland and Michelle Williams appeared in matching gold outfits and amped up the holiday fever as they reigned over the New York runway.
That year also saw a performance by Phil Collins, who enthralled the audience with "Can't Stop Loving You".
Adam Levine kisses girlfriend Anne Vyalitsyna on stage The 2011 show was witness to one of the most iconic moments of recent times. Amid their performance of Maroon 5's hit track "Move Like Jagger", frontman Adam Levine served a sweet moment as he planted a kiss on his then-girlfriend Anne Vyalitsyna's cheek.
The two walked down the runway hand-in-hand before Vyalitsyna let go to walk the rest on her own. However, as she posed at the end of the stage, the singer was quick to run and share the loving moment that surprised her.
Interestingly, the two parted ways shortly after and Levine married another VS model, Behati Prinsloo, with whom he has two kids.
Ariana Grande gets knocked down by angel wings Despite the perfect setting and rehearsals, unexpected mishaps do take place; and the Victoria's Secret fashion shows are no exceptions. In 2014, Ariana Grande was one of the four performers with Ed Sheeran, Taylor Swift and Hozier. As she sang on the runway in London's Earls Court, Swedish model Elsa Hosk walked in wearing a black costume and large pink wings. The model got too close to the singer and almost knocked Grande off with the large wings. The images showed Grande ducking to avoid getting hurt and her candid reaction became fodder for viral meme content. Grande also took it in her stride and posted about it on Instagram.
PETA protestors barge in as Gisele Bündchen walks In 2002, four people from People for the Ethical Treatment of Animals (PETA) stormed the runway as Bündchen began walking and carried placards saying "Gisele: Fur Scum". At that time, she had inked a contract with American fur brand Blackglama. The disruptors protested against animal cruelty and the extensive use of both real and faux fur in the fashion industry. Although Bündchen told CNN, "I'm the biggest animal lover in the world. I was just doing my job. I'm a model. I don't even wear fur. They just want attention," the incident left a mark. She turned into an animal activist, stopped wearing fur and continues to participate in climate change campaigns.
Adriana Lima and Alessandra Ambrosio twinned in fantasy bras A million-dollar fantasy bra is a bejewelled beauty in Victoria's Secret fashion show. But things escalated in 2014 when supermodels Alessandra Ambrosio and Adriana Lima both glittered in Dream Angels fantasy bras.
The women posed in red and blue iterations of the set and were clad in Pascal Mouawad tops and body chains and matching capes made them a dreamy vision. Costing USD 2 million each, the sets were perfected over 1,380 hours. Each of them carried 16,000 precious and semi-precious gems such as sapphires, rubies, and diamonds.
Taylor Swift + Karlie Kloss = Kaylor Long-time best friends, singer Taylor Swift and model Karlie Kloss showed off their camaraderie as they walked together during the 2014 show. The collective grace and style, accentuated by matching black lace numbers and made the whole spectacle one of the memorable things of the evening. The two sparked social media comments as fans loved their friendship. The two were showered with praise as fans shipped them together with #kaylor.
Maria Borges flaunts natural hair In 2015, the Victoria's Secret fashion show took another step towards inclusivity. Angola's Maria Borges became the first model to flaunt her natural hair and style on the runway. She also made history by being the first black model to do in the history of the brand. The bold and courageous move served as a major leap in the fashion industry as it thwart conventional standards of beauty and paved the way for women to embrace themselves. In a 2018 interview with Vogue, VS's executive vice president of public relations, Monica Mitro, said, "I feel like our runways have been culturally diverse for a long time and that we've always celebrated our models' backgrounds," Mitro said.
Winnie Harlow walked as the first model with vitiligo on Victoria's Secret fashion show The final edition of the Victoria's Secret fashion show had a gorgeous and memorable moment when Winnie Harlow took the stage in pink and floral outfits. She penned history by becoming the first model with vitiligo to feature in the 2018 televised event. Harlow was 24 at the time and told Vogue, "Representation is so important, and I want to [stand for] all women. Every single woman." She bagged the Breakthrough Model of the Year award at the Fashion Media Awards that year and told Vanity Fair, "I think we just need to keep focused on taking steps forward. It's the same thing with diversity and colour and all these types of things. We have to keep on making these steps to move forward for diversity."
(Hero image: Courtesy M. Von Holden/ Getty Images; Feature Image: Courtesy Timothy A. Clary/ AFP)
This story first appeared on Lifestyle Asia India
Frequently Asked Questions (FAQs)
– Is there still a Victoria's Secret fashion show?
The last televised Victoria's Secret fashion show was held in 2018. However, a new, revamped show is scheduled to be held in 2023, which would be live-streamed and turned into a documentary. It will release in September.
– Will there be a Victoria's Secret fashion show in 2023?
According to 'Harper's Bazaar', a new Victoria's Secret fashion show is in the works. It will showcase designs from 20 creators from across the globe along with signature VS outfits. The event will be live-streamed and turned into a documentary, which is expected to release in September.

– Why did the Victoria's Secret fashion show get cancelled?
The Victoria's Secret fashion show got cancelled due to rising controversies and scandals including lack of diversity and inclusivity.
– Is Victoria's Secret Fashion Show every year?
The Victoria's Secret fashion show was held every year between 1995 and 2018.
written by.
Trinetra Paul
Trinetra is an ardent foodie and bibliophile who writes about films, travel, food and lifestyle. As a writer and literature student, slam poetry and storytelling are her go to jam. When not working, Trinetra is busy looking for her next place to visit or binge-watching Instagram videos for travel inspiration.