Let's get it out of the way, you won't see Bee Cheng Hiang or Fragrance on our list of 12 places to get the best bak kwa in Singapore for Chinese New Year 2022.
Not that they're bad. In fact, there's something comforting about a product that's reliable and accessible. But those brands are the McDonald's of the pork jerky world, and this story is more about highlighting the independent stall owners and small chains up against Big Bak Kwa.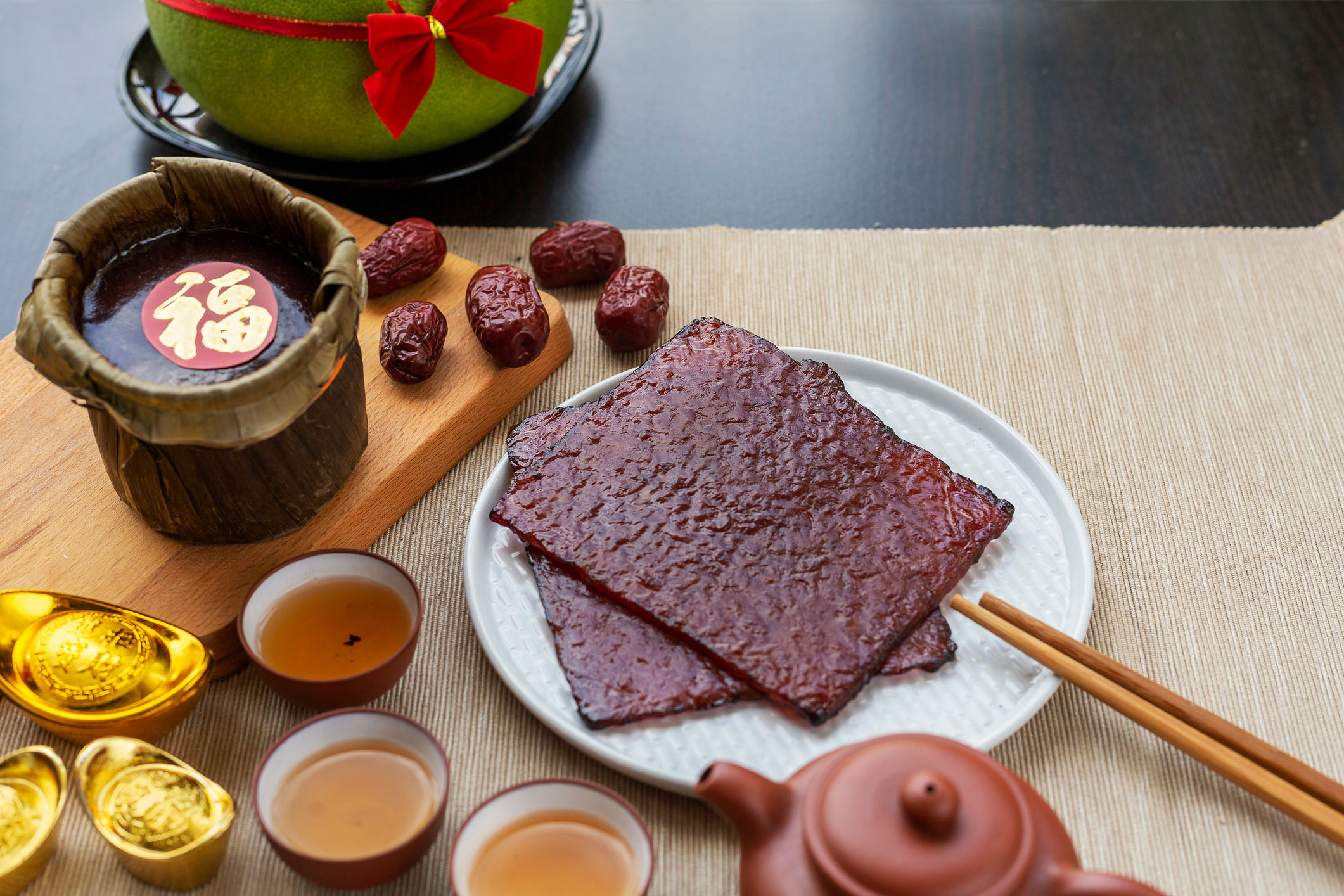 Among them are five stores named Kim – Kim Hua Guan, Kim Joo Guan, Kim Wah Heong, Kim Tee and Kim Peng Hiang – the Bak Kwa Kim Club, if you will. There's also Chai Ho, a satay stall that sells bak kwa when Chinese New Year comes around, and Sang Hock Guan, which has been occupying a corner of Ang Mo Kio for decades.
Xishi is by a former dim sum chef turned bak kwa purveyor, while Hu Zhen Long started out selling sesame oil before finding pork jerky more lucrative. We also included options from modern food retailers, such as The Marmalade Pantry, Goodwood Park Hotel and Ryan's Grocery.
Here are the 12 places to get the best bak kwa in Singapore this Chinese New Year:
This story first appeared in Lifestyle Asia Singapore.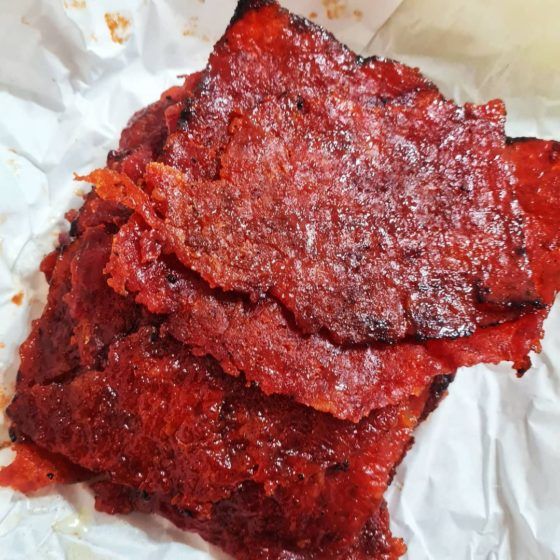 It's common to see a line of people waiting to order Chai Ho's satay, but come Chinese New Year, the queue grows longer as the stall adds bak kwa to their repertoire. Like their satay, the bak kwa is beautifully charred, and the thin slices stay juicy and tender.
Wednesdays to Sundays, 2pm to 8pm. Advance order is required.
(Image credit: @a.sp00nful)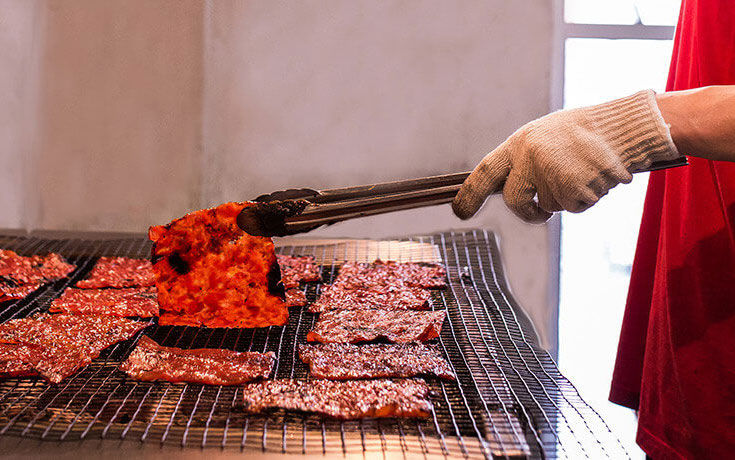 Hu Zhen Long started producing sesame oil in 1948 before adding bak kwa in 1972. Today, they're known primarily for their pork jerky, which they charcoal grill until tender. They also offer other meats like beef, lobster and crocodile.
Daily, 10am to 6.30pm
(Image credit: Hu Zhen Long)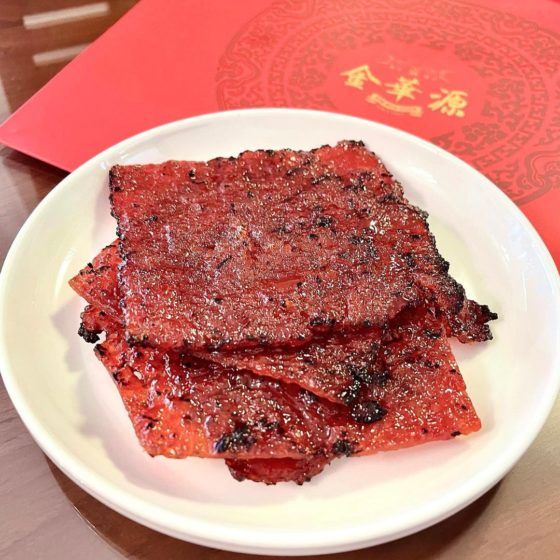 Kim Hua Guan was founded in the 1960s by Mr Ng. They offer bak kwa made either from minced or sliced pork; minced meat is shaped into slices before grilling, while the sliced version is made by cut out from a solid block of meat. Each item offer a different texture, but they're all soft and tender with a sweet and roasty flavour.
S$27 to S$60
Daily, 9am to 6pm
(Image credit: @thebelly_eats)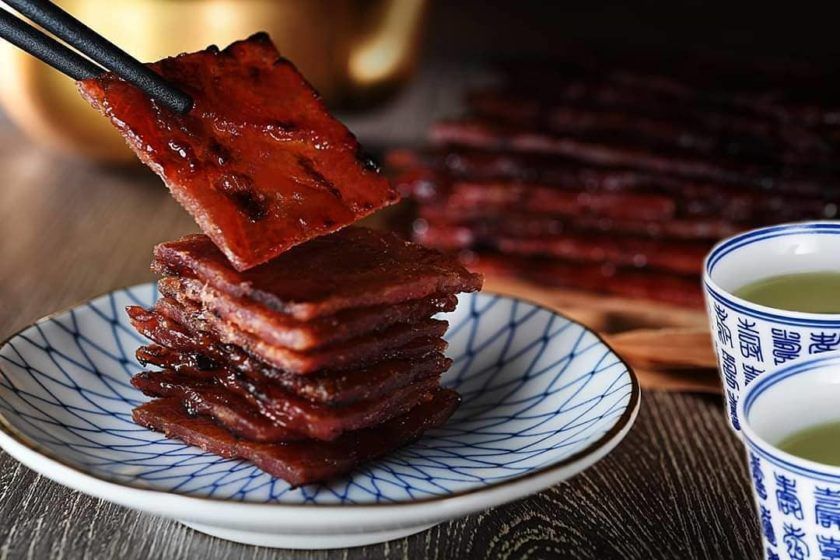 Established in 1977, Kim Joo Guan's recipe has been a part of the Ong family spanning four generations. They use Australian grain-fed fresh pork, chilled instead of frozen, which they grill over charcoal. The meat is sweet and caramelised, with a slightly higher ratio of lean meat to fat. They also offer pork belly bak kwa – think crispy bacon – and chilli bak kwa.
Locations in Chinatown and Novena.
(Image credit: Kim Joo Guan/Facebook)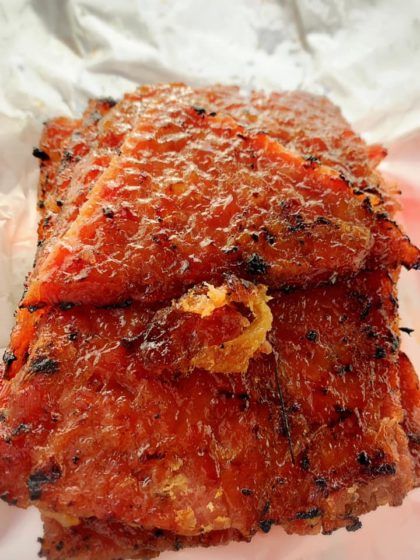 Kim Peng Hiang is popular for their pineapple bak kwa. The store has been in the family since the 1930s, and claims to be the inventor of their signature item (there is another brand called New Peng Hiang that sells the same product). The meat is slightly thicker, but it's pliant and juicy backed by pineapple sweetness.
Tuesdays to Sundays, 10am to 7pm
(Image credit: Kim Peng Hiang/Facebook)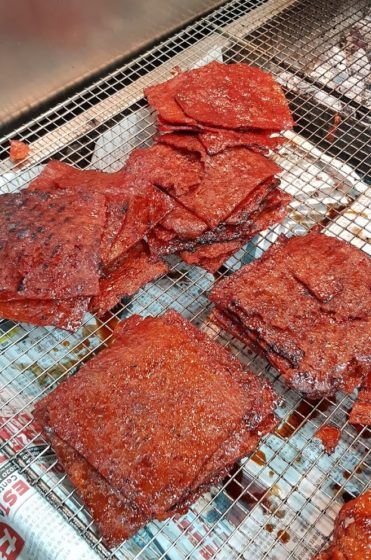 Kim Wah Heong was founded by Teo Kim Wah in 1981 at Farrer Road Food Centre. The former pig butcher still maintains the charcoal grill to make his bak kwa, which he says gives the meat a distinctly smoky flavour while retaining its juiciness. Catch him fanning the flames at his stall, and try his fragrant pork jerky.
Tuesdays to Sundays, 8am to 1.30pm
(Image credit: Kim Wah Heong)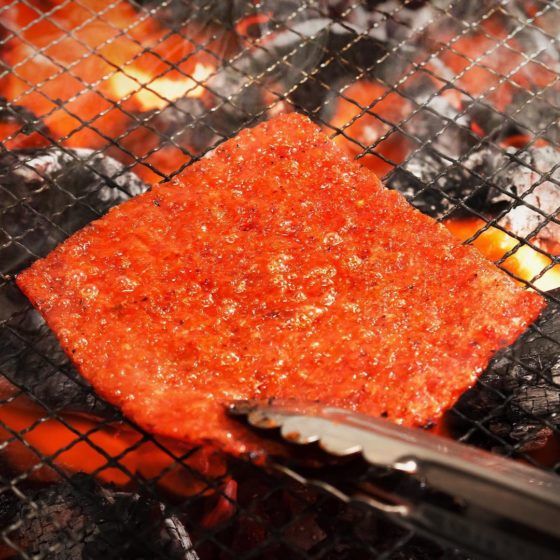 Teo Kim Tee started his namesake brand in the 1970s at his Adam Road kampong. He eventually moved to Serangoon Gardens, and the original location still remains today with four other outlets around the island. The bak kwa is char grilled over a charcoal stove for an aromatic, tender bite.
Locations in Serangoon Gardens, Chinatown, Toa Payoh, Old Airport Road and Potong Pasir.
(Image credit: @kimtee.sg)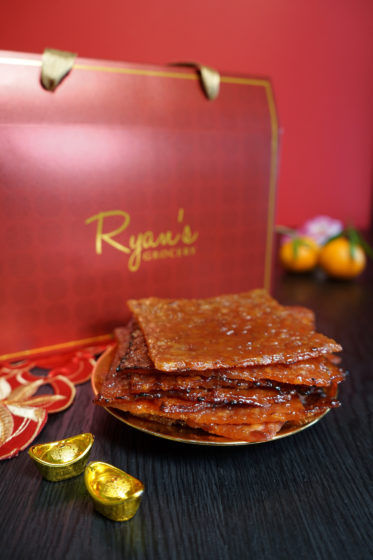 Premium butcher Ryan's Grocery makes their bak kwa from Borrowdale Carbon Neutral Free-range Pork, which comes from pigs reared sustainably in Australia. They do not add any food colouring, gluten or additives, and claim their version offers 60 percent less sugar and salt compared to normal bak kwa.
Available until 15 February 2022 online or at their Binjai Park or Great World City locations.
(Image credit: Ryan's Grocery)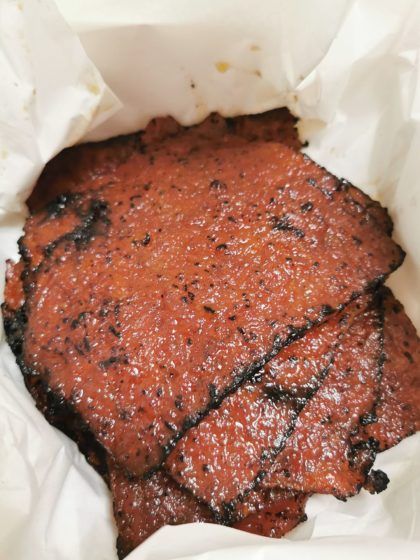 Hidden in the heartlands of Ang Mo Kio, Sang Hock Guan is an old school bak kwa shop that seems to be perpetually clouded with charcoal smoke. The meat is gently charred and soft, with a balance between savoury and sweet notes.
Daily, 9.30am to 9.30pm
(Image credit: Sang Hock Guan Dried & Minced Pork/Facebook)
10
The Deli at Goodwood Park Hotel Goodwood Park Hotel's bak kwa is marinated in a proprietary blend of spices and barbecued. It's alluringly smoky with burnished char, and has a fine balance between lean and fatty meat. Sold pre-cut in small slices for convenience.
Available now until 15 February 2022. 
(Image credit: Goodwood Park Hotel)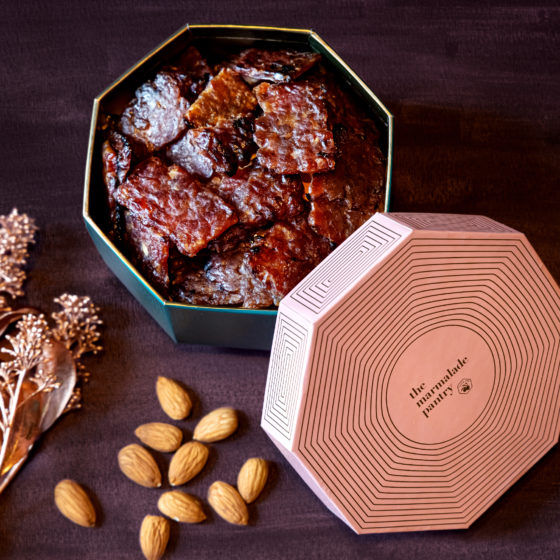 The Marmalade Pantry offers an alternative to the traditional pork bak kwa. They make theirs from chicken thighs, which are seasoned with a fish sauce-based marinate and smoked over charcoals. No meat tenderiser, preservatives, artificial colouring, flavouring or MSG is added. Each piece is individually vacuum-packed.
Available now. Preorder in 3 days in advance.
(Image credit: The Marmalade Pantry)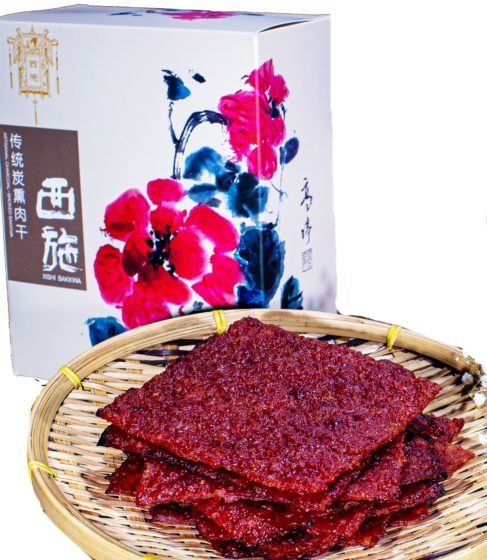 Xishi was started by Koh Hock Bin in the 1970s. Initially a chef at a dim sum restaurant, he was roped in by the neighbouring bak kwa stall to help out during a manpower shortage. Koh stayed on and eventually inherited the recipe, and now offers different iterations on the original. There are flavours such as mushroom, mala, pineapple, ginseng and stout, as well as chicken bak kwa.
Available online 
(Image credit: Xishi Bakkwa/Facebook)