Like every year, Valentine's Day comes with a whole slew of expectations.
The standard trio that won't go wrong? Flowers, a nice dinner (whether you're eating out or dining in) and some chocolate.
The last one is, of course, sometimes a bribe. After all, the bite-sized morsels are known to contain Tryptophan, an amino acid used by the brain to make serotonin, the neurotransmitter that produces feelings of happiness. Read: even if the dinner is bad and the flowers are less than satisfactory, chocolate truffles can make your partner feel happy and blessed.
Yet, there are those who want to go by another route, with enough trust that the meal they've prepared and bouquet they've ordered will put a bright enough smile on their face to make you feel like you've done a good job. We completely understand.
We've rounded up some of our favourite Valentine's Day desserts in Singapore that aren't all about the usual chocolate truffles. Read on for the full list.
All the Valentine's Day desserts in Singapore to impress on this romantic holiday:
(Hero image: Fullerton Hotel; Featured image: Sourbombe Bakery)
This story was first published on Lifestyle Asia Singapore.
Jump To / Table of Contents
01
Sourbombe Bakery's Valentine's Bombes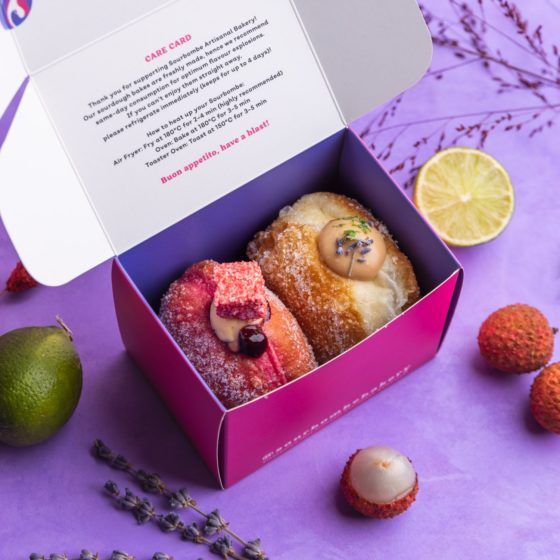 9 Penang Rd, #02-03, Singapore 238459
Bombolini fans rejoice: here's one for you. Sourbombe Bakery's duo of Valentine's Bombes comes in a box of Chocolate Lavender Lime and Ispahan stuffed doughnuts. The former is a cocoa-take on the tropical lavender lime mascarpone bombe, and the latter comes packed with an aromatic lychee custard and raspberry jam blend, before it's topped with pink dusted marshmallows.
Customers can also add on a personalised gift card (S$2) to go with the order.
02
Tablescape's Dessert Garden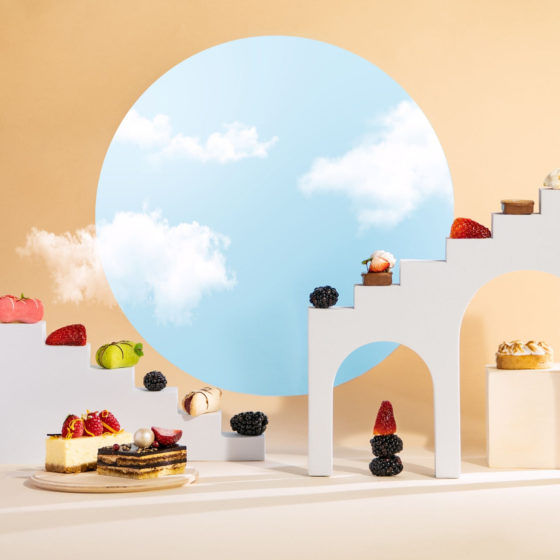 10 Coleman St, Level 3, Grand Park City Hall Singapore 179809
If you're one to play it safe with a medley of desserts, look no further than Tablescape's Dessert Garden. From Opera Cakes, Cheesecakes and Lemon Tarts to Pralines and Eclairons, you and your partner will be spoilt for choice when it comes to ending your date on a sweet note.
Tablescape's Dessert Garden is available for takeaway and delivery daily from 11am to 5pm. Advanced orders have be made 2 days before.
03
Janice Wong's Valentine's Day Wine Rose Cake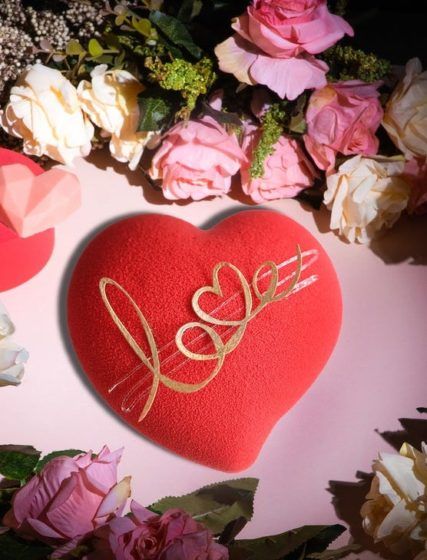 Perhaps your significant other isn't into chocolate at all. Or maybe it's you and you're not ready to sacrifice your dietary preferences in a shared dessert. This is where Janice Wong's Valentine's Day Wine Rose Cake will come in handy. The 500-gram heart-shaped cake is decked out with a luscious rose cream cheese mousse that houses layers of vanilla sponge, red wine ganache, and red currant jam within.
04
Eclair & Macaron Surprise Set from Lemuel Chocolate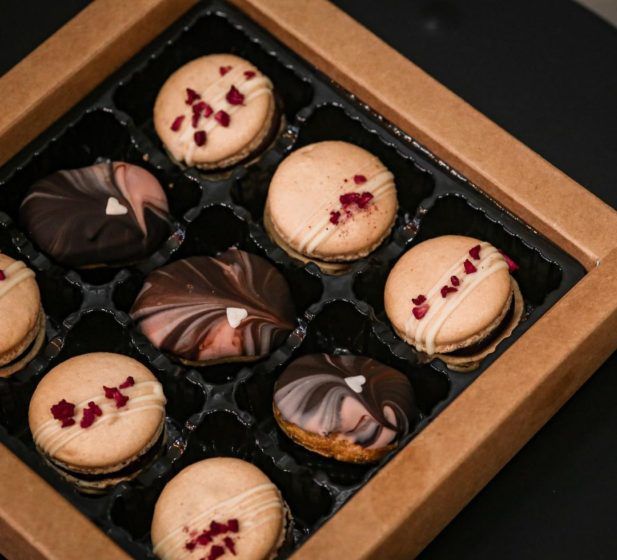 1 Vista Exchange Green, #01-04/05 The Star Vista, Singapore 138617
Local bean-to-bar chocolate maker, Lemuel Chocolate, may be popular for their their gorgeous bonbons, but this year, they've gone a step further to include other cocoa-based offerings for those celebrating the romantic occasion. Yes, the bonbons are still available, but we're spotlighting a different set this time: the Eclair & Macaron Surprise Set. The enchanting box comes with six hand-decorated Cherry Chocolate Macarons and three Raspberry Chocolate Mini Eclairs.
Preorders are available now, for collection from 10 February onwards.
05
Fullerton Hotel's Raspberry Lychee Rose Bandung Cake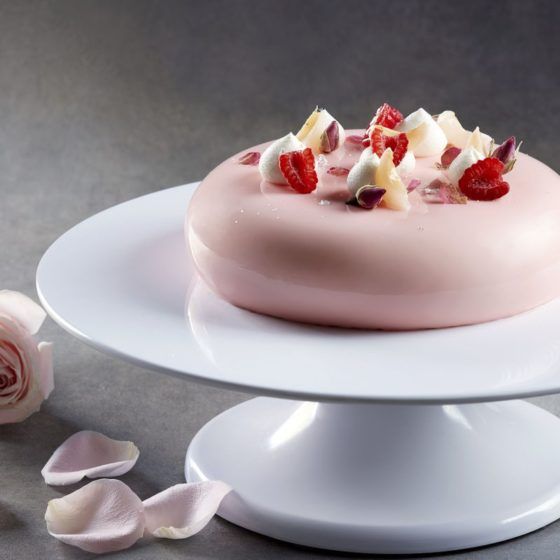 If you're looking for another cake that isn't all about cocoa, why not get this light and refreshing option from Fullerton Hotel? Perfectly pink for the occasion, the aromatic concoction is crafted with an airy raspberry chiffon sponge, lychee mousse a milky bandung rose gelee for a twist to the familiar childhood drink.
Fullerton Hotel's Raspberry Lychee Rose Bandung Cake requires three days prior notice.
06
Love Whips from Marks & Spencer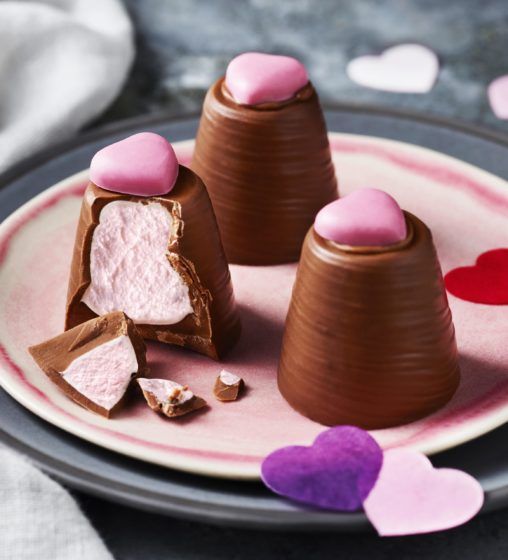 Marshmallows never fail to bring out that child-like happiness in us, so this Valentine's Day we're obviously getting our guilty pleasure fix from Marks and Spencer — more specifically, these ultra additive Love Whips. A special treat that was brought back from last year's selection of offerings, the trio of strawberries and cream flavoured marshmallows are coated with 100% responsibly sourced cocoa crafted milk chocolate and crowned with a dainty pink heart.