Recognised for its extensive beer offerings ranging from core brews to seasonal and collaborative offerings with local, regional, and global craft breweries, non-beer fans visiting Heart of Darkness can now look forward to more options on their night out.
The Keong Saik drinking and dining mecca has added tasty additions and an even more extensive wine, sake, and cocktail menu to complement its existing repertoire. The brewery's elevated revamp consists of sharing plates that blend regional Asian cuisine with classic American soul food.
Starting off with a non-traditional fruit and vegetable platter ($38) that emphasises the brewery's origins. A tribute to its hometown of Saigon, Vietnam, assorted fruits and vegetables are rolled up snug within a perfectly translucent spring roll wrapper. The hearty modern refresher is packed with either Japanese rice or vermicelli noodles and served alongside a Bloody Sunset ($19). The cocktail is inspired from the classic Aperol Spritz, using a substitute of Brass Lion to tie it to the Singaporean roots as well as The Sunset Pale Ale, simply because the colour is as close to a sunset as a drink can get.
Regional Flavours
The Asian influence certainly carries through their menu. The Bánh Bao Gà ($14), a set of juicy minced chicken dumplings with garlic, chilli, fresh coriander and shallots are an ideal textural continuation for the meal. This was followed closely with a bar food classic of fresh calamari ($18). The lightly battered whole squid had the right amount of bite. A generous bed of sriracha mayonnaise cuts the richness and complements the freshly squeezed lemon juice over the top.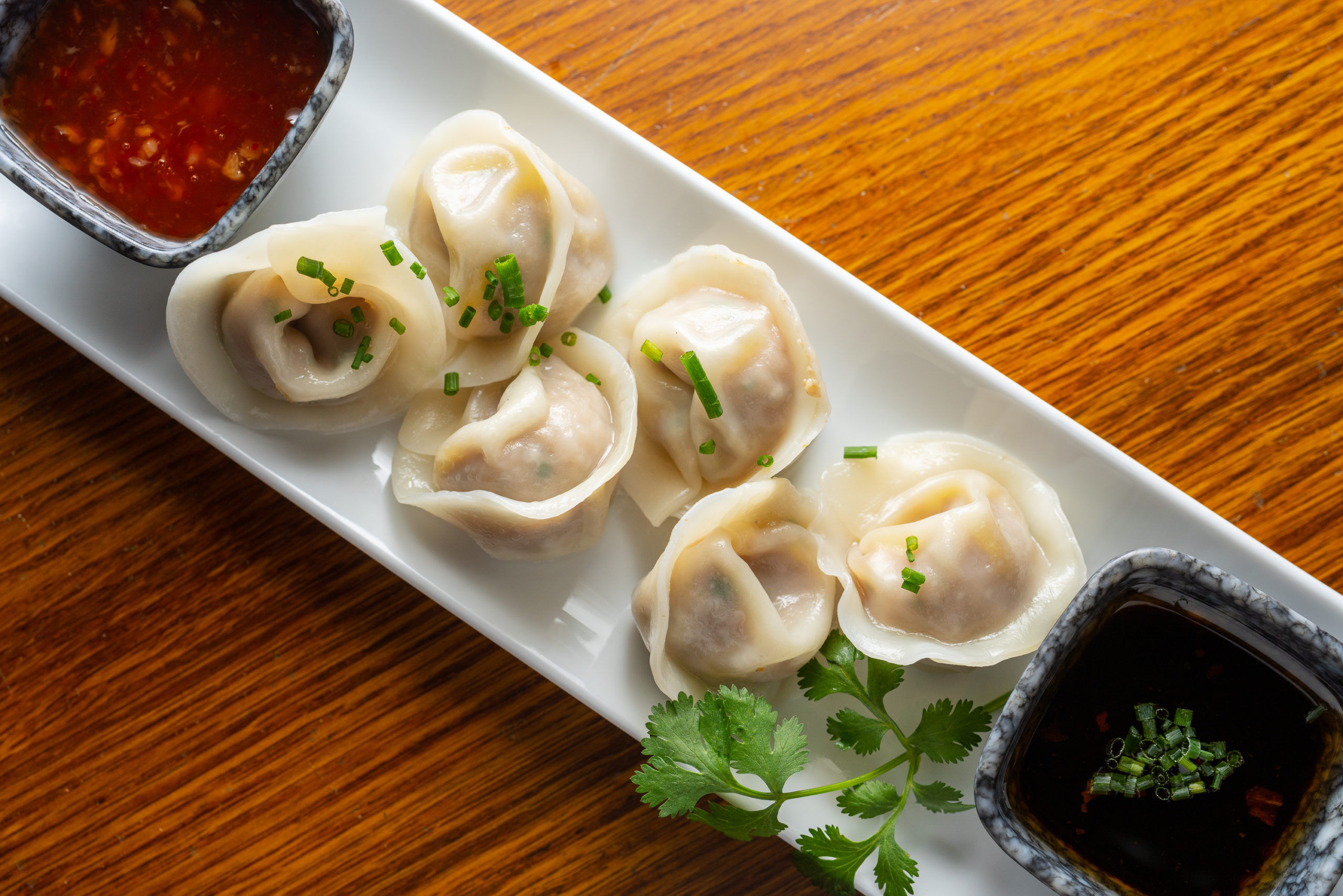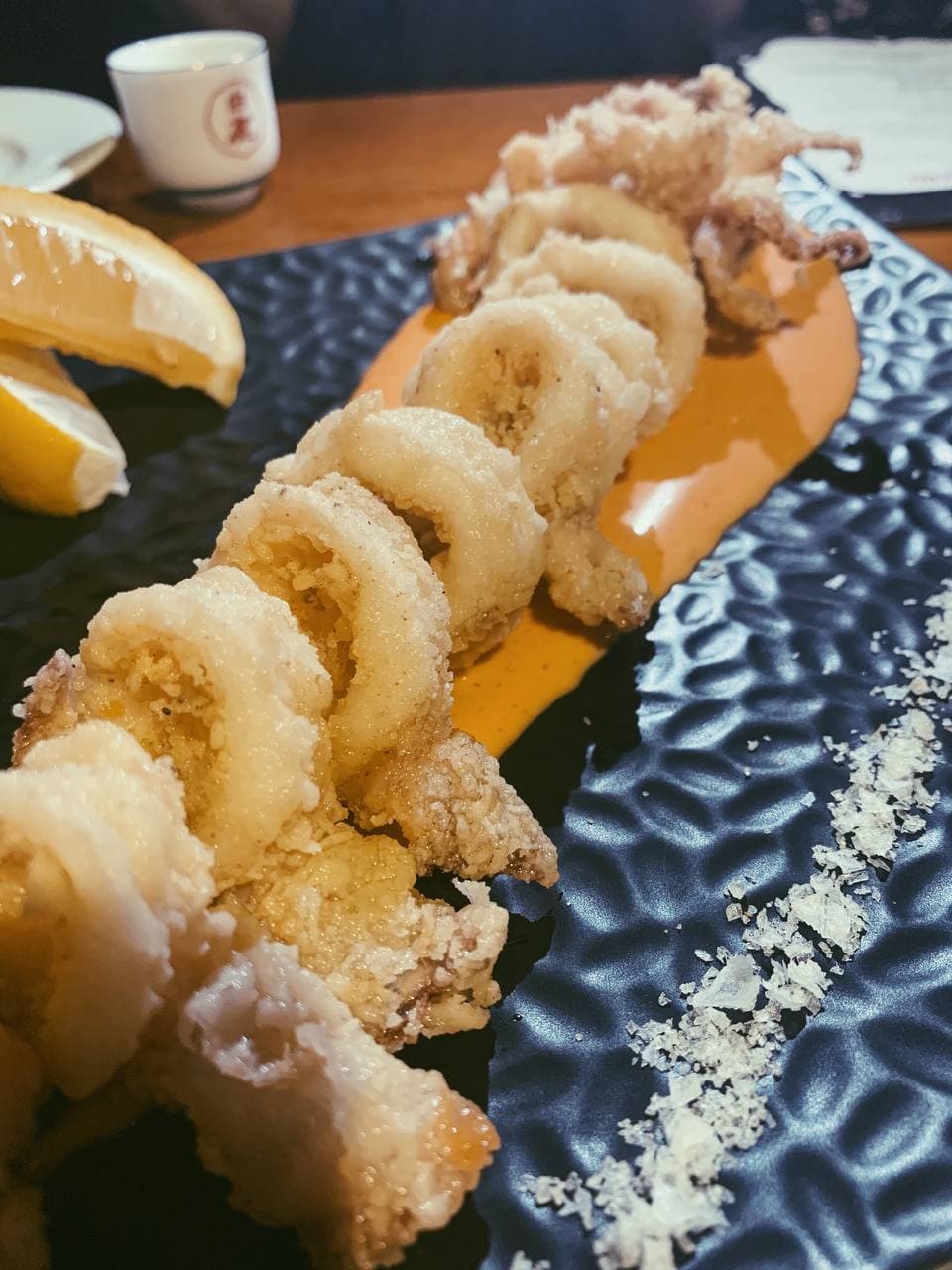 Sake drinkers rejoice. The calamari are splendidly paired with Kato Kichibee "Born" Gold Muroka Junmai Daiginjo from Kukui which finishes soft and easy with a medium sweetness and a light, clean acidity. Made of highest quality Yamadanishiki rice from the special region "A" of Hyogo prefecture, aged for a year under -10ºC and pasteurised before shipping without filtering. A must-try is the Pan Seared Barramundi ($26) on a bed of tomato confit puree, garnished with ale caviar. The flaky fish is served alongside a Domaine de l'ECU "Taurus" 2015, Melon De Bourgogne, Muscadet Sevre and Maine France ($150). Complex and powerful, the Muscadet has notes of almond and toast that play off the roasted nuts on the fish, making it a faultless pairing.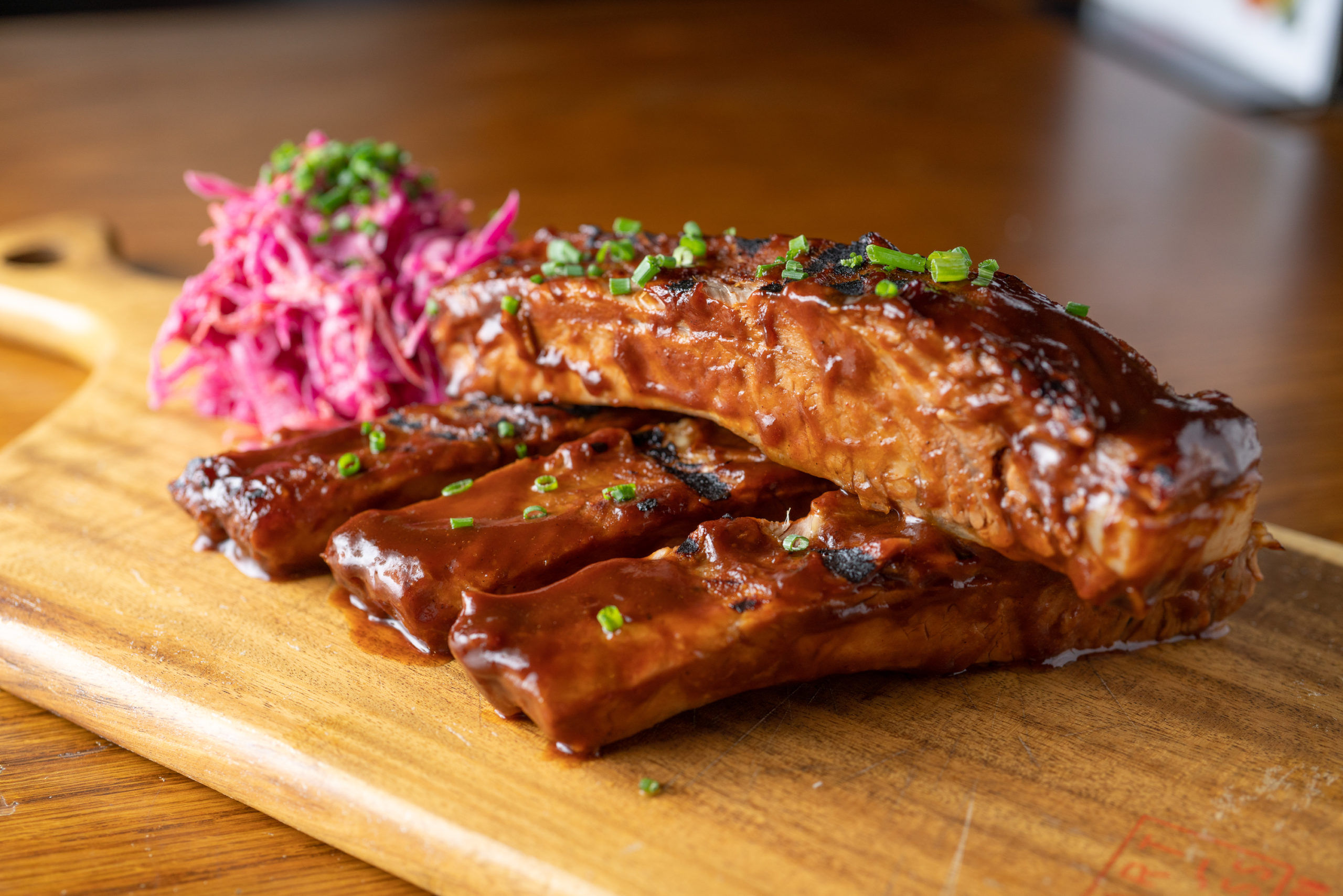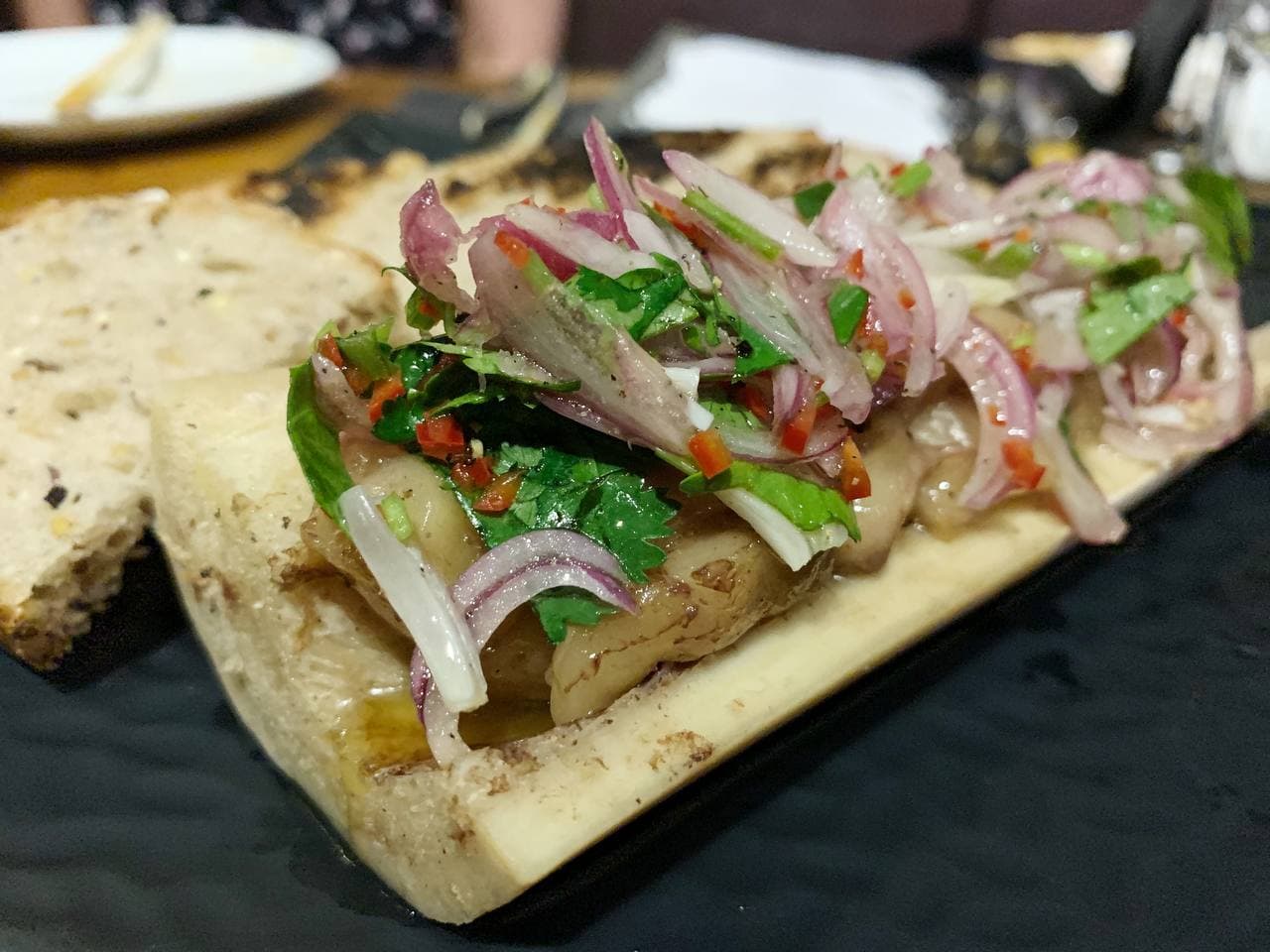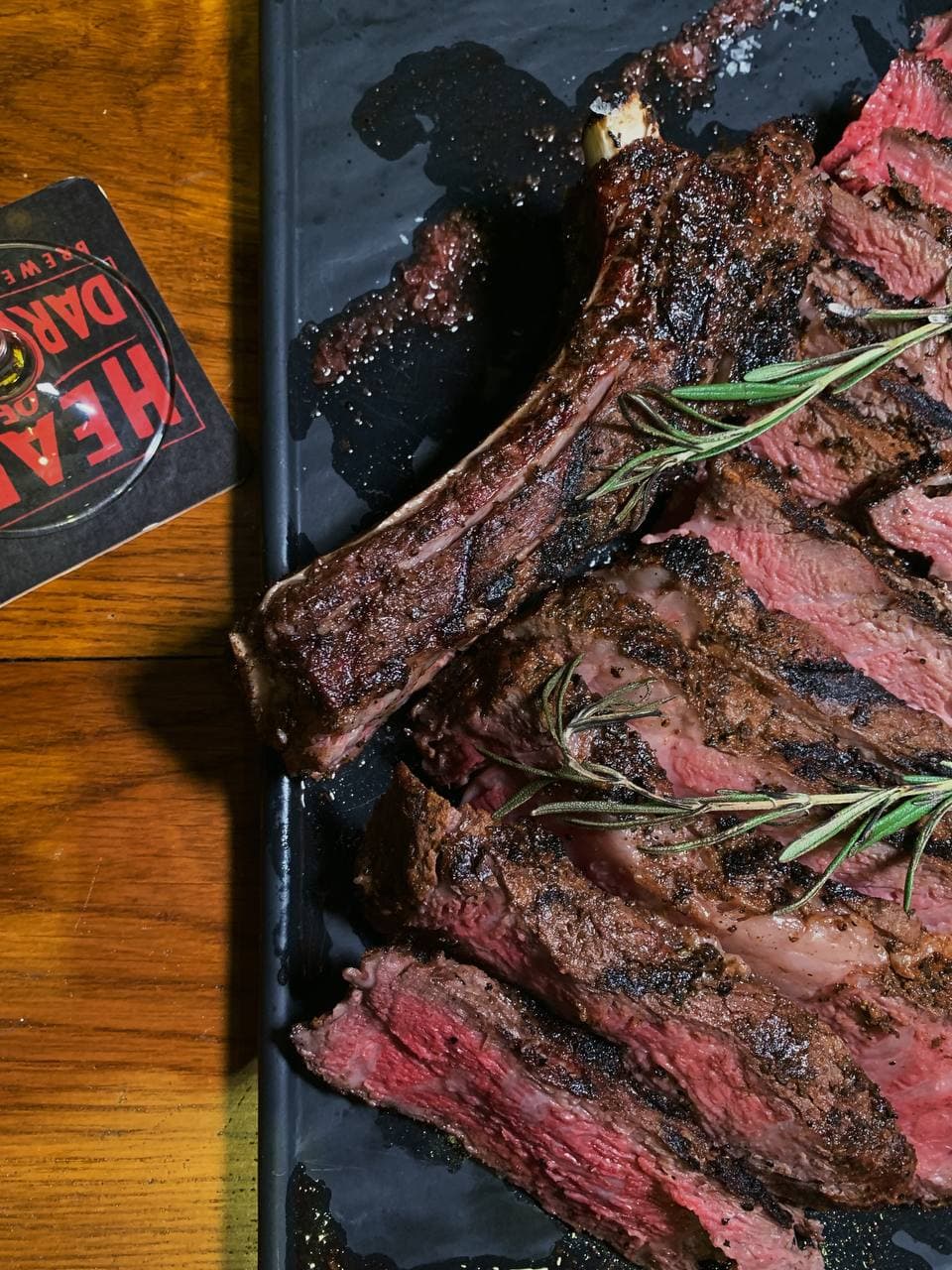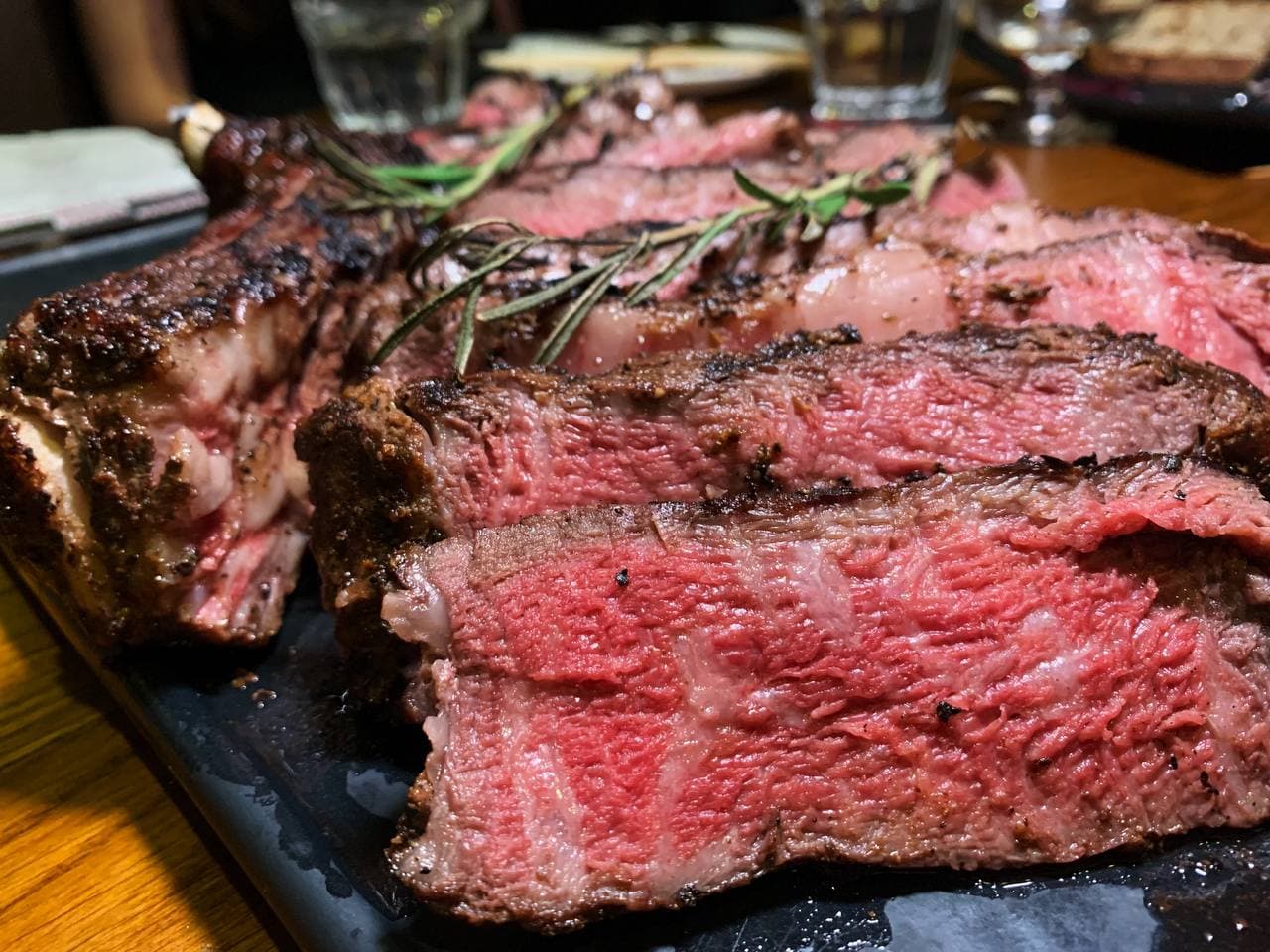 Meat Eaters Rejoice
The pièce-de-résistance of the menu lies in the extensive meat portion, a definite carnivorous haven. IPA Crispy Pork Belly ($22) that has been marinated in beer for three days, sous vide overnight and deep fried till crispy, Cacao Pork Ribs ($32) slathered in Merciless Phantom Reserve Imperial Stout sauce, slow cooked for 14 hours and served with a spicy cabbage slaw, Bone Marrow ($34) braised with garlic and spices, and to top it all off, the Black Angus Prime Rib ($18/100g). Sink your teeth into the mains individually or indulge in the Meat Platter ($95), a selection of the house favourites with three sausages, beef brisket, the char siew beef short rib and the pork belly. The meat went down well with the Pierre Cotton 'Orange Carbonique', 2019 Chardonnay ($140).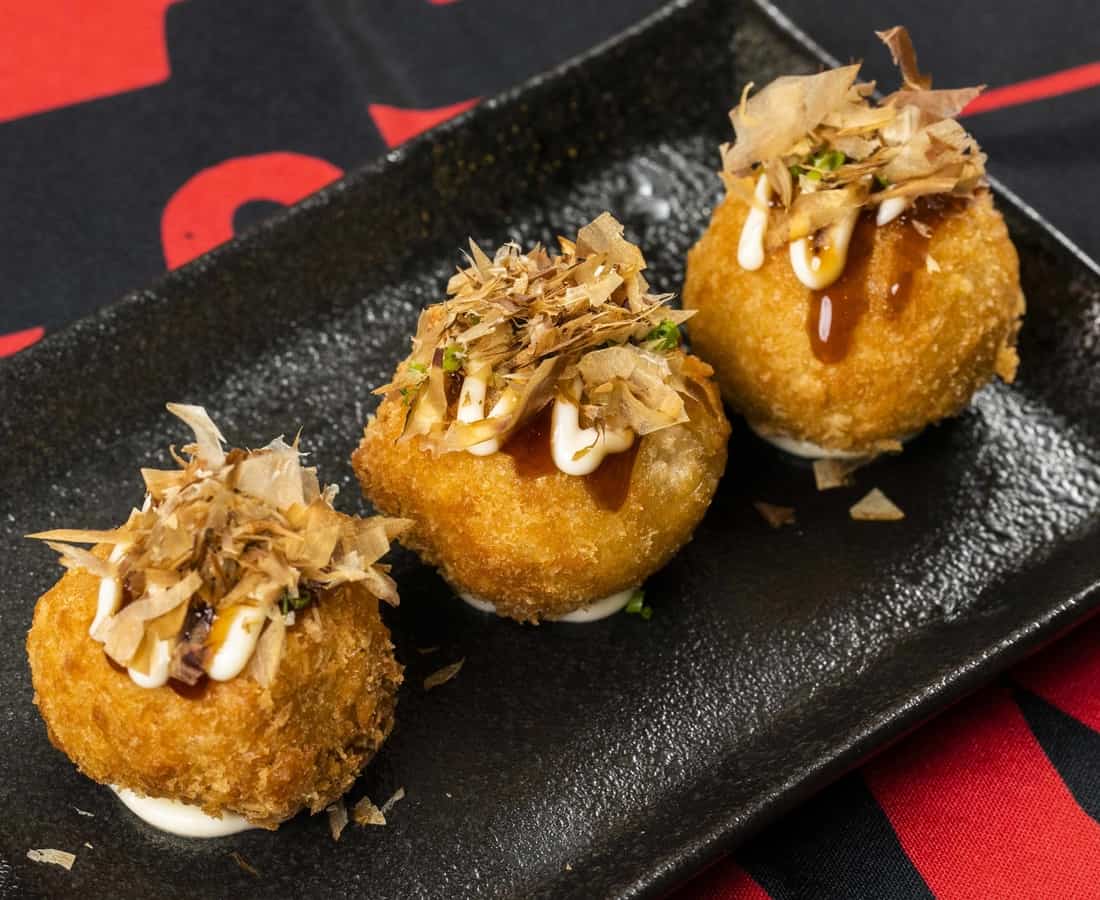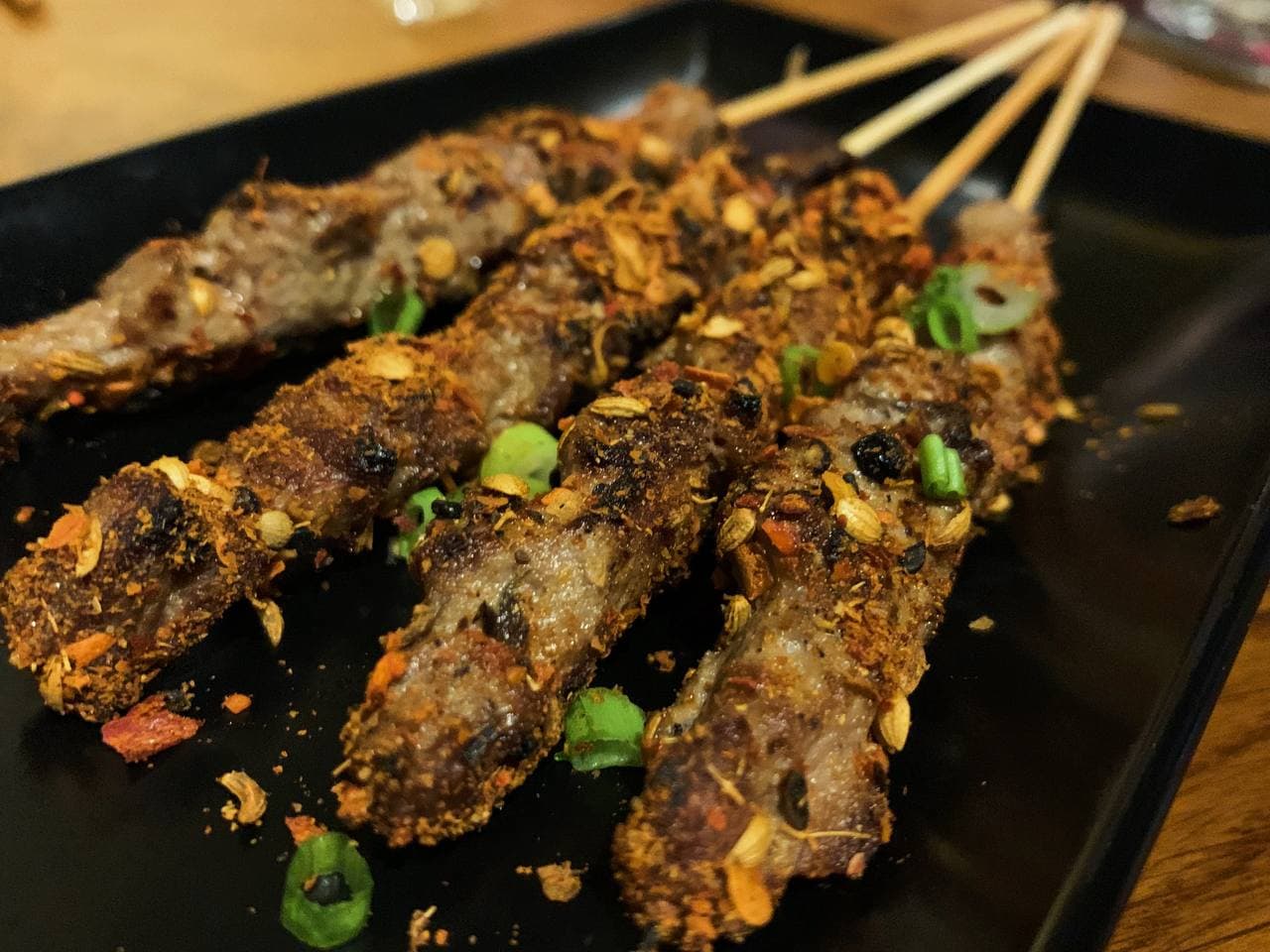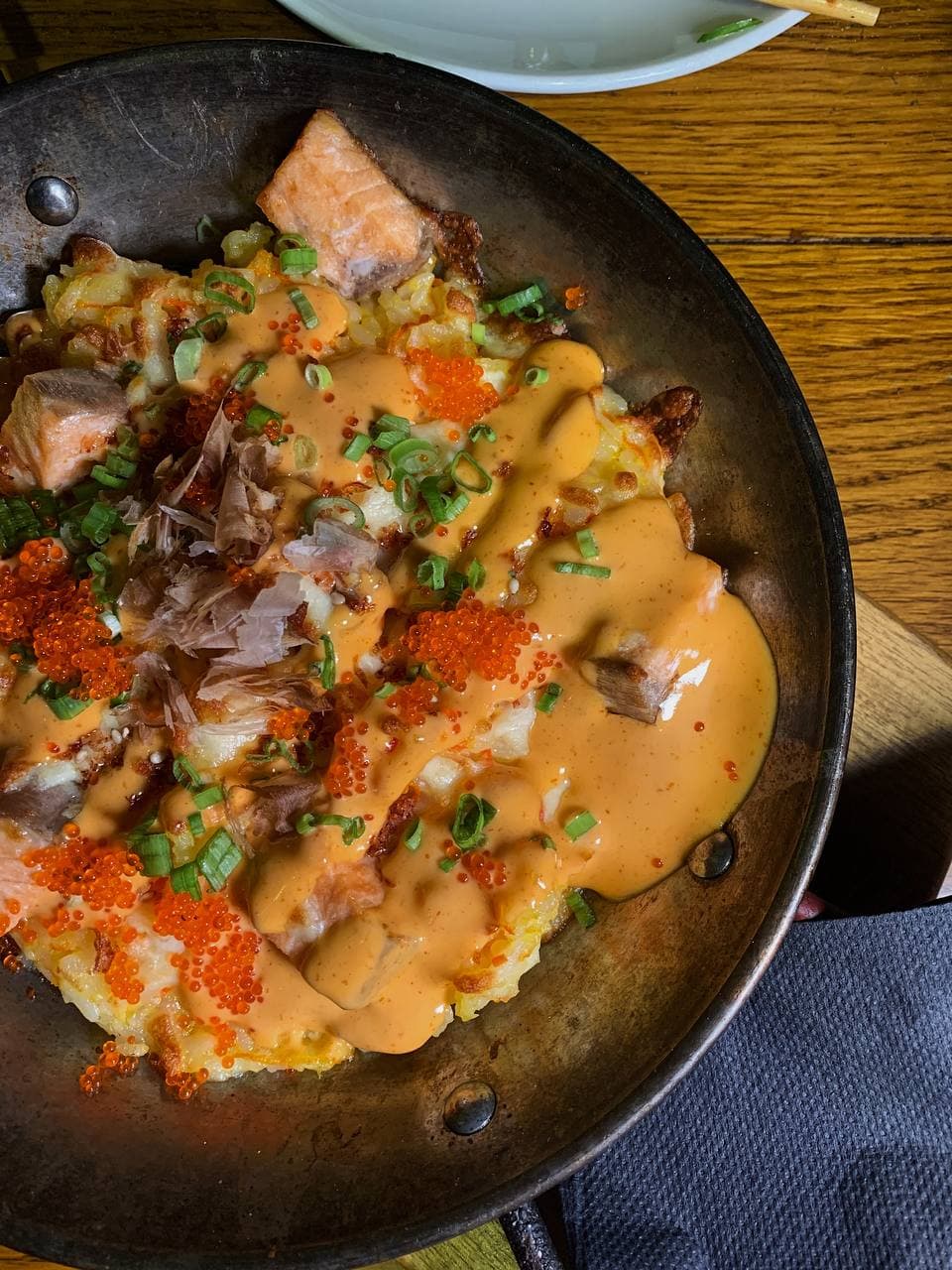 The bounty of meat should not deter anyone from a great night out. Alternatives such as the Octopus Croquettes ($15), Spicy Lamb Skewers ($16) and Salmon Baked Rice ($16) are equally delicious options.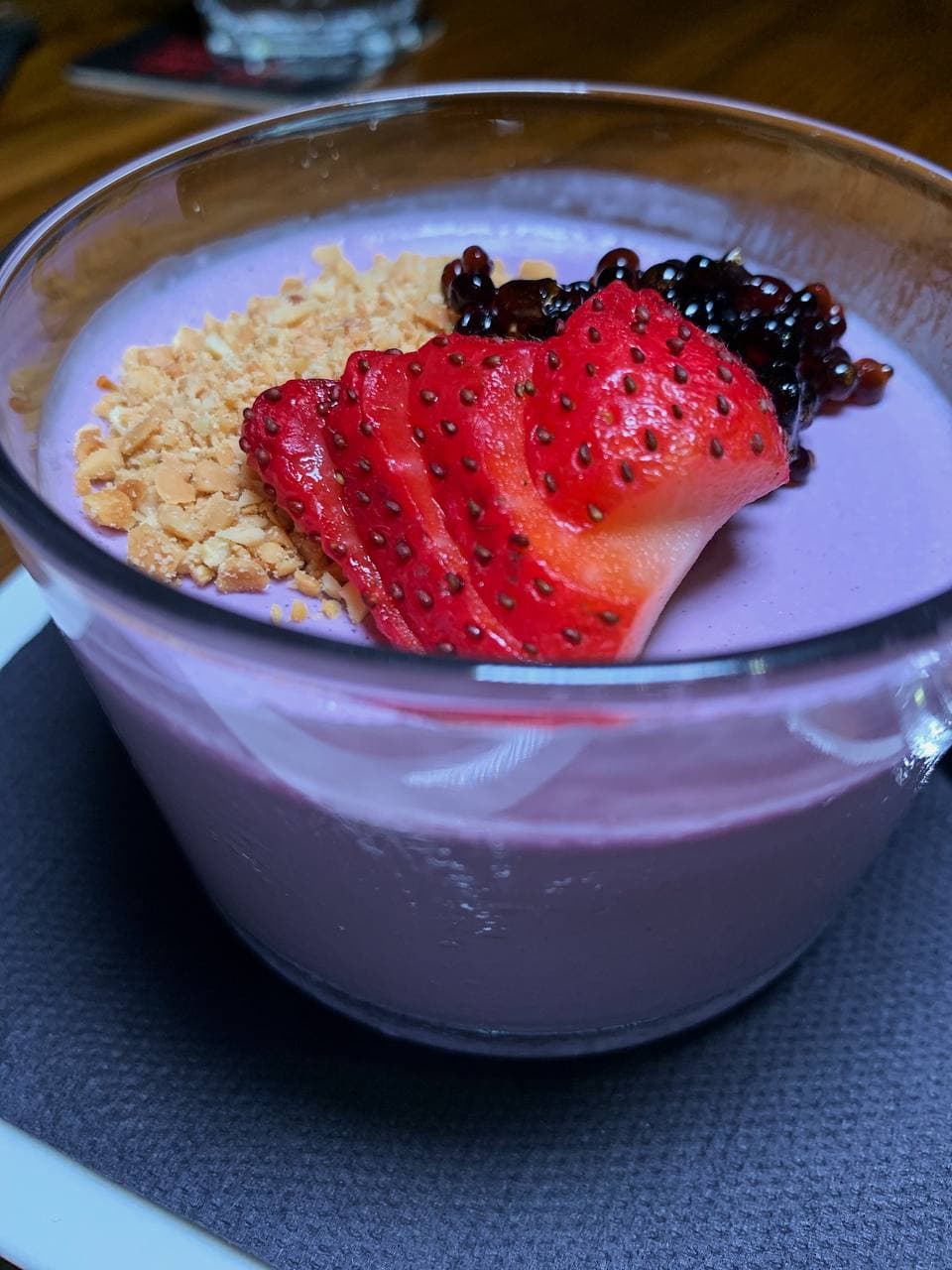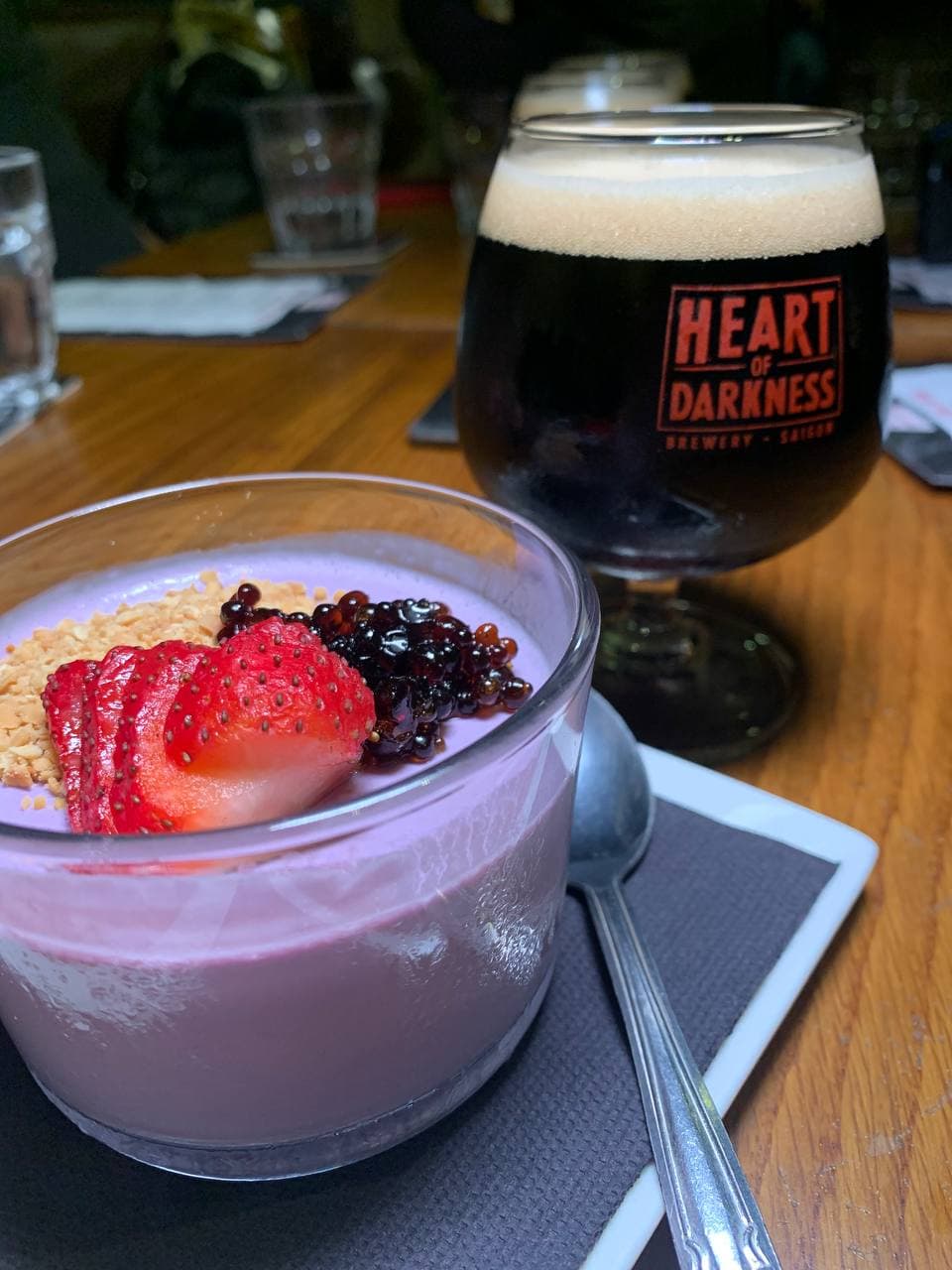 Dessert is a must before any eatery's lights start to dim and tables are cleared. The Black Shadows Expresso Martini Stout brings out the best in the Khoai Môn Dùa ($12) — a taro coconut panna cotta with homemade Director's Cacao Nib Porter soil. The deep roasted cacao flavour of the dessert is accented by the rich dark chocolate and hazelnut stout, leaving a pleasant, non-cloying taste in the mouth.
Heart of Darkness is on its way to becoming a universal hot spot for those looking to converse over a multitude of excellent nosh, and who are up for the challenge of becoming a drinks connoisseur.
This award-winning brewery is all about the good life, and we're ready for another round.
(Images: Heart of Darkness)
written by.
Alfieyah Abdullah
Alfieyah Abdullah has two vices. Her 30 bottle (and counting) collection of fragrances and an intense view on desserts.