Who doesn't love a hot serving of delicious wanton mee?
Wanton noodles, known colloquially as wanton mee, may hail from Cantonese cuisine, but its Southeast Asian permutation is markedly different from the soupy original.
In Singapore, Malaysia and even Thailand, wanton noodles connote dry egg noodles dressed in a dark sauce and chilli mix, topped with slivers of fatty barbecued pork, still tinged by wood smoke. Each serving is typically accompanied by handmade shrimp dumplings and the cautionary strand of green leafy vegetables.
There are also variations to the dish — soup as opposed to 'dry' along with noodle choices that also include rice vermicelli and even flat rice noodles (hor fun). Even the wantons, often served boiled, are occasionally served deep fried at some stalls.
A staple of hawker centres, all of these versions of wanton noodles bear their own idiosyncrasies, and all of these different takes coalesce in Singapore. Whether it's breakfast, lunch, dinner or supper, a good bowl of wanton noodles checks any of those boxes. We've rounded up some of the spots we deem serve the best wanton mee in Singapore, the next time you're hit with a craving.
Where to go for the best wanton noodles in Singapore:
This story was first published on Lifestyle Asia Singapore
Jump To / Table of Contents
01
Ji Ji Wanton Noodle Specialist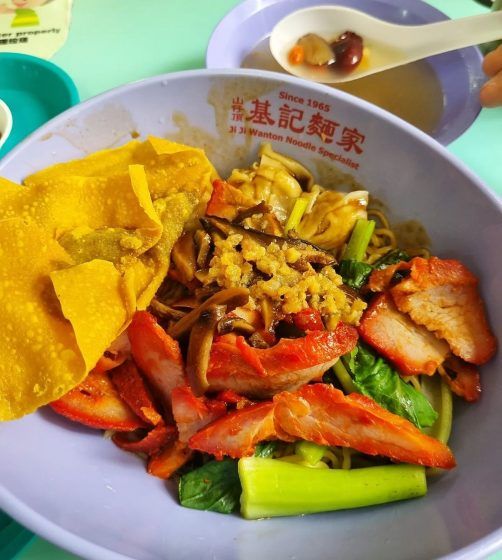 #02-49, Hong Lim Food Complex, Blk 531A Upper Cross Street, Singapore 051531
Snaking queues are the norm at Ji Ji Wanton Noodle Specialist, and for good reason, given that this stall has been running since 1965, and remains the pitstop for Singapore's bestselling wanton noodles. Ji Ji serves a family recipe, using thicker, chewier egg noodles that taste less oily than your run-of-the-mill version, slivers of sweet char siew and wantons that snap with every bite.
(Image credit: @hojiakhojiak)
02
88 Hong Kong Roast Meat Specialist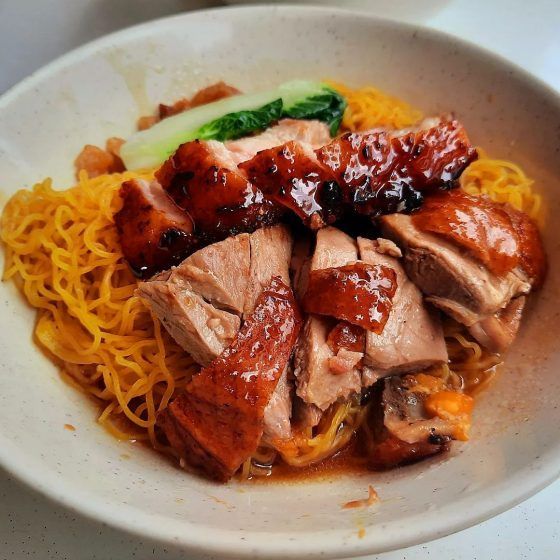 88 Hong Kong Roast Meat Specialist, 153 Tyrwhitt Road, Singapore 207566
Though 88 Hong Kong Roast Meat Specialists are best known for their namesake offerings, they also make a mean wanton noodle dish, topped with generous chunks of caramelised char siew nestling a bed of noodles coated in a sticky, spicy dark sauce. There is even the option to add crispy pork belly as an additional topping — one we'd highly recommend.
(Image credits: @becoz_im_hungry)
03
Wong Kee Wanton Noodles & Roasted Delights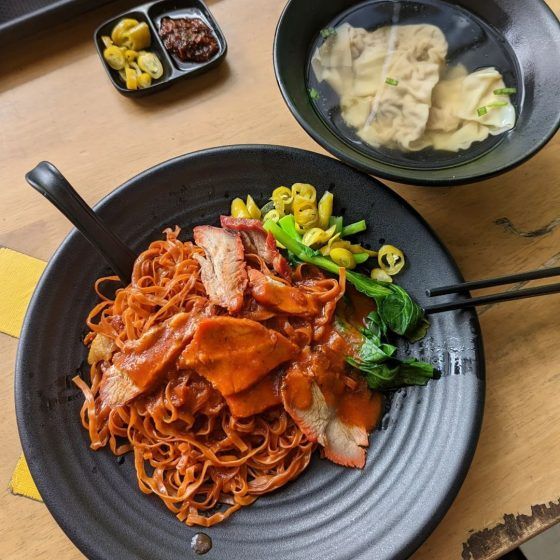 Timbre+ #01-06, 73A Ayer Rajah Crescent, Singapore 139957
Wong Kee Wanton Noodles & Roasted Delights is another close contender for the most popular wanton noodles in Singapore, and anyone who has eaten there will testify to that. The wantons served with the noodle dish are the real star here, so generously portioned and teeming with shrimp, spring onion and pork, cooked to chewy glory. Wong Kee is also well-known for offering spinach noodles instead of the usual egg noodles for those feeling slightly health-conscious.
(Image credit: @omuriceandeverythingnice)
04
Zhong Yu Yuan Wei Wanton Mee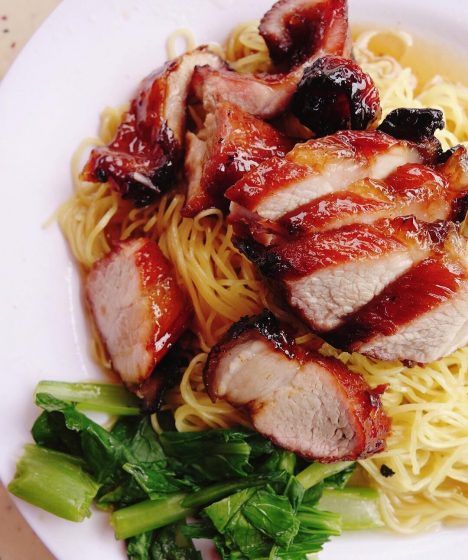 #02-30 30 Seng Poh Road, Singapore 168898
Tiong Bahru Market's Zhong Yu Yuan Wanton Mee is perpetually plagued by a lengthy queue, so expect to wait at least 20 minutes for a bowl of wanton noodles, featuring their famous bu jian tian char siew, made from the extra tender cut that is the pig's armpit. The stall sells out by noon each day, so be sure to come by early.
(Image credit: @mikey_wes)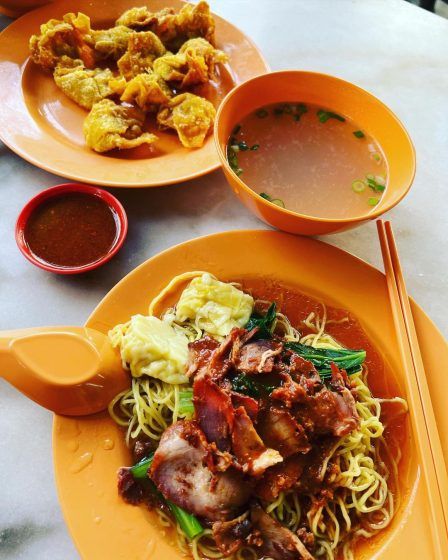 Bistro 8 Food Court, 30 Foch Rd, #01-02, Singapore 209276
Despite being acquired by the Jumbo Group, Kok Kee Wanton Noodle hasn't let the ball drop when it comes to delicious wanton noodles. Here, expect to find the same special lard-based chilli sauce (a secret recipe, naturally) that's poured all over its famous springy noodles, accompanied by thinly sliced char siew and plump dumplings.
(Image credit: @boohan23)
06
Fei Fei Roasted Noodle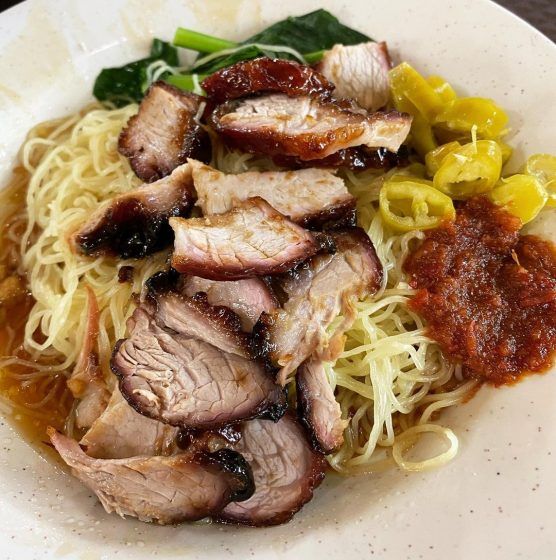 Yuhua Village Market and Food Centre #01-28, Blk 254 Jurong East Street 24, Singapore 600254
It was only a matter of time before Fei Fei Roasted Noodle got its Michelin Bib Gourmand accolade. The stall at Yuhua Village Market and Food Centre has been a breakfast staple for years — but only if you get there early enough. Because it's only opened for a few hours a day, the wanton noodles here are often sold out before its closing time at 12.30pm. Here, the stall serves its angel hair-thick eggy noodles al dente, which is laced with an aromatic anchovy-based broth and topped with tender charcoal-roasted char siew and wantons with fresh shrimps — all for a mere S$3.
(Image credit: @eatbobbseat)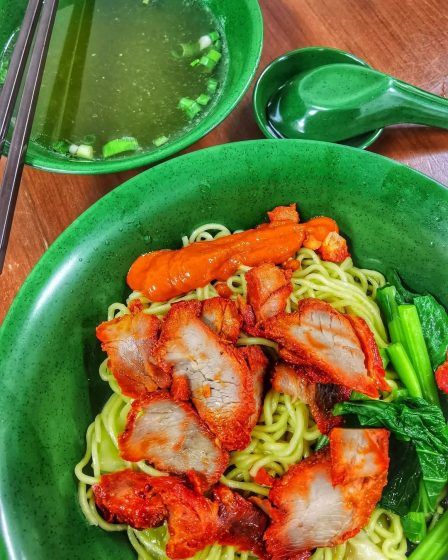 287 Tanjong Katong Rd, Singapore 437070
ENG's Wantan Noodle is East-side institution, a household name that many wanton mee lovers head to when they're craving a dependable bowl. The spicy hot sauce has us salivating just by thinking about it, and pairs well with the unassuming, springy noodles. We prefer the soup wantons for the meaty bite and smooth texture, but if you're one fro something crispier, the fried wantons do just fine.
(Image credit: @kenichiro_chan)