Transforming from coupe to convertible in 18 seconds, the BMW 4 Series Convertible is an embodiment of a droptop beauty.
That said, we admit convertibles are somewhat of an acquired taste. Most may not appreciate the wind-in-your-face experience and open-air driveability of the vehicle, especially in a subtropical climate. Those who have, though, will admit there is nothing more exhilarating than driving with the top down. For those in the market for a droptop, allow us to point you to the nearest BMW showroom. There you will find the segment's newest arrival – the new BMW 4 Series Convertible. The model takes the open top concept to new heights with a stunning standalone design, advance chassis, and new soft-top construction. The German marquee claims that the new model delivers BMW's hallmark driving pleasure in a highly exclusive form. No doubt, it's a bold claim, but one that is decisively true.
Sporty Prowess
Sharper than its predecessor and echoing the bold style of the BMW 4 Series Coupé, the new BMW 4 Series Convertible blends sporting driving pleasure and open-air thrills. This continues the 35-year legacy in this model class that began with the first BMW 3 Series Convertible.
The open-top four-seater rolls out with striking proportions and a low-slung silhouette that befits its sporty yet elegant profile. The midsized BMW convertible boasts a definitive design, emphasised by a new revised kidney grille. The signature feature is not just for aesthetic purposes but to optimise cooling. Flanked by full-LED headlights, it gifts the BMW 4 Series Convertible with an expressive front end.
From the side, the model is dynamically striking, largely due to the precise lines and three-dimensionally sculpted surfaces of the rear wheel arches. This impression is further reinforced by the slim rear light units extending into its flanks. The beauty of the 4 Series Convertible though is that it features a two-in-one appearance.
With the top up, the roof flows into the car's shape to reinforce its sporty appearance. When the new panel bow soft-top is placed down, it further intensifies the car's high-performance character. The new retractable roof blends the strengths of a retractable hard-top and the traditional appeal of a fabric roof.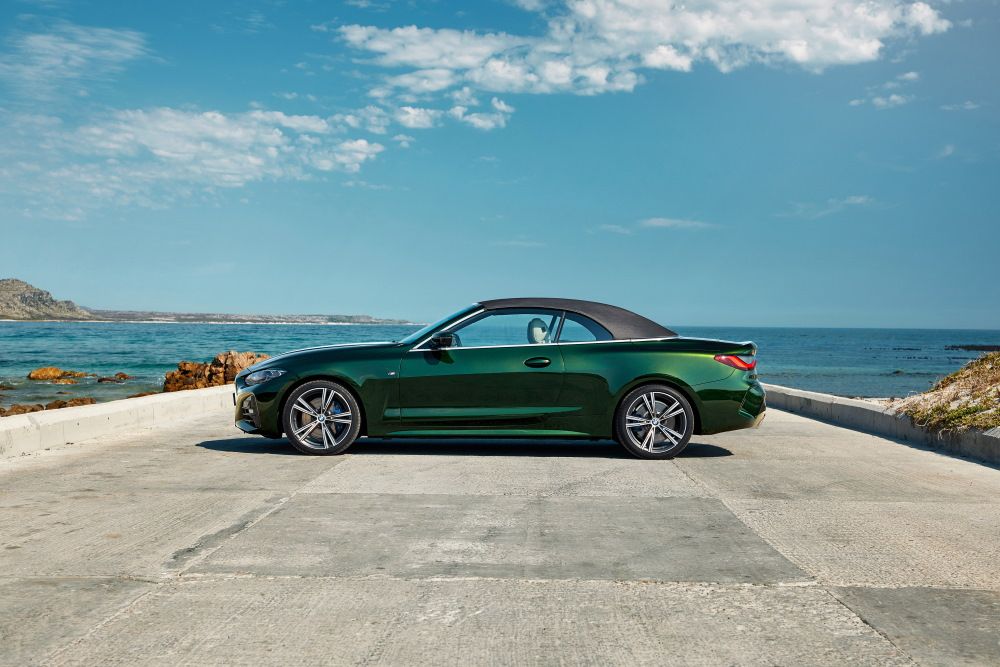 Acoustics and thermal comfort of the new panel bow soft top roof are also further improved. Powered by an electric motor, it goes from top up to top down in 18 seconds. It also works on the move at up to 50kmh. Despite accommodating the motor and space for the roof, there are 385 litres to play with the roof closed.
Driving Excitement
It says a lot when all models of the 4 Series Convertible come equipped with M sport specification as standard. For those requiring a bit more power there is also a performance-focused M Sport Pro Edition. However, the base 420i sDrive M Sport also suffices, with a four-cylinder petrol unit producing 184hp and 300Nm of torque.
Paired with an eight-speed Steptronic transmission, the model achieves the century sprint in 8.2 seconds. The advanced transmission not only offers sharp shift dynamics, with shift paddles on the steering wheel but also a new sprint function. This feature optimises handling performance for a sudden burst of speed or overtaking.
Every BMW 4 Series Convertible comes with the M Sport specification as standard. This includes large front air intakes, a sculpted rear apron, M Sport suspension, 18-inch M light-alloy wheels, sport seats upholstered in Vernasca leather trim, knee pads on the centre console and a Sensatec dashboard. In terms of handling, the model features an advanced rigid structure with convertible-specific bracing. This includes an aluminium shear panel at the bottom of the front end, and side skirts with extremely high torsional rigidity. An intelligent mix of materials also serves to optimise both weight and crash safety. The car's low centre of gravity, improved aerodynamic properties and highly developed chassis geometry, mounting and set-up result in even sharper handling.
Driver Focused
Despite its sporty pedigree, the BMW 4 Series Convertible still provides ample space and premium seating for four. It arrives with electric sports seats in the front with automatically extending and retracting belt feeders, Vernasca leather trim and a leather sports steering wheel. The individual seat design of two rear seats occupies the rear.
The standard equipment is also generous with ambient lighting, electric seats, and three-zone automatic climate control. The vehicle however is still very much a driver-focused machine with an ergonomically optimised cockpit featuring BMW's Live Cockpit Professional.
Featuring a fully digital screen grouping comprising a 12.3-inch digital instrument cluster behind the steering wheel and a 10.25-inch control display, it puts the driver in commanding view of the car and all its functions. The screen boasts extensive real estate — it provides enough room to accommodate an excerpt from the navigation map, status indicators for the driver assistance systems or 3D visualisation of the surrounding area. It also features the BMW Operating System 7, powered by a built-in SIM card with 4G LTE connectivity. This acts as a gateway to a wide range of new digital services including BMW Maps, BMW Intelligent Personal Assistant, smartphone integration as well as remote software upgrade.
As with all BMW models, the 4 Series Coupe arrives loaded with a series of advanced driver assistance systems. This includes park distance control with reverse assist, front collision warning with brake intervention, lane departure warning including lane return and a speed limit info system.
Impressive kit aside, we dare wager you'd want the BMW 4 Series Convertible just by the way it looks. And frankly, we don't blame you.
(Images: BMW)