You do not really buy a Rolls-Royce. You commission it. This is essentially what embodies the brand, it empowers clients to create potent evocative expressions of personal taste through its automobiles. The brand's latest commissioned project, the Rolls-Royce Boat Tail exemplifies that promise impeccably.
The Boat Tail is an utterly unique coachbuilt commission and it presents contemporary patronage in its truest form. At the model's big unveil, Torsten Müller-Ötvös, Chief Executive, Rolls-Royce announced that coachbuilding will now be a permanent fixture within the brand's portfolio. "Historically, coachbuilding had been an integral part of the Rolls-Royce story. In the contemporary Rolls-Royce narrative, it has informed our guiding philosophy of bespoke," he adds. "But it is so much more, Rolls-Royce Coachbuild is a return to the very roots of our brand. It represents an opportunity for the select few to participate in the creation of utterly unique and truly personal commissions of future historical significance."
From Past To Present
Coachbuild is not an entirely new concept for Rolls-Royce. In the 1900s coachbuilding was the norm in the field of automobile making. Brands such as Rolls-Royce supplied the chassis and talented coachbuilders did the rest.
However, with the arrival of mass production and in-house design departments, coachbuilding was eventually forgotten. Still, coachbuilding was not entirely resigned to be being a footnote in the annals of automotive history. In 2017, Rolls-Royce prompted the contemporary coachbuilding movement in 2017 with the introduction of Sweptail.
The model not only drew accolades but also established a market for buyers who were looking for a truly unique automobile. "Honestly, the Sweptail started the whole enterprise of coachbuild for us, explains Torsten. "I must say, we were overwhelmed with the market reaction, in particular our client reaction, many of whom came up to us and said, 'hey can we do something similar'. That 'something similar' resulted in the commission of the Boat Tail, which Torsten reveals was an idea from the client themselves. "They had this idea of bringing that Boat Tail history, an iconic model of Rolls-Royce from the past into a new model format," he adds.
"We identified the clients that we wanted to embark on this exciting journey on and that ultimately decided the project. According to Torsten, one of the clients also owns an original vintage Rolls-Royce Boat Tail and was keen to create a modern interpretation of the model. "The other clients thought it was a great idea and decided to climb onboard."
The Significance Of Coachbuild
Torsten stresses that coachbuilding is a highly distilled expression of Rolls-Royce Bespoke and is reserved for those who look to move beyond existing constraints. "It is the pinnacle for both the brand and client experience, and nothing goes beyond that."
Both coachbuild and bespoke are not just integral parts of the Rolls-Royce identity but it also presents an avenue for collaboration between engineers and designers from both departments. Although the newly commissioned model and coachbuild are important facets for Rolls-Royce's past, Torsten remains steadfast that whatever the brand embarks on next – whether it is looking back at its archives or creating something new altogether – is dependent on their clients.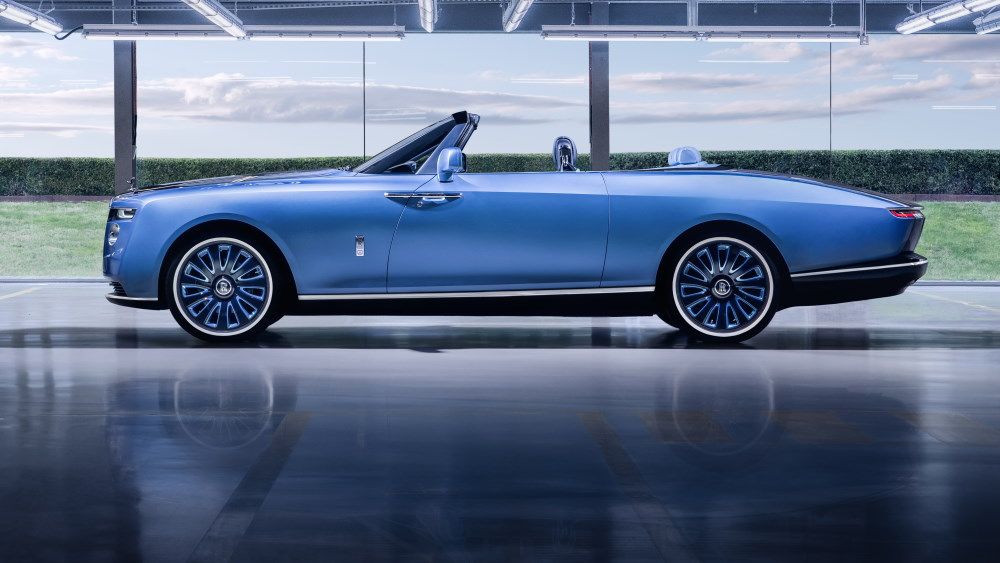 "We are not like other car brands who go out and engineer something to put on the market and ask, 'is there someone interested in this car?' That's not us." We do not want to just have a client who is able to pay the money for the car, that is not enough", he stresses.
"It is about providing, fantasy, vision, passion and the absolute will to engage yourself in a project for three to four years. That is why we are handpicking the clients that share those values with us, as it must be a mutually beneficial journey and experience for us as well as the client."
Creating The Boat Tail
The manual techniques of coachbuilding offer new realms of design opportunity and that has come to life in Rolls-Royce's latest luxury offering. Employing age-old individual hand skills and craft, a living canvas is created from metal –honing and optimising the aluminium body. And what a stunning creation it is.
At nearly 5.8m long, the model presents a graceful and relaxed stance. The front profile is centred on a new treatment of Rolls-Royce's iconic pantheon grille and lights. The designed incorporates subtle nautical references with the wrap-around windscreen recalling the visor on motor launches. However, it is at the rear where the nautical references become more apparent.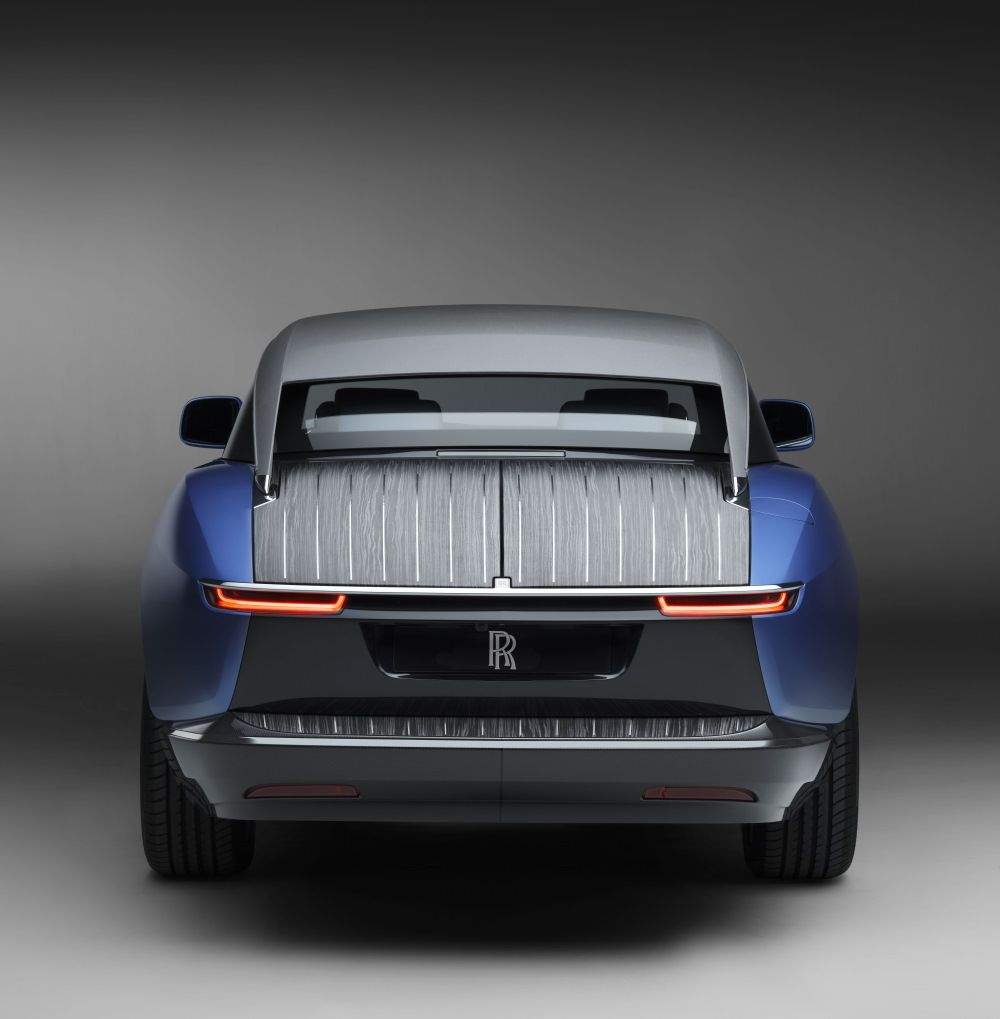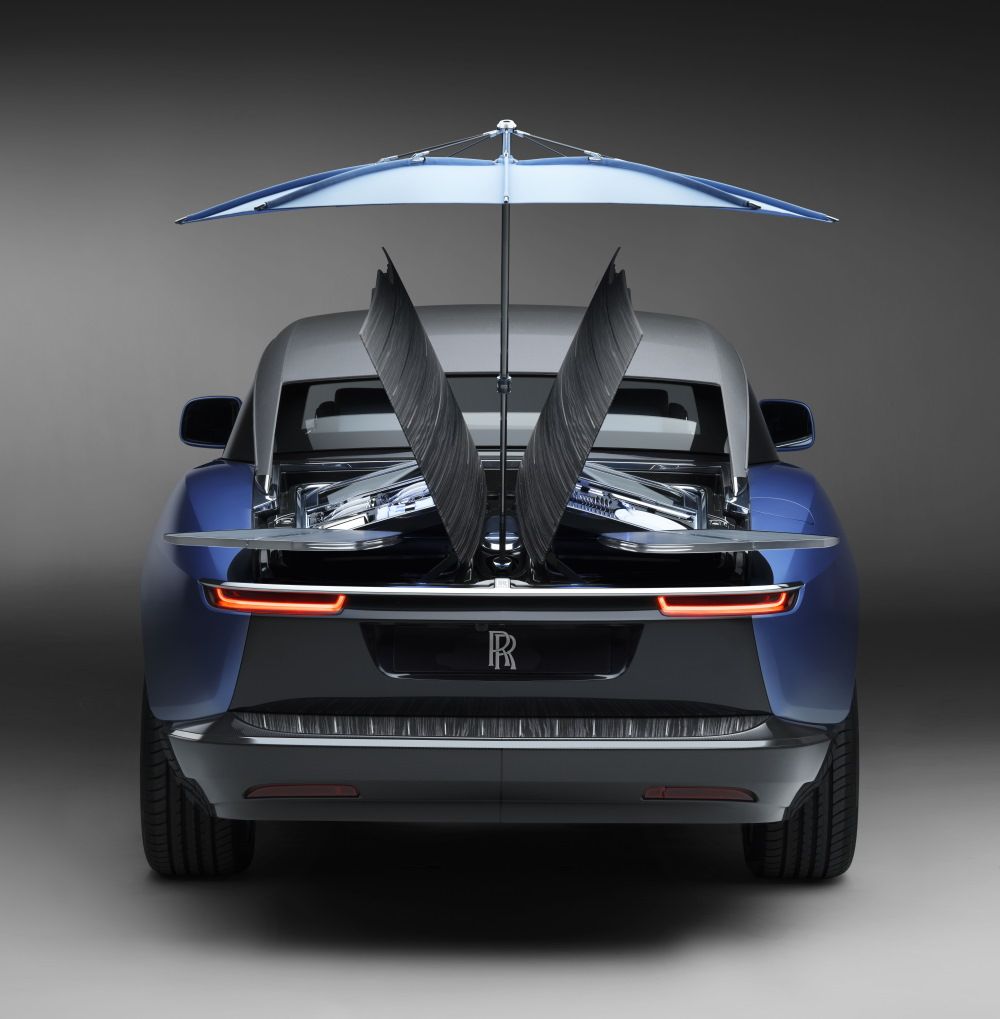 The aft deck, a modern interpretation of the wooden rear decks of historical Boat Tails, incorporates large swathes of wood. The lids open to an appropriate 67-degree angle revealing a hosting suite complete with a refrigerator, porcelain plates and cutlery.
"What you see in the car defines what coachbuild is, because this is what is commissioned by the client," explains Torsten. However, creating something as intricate as this did pose challenges. The biggest challenge admits Torsten was the creation of the aft lids, which mimic butterfly wings. "There were designed to open in a lovely symmetrical slow way. But of course, they also needed to be super safe and meet crash regulations. It also had to fit into the needs of the clients when they decide to indulge in al fresco dining events around the car. We have to ensure that nothing falls apart or collapses. That was the trickiest part of the entire journey."
From Concept To Reality
According to Alex Innes, Head of Coachbuild Design, Rolls-Royce Motor Cars, the brand's aluminium space frame allows designers to maximise their creativity in the design. "It is Rolls-Royce's architecture of luxury. This structure allows you to modify bodies and without it, it is extremely difficult to coachbuild."
He adds, "The rigidity of the car is similar to a regular Rolls-Royce. It has to be road legal, because our clients will take them out – we have seen that first-hand with the Sweptail. That is the fundamental difference of coachbuild and what other manufacturers do. Yes, they do create amazing cars, but you cannot take them out on the street. You can mostly drive them on a track or something." According to Torsten, the journey from idea to execution for the Boat Tail took four years. "Because of what is involved, the process is long and delicate, especially in the engineering phase," he explains. "The client commissions the body and the car as he would like to see it and it involves highly personal tastes and touches."
The Finer Points Of Personalisation
The Boat Tail itself incorporates these elements with truly personalised touches. The cutlery used for the car was made by Christofle in Paris, the double refrigerator was specifically developed to house the clients' favourite vintages of Armand de Brignac champagne.
Cocktail tables, which open on either side of the hosting suite were designed by Rolls-Royce and Italian furniture maker Promemoria. And the pièce de resistance – a pair of fine reversable timepieces by Bovet 1822, acting as the Rolls-Royce's iconic centrepiece, the dashboard clock. Breaking new ground in horology, the timepieces have been designed to be worn on the wrist or placed front and centre within Boat Tail's fascia as the motor car's clock. "This is something that the client wanted, being watch collectors themselves. To be honest I think this represents luxury in perfection in every single way and detail." And I believe this is an element that only Rolls-Royce can deliver on," says Torsten.
(Images: Rolls-Royce Motor Cars)
written by.
Richard Augustin
Digital Editor
Richard went from the confines of the kitchen working as a professional chef into the realm of media twenty years ago. In his two-decade career in writing, he has plied his trade in a number of regional print and digital media organisations in the lifestyle, in-flight, entertainment and finance space. When not busy chasing deadlines and writing stories for AugustMan, you can find him experimenting with recipes in his kitchen.