In a world where smartphones keep evolving, the Nintendo Switch has kept alive the desirability for handheld gaming consoles. The Switch has an incredible library of exclusive titles and offers a superb experience to today's gamers, making it one of the best gaming consoles of 2023. However, does that make it the best handheld gaming console of all time?
In the late 1990s and 2000s, the likes of the Game Boy (including its Advance and Advance SP iterations) and Nintendo DS defined the category. Platform-exclusive games, unique accessories and mild upgrades have made the consoles of that era cult classics. Nintendo even went on to experiment with 3D displays (successfully, might we add) as well as disc-like controls to replace the traditional stick. And that brings us to the modern era, where handheld consoles from Valve and Asus have gone beyond expectations, harnessing the same kind of power as a PlayStation 4 or Xbox One.
So, given the long history of handheld consoles and how they are making a comeback in 2023, it's time to ask the big question – which is the best handheld console of all time?
Since there are many strong contenders for the crown and a lot of factors to take into consideration, we decided to list out all of the handheld consoles that, over the years, have had a memorable impact on the gaming industry. In other words, while we will let you be the judge and decide which console deserves the crown, here are our top picks.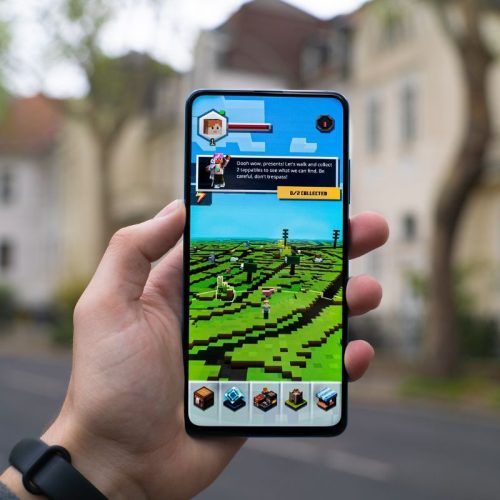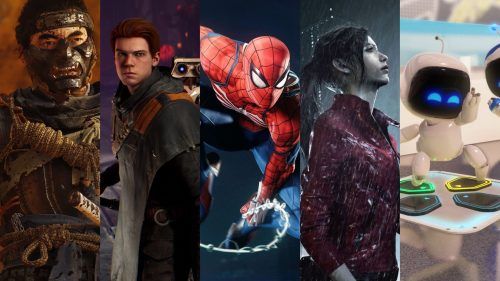 The best handheld gaming consoles of all time
Jump To / Table of Contents In the modern era, the Nintendo Switch has single-handedly defined what a handheld gaming console should be like. With its iconic detachable Joy-Cons in blue and red, the Switch has become a highly desirable console among gamers. Nintendo also offers some of the best, most exclusive games on the Switch and all of them are well-tuned to take advantage of the hardware. From Pokémon Scarlet and Violet to The Legend of Zelda, there are some incredible games to be played on the Nintendo Switch. Not to mention, the split controller mechanic only adds to the immersive experience of playing a game on the Nintendo Switch. 
Nintendo currently offers the Switch in two variants. There's a high-end variant called the Switch OLED that offers an OLED display with better picture quality. However, those seeking an affordable variant can consider the Switch Lite. Additionally, gamers can choose from a wide variety of accessories to enhance their experience.  
(Image Credits: Courtesy Nintendo) The Valve Steam Deck has pretty much changed the concept of a handheld gaming console. Unlike the Nintendo Switch which is a less capable machine, the Steam Deck basically runs all those games you get to play on a PC or the latest console. It runs the Steam game store as its OS and you can play all the PC games you bought from it on the Steam Deck as well. Add to it the split controller and a large 7-inch display, and your gaming needs are pretty much-taken care of.  
The AMD-powered Steam Deck isn't as capable as a high-end gaming PC, which is why you only get to play most of your games in medium graphical settings. However, Steam keeps updating the device frequently and games are being better optimised for the console. The downsides of having such a powerful console are the higher price and questionable battery life. However, the freedom to play your favourite PC games anywhere and anytime more than makes up for it. 
(Image Credits: Courtesy Valve) The Asus ROG Ally is built on the same concept as the Steam Deck i.e., run your PC/console games on a handheld. Unlike the Steam Deck though, the ROG Ally runs on Windows 11. This OS basically opens it up to all online game libraries. That's not all as the handheld is also optimised to run games from the Xbox and Steam digital stores. The hardware is also largely similar to the Steam Deck, with a fancy split joypad and a 7-inch 120Hz 1080p IPS LCD display. Since it's an Asus ROG product, don't be surprised to see a copious use of RGB lighting to liven the mood. 
Since this is a Windows 11 handheld, you get all of the usual Windows 11 benefits such as Windows Defender, frequent updates and the ability to use it as a mobile PC. The AMD Ryzen Z1 and Ryzen Z1 Extreme processors, along with the RDNA GPUs, are also capable of running most modern-day games with ease. Finally, players can dock the console to an external display for a full-on console gaming experience.  
(Image Credits: Courtesy Asus) Ladies and gentlemen, meet the OG!
Considered to be one of the best handheld consoles of all time, the Nintendo Game Boy pretty much started it all. In the 90s, a time when handheld consoles were battery guzzlers, the Game Boy stood out with its incredible battery life. Its iconic design inspired generations of Game Boy clones and the same can be said for its exclusive, highly-popular games. Be it Tetris, Donkey Kong Land, Super Mario Land, The Legend of Zelda, or of course, Pokémon Red and Blue, the Game Boy was home to some of the best handheld games of its generation. 
Above all, the Nintendo Game Boy was relatively affordable and when you consider all of its perks, it put handheld consoles in a league of its own. Despite all of the advancements we have seen in the gaming industry in 2023, the Game Boy still has its fans and you might even find online groups or forums still gushing over Nintendo's console.  
(Image Credits: Courtesy Unsplash / Patrick) Our list would be incomplete without mentioning the Nintendo 3DS. Announced in 2010 as a successor to the Nintendo DS, the 3DS was revolutionary for a console of its time. As its name suggests, the 3DS has a special 3D display that was able to deliver 3D effects without forcing you to adorn a pair of 3D glasses. The console also got rid of the joypad stick in favour of a disc, though this 'upgrade' wasn't appreciated by players. When you factor in the eight hours of battery life it offered, a Nintendo eShop and an incredible collection of games, it's not surprising to understand how the 3DS was a hit.
Later, Nintendo released a larger version of the 3DS (with bigger displays) called the Nintendo 3DS XL. To bring down the price, Nintendo also released a 2DS that did away with the 3D display. The 3DS family was supported until 2020 before Nintendo wrapped up its eShop. However, you can still find used versions running those hardware-locked games in the market at a much lower price. 
(Image Credits: Courtesy Pexels / Dids) Unlike the Nintendo consoles of its time, the Sony PSP (or PlayStation Portable) offered tremendous computing power, which led to the arrival of high-quality games on handheld consoles. Games like GTA: Chinatown Wars, Valkyria Chronicles 2 and Metal Gear Solid: Peace Walker really showcased the power of the PSP. The console looked premium too, complete with a glossy body and tactile buttons.  
The PSP wasn't a big success in the Western markets but Japan lapped it up pretty well. Hence, the PSP got to see a collection of great games over its lifecycle. Eventually, Sony dropped the PSP in favour of its successor, the PlayStation Vita.  
(Image Credits: Courtesy Unsplash/Shri) The PlayStation Vita was supposed to be a big step in the world of portable gaming consoles. Equipped with a mega OLED display, a more powerful processor and a dedicated library of PS Vita-exclusive games, the PS Vita was expected to be a big hit and the perfect successor to the PSP.
Unfortunately, that's not what happened. The public didn't lap it up and after struggling for a few years, Sony called time of death and axed the PS Vita.  
While its sales figures were lacklustre, Sony's gaming console is quite underrated. In fact, Sony ensured a great collection of exclusive games at its launch and in its later stages, indie developers gave it some great titles. The backward compatibility with PSP games was another plus. While the PS Vita's OLED display had a higher pixel resolution, it still managed to upscale the games without affecting the aspect ratio.  
(Image Credits: Courtesy Unsplash /Aleks Dorohovich) After delivering two commercially unsuccessful handheld consoles, Sony has had some time to go back to the drawing board and reimagine its strategy. What it's come up with is a radical approach to handheld gaming consoles. Instead of infusing compromised (read inferior) hardware under a compact display, Sony's latest Project Q concept relies on the power of the PlayStation 5. Project Q is essentially a handheld display with a split DualSense Controller that streams games from the PS5.  
Project Q relies on Sony's Remote Play to stream your game from your PS5. Sony says that you need high-speed Wi-Fi to make it work and since it has no cellular connection, most players can only use it within their homes. You can think of it as a small portable display for your PS5 when your TV is off or not working. 
(Image Credits: Courtesy Sony)
(Hero and Featured Image Credits: Courtesy Unsplash / Ravi Palwe)
Frequently Asked Questions (FAQs)
Question: Which is the best handheld console to buy in 2023?
Answer: The Nintendo Switch OLED and Asus ROG Ally are among the best handheld gaming consoles to buy in 2023.
Question: Which is the most popular gaming console?
Answer: The Sony PlayStation 2 is considered to be the most popular gaming console of all time.
Question: Who is the leading manufacturer of handheld gaming consoles?
Answer: Nintendo is considered to be the leading manufacturer of handheld gaming consoles. The Game Boy, DS and 3DS are some of its popular handheld gaming consoles.
Question: Which is the most powerful gaming console?
Answer: The Microsoft Xbox Series X is currently the most powerful gaming console in the market.
written by.
Amritanshu Mukherjee
Amritanshu lives and breathes tech, cars, Formula 1, space stuff and everything that delivers an adrenaline rush. Since 2016, he converted his favorite hobby of going all gaga over iPhones and Lamborghinis into his profession; hence, you aren't likely to be surprised upon checking his browser history. In his spare time, he loves to drive and explore food joints, but will somehow end up with a plate of Chicken Biryani and a big smile. He has previously written for Hindustan Times, India Today, BGR.in, and Deccan Chronicle.