A beautiful island located near the southern part of Peloponnese, Kythira island stands out for its Medieval architecture, secluded beaches and wonderful natural setting. In fact, Greek mythology says that Kythira was the birthplace of goddess Aphrodite, which is why there was a sanctuary to her honour on the island.
In Antiquity, Aphrodite held sway in many realms: sex, marriage, fertility, sailing, civic order, even war. The breadth and diversity of Aphrodite's powers meant that a single city might have multiple shrines, each dedicated to specific aspects of the goddess. In this case Kythira was dedicated to the aspects of love and desire. Hermes Un Jardin à Cythère Parfum: A Whisper of a Summer Breeze
As an island where the summer sun shines almost all year round, Kythira's hot winds envelop you, singing in the tall grasses and the trees while its gentle breeze brings a radiant smile to your lips, even if Aphrodite was a legend of myth, the natural environs of the Greek province are undeniably sensual, serving as a naturalistic proxy for the inspirational goddess.
A blond garden that grows without rain or the human hand alongside olive trees, fresh pistachios and grasses exude a scent so powerful that you are instantly transported away. Though you are really smelling a mixture of oxygenated hydrocarbons that include methanol, ethanol, acetaldehyde and acetone, called green leaf volatiles (GLV), it smells so good because we associate this with summer and weekends! "My garden grew close to the ground, but when I looked up, I discovered the presence of olive trees, planted likethe backbone of the blond hair formed by the grasses.I also saw the vivid flesh of a pink pistachio, fresh and tender like rosy cheeks." – Christine Nagel, Hermès perfumer
According to Ian Baldwin, a plant ecologist and founding director of the Max Planck Institute for Chemical Ecology in Jena, Germany, "fruits and plants release the molecules as they soften and the membranes inside them break down because throughout evolutionary history, we've used that information to know when something is ripe."
How does one capture wild nature and bottle it? For this seventh opus in the Hermes Parfums-Jardins collection, Perfumer Christine Nagel recreated her very first trip to the island of Kythira, in the Peloponnese, essentially capturing nature's essence in the bottle.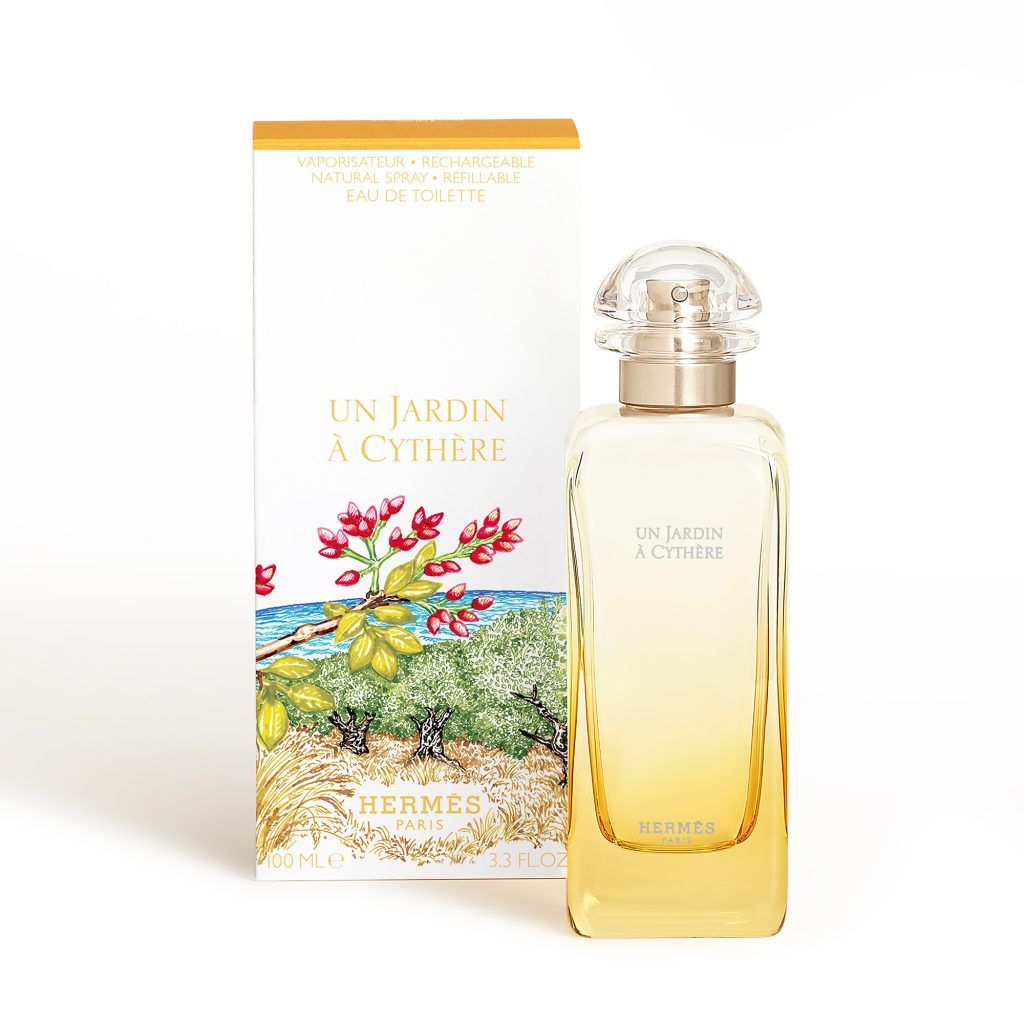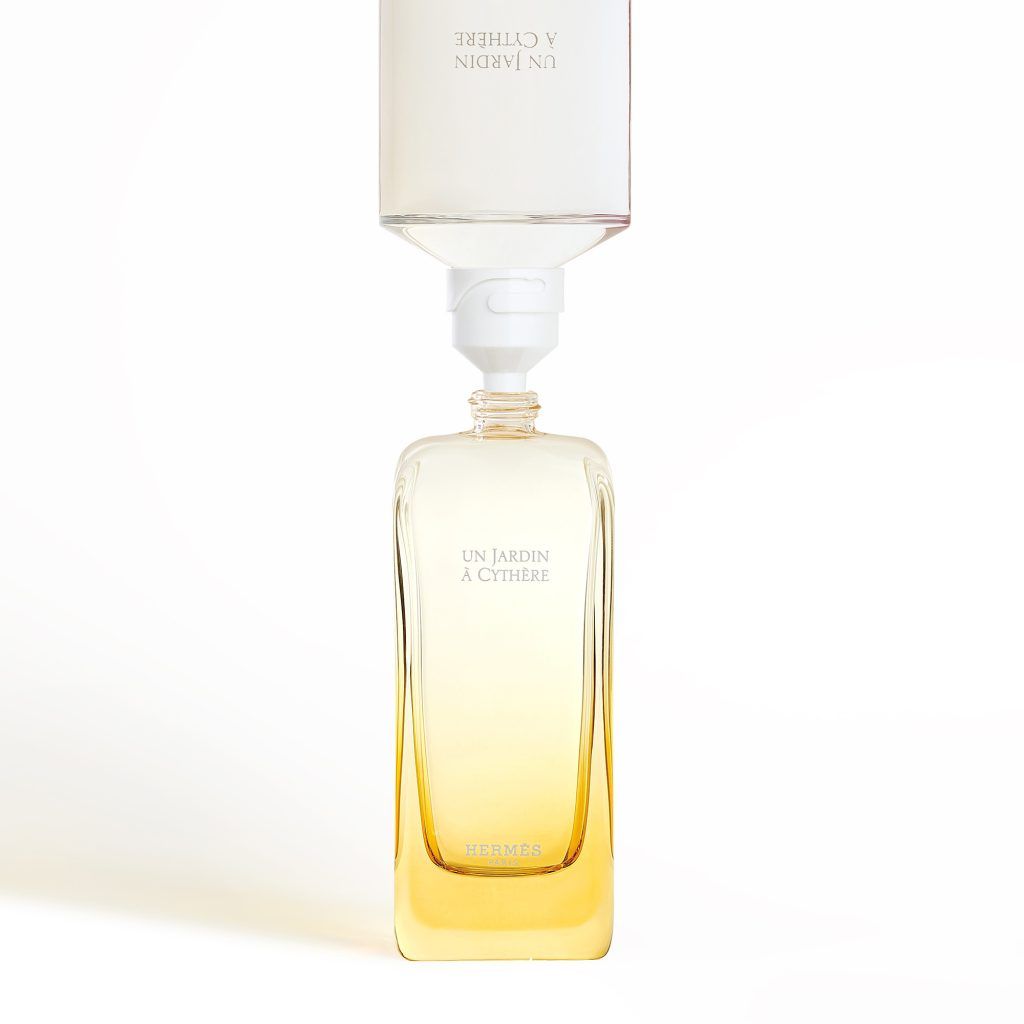 The iconic lantern-shaped bottle is offered in three classic formats: 30 ml, 50 ml and 100 ml while the box is illustrated by Greek artist Elias Kafouros, whose distinctive style is achieved using ink, pen and paint. His detailed compositions have inspired the designs of many Hermès scarves, including Eleftheria, meaning"freedom", created in 2021 for the bicentennial of Greek independence.
Un Jardin à Cythère is a garden of memories, born of recollections of travels around Greece and elevated by Hermès' in-house perfumer. Depicting the grass browned by the sun and caressed by the wind, the pink of the fresh pistachios and the green of the olive trees against the blue backdrop of the sea, Kafouros brings together all the components of Un Jardin à Cythère.
Un Jardin à Cythère is also available as a sustainable 200ml refill.
written by.
Jonathan Ho
Managing Editor
Jonathan Ho might have graduated with a business degree but he thumbed his nose at commerce and instead opted for a harder life in journalism. He edits Augustman, a title he first joined when he became a writer after a career in advertising and now, earns a living writing commentaries on the luxury industry.