Inspiration comes in many forms. For Louis Vuitton, its latest fragrance leverages off elements characterised by the extravagant beauty of America's Pacific Coast. Louis Vuitton Pacific Chill serves an odyssey of scent inspired by the dramatic landscape and vibe of California's West Coast.
Pacific Chill, the latest creation by Master Perfumer Jacques Cavallier Belletrud, is a daring work of olfactory innovation. It reveals impressions of Los Angeles, a phantasmagorical city whose complexities, moods and atmospheres that provides constant inspiration for Belletrud, allowing him to build a truly Californian adventure.
Like an invigorating sensation that exhilarates the senses and leads the way to plenitude with sweet notes that caresses the skin, Louis Vuitton Pacific Chill captures nature's energies. A fragrance with a cool, purifying vibe, inspired by California's renowned health and wellness culture, Pacific Chill was crafted to rally the senses, uplift the spirit, and to introduce a detox-like effect. It channels the regenerative vigour of the infinite ocean, an energizing force central to both body and spirit in search of a sense of balance and well-being.
Like Daybreak Over The Ocean Characterized by an ethereal, fruity mist and floral depth — this fragrance, like each Louis Vuitton Cologne Perfume, tells a story about light: from the gentle glow of daytime sun to the sparkling lights of a city at dusk.
The newest addition to this collection – Pacific Chill – captures a sense of well-being, vitality and the pleasures that come from the light of a new day warming the skin. Like a deep breath before a tranquil ocean, it stimulates all five senses and attunes them to the reawakening of the City of Angels under a crystalline sky. According to Belletrud, the fragrance is largely inspired by detoxifying smoothies that Californians love. Approaching this idea, the master perfumer reveals that he attempted to transcribe, through emotion, the well-being effects of that fruity blend. "Blackcurrant has a truly interesting temperament. It's vibrant, fruity, almost like a raspberry but lighter, and it's also a concentrate of leaves held aloft by notes of cedrat and lemon," he reveals.
"Blackcurrant's character is fickle, which I amplified with a blend of coriander and ambrette seeds, basil, peppermint and orange essence. From the carrot seed I extracted an essence developed in Grasse." Belletrud adds that the essence of carrot tempers the impact of the blackcurrant's green tones, which are as frontal as a painting by Gauguin.
"The carrot has an iridescence, with creamy, velvety accents of apricot, date and fig. It brings a lot of depth; it lends structure. A hint of May Rose offers floral sweetness and seals the alliance."
Visual Representation But it's not just Belletrud's mastery on show with Louis Vuitton's latest offering to the world of fragrances. As a creative collaborator for the Parfums de Cologne collection by the Maison Louis Vuitton, Los Angeles-based contemporary artist Alex Israel has once more brought his signature visual sensibility to this fragrance.
Like his artistic contributions before, this perfume also captures a snapshot of his oeuvre, a faceted collection of visual accompaniments that form a cohesive narrative whole. For Pacific Chill, Israel has painted a California land-and-seascape as if it were an invitation to a secret Palisades hike. From a perch overlooking the Pacific Ocean, he might seem to replenish himself, immersed in the energy of this idealized place. An original and exclusive image realized for Louis Vuitton, it captures the indelible emotion of gazing out toward the horizon.
This new "impression of the morning sun" envelops Pacific Chill in the shine of dawn's early light. Israel's palette of verdant green with touches of iridescent blue render Pacific Chill as a creation born of calm, cool, and serenity.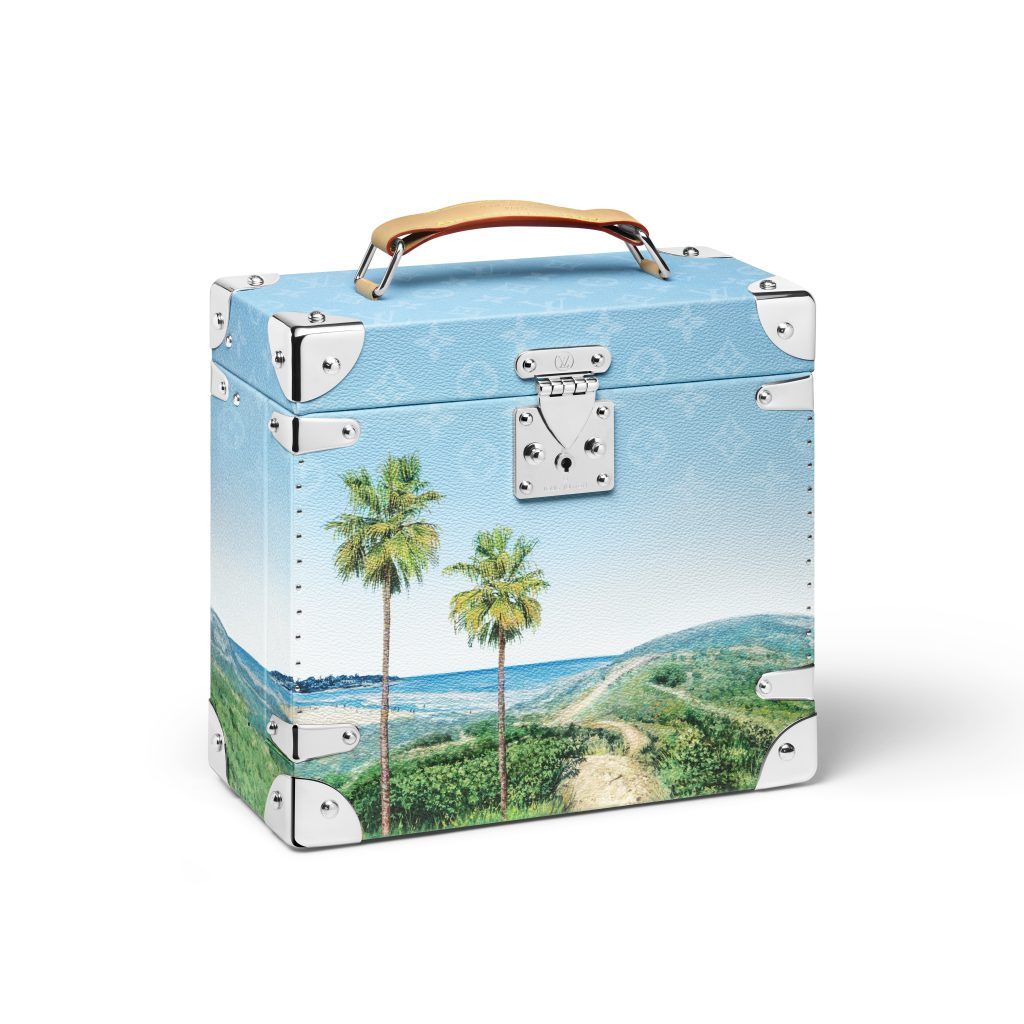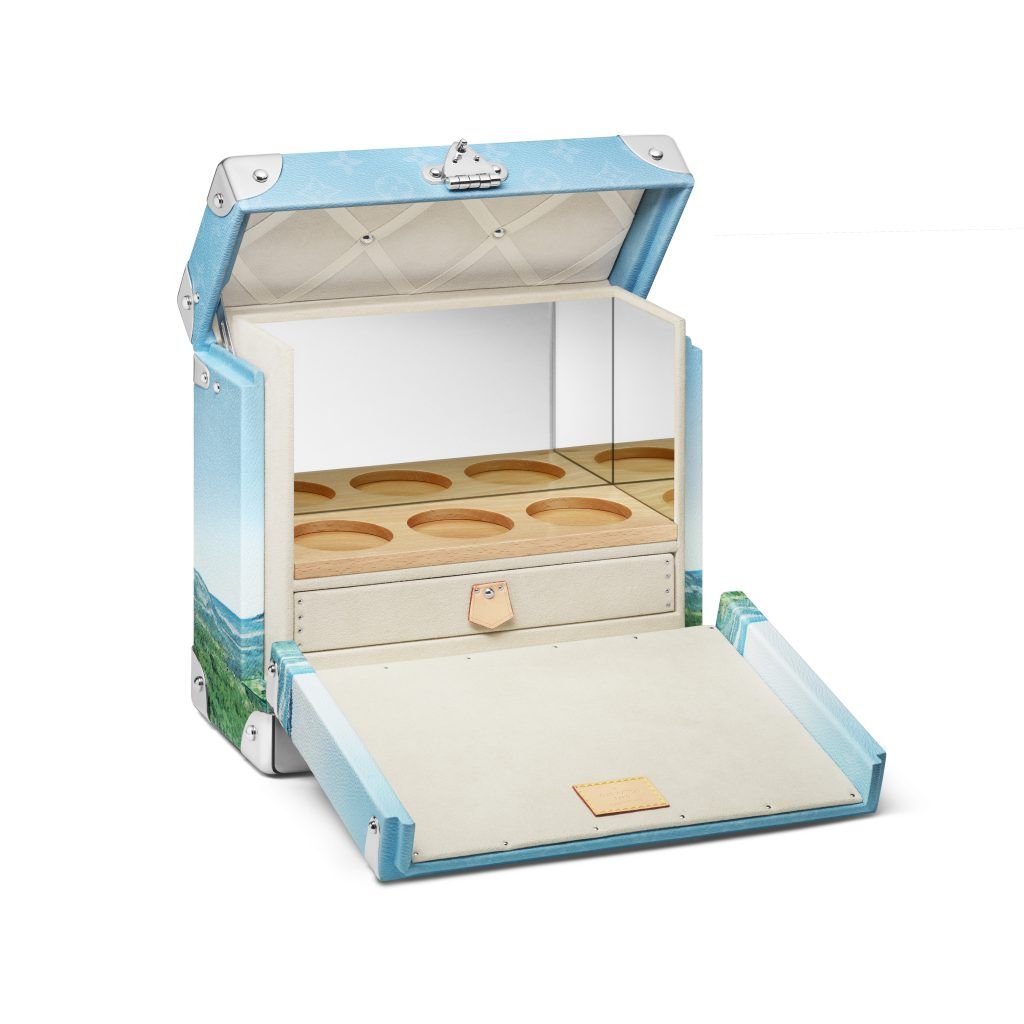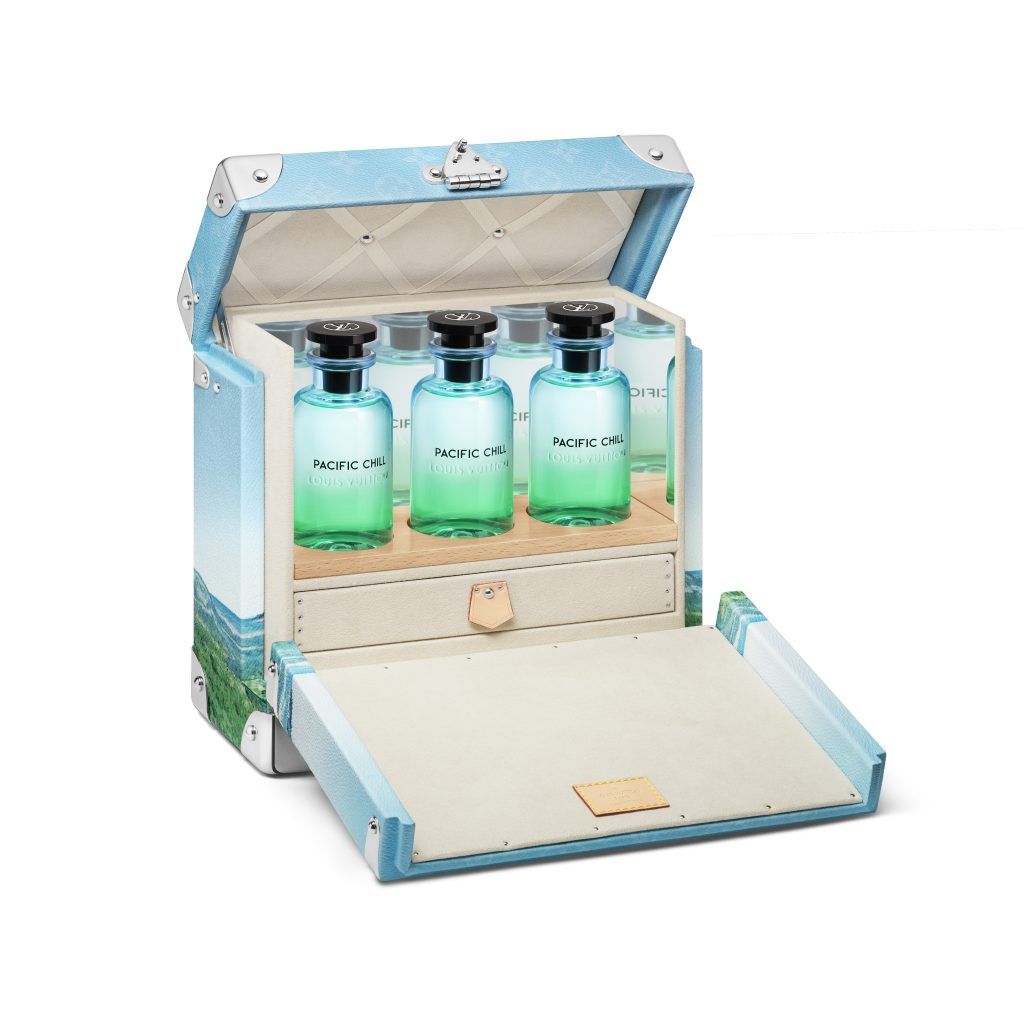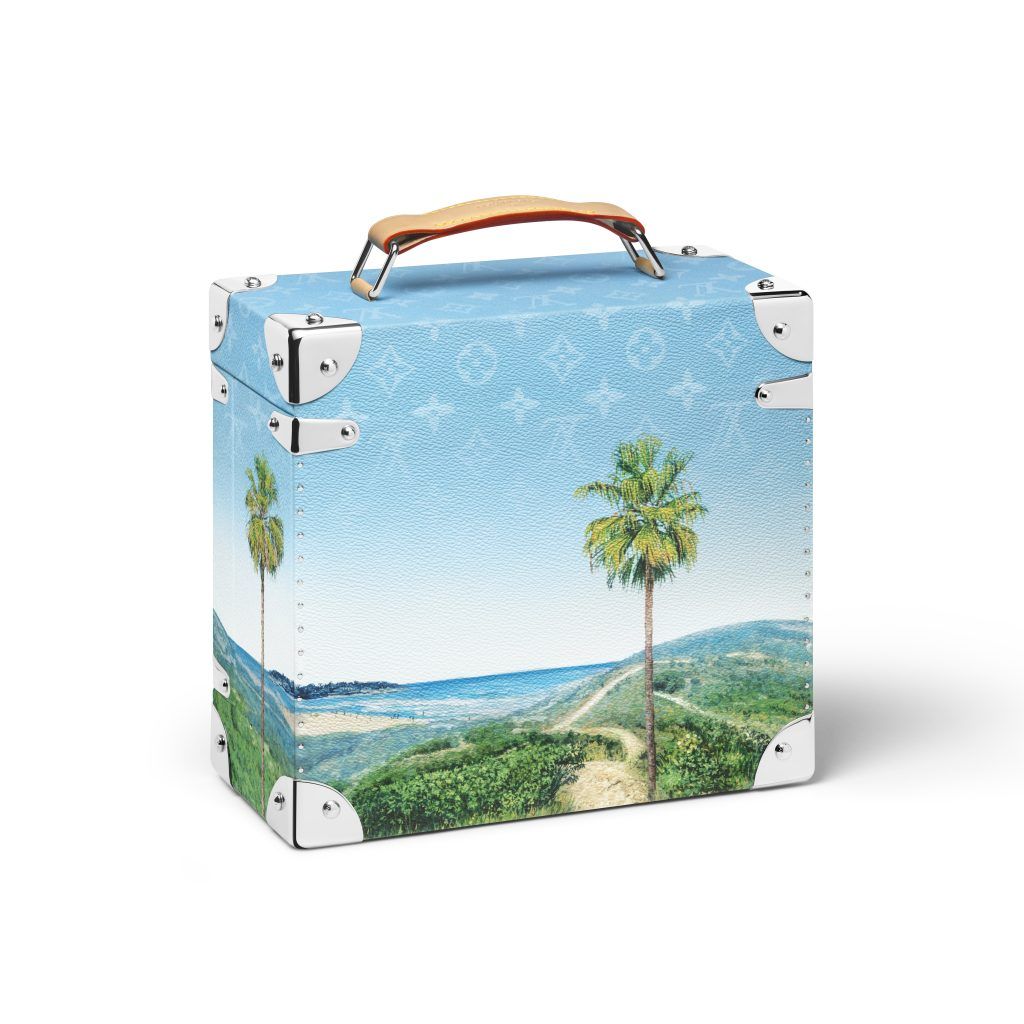 Louis Vuitton Pacific Chill Parfum de Cologne is accompanied by a Fragrance Trunk and a Travel Case that reprise Israel's painting on Monogram canvas, – a testament to the Maison's savoir-faire.
(Images: Louis Vuitton)