With a range of luxury amenities, cities like Singapore and San Francisco are much sought-after destinations to live in. However, every good thing in life comes at a price. Wondering how much? Take a look at some of the most expensive cities in the world where renting is an extravagant affair.
In the ever-growing landscape of urban living, the scramble for rented properties often leads to spiralling prices. According to the 2023 Wealth Report by Knight Frank — a leading independent real estate consultancy — global prime rents saw an increase of 10.2 per cent in the third quarter of 2022. The increase in the fourth quarter was around 10.3 per cent.
Meanwhile, the Urban Land Institute (ULI) Asia Pacific Centre for Housing's 2023 Home Attainability Index named Singapore as the most expensive Asia-Pacific city for private homes. The data revealed that private rental homes in Singapore have a monthly value of USD 2,600 (SGD 3,449 approximately). An influx of immigrants looking for luxe living and young professionals leaving family homes for independent accommodations are two main factors contributing to the rise.
The ULI's data was further validated by a June 2023 Bloomberg report on expensive cities, which stated public and private residential rental costs in Singapore have soared by 38 per cent and 43 per cent respectively since 2021.
From booming job markets to better healthcare — the world's largest cost of living database, Numbeo, provides insight into what makes these cities so expensive with its rent index score. Their data collection process involves a combination of manual information from governmental institutions and user-generated input.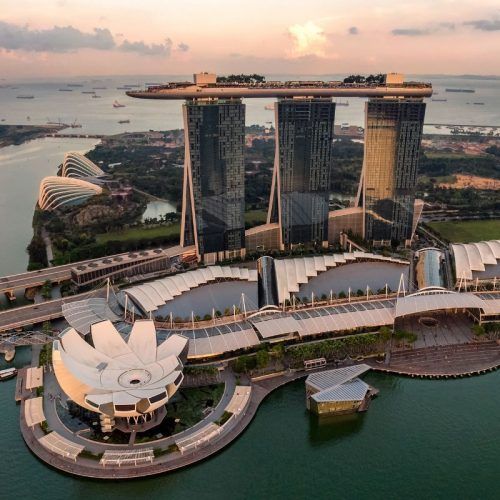 Here are some of the cities across the world where renting will cost you a fortune
New York City Cost of Rent Index Score: 100
Home to the world's most expensive rented accommodations, New York City is the leading centre of banking, finance, and communication in the US. One of the most significant reasons why the Big Apple is so expensive is its ever-growing population and demand for housing.
The city has an average monthly rent of USD 3,746 for a one-bedroom apartment, according to the data shared by World of Statistics.
Not just that. The 2023 cost of living rankings compiled by mobility solutions company ECA International also found that NYC is considered an expensive city to live in for expatriates due to soaring inflation.
In May 2023, New York Post reported that the average Manhattan apartment rental in April, which was USD 4,241, saw a 1.6 per cent increase from March's USD 4,175 median price.
Furthermore, the Douglas Elliman and Miller Samuel report on Manhattan, Brooklyn and Queens rentals for 2023 stated that Brooklyn broke a new record in January 2023 for an average rental price of USD 4,165. It constituted a surge of nearly a third from the previous year.
Singapore Cost of Rent Index Score: 97.1
One of the most prosperous city-states in the world, Singapore has been a consistent name in the list of the world's most expensive cities to rent in, for years.
According to a 2023 Statista report, apartment leases dominate the Lion City's rental market with a market volume of around USD 10.87 billion (SGD 14.42 billion) in 2023.
The report further reveals that "the revenue is expected to show an annual growth rate of 13.19%, resulting in a market volume of USD 33.52 billion (SGD 44.47 billion) by 2028".
ULI's Home Attainability Index in 2023 concludes that Singapore's exorbitant rent is caused due to increasing migrants, delays in building completion and youngsters moving out for their own space and freedom, making it one of the most expensive cities. Renters have to shell out an average monthly expense of USD 3,704 (SGD 4,914 approximately) for a one-bedroom apartment, according to World of Statistics.
Hamilton Cost of Rent Index Score: 92.2
After Singapore, this port city in the Canadian province of Ontario is one of the most expensive places in the world to live on rent. Mostly known for its industrial heritage, award-winning Hamilton Gardens, gourmet restaurants and unique urban feel exuded by its vibrant art scene and bustling downtown, it has a reported average monthly rent of USD 3,222.
According to Rentals.ca, an agency that tracks rental listings across Canada, the city witnessed a surge of 15.7 and 11.6 per cent in one and two-bedroom suites respectively in May 2023 in comparison to May 2022.
Additionally, a one-bedroom rented suite in the city was estimated at around USD 1,877 while a two-bedroom accommodation was estimated at around USD 2,310 per month, as of June 2023.
San Francisco Cost of Rent Index Score: 91.4
This cultural and financial hub in the US is the third most expensive city in the world for the highest one-bedroom median rents. According to a June 2023 Statista report, the median monthly apartment rent for a one-bedroom apartment in San Francisco Bay Area was the highest in Mountain View as of May 2023, at USD 3,500 approximately.
A 2019 Business Insider report attributed the bay area's high cost of living to its thriving tech industry and adjacency to Silicon Valley.
The city had an average monthly rental rate of USD 3,168 in June 2023, reports LA Times (via real estate site Zillow).
According to sources, the average rent in San Francisco is USD 2,193 for a studio apartment, USD 2,865 for one-bedroom apartments, USD 3,927 for two bedrooms apartments, and USD 5,250 for three-bedroom apartments, as of July 2023.
San Diego Cost of Rent Index Score: 76.5
This city features some of America's highest-priced rental properties, with units offering unmatched views of the San Diego Bay, outrageous bedrooms and bathrooms, spacious grilling areas, on-site fitness centres, yoga rooms and dog parks.
According to Zillow's June 2023 rental market report, San Diego emerged as the top city with an average rent of USD 3,175, surpassing San Francisco as a more expensive city for renters. This marks a remarkable increase in rent rates since February 2023 when the rates were 29 per cent lower than that of San Francisco.
As of July 2023, San Diego ranks in the top three highest rental cities in the US.
Speaking about the same, Zillow's senior economist Orphe Divounguy said that the surge in rent in San Diego "actually peaked at 19% in June of 2022. It's now down to 5.3% when compared to a peak of only 10% in San Francisco".
George Town Cost of Rent Index Score: 76.4
The capital and largest city in the Cayman Islands, George Town is considered one of the most popular cruise ship destinations in the Caribbean.
Known for its favourable weather, sandy white beaches and clear waters, renters have to shell out an average monthly expense of USD 2,815 for a one-bedroom apartment in this city, according to World of Statistics.
One of the most sought-after cities for renters, George Town is tax-free as no income or corporation taxes are levied from both citizens and non-residents in the Cayman Islands. However, the government does collect fees and import duties, thereby making groceries and online shopping expensive in the city.
Livingcost.org reports that the average cost of living in George Town is USD 3,090. This makes for the top 0.3 per cent of the most expensive cities in the world as listed in the website's global list.
San Jose Cost of Rent Index Score: 74.9
Popular for its high living standards and ample job opportunities, this vibrant city is located in the heart of Silicon Valley.
According to sources, the overall median rent in San Jose stands at USD 2,497 as of July 2023 — marking a 0.7 per cent surge in prices from the previous month. Additionally, a June 2023 report by the LA Times (via Zillow) stated that San Jose had a monthly rent of USD 3,411.
The publication further pointed out that according to Zillow's Observed Rent Index, rents across the US increased 0.6 per cent from May to June 2023. This is estimated for an average nationwide rent of USD 2,054 — 4.1 per cent higher in comparison to 2022.
Zillow senior economist Jeff Tucker said that San Jose boasts sky-high rents due to "Really great quality of life, California weather, access to ocean and mountains, along with access to the highest paying industry in the country: the tech industry".
Washington, DC Cost of Rent Index Score: 74.4
Several factors contribute to making Washington, DC one of the most expensive cities in the world to live on rent.
An annual study by ApartmentList.com, which looks at the overall cost of living for the 100 largest cities, reports that the median rent for a one-bedroom apartment in the nation's capital is around USD 1,811. In contrast, for a two-bedroom apartment, it is USD 1,789 approximately.
In addition, the median rent in Washington, DC is 35.3 per cent higher than the nationwide average.
Furthermore, according to an April 2023 WTOP News report, the city is 53 per cent more expensive to live in than the national average with rent prices 2.5 times the national average.
Boston Cost of Rent Index Score: 73.7
Popularly called Beantown, Boston is the capital of the Commonwealth of Massachusetts and one of the most historic cities in the US.
In November 2022, CNBC (via Zomper) stated that scarcity of housing is one of the main reasons for Boston experiencing a spike in rental prices. Most new rental properties side towards the luxury market, thus resulting in even higher median rent prices.
The publication also reported the median price for a one-bedroom rental in Boston to be USD 3,060 per month — the amount marking a 6 per cent surge from October 2022.
Additionally, World of Statistics revealed that the city has an average monthly rent of USD 2,808 for a one-bedroom apartment.
Zürich Cost of Rent Index Score: 71.3
The financial capital of Switzerland sitting at the north end of Lake Zürich is considered the priciest Swiss city to rent in with an average cost of nearly USD 2,000 for a single rent holder.
According to Numbeo, the median rent for a one-bedroom apartment in City Centre is USD 2,786 per month, while outside of the City Centre, it is approximately USD 1,974.
Sharing a study by the city council of Zürich in November 2022, I Am Expat reported that the most expensive apartments to rent in the city are the newly built ones.
The study also stated that a two-year-old two-room apartment at that time had a monthly average rent of USD 2,399 in Zürich.
(The list is based on the real-time data provided by Numbeo, as of 20 July 2023.)
(Hero and featured image credit: Swapnil Bapat/Unsplash)
This story first appeared on Prestige Online Singapore
Frequently Asked Questions (FAQs)
Question: Which city is the most expensive for rent?
Answer: Some of the most expensive cities for renting accommodations are New York City, Singapore, Hamilton, San Francisco, San Diego, George Town, San Jose and Washington, DC.
Question: Which city has the highest rent in India?
Answer: Some of the cities in India with the highest rent rates are Mumbai, Bengaluru, Chennai, Chandigarh, Hyderabad, Pune, Kolkata and Delhi.
Question: What is the most expensive country to rent in?
Answer: Some of the most expensive countries to live on rent in are the USA, Switzerland, Australia, South Korea, Cayman Islands, Ireland, China, Canada, United Arab Emirates, Denmark, Qatar, France, Iceland, Bahamas, United Kingdom, Germany, Puerto Rico, Cyprus, Israel, Portugal, Sweden, Netherlands, Italy, Malta, Czech Republic, Austria, Japan, Poland, Bahrain, Maldives, Panama, Mexico, Thailand, Barbados, Serbia, Slovakia and Fiji.
written by.
Sushmita Mahanta
A PhD research scholar, Sushmita is a full-time writer and a part time poet. Notepads are Sushmita's one true love -- the unbothered victims drowned in the ink of her pen. An avid fan of K-pop and K-dramas, she mostly writes about Korean culture and entertainment. When not writing, Sushmita is dancing, reading, collecting books, learning about fashion, art, motion pictures, and appreciating BTS.