"It does not do to dwell on dreams and forget to live." It is hard to believe that it has been over two decades since Albus Dumbledore (Richard Harris) said these words in the first film of the Harry Potter series, Harry Potter and the Sorcerer's Stone (2001). While the magic is still alive in our heads and Potterheads continue believing it's real, the cast and crew of the Harry Potter films have long graduated from Hogwarts and travelled far beyond Platform 9 ¾. Actors Daniel Radcliffe, Emma Watson, Rupert Grint, Tom Felton and others who have played irrefutable parts in the films have made successful acting careers and it is interesting to see where is the cast now.
The eight films based on the seven books by JK Rowling have shaped the childhood of millions across the globe in a way that the actual muggle world seems like a harsh reality without an escape in a flying car. The fact that the final film, Harry Potter And The Deathly Hallows: Part 2, was released over a decade ago may make Potterheads shout "Accio" to summon a time-travelling portkey.
The Harry Potter franchise has garnered over USD 7.5 billion globally, which makes it the third highest-grossing movie franchise after Marvel Cinematic Universe and Star Wars, mentions US Magazine. It established some of the finest child actors and had an excellent ensemble of veteran actors too, many of whom continue to stay in the limelight.
In 2021, fans saw the grown-up trio — Radcliffe, Watson and Grint — as they visited the long corridors of the school of witchcraft and wizardry to celebrate 20 years of the release of Harry Potter and the Philosopher's Stone (it was released as Sorcerer's Stone in the US). They relived the days of being at a Harry Potter film set while narrating behind-the-scenes incidents and facts.
And now, as a new Harry Potter TV series has been announced by HBO Max with Warner Bros, Rowling's evergreen classic is set to return in a different way. While a completely new cast is being inducted, it is a good time to see what the previous cast members are up to.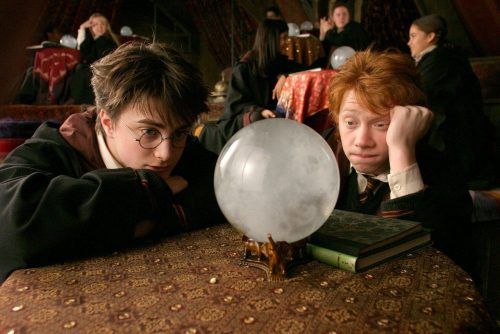 Here is a sneak-peak into the lives of the OG Harry Potter cast members
Jump To / Table of Contents
01
Daniel Radcliffe — Harry Potter Daniel Radcliffe took the world by a spell when he donned the round glasses and wore wizard robes to appear as the titular character who fights the Dark Lord. Since then, his life has never been the same.
After Harry Potter and the Deathly Hallows: part 2, Radcliffe starred in numerous projects across genres such as the horror film The Woman in Black (2012), where he played lawyer Arthur Kripps, and Horns (2013), as Ig Perrish. He starred in Kill Your Darlings (2013), What If (2013), science-fantasy flick Victor Frankenstein (2015) and Trainwreck (2015) too. In 2016, Radcliffe appeared in Swiss Army Man as Manny and Now You See Me 2 as Walter Mabry, which were followed by his appearance in the comedy series Miracle Workers (2019). The following year he starred in the Netflix special Unbreakable Kimmy Schmidt: Kimmy vs. the Reverend. He also acted opposite Channing Tatum and Sandra Bullock in The Lost City (2022) and in Weird: The Al Yankovic Story (2022), the biopic of 'Weird Al' Yankovic.
Besides these films, Radcliffe has also made a considerable impact on stage and has acted in Broadway shows like How to Succeed in Business Without Really Trying, The Cripple of Inishmaan and The Lifespan of a Fact. In 2022, he also featured in New York Theatre Workshop's Off-Broadway production of Merrily We Roll Along.
Daniel Radcliffe and his long-time Erin Darke welcomed their first child in April 2023.
Image: Courtesy Daniel Radcliffe/ IMDb
02
Emma Watson — Hermione Granger Since Emma Watson played the quintessential nerd Hermione Granger, she has continued to wow audiences with her sharp acting skills besides being the friend-in-need in the series that we all want.
After the Harry Potter film series, Watson worked in My Week with Marilyn (2011), The Perks of Being a Wallflower (2012), The Bling Ring (2013) and Noah (2014). She also graduated with a bachelor's degree in English Literature from Brown University in 2014. In 2017, the British actress became a Disney Princess when she played Belle in Bill Condon's remake of Beauty and the Beast. The same year she worked in The Circle which was followed by her role as Meg March in the remake of Little Women (2019).
Besides having a prolific acting career, Watson is an active advocate of gender equality and women's rights and is a UN Women Goodwill Ambassador.
Image: Courtesy Emma Watson/ Instagram
03
Rupert Grint — Ron Weasley Although playing Ron Weasley was a life-altering decision as it led 11-year-old Rupert Grint to stardom, the actor later revealed in 2023, that the experience was rather "suffocating." Having to go through filming for the major part of the year and spend the rest promoting it became overwhelming for him. When the Harry Potter movies ended, he "wanted a break" to take stock of things.
Grint worked on Into the White (2012) which is based on World War II, the biographical drama CBGB (2013) and Charlie Countryman (2015). In 2017, he forayed into television with the UK series Snatch and Sick Note and then starred in M. Night Shyamalan's Servant in 2019. In 2022, he starred in Guillermo del Toro's Cabinet of Curiosities. In 2013, he also took his first step on the stage with the West End play Mojo and the following year, acted in the Broadway play titled It's Only A Play.
Recently, he starred in Shyamalan's horror film Knock At The Cabin (2023). In 2020, Rupert Grint welcomed his first child, daughter Wednesday G Grint, with girlfriend Georgia Groome.
Image: Courtesy Rupert Grint/ Instagram
04
Tom Felton — Draco Malfoy Draco Malfoy from the House of Slytherin was perhaps one of the best on-screen bullies that everyone loved to hate. He continued his villainous streak in Rise of the Planet of the Apes (2011) but has majorly worked on small-budget projects. His works include The Apparition (2012), Belle (2013) and In Secret (2013).
The former Harry Potter cast member made a successful TV career and played Julian Albert in the third season of CW's The Flash (2014 – 2023). In 2018, Felton starred in the sci-fi title Origin and played Laertes in Ophelia the same year. In 2019, he starred in Braking For Whales and the following year, Felton worked in the Netflix family horror flick, A Babysitter's Guide to Monster Hunting, based on the books of the same name by Joe Ballarini.
Felton is also a musician and has released several extended plays (EPs) which include YoOHoO (2021). He wrote a memoir in 2022, titled Beyond the Wand: The Magic and Mayhem of Growing Up a Wizard. The book reveals his tryst with alcoholism and substance abuse. Previously he dated stunt assistant Jade Olivia Gordon and according to Maire Claire. Felton addressed his deep friendship with Emma Watson and said, "We are something, if that makes any sense. We've been very close for a long time. I adore her."
Image: Courtesy Tom Felton/ Instagram
05
Maggie Smith — Professor Minerva McGonagall Even before she became the renowned Transfiguration professor at Hogwarts, Minerva McGonagall, Maggie Smith had a successful theatre and acting career and is known for her roles in Othello (1965), Death on the Nile (1978), Sister Act (1992), The Secret Garden (1993) and Richard III (1995).
While working on the Harry Potter films, she starred as Violet Crawley in the Downton Abbey series between 2010 and 2015 and again in the 2019 movie. Some of her other works include The Best Exotic Marigold Hotel (2011), The Lady in the Van (2015) and a voice-over in Sherlock Gnomes (2018).
Smith has also appeared in the Netflix holiday film titled A Boy Called Christmas (2021) and reprised the role of the strong matriarch in Downton Abbey: A New Era (2022).
Image: Courtesy Justin Tallis/AFP
06
James and Oliver Phelps — Fred and George Weasley The real-life twins who played the older Weasley brothers, Fred and George, solemnly swore to be up to no good in the films. But after the Harry Potter saga was over, they continued working on acting assignments. During the filming, James reportedly worked as a gofer on the sets and did the same on the sets of The Da Vinci Code (2006) as well.
Both brothers pursued their individual acting careers and came back to work together on Danny and the Human Zoo (2015), Patchwork (2015), 7 Days: The Story of Blind Dave Heeley (2019) and Last Night in Soho (2021). They are actively engaged in meeting with fans and conducting tours of the franchise. The twins also have a podcast called Normal Not Normal that has brought together many Harry Potter fans. Their Instagram pages show them to be sports enthusiasts as well.
Image: Courtesy James Phelps/ Instagram
07
Helena Bonham Carter — Bellatrix Lestrange Acclaimed British actress, Helena Bonham Carter, played the Dark Lord's most trusted follower and a dangerous death eater. And, she doesn't shy away from playing eccentric characters on screen.
Since the wrapping of the Harry Potter movies, Carter has starred in Dark Shadows (2012), Les Misérables (2012), Alice Through the Looking Glass (2016) and Cinderella (2015). In 2012, she also reunited with Robbie Coltrane and Ralph Fiennes for the adaptation of Charles Dickens' Great Expectations.
Carter has also starred alongside Millie Bobby Brown as Eudoria Holmes in the Enola Holmes movies and portrayed Princess Margaret in seasons 3 and 4 of The Crown.
Image: Courtesy Frederic J. Brown/ AFP
08
Ralph Fiennes — Lord Voldemort Fiennes had already become a well-established name with some incredible projects to his credit even before he portrayed He-Who-Must-Not-Be-Named aka the Dark Lord. These include Wuthering Heights (1992), Schindler's List (1993) and Maid in Manhattan (2002).
He appeared as Hades in Clash of the Titans (2010) and after bidding adieu to Harry Potter, reprised his role with Wrath of the Titans (2012). He also joined the James Bond films — Skyfall (2012) as Gareth Mallory, and Spectre (2015) and No Time To Die (2021) as M.
Fiennes starred in Wes Anderson's The Grand Budapest Hotel (2014) and recently in The Forgiven (2021) and The Menu (2022).
Image: Courtesy Ralph Fiennes/ IMDb
09
Bonnie Wright — Ginny Weasley After Harry Potter, Bonnie Wright continued her acting career and also dipped her fingers in directing. Her stage debut was in London with The Moment of Truth (2013) and in 2014, she participated in The Great British Bake Off. She also acted in a couple of independent films and her filmography includes Before I Sleep (2013), After the Dark (2013), and Who Killed Nelson Nutmeg? (2015) and A Christmas Carol (2018).
Soon after wrapping up the magical series, Wright established her own production company BonBonLumière, which produced a handful of short films. However, she has deviated from being on-camera to directing. Such projects include Separate We Come, Separate We Go (2012) and music videos such as Pete Yorn and Scarlett Johansson's single, "Iguana Bird," in 2018.
She is a full-fledged climate change activist. A Greenpeace ambassador, Wright has founded her online platform 'Go Gently' to build a community to tackle climate change. She also released her first book, Go Gently: Actionable Steps to Nurture Yourself and the Planet, in April 2022. The same year, Wright married Andrew Lococo in a private ceremony.
Image: Courtesy Bonnie Wright/ @thisisbwright/ Instagram
10
Michael Gambon — Albus Dumbledore After Richard Harris passed away, Gambon took up the role of Albus Dumbledore from Harry Potter and the Prisoner of Azkaban (2004). Gambon, who was already an established actor, continued working on projects such as the PBS series Little Women (2017), and films like Victoria & Abdul (2017), Kingsman: The Golden Circle (2017) and Judy (2019). In 2015, he worked with Rowling again for the BBC television adaptation of her novel The Casual Vacancy.
Image: Courtesy Leon Neal/ AFP
11
Matthew Lewis — Neville Longbottom The shy and timid Gryffindor member is remembered for his heroism in the final battle of Hogwarts. And while Neville Longbottom has left the school, Lewis continues to star in films and series.
He reportedly stepped into theatre in 2011, but his West End debut came in 2012 with Our Boys. Continuing his acting career, Lewis appeared in Me Before You (2016) and Terminal (2018), which also stars Margot Robbie. BBC One's The Syndicate (2012-2021), Death in Paradise (2011), BBC Three comedy drama Bluestone 42 (2013-2015), Girlfriends (2018) and Channel 5's All Creatures Great and Small (2020), comprise his other acting ventures.
In May 2018, Lewis married Angela Jones, whom he had met at a Harry Potter party.
Image: Courtesy Matthew Lewis/ Instagram
12
Alfred Enoch — Dean Thomas Although Enoch's role as Dean Thomas, a fellow Gryffindor, was not too prominent, it did pave the way for a bigger career. The Brazilian actor appeared in the Shonda Rhimes series, How To Get Away With Murder (2014 – 2020), as Wes Gibbins alongside Viola Davis' character of Annalise Keating. He has also starred in other titles such as This is Christmas (2022), Foundation (2021) and Trust Me (2017-2019) in the year 2019.
Image: Courtesy Chris Delmas/ AFP
While the following actors are not amongst us any more, the movies would not have been so memorable without their contributions.
13
Robbie Coltrane — Rubeus Hagrid Without the sweet and gentle half-giant, Hagrid, Harry wouldn't have become the wizard he was and Coltrane portrayed the role impeccably.
In 2011, he gave his voice to Arthur Christmas and the Pixar project titled Brave (2012). He also starred in Great Expectations in 2012 and later achieved success in TV as well. In 2016, he starred alongside Harry Potter cast member Julie Walters (who played Molly Weasley) in the Channel 4 drama series National Treasure.
His other acting credits also include James Bond films GoldenEye (1995) and The World Is Not Enough (1999) as Valentin Dmitrovich Zukovsky. Coltrane passed away in October 2022, aged 72 years.
Image: Courtesy Carl Court/ AFP
14
Alan Rickman — Professor Severus Snape Though acclaimed British actor Alan Rickman passed away in 2016, his contribution to the Harry Potter films and other projects make him forever illustrious. Before portraying the mysterious Potions professor, Rickman's repertoire included titles like Die Hard (1988), Sense and Sensibility (1995) and Galaxy Quest (1999).
An alumnus of the UK's Royal Shakespeare Company, Rickman starred in The Butler (2013) and Gambit (2012) and worked with Grint in CBGB. He stepped in the shoes of King Louis XIV in A Little Chaos (2014) and appeared in the thriller flick, Eye in the Sky (2015). He has also played a prominent role in the critically acclaimed film, Perfume: The Story of a Murderer (2006).
Alice Through the Looking Glass (2016) remains his final credit which was released posthumously.
Image: Courtesy Justin Tallis/AFP
(Main and featured image: Courtesy Harry Potter and the Sorcerer's Stone/ IMDb)
This story first appeared in Lifestyle Asia India 
written by.
Trinetra Paul
Trinetra is an ardent foodie and bibliophile who writes about films, travel, food and lifestyle. As a writer and literature student, slam poetry and storytelling are her go to jam. When not working, Trinetra is busy looking for her next place to visit or binge-watching Instagram videos for travel inspiration.