AUGUSTMAN was in attendance when the Duke of Sussex, Britain's Prince Harry, took to the verdant polo pitch of the Singapore Polo Club for the Sentebale ISPS Handa Polo Cup on the 12th of August 2023. The Cup was a charity event to raise funds and awareness for Sentebale, the non-profit organization started in 2006 by two princes – Harry himself, and Prince Seeiso of Lesotho. 'Sentebale' means 'forget me not' in Sesotho, a word used in contexts of love, friendship and kinship.
The charity supports children suffering from HIV/AIDS, as well as at-risk and poverty-stricken children in Lesotho and Botswana. It took inspiration from the humanitarian work done in sub-Saharan Africa by Harry's mother herself, Princess Diana, and was first conceived to run programmes such as network clubs and camps to help children and adolescents struggling with the aforementioned disease. The Duke of Sussex played for the Sentebale Royal Salute team, named for the charity organization, as well as Royal Salute, the blended Scotch whisky brand that has supported the charity as a partner and sponsor for the past 13 years. Playing alongside Harry is his close friend, Argentinian polo legend Nacho Figueras. This echoes the last time Prince Harry was in Singapore, back in June 2017, when he led Sentebale Royal Salute alongside Nacho at the 2017 Sentebale Royal Salute Polo Cup to raise funds for Sentebale as well. Just like six years ago, the Sentebale Royal Salute team played against Singapore Polo Club. Over four hard-fought chukkas, the match ended in a 7-7 tie, with Harry a central figure, smiling and cheering, enjoying himself as he played one of his favourite sports. It was a win-win-win situation: the audience were treated to an exciting, edge-of-the-seat game of polo, Singapore Polo Club proved that they could hold their own against a star-studded team, and Prince Harry was able to raise awareness and funds for his charity and appeared to have a lot of fun while doing so.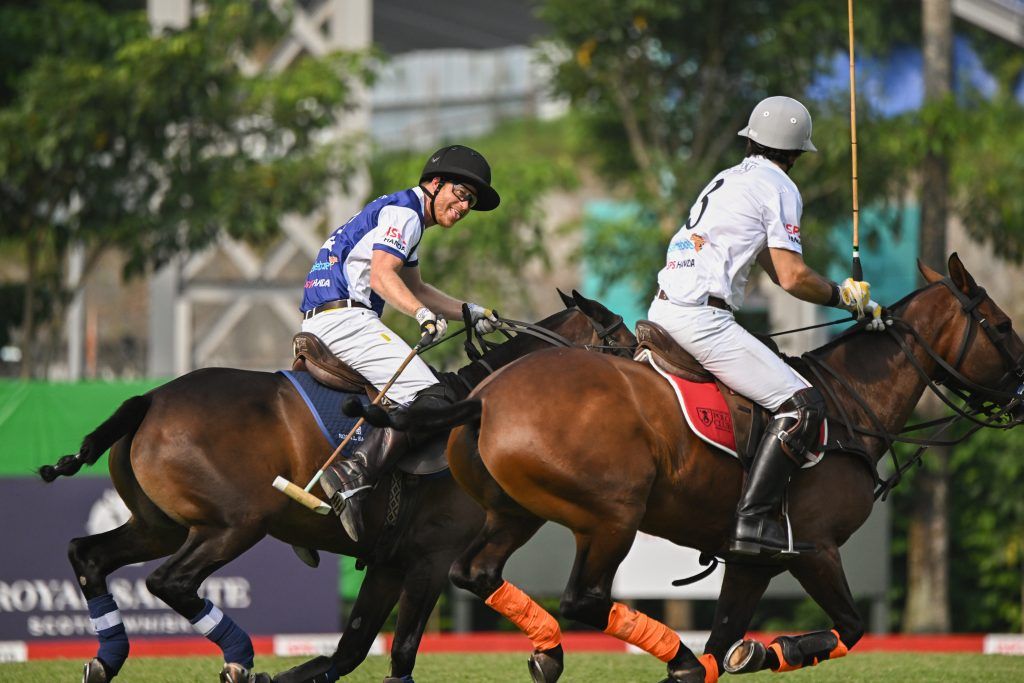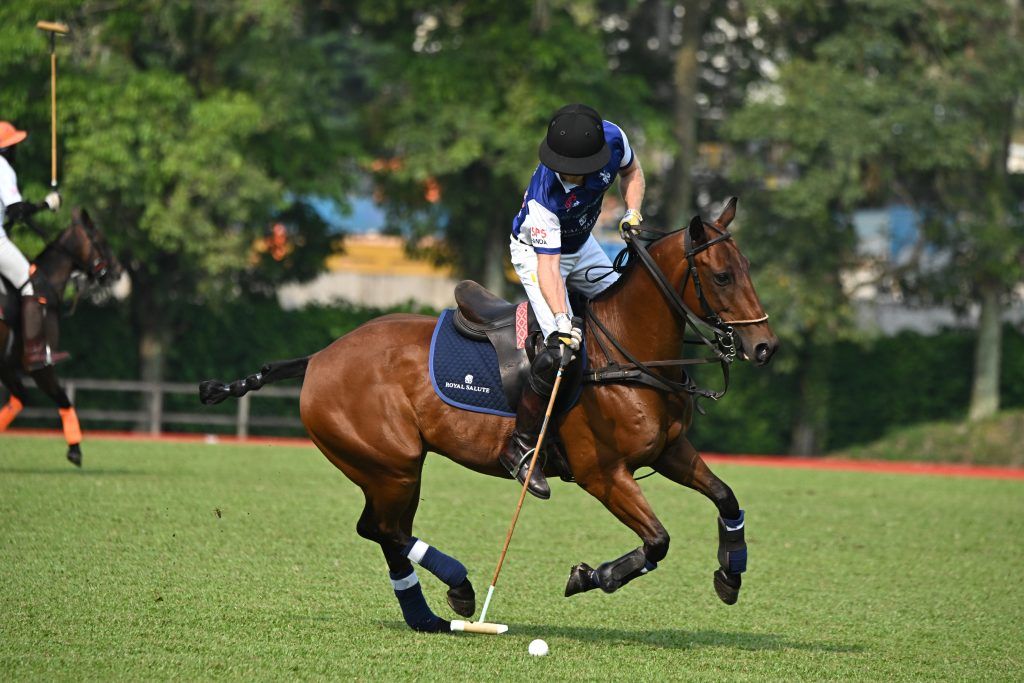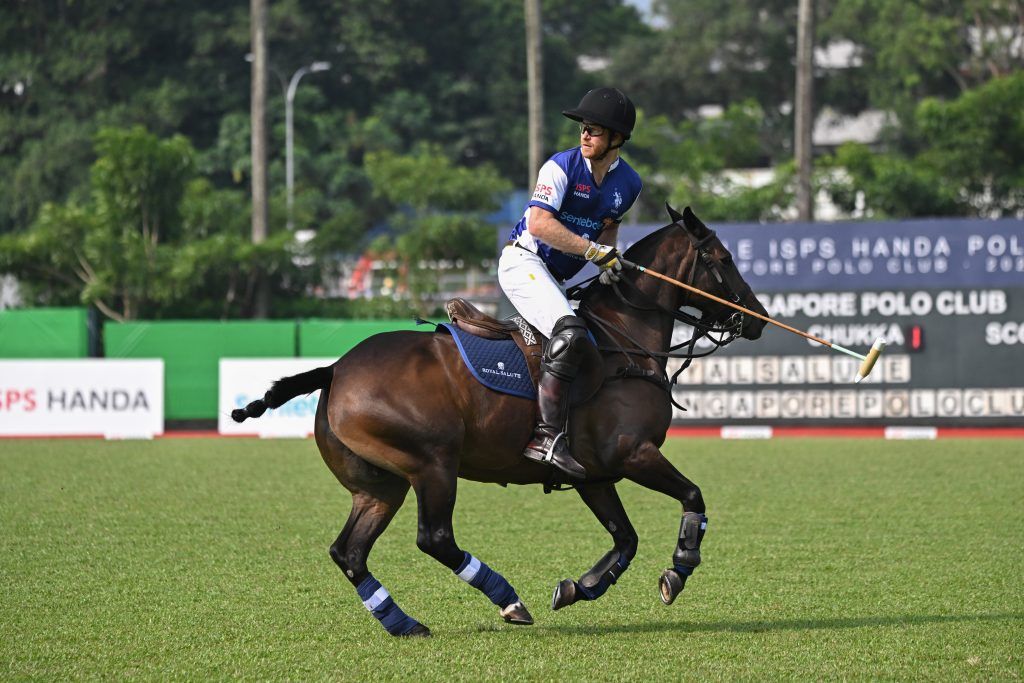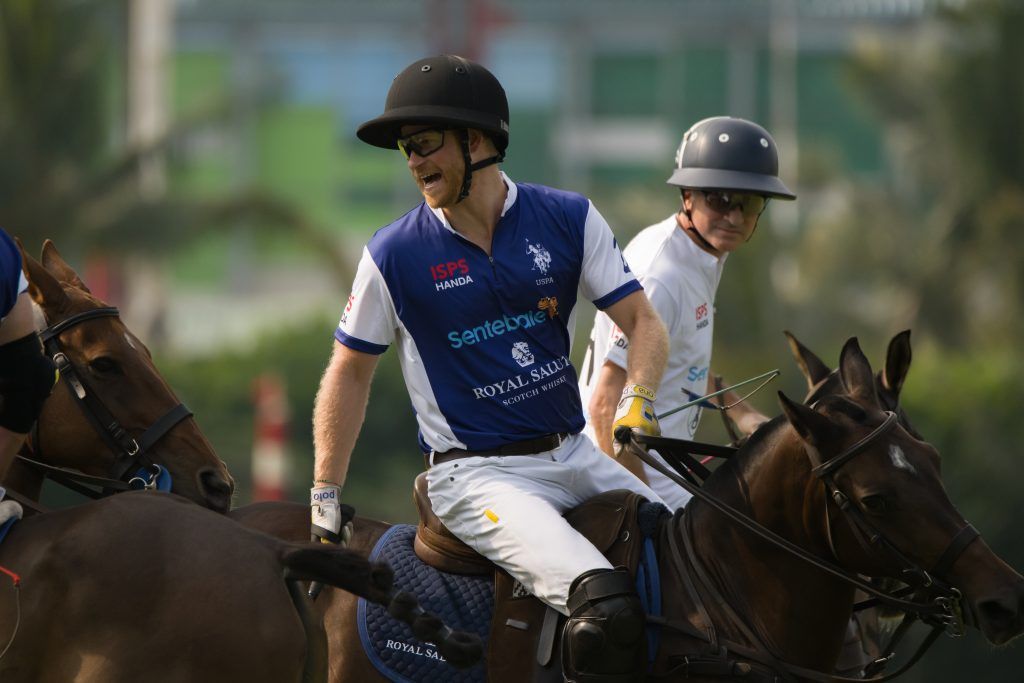 The day ended with a scrumptious dinner at The InterContinental Hotel, where Harry thanked the many people who have supported Sentebale over the years, as well as the sponsors for this year's Cup – Singapore Polo Club, InterContinental Hotels Group (IHG), U.S. Polo Assn., Coriander Leaf, ISPS Handa and, of course, Royal Salute.
The event was also an opportunity for us to sample the newly unveiled Royal Salute 21 Year Old Jodhpur Polo Edition, the latest in the brand's iconic Polo Collection. The whisky, with a stunning flavour profile with notes of sweet mangos and coconut, rich caramel and warming cinnamon cloves leading to a long and spicy finish. Royal Salute Master Blender Sandy Hyslop drew inspiration from the city of Jodhpur in northwest India when crafting the whisky, stating, "I always focus on telling the story of an expression when I am crafting a new release and so I was naturally drawn towards the iconic flavours of India when crafting the 21 Year Old Jodhpur Polo Edition. With every sip, this expression transports you to the magic of Jodhpur."
The whisky was a central part of the epicurean side of the polo event, with its bars serving drams and cocktails of the new expression.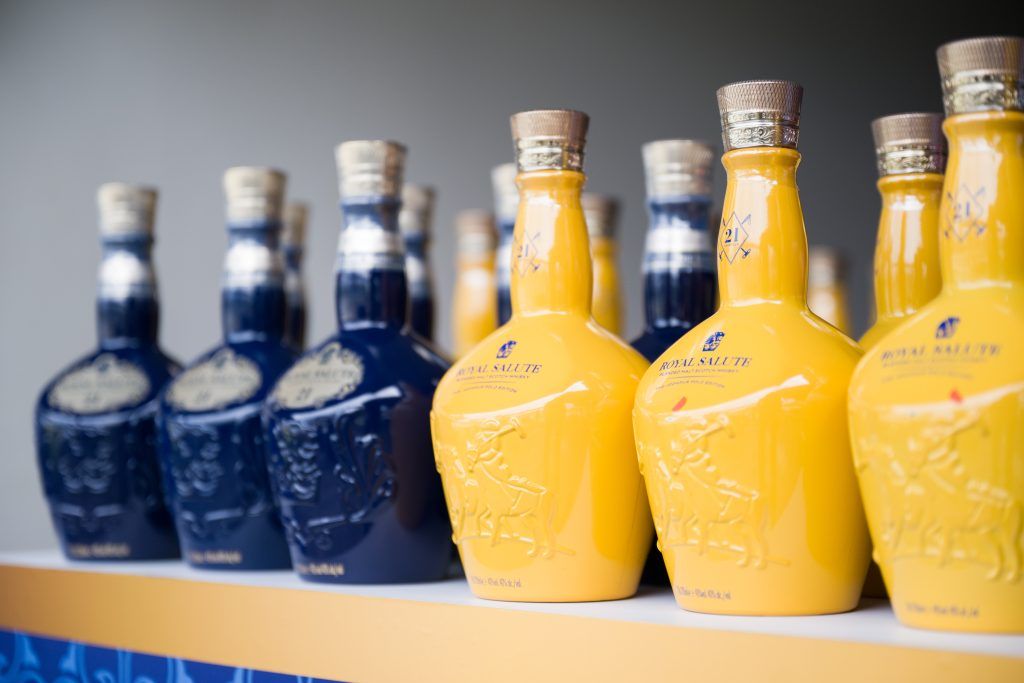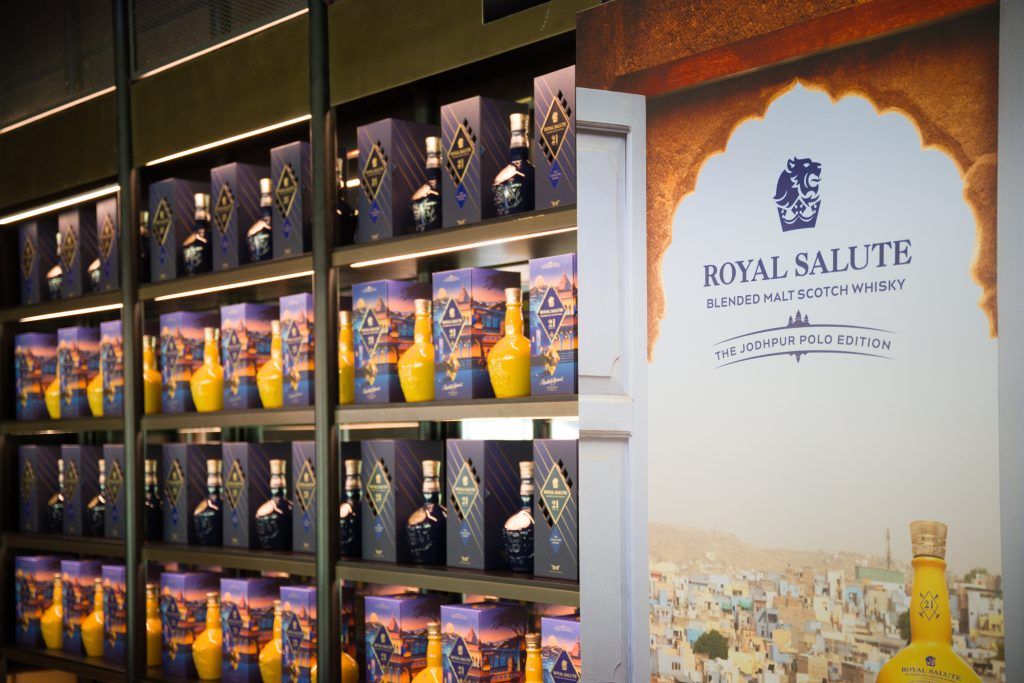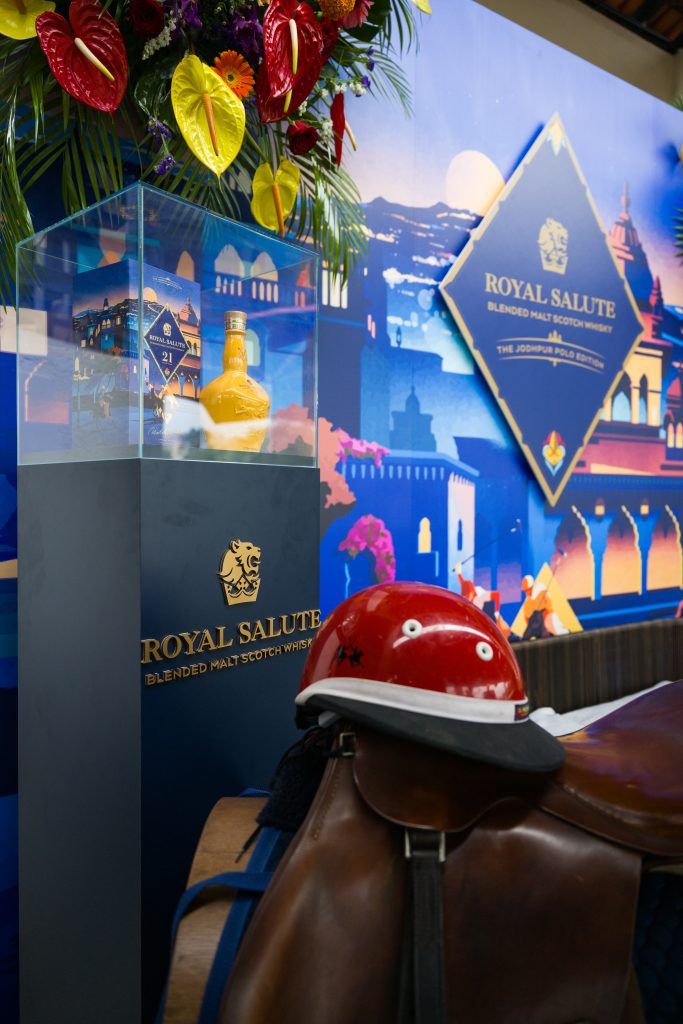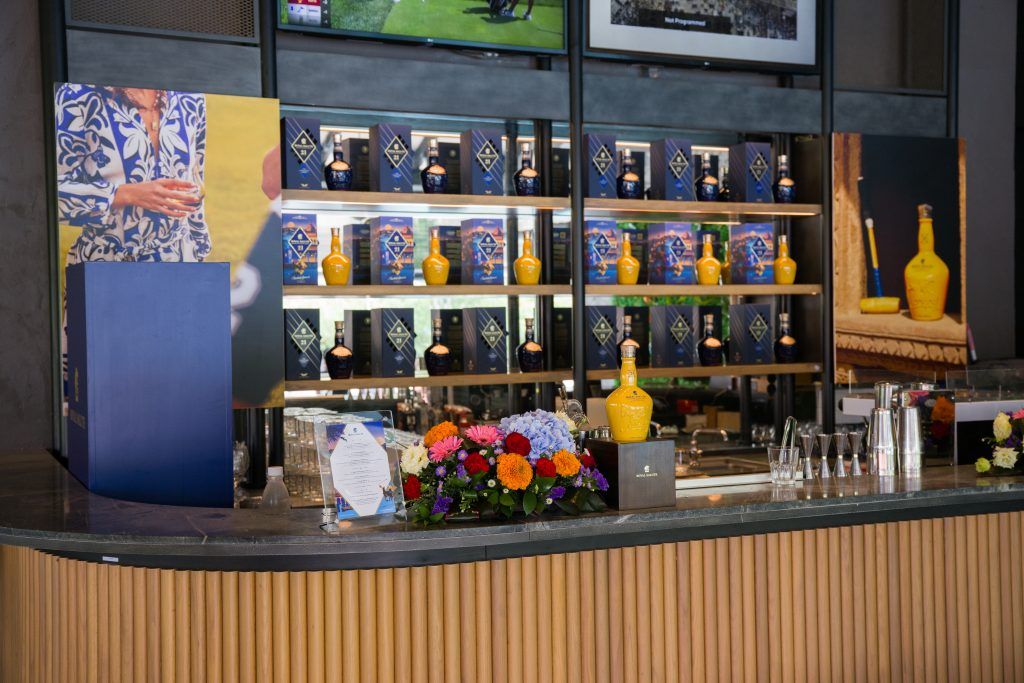 Seated two tables from Prince Harry's at the dinner reception at The InterContinental Hotel, we were treated to a firsthand view of the Duke of Sussex in a relaxed situation. The Prince still bears the mark of his years as a royal – a gentlemanly bearing, a subtle air of authority and command, that general spirit of being among the people but keeping his distance simultaneously.
But as he sat there in the ballroom of The InterContinental Hotel – a building thousands of normal Singaporeans pass by everyday – conversing, smiling, dressed in a linen suit and trousers, he seemed almost normal. The friends, donors, colleagues and business partners around him made him look more like celebrity CEO rather than a man who was once hailed as central to bringing a millennia-old monarchy into the 21st century.
As we watched him, we began considering our place as journalists, near this public figure, this person of interest for international scrutiny.
Harry had spent a good part of 2023 making headlines, both on purpose and inadvertently. His memoir, released in January this year, made a number of explosive claims about his family, including that his father, the now King Charles, had put his own interests ahead of his children's and that his brother, Prince William, had physically attacked him. In March, he was criticized for accepting a $1 million payday to speak at a conference in Florida hosted by a controversial cryptocurrency company. In July, he was criticized for his decision to travel to the UK for the unveiling of a statue of his mother, Princess Diana, but then not attending a memorial service for his grandmother, Queen Elizabeth II. Some people believe that he is ungrateful and disrespectful to the royal family, while others believe that he is simply trying to live his own life.
But on that day at the Singapore Polo Club and The InterContinental Hotel, the stories and gossip felt far away, a distant memory or possibly a figment of the imagination. You forget about them. The headlines fall away. On that day, under the Singaporean sun, they felt unimportant, insignificant. It was more important for us, even as members of the media, to show hospitality, and respect to a man who, on that day at least, was trying to do good in the world.
Whatever your opinion on Harry, you can't deny that he has, at the very least, immense social capital – the ability to bring people together, and galvanise them towards common cause. He might not have the same capital he had as a serving member of Britain's royal family, but on that August Saturday, as he played polo and spoke to guests about his charity, you could not help but be impressed by the potential of his personage to improve the world, Netflix and Spotify deals be damned.
And for that, I give the Duke of Sussex a salute – perhaps not a royal one – but a salute nevertheless.
written by.
Suffian Hakim
Senior Writer, Augustman Singapore
Best-selling novelist, playwright and screenwriter Suffian Hakim is AUGUSTMAN Singapore's Features Editor. He writes articles on arts, culture, entertainment, cars, watches, travel and more - all in an effort to properly investigate and define that nebulous, all-encompassing L-word: lifestyle.