'Can't Stop' by Red Hot Chilli Peppers is blaring over the National Stadium as Tottenham Hotspur and their opponents, local team Lion City Sailors, take to the pristine green turf for the opening game of the Singapore Festival of Football. It was an upbeat song to kick off what has been an upbeat festival. Before I entered the Media Zone, I had a quick bite in Kallang Wave Mall – there were scores of fans in Spurs and Lion City Sailors jerseys, and more trickling in from Stadium MRT station.
Of course, being mostly Singaporean, they were polite, orderly. If you've ever taken the tube in London to White Hart Lane station (closest one to the majestic Tottenham Hotspur Stadium) for a Premier League game, it'll be shoulder-to-shoulder in the cars, and the crowd would be loud and rowdy, beer cans in hand.
But there was a palpable excitement in the air nevertheless. The Fanzone outside Kallang Wave Mall was a flurry of activity, with photo booths, a small futsal pitch, and even a stage. Selfies and wefies were taken. Club anthems were sung or chanted.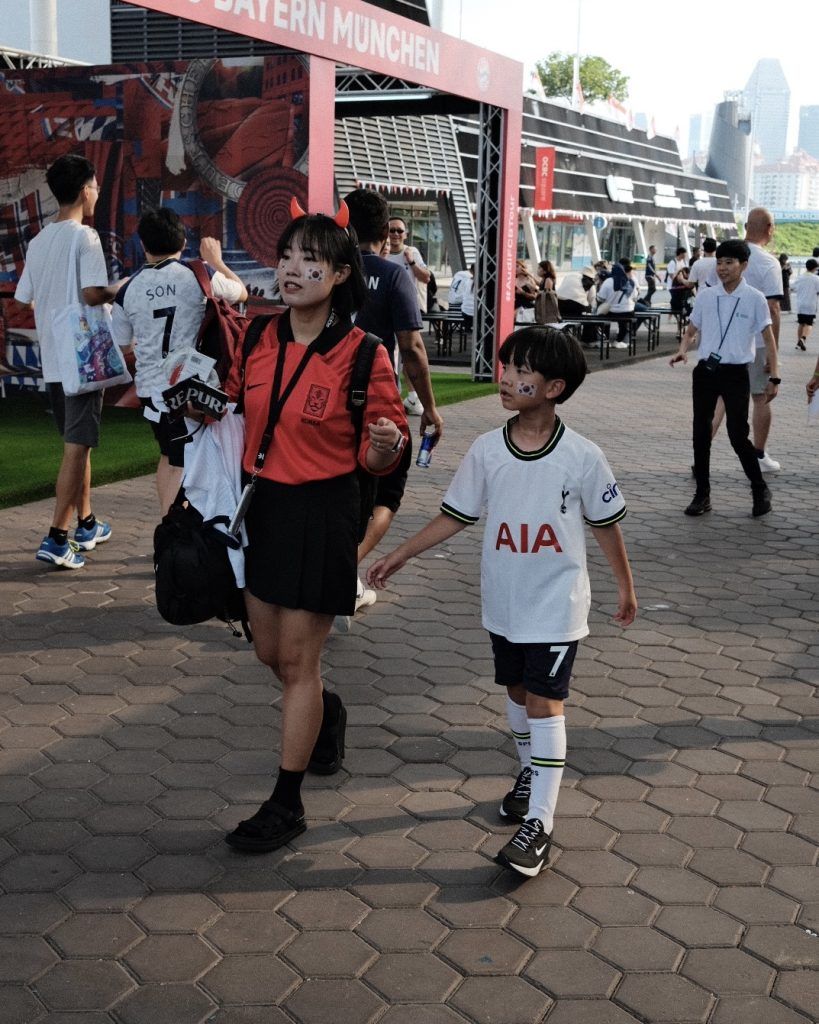 The Singapore Festival of Football, sponsored (or 'driven', as per the marketing collaterals) by CDG Zig, will run until 3rd August and will see the likes of Bayern Munich, Liverpool, Leicester City and the aforementioned Tottenham Hotspur go head-to-head in a series of exhibition matches. Making up the numbers is local club Lion City Sailors, stepping in for Jose Mourinho's Roma, who had to cancel their trip to our shores.
There are peripheral activities as well, including football clinics in local schools, the aforementioned festival space/Fanzone outside Kallang Wave Mall, as well as numerous marketing and Public Relations activations (Son Heung-Min and Richarlison, for example, brought the house down at the Tumi store in ION Orchard).
Speaking of Son, and coming back to the game I was watching, he was clearly the biggest draw here. His face is all over the collaterals for the Festival. We at Augustman love Son Heung-Min a lot. A whole lot. And it's clear Singaporeans do too. Every time he touches the ball, there is a swell of excitement. Every successful pass or dribble is met with of cheers from the 25000-strong crowd. The opening match was a footballing triumph, a reminder of the beautiful game and its various expressions. Tottenham played an energetic, free-flowing game as they played a high defensive line and a high press. Lion City Sailors were technically and physically weaker, but were nevertheless tactically astute, playing deep and defending with tight man-marking, looking for opportunities to launch counter-attacks. One of those counter-attacks was surprisingly successful as 32-year-old Singaporean Syawal Anuar scored by dinking a cheeky toe-poke over Spurs keeper Guglielmo Vicario in the 14th minute. For a good half an hour, the Lion City Sailors held on to their lead, frustrating Spurs, before a lapse in concentration resulted in a penalty for Spurs, which captain Harry Kane dispatched with trademark composure and finesse. Chants of 'Come on You Spurs' – with a slight Singaporean twang – echoed through the National Stadium. Eventually, a hat-trick by Brazilian star Richarlison sealed the win for Spurs. Another goal by Argentinian playmaker Giovani Lo Celso wrapped things up, and the North London side came away 5-1 winners. That need for #SupportLocal
Lion City Sailors, a team comprising of mostly local footballers, with our nation's nickname in its title, had a small but very vocal contingent occupying several rows of the National Stadium's West Zone. Some of their courageous plays – necessary since they were mostly defending against a dominant Tottenham Hotspur – did draw applause from the crowd. Overall, however, the crowd was more supportive of Spurs.
When Singaporean Syawal Anuar scored, I was on my feet – Lion City Sailors' Belgian winger Maxime Lestienne delivered a sumptuous, inch-perfect cross, and Anuar's improvised finish was smart and instinctive. The 80% of the crowd wearing Spurs' Lilywhite – most of them Singaporeans I would like to remind you – sat in stunned silence, save for a smattering of applause from some quadrants.
Perhaps therein lies the issue that the Football Association of Singapore (FAS) and the S-League is trying to solve – local support for local football. #SupportLocal has been ringing in Singapore's literary, music and art scenes. Perhaps it is time we consider what that might mean for local football.
Nevertheless, the football presented by the visiting teams is admittedly top-class. We're reminded first-hand why we pay Singtel all that money just so we can get to watch Premier League games live.
A presentation in World Class
One of the things that excited me about the Singapore Festival of Football was the chance to watch Destiny Udogie, who was one of the best left-backs in Serie A when he played there while on loan with Udinese. The 20-year-old lit up Studio Friuli in Udine with his blistering runs and powerful displays, and I was excited to see how he will fit in Ange Postecoglou's Tottenham Hotspur. He was still finding his feet, but there were flashes of class.
Then there's James Maddison, the outlier in a Leicester Team full of underperformers last season. The England midfield maestro was creating chances despite Lion City Sailors defending deep, and if not for better finishing, would have seen Spurs bury the game early on. But it's not just the games. The open training session was a good chance to see what happens behind the scenes. In this more relaxed situations, the players' personalities shone through. Fans absolutely love it.
I, for one, understand more clearly how Harry Kane went from breaking into the first team in 2014 to becoming England captain three years later. His meteoric rise can be attributed to his attitude in training. He is serious and focussed, a captain leading by example. And mind you, he is in the middle of a protracted transfer saga between Spurs and the likes of Manchester United and Bayern Munich. As I write this, the Liverpool team has arrived at the Ritz-Carlton, where they'll be staying while in Singapore. Their arrival brings us closer to the most intriguing match of the festival – Liverpool against German giants Bayern Munich.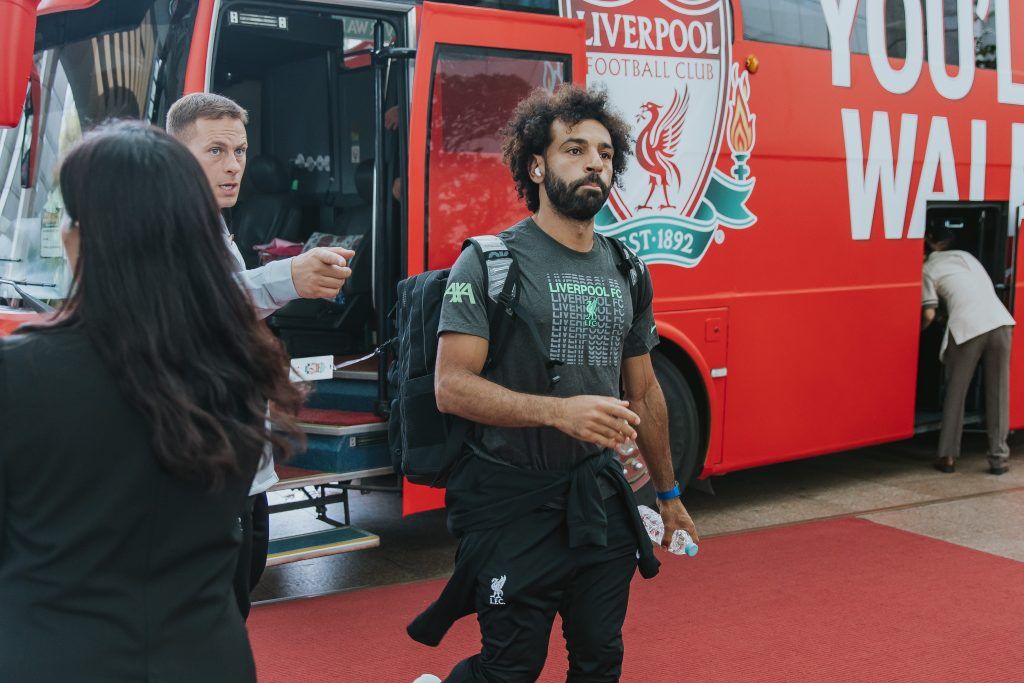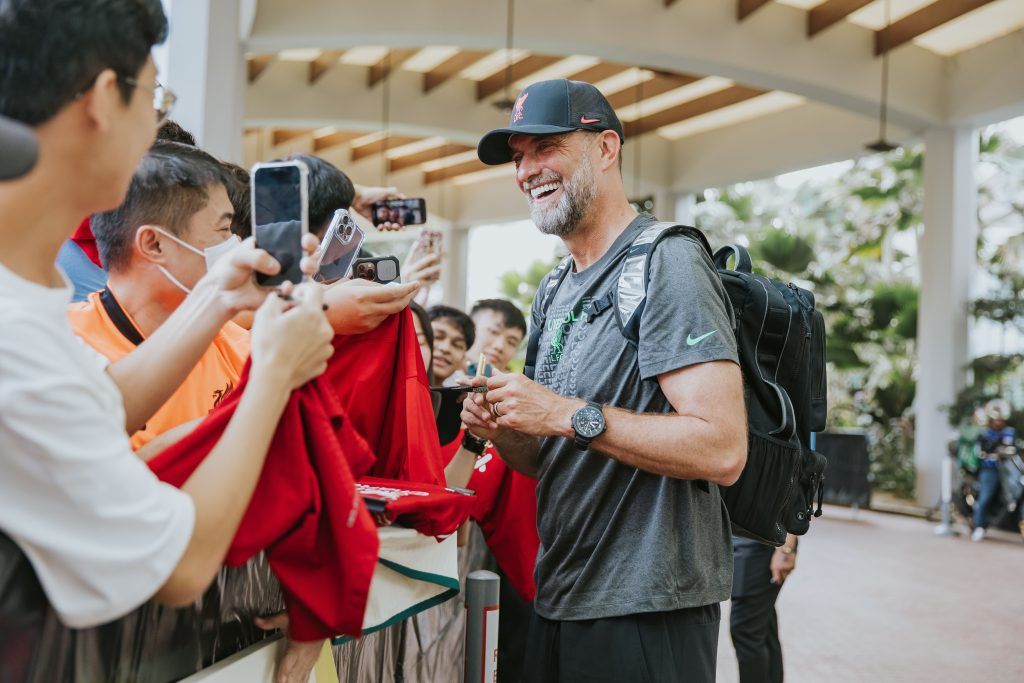 It's going to be a great Singapore Festival of Football ahead.
written by.
Suffian Hakim
Senior Writer, Augustman Singapore
Best-selling novelist, playwright and screenwriter Suffian Hakim is AUGUSTMAN Singapore's Features Editor. He writes articles on arts, culture, entertainment, cars, watches, travel and more - all in an effort to properly investigate and define that nebulous, all-encompassing L-word: lifestyle.