Gucci has revealed a new collection of ready-to-wear apparel and accessories to celebrate Chinese Valentine's Day 2021. The Gucci Les Pommes collection arrive embellished with playful and romantic apple-and-heart motifs.
Chinese Valentine's Day is celebrated on August 14th, the 7th day of the 7th month of the lunar year in China. It is celebrated to honour a tradition linked to the Qixi Festival. This marks the romantic legend of Niulang and Zhinu (Cowherd and Weaver Girl). The story tells of how their love was forbidden, yet every year on the 7th of the 7th they can reunite for just one day.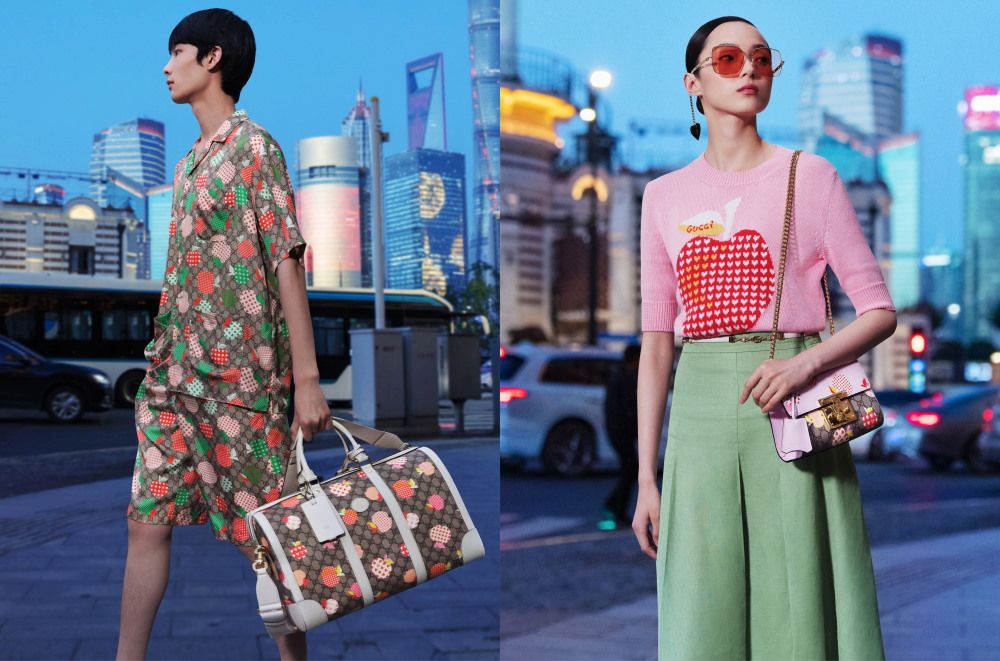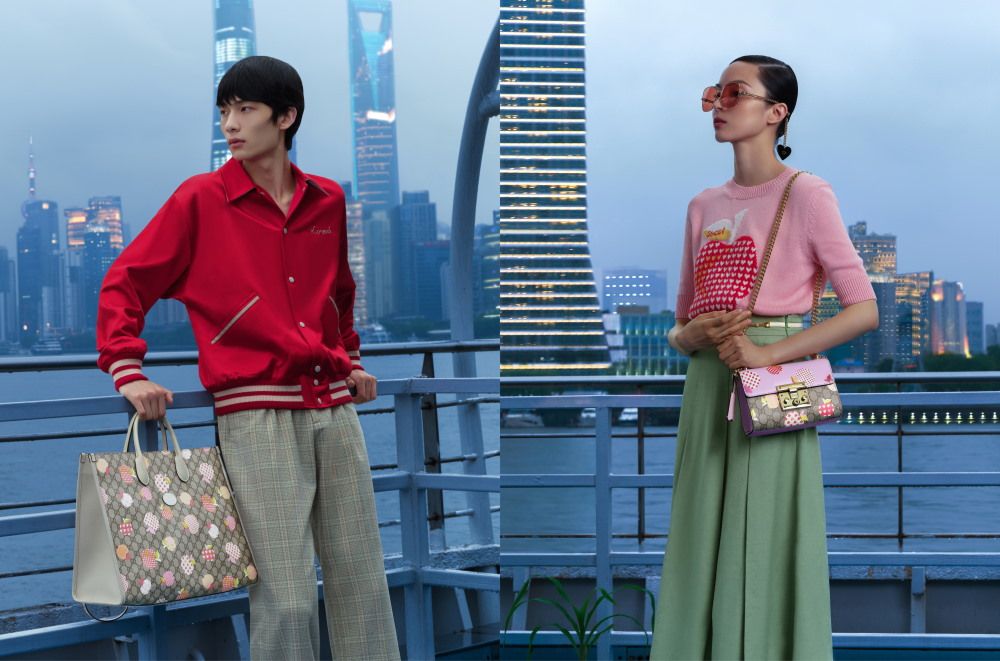 To help bring the Gucci Les Pommes collection to life, the Maison orchestrated a dedicated campaign photographed by Leslie Zhang and directed by Zhuzi, showing the gradual coming together of boys and girls in Shanghai.
A group of characters starring singer, member of WayV and SuperM Lucas and Chinese supermodel Xiaowen Ju are filmed wearing Gucci Les Pommes pieces, as they walk, lost in their own worlds, headphones on, through a night-time, urban setting, passing beautiful cityscapes, wet, neon-lit pavements, and out-of-focus, brightly coloured lights. Check out the video below.
The Collection
Gucci Les Pommes comprises a selection of denim pieces, jackets, shirts, and other apparel. Base colours of the collection include pastels like blue, yellow, peach and pink. Each of the styles are distinguished by the new apple-and-heart print in various incarnations. Gucci logos are seen in sweatshirts and t-shirts or over the GC monogram in the technical jersey group and the caban. It is also seen as a single patch within the denim selection.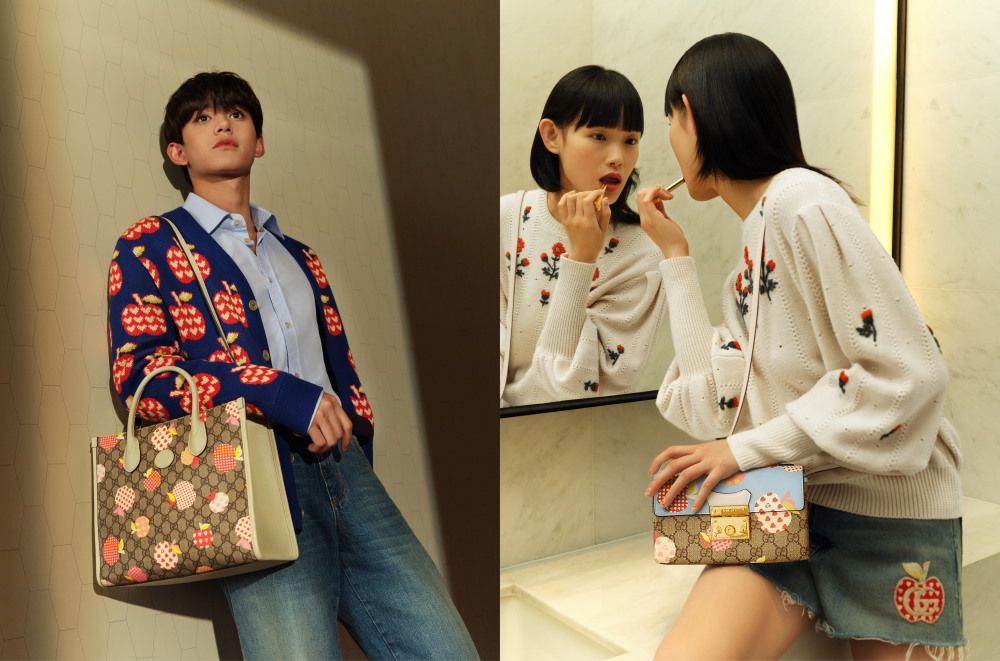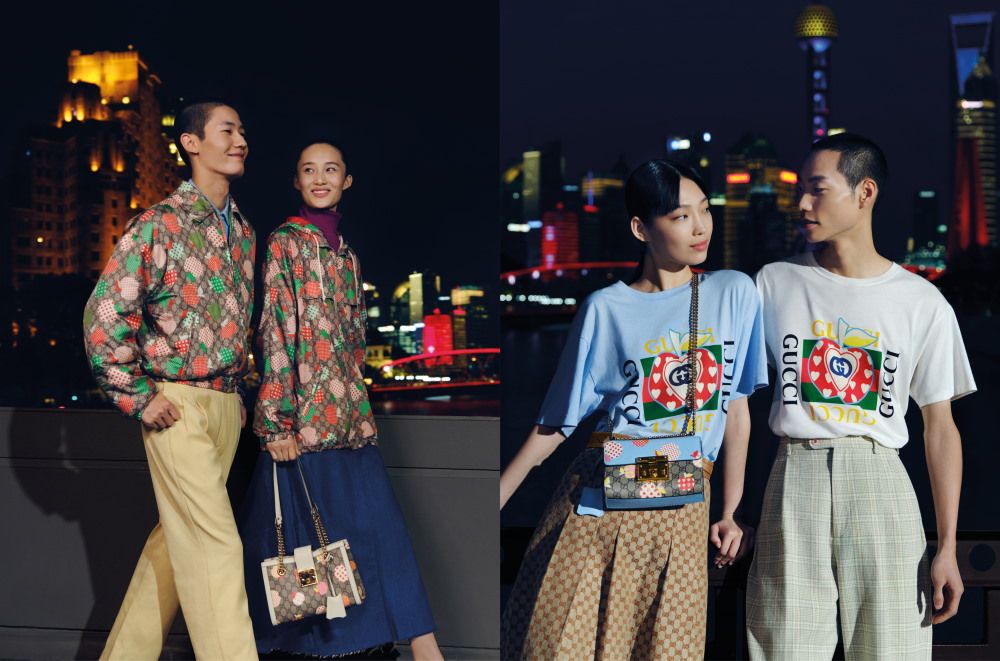 The motif can also be found on men's ready-to-wear, comprising a red lightweight blouson in duchesse fabric with 'Loved' embroidered on the front, bowling sets both in silk and oxford fabric, and a blouson with all-over GG motif alongside a denim shirt. A cardigan, crew-neck jumpers, tracksuit set, cotton sweatshirts, and T-shirts come with a variety of apple/ heart and logo treatments.
These pieces are accompanied by a selection of shoes either with the apple-heart motif set on sky blue or pale pink leather effect fabric, or on GG Supreme canvas. The offer includes the Princetown slipper and Jordaan loafer, while the sneaker selection comprises the Gucci Tennis 1977 and Rhyton.
Accompanying Accessories
The dedicated Gucci Les Pommes pattern is carried throughout the range of handbags, luggage, and accessories. From the Padlock handbag line, a small chain tote, small chain shoulder bag, and small shoulder bag with a bamboo handle complete the selection.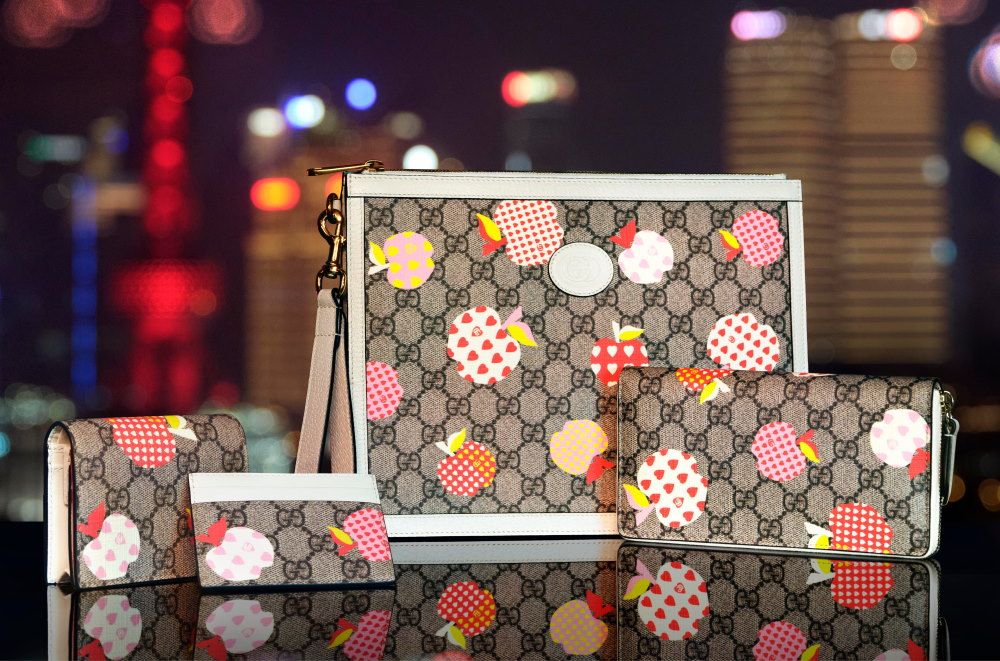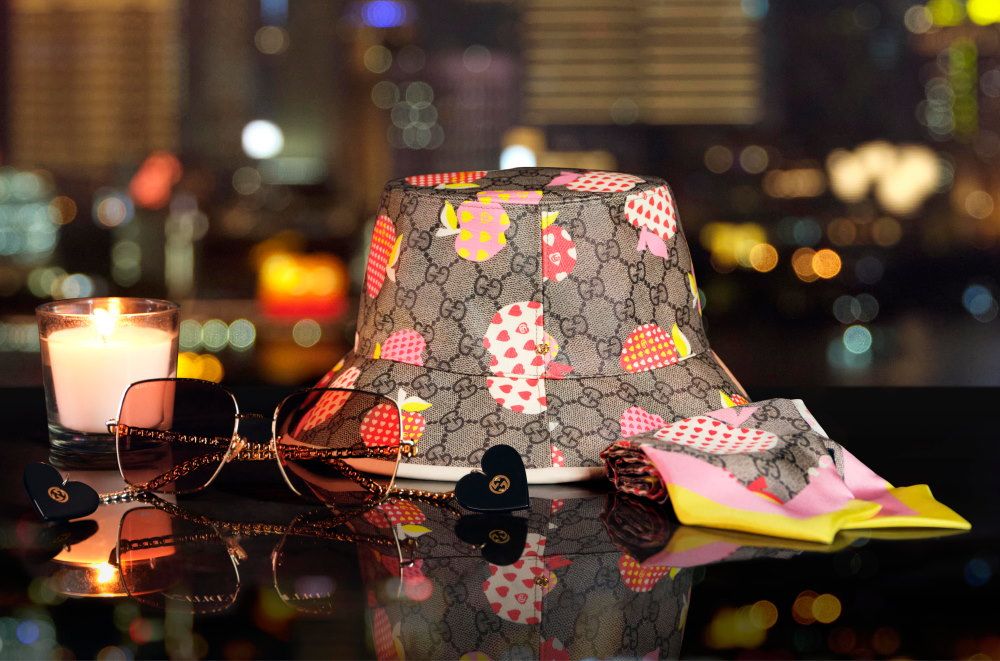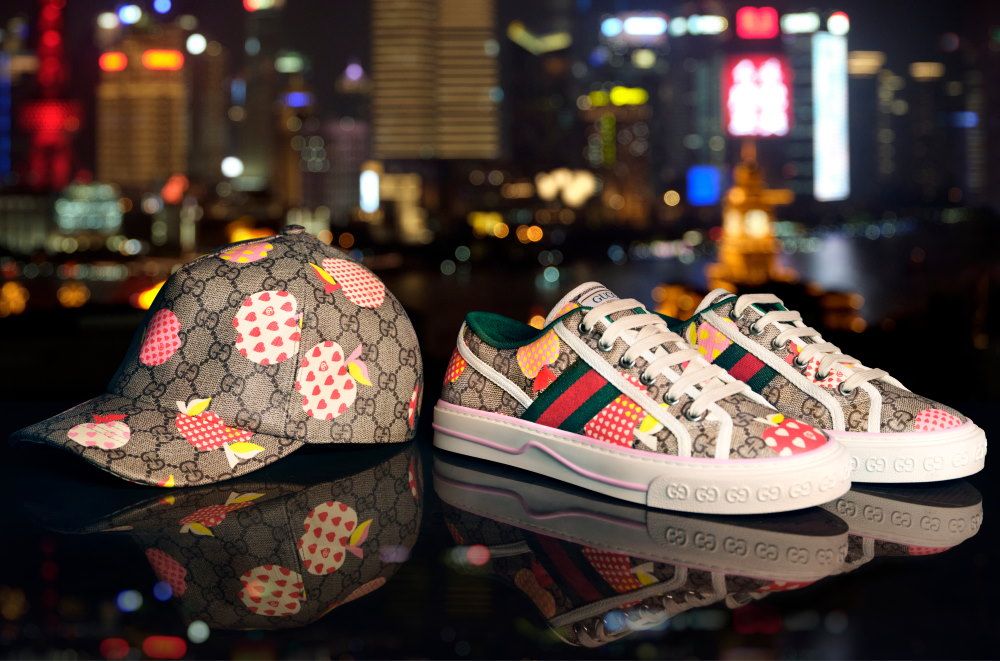 In luggage, the range offers small and large totes and a half-moon shoulder bag, small backpack, slim messenger bag and duffle. All handbags and luggage pieces have white leather trim, and the luggage is enriched with an oval leather tag and Interlocking G detail, while nearly all of the handbags have light pink or sky-blue leather flaps.
Finally, many accessories such as card cases, wallets, a baseball cap, bucket hat, carré, and ribbon all come in the GG print with the apple-heart motif on top. The carré and ribbon are presented in silk twill while other accessories, including the hats, are made from GG Supreme canvas.
This collection comes with its own specially designed packaging. The collection will be available at the Singapore Gucci Paragon store from 29 July onwards.
Image Credits: Creative Director: Alessandro Michele; Art Director: 23; Photographer: Leslie Zhang; Director: Zhuzi; Make up: Yooyo Keong Ming; Hair: John Zhangminghu