Start Slideshow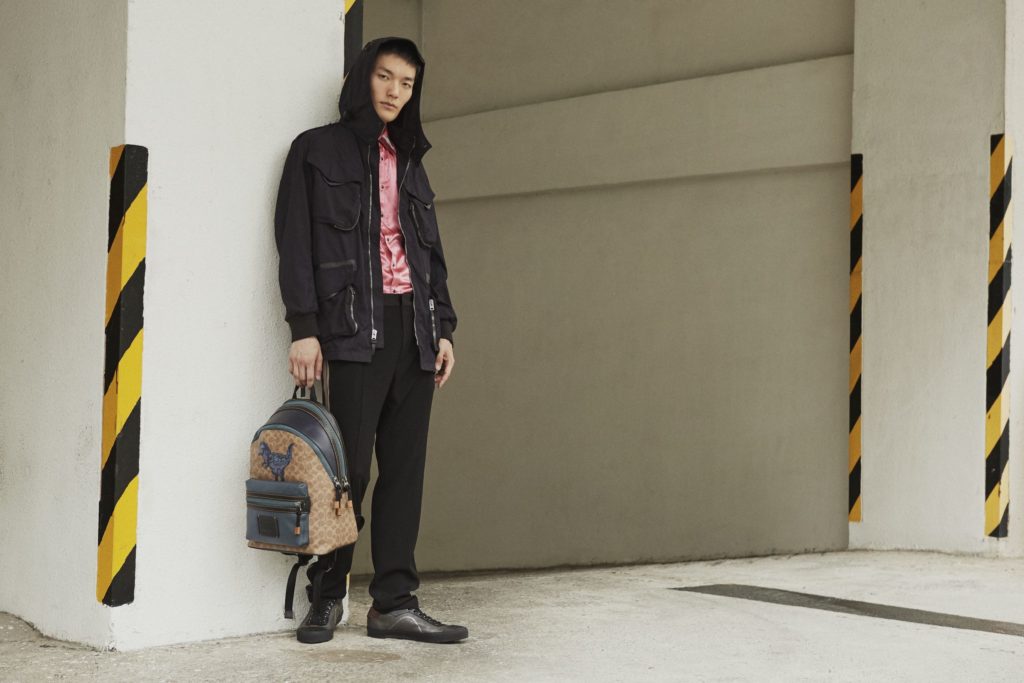 When smart casual meets rugged
High-low styling is a key focus in this collection. Combining the versatility of Coach's signature backpack with this military-inspired jacket creates an effortless look.
Outfit: Nylon parka, satin shirt, polyester track pants, leather sneakers, leather panelled backpack.
A leathery rock-and-roll
Thick biker jackets are reinvented in a softer silhouette with Coach's pieced leather version. With a patchwork mix of richly-toned soft leather, the jacket drapes lightly over the shoulder like a second skin.
Outfit: Leather patch jacket, knit sweater, polyester track pants, leather sneakers
Plush shearling fun
It doesn't get more exciting than an entire hoodie made from comfy lamb shearling. This jacket also has a reinterpreted Rexy motif embroidered on the hood, with cheeky printed claws at the cuffs.
Outfit: Fur jacket with embroidered patch, embroidered singlet, polyester track pants.
Monochrome layering
Using different shades and textures of the same colour can actually create a new look altogether.
For a fresh take on athleisure wear, we matched the iconic Rexy T-Shirt with Coach's polyester tracksuit.
Outfit: Polyester tracksuit, printed cotton T-shirt.
Logo loco
When in doubt, coordinate your outfits with matching designs — using Coach's signature 'C' motif is one way to pull this off.
We styled the embroidered sweatshirt with the crossbody Rivington belt bag, and incorporated a pair of loungewear-inspired track pants.
Outfit: Embroidered sweater, printed jacket, polyester track pants, leather sling bag, leather sneakers.
Vibrant colourblocking
Going for a little trek or hike? This lightweight and water-resistant windbreaker in blue and yellow makes a great transitional piece for the change in season.
Outfit: Nylon jacket, printed cotton T-shirt, polyester track pants, leather sneakers.
Here are 6 styles to cop from our Coach Pre-Fall 2019 lookbook
Here are 6 styles to cop from our Coach Pre-Fall 2019 lookbook