Start Slideshow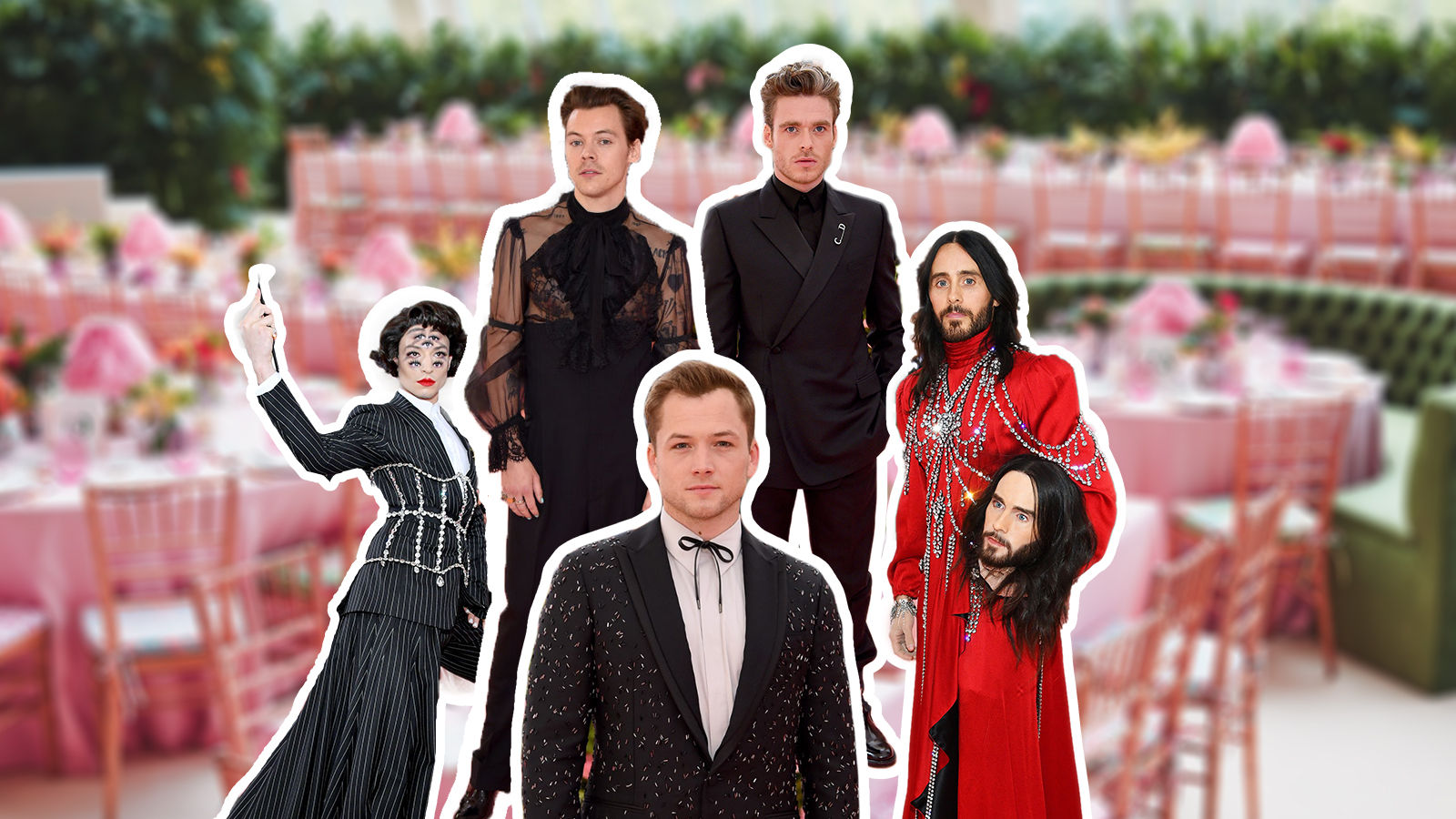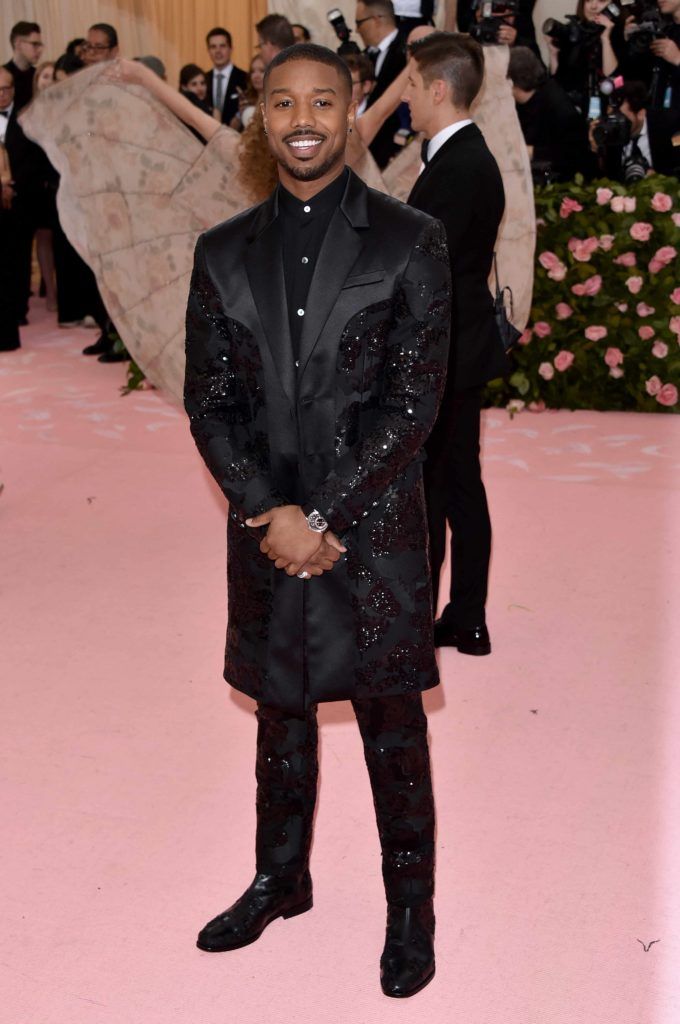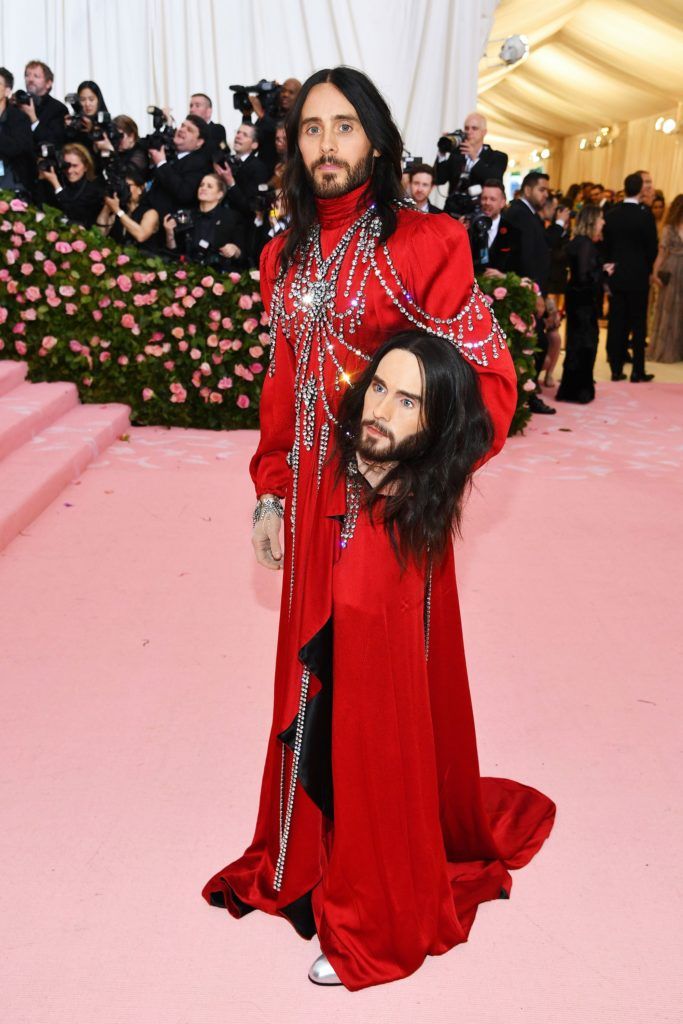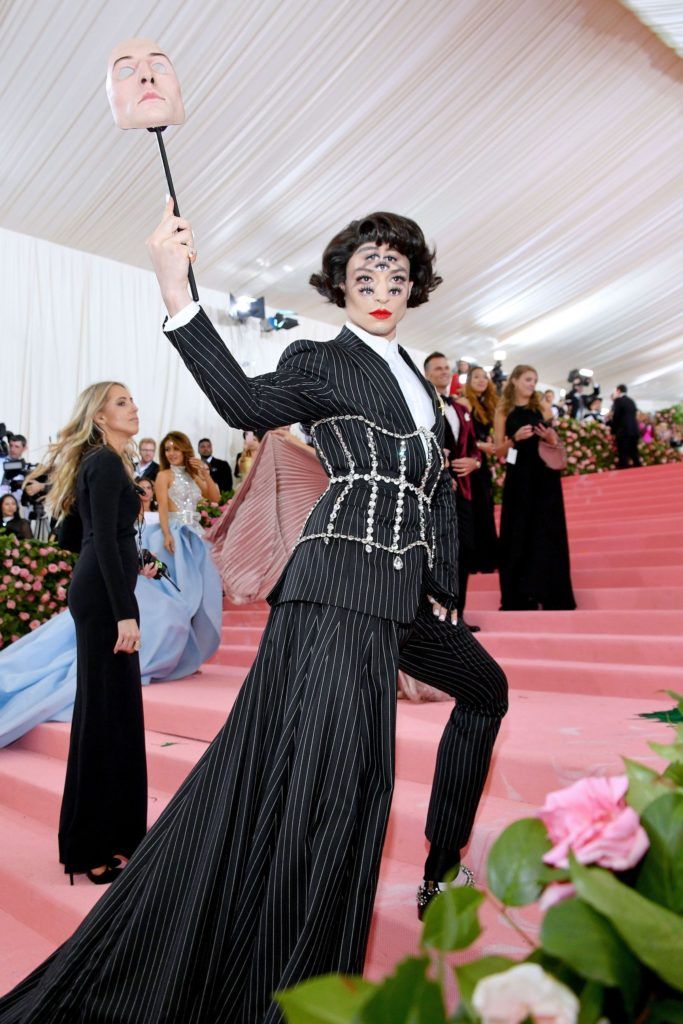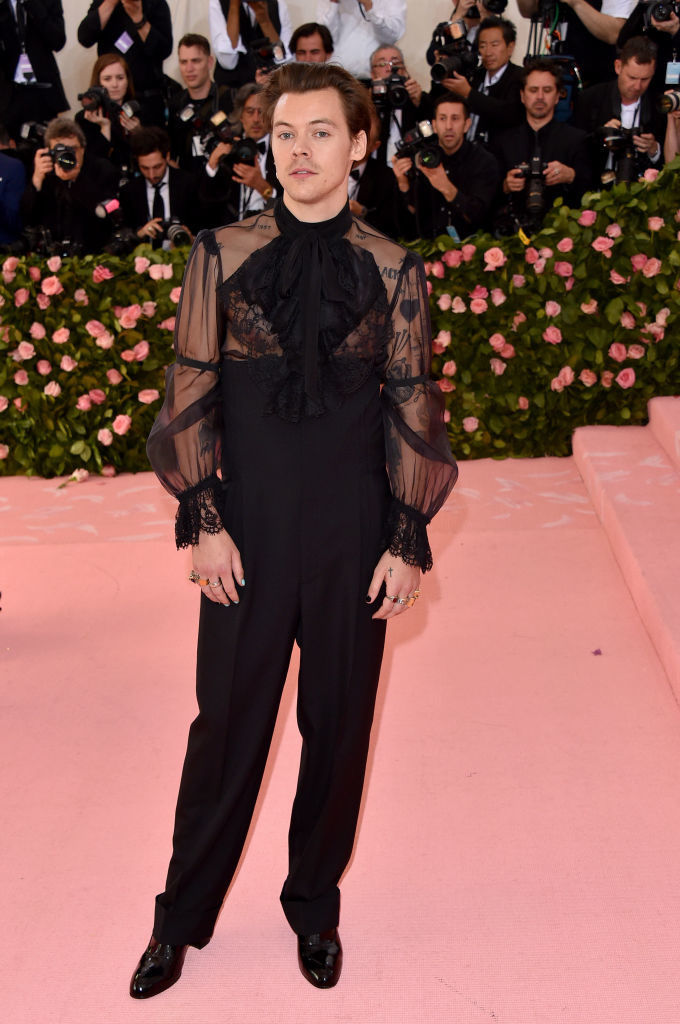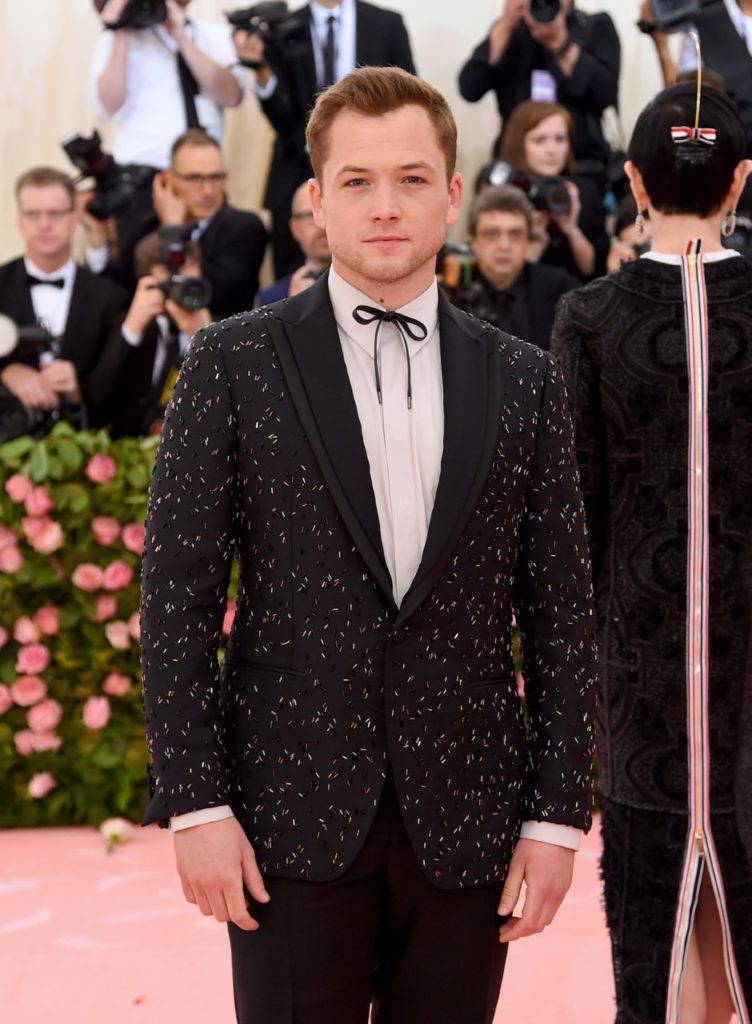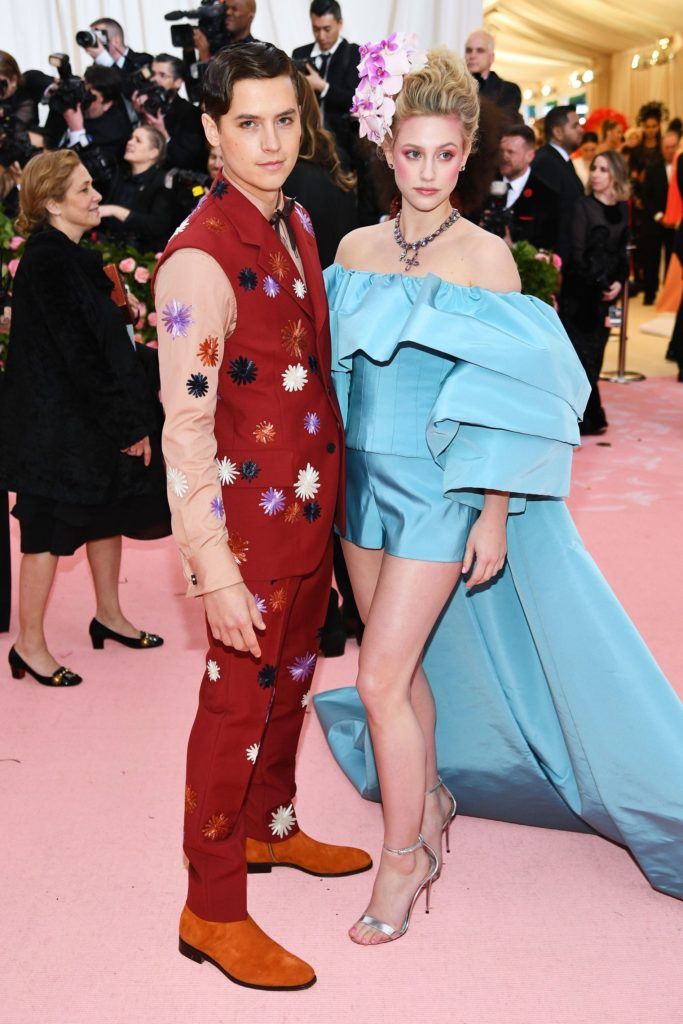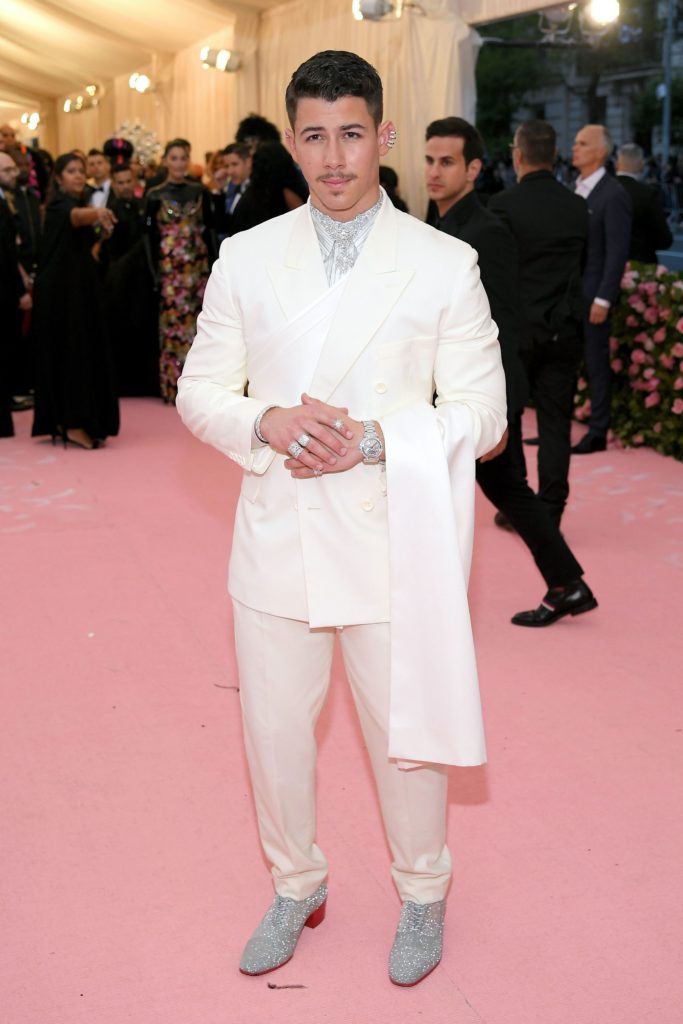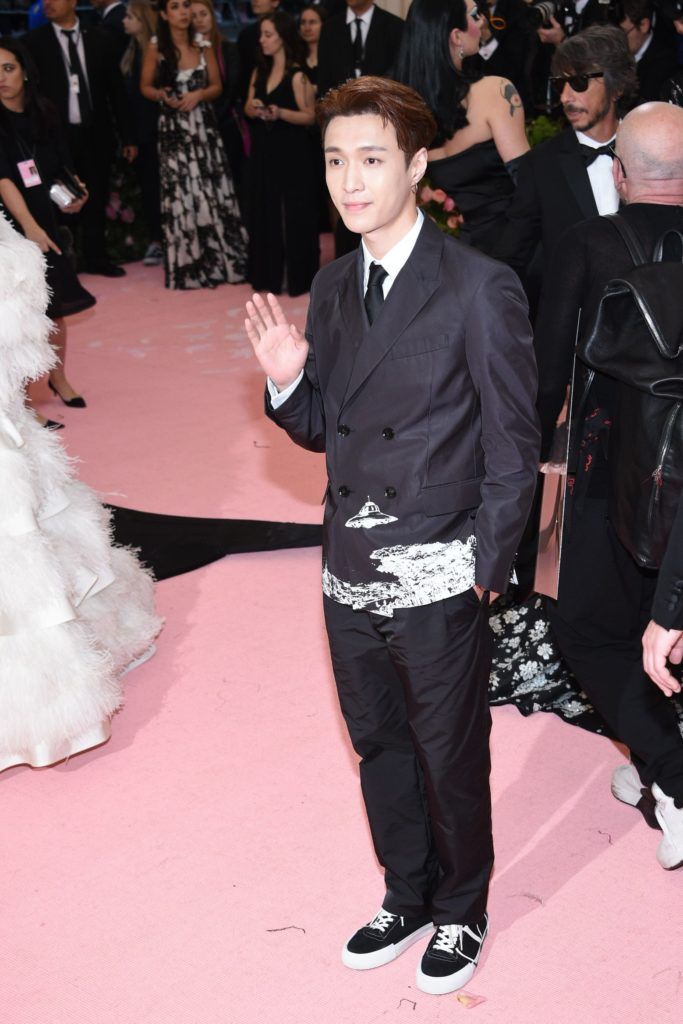 MICHAEL B. JORDAN: The Killmonger Prince
The Coach menswear ambassador had two choices — a studded long coat and matching pant or a Wild Beast sequin embellished evening suit. Given that the outfit took Jordan and Stuart Vevers four months to make, we think he made the right choice.
Outfit by Coach: Custom single-breasted, wool barathea tuxedo coat with a satin chest piece and tuxedo pants, as well as zip boots with embroidery and sequin detailing.
JARED LETO: The Knight in Shining Red Armour
The Joker himself is always serious on the red (pink, this time) carpet. Just when we thought there's no way to beat his previous Heavenly Bodies outfit, he tops it easily — with a red gown, crystal harness and a head of his own.
Outfit by Gucci: Flame-hammered, matte satin high neck tunic with padded shoulders and front ruffle. Body accessory in metal with aged palladium finish and crystals. White tulle gloves with crystal embroidery and metal bracelets with aged palladium finish and crystals. Head replica by Makinarium special effects.
EZRA MILLER: The Met Gala's 'Camp-ion'
The Fantastic Beast star is a fashion risk-taker, and we say he's hit the home run with his Burberry look — though that's not why we're doing a double take. The corset's one thing, but the double vision makeup and red lip is what leaves you a lasting impression.
Outfit by Burberry: Black pinstriped wool English-fit suit, with exaggerated cape detail and crystal-studded cage corset. Worn with white cotton poplin dress shirt and crystal-embroidered wingtip brogues.
HARRY STYLES: A New Style Icon
Between his covers on Gucci's tailoring campaigns and news of his Met Gala co-chairing, we should've expected nothing less than his A game, but we're still surprised how well he pulled off all-black androgyny — Styles did his first Met Gala right.
Outfit by Gucci: Custom organza shirt with black lace and organza jabot, high-waisted wool mohair trousers and black patent leather boots.
LEWIS HAMILTON: Fast Formula Fashion
The Formula One sportsman truly is fast and furious. Decked out in Tommy Hilfiger, this regal power suit is telling us he's as sure of himself on the carpet as well as on the tracks — and it shows.
Outfit by Tommy Hilfiger: Single-breasted, embroidered Nehru evening suit in black and silver tones with a black velvet collar and cuffs, over a white scarf collared evening shirt.
The Rocketman himself sticks to his guns for this year's Met Gala. Add a pair of glasses and we get nostalgic of his Kingsman era — an understated look is a timeless one.
Outfit by Salvatore Ferragamo: Shawl collar evening jacket with multicolour raffia and tubular pearl embroidery. Worn with a satin shirt and vicuña leather shoelace worn as a tie, paired with black leather gold Gancini hardware Chelsea boots.
COLE SPROUSE: Riverdale Romantic
It's no coincidence Sprouse's outfit matches Riverdale co-star Lili Reinhart; they are Hollywood's new match made in heaven. Nevertheless, Cole Sprouse tells us one thing yet again — he's an icon who looks dapper in anything.
Outfit by Salvatore Ferragamo: Sleeveless oxblood tailored suit with exuberant raffia flower embroidery, paired with a vicuña leather shoestring for a bowtie and orange suede Chelsea boots.
NICK JONAS: Priyanka's Prince Charming
While Nick's made it clear he planned to keep things simple to let his dazzling wife set the tone, we found his outfit anything but sartorially disinteresting — not that we're mad about it, especially with those shiny Louboutin red-bottoms.
Clothes by Dior Men: FW19 off white wool peak lapel double-breasted jacket with a detachable silked scarf, as well as matching pleated pants and silver lurex silk shirt.
RICHARD MADDEN: The Bodyguard Debonair
We find the rising star very fitting of his stoic disposition, especially with rumours that he's the next James Bond. If it's true, this timeless look is one all the Bond predecessors will definitely approve — once you go black, you never go back.
Outfit by Dior: Black wool and mohair barathea "Tailleur Oblique" tuxedo, classic cotton shirt, abrass "CD" safety pin brooch and leather boots.
LAY ZHANG: Vainglorious Valentino
The Mandopop star's suit-and-sneaker look is certainly a breath of fresh air; you don't have to go over the top on the pink carpet. Designer Pierpaolo Piccioli calls this outfit "Time Traveller", its white UFO motif a nod to the Met Gala theme.
Outfit by Valentino: Custom double-breasted nylon tuxedo.
The Augustman lookbook: We pick the 2019 Met Gala's best-dressed
The Augustman lookbook: We pick the 2019 Met Gala's best-dressed
written by.
Elvin Ng
Elvin is a writer dabbling in the fashion, travel and culture beats. When he isn't blogging about his latest adventures, he's most definitely hunting down the latest and biggest sales in online shopping.