Celebrating the earth goes beyond more than just recycling. Businesses have become more eco-conscious, and consumers are demanding a higher level of transparency and accountability from brands they recognise. This has also extended to the beauty and grooming industry with several brands now producing sustainable skincare and beauty products for the eco-conscious consumer.
Brands have taken a step to becoming more dedicated to cruelty-free processes and ingredients, thoughtful packaging, sustainable sourcing and non-toxic or vegan formulas. The belief is that the products you choose make a difference not only for your health, but for the health of the planet. Here are several sustainable skincare and grooming products that are perfect for celebrating Earth Day.
Biossance Biossance uses its rich history of science and sustainability to create skincare that is vegan, cruelty-free, and non-toxic for both people and the environment. Not only are its products made of only ethically sourced, safe, and sustainable ingredients, it thinks about its packaging as well.
The brand's tubes and bottles are completely recyclable, and the outer cartons are made from renewable sugarcane paper without inks or dyes that could affect recyclability. Get it here
Tata Harper Not being able to find 100 percent natural and sustainable skincare products, Harper started Tata Harper Skincare to make them. Her products are processed and formulated on her own farm and lab. Committed to providing products that keep people healthy and improve quality of life, Harper stands firmly by her non-toxic and eco-friendly practices. She also ensures that her products and overall business are third party certified, so consumers can trust her brand. Get it here
Act+Acre Priding itself on being the skincare for scalp, Act+Acre prioritises the well-being of its customers and the Earth. With the use of its patented Cold Processed method, its production consumes 90 percent less energy than with the use of conventional heat manufacturing.
Not only is the brand committed to its consumers, but it also partners with leading energy solution companies to implement community-scale projects that reduce greenhouse gas emissions and strengthen businesses. Get it here
Pai Skincare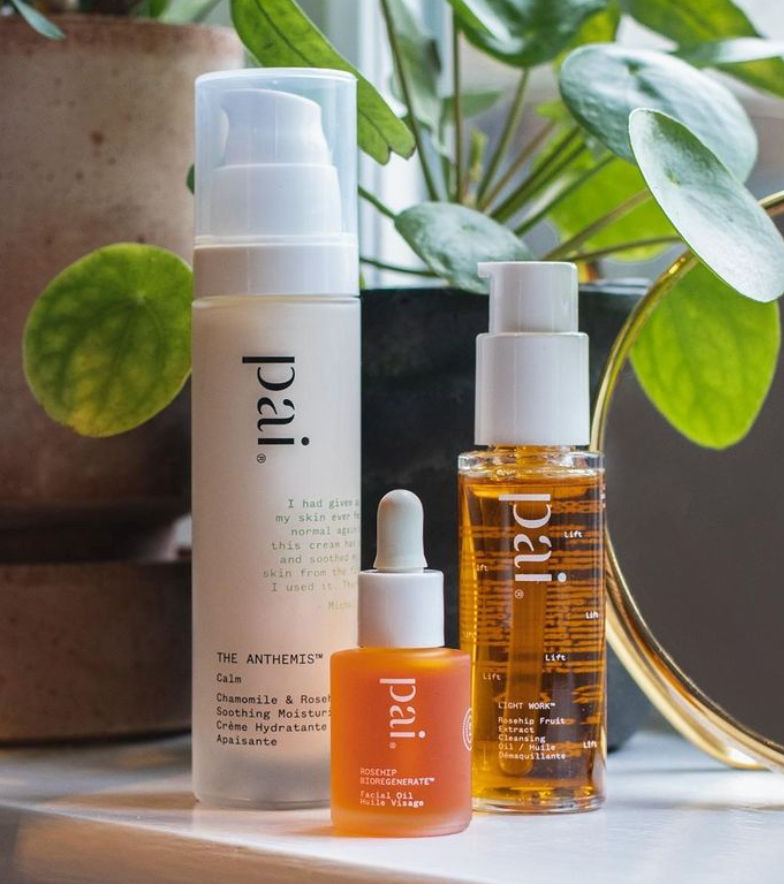 Founder Sarah Brown went on a quest to find the right skincare brand that she could trust and depend on after her skin became irritated, hyper-sensitive and acne prone. Creating Pai was her way of fulfilling her needs as a consumer. Pai Skincare is made with effective, organic ingredients all formulated and manufactured in their London headquarters. Its products are free from synthetic ingredients, parabens, alcohol and a number of potentially aggravating chemicals, staying true to its promise of building goodness into skin.
The packaging for its products is made from a combination of glass, sugarcane plastic and regular plastic. Cardboard boxes are sourced from sustainable forests, and the brand even uses 100 percent biodegradable eco-fuel chips for online orders as packaging protection. Get it here
Bybi Born from the UK kitchens, co-founders Elsie and Dominika started out meticulously crafting DIY beauty recipes with potent natural ingredients. Their processes range from upcycling strawberry seeds from juice manufacturers to investing in creating sugarcane packaging. Now the Bybi brand functions out of a state-of-the-art eco-lab in London with a team of scientists who help them push the business for uncompromising results whilst maintaining climate-conscious practices.
It's time to revolutionise the way you moisturise, as the Bybi girls say. Take the cue from these brands who actively try to reduce the carbon footprint on the world. Get it here
(Images: Sephora)
written by.
Alfieyah Abdullah
Alfieyah Abdullah has two vices. Her 30 bottle (and counting) collection of fragrances and an intense view on desserts.