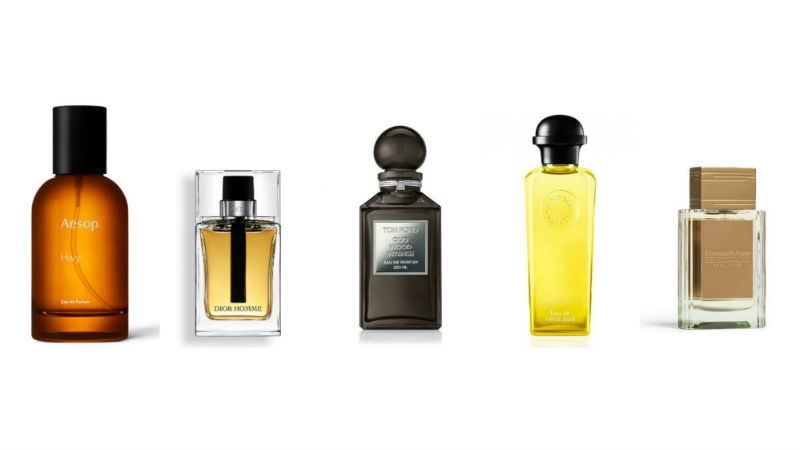 From food to fashion, you're done checking the list for gifting all the favourite people in your life this Christmas because you're such a selfless gentleman. You've gotten your Christmas dinner attire sorted out, whether it's your trusted basic attire or a smashing new outfit you're wearing to festive get-togethers, it doesn't matter. We're not judging as long as you look decent.
We will judge if you smell a little funky, though. So remember when we said that you're a selfless gentleman? Good on you, now it's time to treat yourself this season with some of the best August Man-approved fragrances out there in the market. Not only will you complete your party look with a bang, everyone else around you will be turning heads for all the good reasons at Christmas parties and beyond.
Aesop – Hwyl Hwyl Eau de Parfum, Aesop. Photo: Aesop
Why we love it: Okay, so maybe it's not exactly snowing but the monsoon season is when the temperatures dip and a having a little warmth wouldn't hurt, especially in the form of Aesop's Hwyl Eau de Parfum. Pepper and spice notes attribute to the warm and comforting effect, while the rich, earthy blend of frankincense, cypress, vetiver and thyme extracts in this precious bottle ties it all together in elegance.
Please visit Aesop for more shopping ideas.
Bottega Veneta – Parco Palladiano IX Parco Palladiano IX, Bottega Veneta. Photo: Bottega Veneta
Why we love it: Light but deep, IX is one of Bottega Veneta's latest addition to its exclusive unisex Parco Palladiano range. It's is a unique scent that fragrance aficionados get and regular people will be curious about. Perfumer Sidonie Lancesseur's spell-binding creation for the luxury Italian brand elegantly balances the fresh notes of garden violets with sensual musk for a scent that's perfect for the sensitive new age guy in you.
Please visit Bottega Veneta for more shopping ideas.
Calvin Klein – Pure Gold Euphoria (Men) Pure Gold Euphoria (Men),Calvin Klein. Photo: Calvin Klein
Why we love it: Pure Gold Euphoria for Men is everything the name suggests: luxurious and joyous all at the same time. Perfect for the festivities, if you ask us. While the the exotic blend of oud, rose and saffron lends a sophisticated touch to the fragrance, the fresh notes of juniper, pine and patchouli makes it inviting enough to make your peers want to come close to you; if not for a conversation, then at least to catch a whiff of this.
Please visit Calvin Klein for more shopping ideas.
Christian Dior – Dior Homme Dior Homme, Christian Dior. Photo: Christian Dior
Why we love it: Floral, woody and deep – this classic from Dior is a must-have in your grooming cabinet if it isn't already. The burst of sweet powdery from iris is balanced beautifully with a touch of earthy cacao with its first spritz. The scent dries down to a sleek and chic combination of leather, amber and vetiver that will warm you up in the cold, rainy Christmas season in Singapore. Notes of lavender and patchouli gives a hint of freshness that pulls this scent together perfectly.
Please visit Christian Dior for more shopping ideas.
Strength – Ermenegildo Zegna Elements of Man – Strength, Ermenegildo Zegna. Photo: Ermenegildo Zegna
Why we love it: If you love a good swig of quality whisky (The Macallan is a good bet), you'll see why Zegna's Strength from its latest Elements of Man range is reminiscent of good times with your best mates. With a whiskey in hand, of course. This one opens up with sweet notes of apricot and honey, but balanced tastefully with a dash of smokey tobacco, you'll get the whisky nuances immediately. Notes of oud and pine lends an element of class to add an expensive flair to your Christmas getup for sure, even if it really it's as simple as a t-shirt and jeans combo.
Please visit Ermenegildo Zegna for more shopping ideas.
Eau de Néroli Doré – Hermès Eau de Néroli Doré , Hermès. Photo:Hermès
Why we love it: They say that simplicity is the key to elegance, and French fashion house Hermès' Eau de Néroli Doré nailed that phrase down to a T. Like the refreshing rind of orange in your glass of Old Fashioned at a Christmas party, this scent artfully fuses the beautifully bitter notes of neroli and bitter orange together with a touch of saffron. Yes, that's it. But trust us, when you start getting compliments every time you spritz this scent on, it's well-worth the money.
Please visit Hermès more shopping ideas. Oud Wood Intense , Tom Ford. Photo: Tom Ford
Why we love it: There's nothing like a dark, rich scent to complement the bright and joyous energy of Christmas. Tom Ford's Oud Wood Intense is exquisite much like its cousin, Oud Wood. But the difference is that it carries spicy undertone of ginger and the freshness of juniper and cypress to give this amazing scent the distinction it deserves.
Please visit Tom Ford more shopping ideas.
written by.
Syed Zulfadhli
Syed Zulfadhli knows a thing or two... thousand about skincare and grooming.