All relationships experience a rough patch at some point, but only a few emerge unscathed. 2020 has proven to be an exceptionally trying year for both businesses and individuals. Thankfully, there is light at the end of the tunnel. In celebration of its partnership with Sincere Fine Watches, Montblanc has announced the 1858 Split Second Chronograph Limited Edition 8, a bold timepiece espousing strength amidst trying times. An eye-catching statement
The Montblanc 1858 Split Second Chronograph Limited Edition 8 features a red fumé dial, an apt colour considering Sincere Fine Watch's locale. This vibrant hue is highlighted by a lacquered finish, forming the perfect backdrop for the vintage-inspired dial, comprising elements such as sub-dials and 3 and 9 o'clock, cathedral hands and an internal telemeter.
As its name suggests, the 1858 Split Second Chronograph Limited Edition 8 distinguishes itself through its rattrapante function. This highly technical complication allows the wearer to record intermediate timings consecutively. Activating the crown-based pusher spurs the chronograph into action, and engaging the secondary pusher at 2 o'clock pauses one of the two chronograph hands for the first reading. Meanwhile, the second chronograph hand continues to travel the dial. Depressing the same pusher pauses it while simultaneously propelling the first chronograph hand to the same position and releasing it. Repeating these steps facilitates the capture of multiple timings, regardless of how minute the difference is, hence "split second". Time-telling multiplied
Complementing the rattrapante are two measurement scales – a telemeter and a tachymeter. The former flanks the minute track, right alongside the rehaut. Using it in tandem with the chronograph measures the distance of both audible and visible events. A common example involves lightning and thunder during a storm.
The tachymeter, on the other hand, measures the speed of a moving object. Most modern chronographs come with this handy feature in two. However, the 1858 Split Second Chronograph Limited Edition 8 presents its tachymeter in a unique colimaçon. This spiral-shaped design allows for an extended tachymeter scale, covering a length of time of up to three minutes. No effort spared
Having six hands makes readability seem like a daunting task, but the 1858 Split Second Chronograph Limited Edition 8 uses contrasting elements to make accurately discerning one hand from another a fuss-free affair. The running seconds and chronograph minute hands, located at 9 and 3 o'clock respectively, are painted in two different colours. The same treatment can be seen with the chronograph second and split second hand.
Powering the 1858 Split Second Chronograph Limited Edition 8 is Montblanc's in-house calibre MB M16.31. Inspired by the Minerva calibre 17.29, the hand-wound MB M16.31 features two column wheels, a more traditional horizontal coupling and a 50-hour power reserve. The movement comes housed in a 44-millimetre titanium case; steel-like strength at a fraction of the weight. An improved corrosion resistance further adds to the material's appeal. As a further testament to its durability, the 1858 Split Second Chronograph Limited Edition 8 comes certified by the Montblanc Laboratory Test 500. This certification guarantees steadfast performance under real-world conditions for up to 500 hours.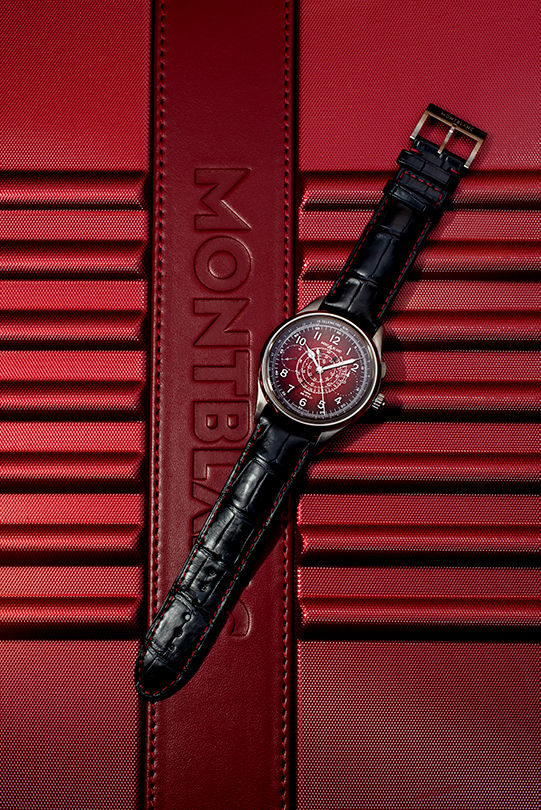 The Montblanc 1858 Split Second Chronograph Limited Edition 8, exclusive to Sincere Fine Watches, will only be available in eight examples, making it a tantalising prospect for both collectors and connoisseurs.
written by.
Evigan Xiao
Writer
Evigan is an avid fan of bench-made boots, raw selvedge denim, single malt Scotch and fine watches. When he's not busy chuckling over image dumps on Imgur, he can be found lifting heavy objects in the gym or fussing over his two dogs, Velvet and Kenji. He dreams of one day owning a cottage in the English countryside and raising a small army of Canadian geese to terrorise the local populace.