In celebration of the release of the Aquaracer Professional 300, TAG Heuer collaborated with young Swiss filmmaker Jonas Egi on a special campaign entitled #BeyondTheEdge, starring three outstanding water sports athletes who, in exploring their own limits, perfectly embody the spirit of the watch. In these extreme scenes, filmed in Nice, France, Nazaré, Portugal and Hawaii, they inspire us to move beyond our comfort zone and strive to achieve the very best version of ourselves.
Kai Lenny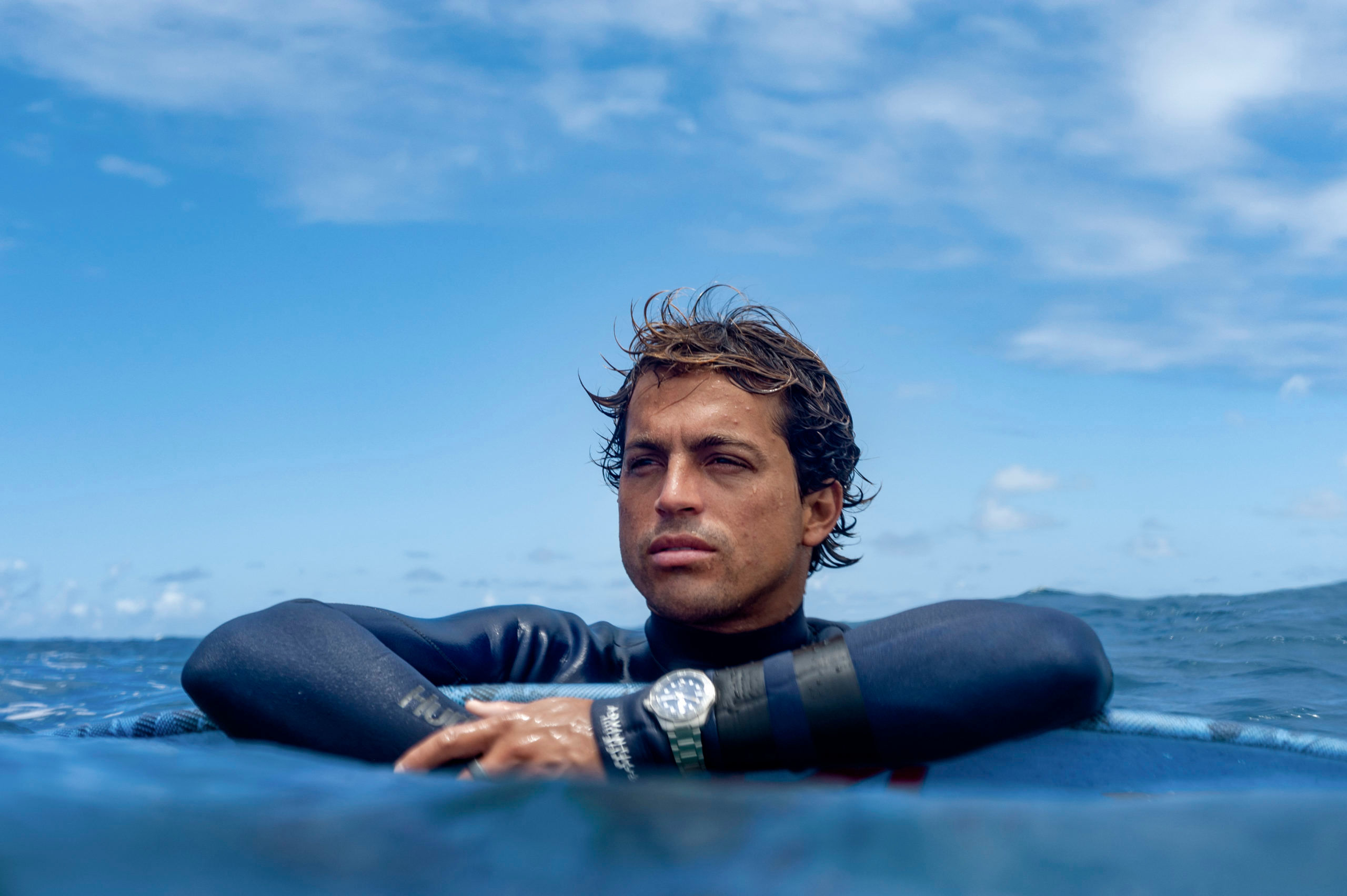 In 2016, Kai Lenny won first place overall at the Stand Up World Series, which for the first time ever was held in Maui, also known as Kai's backyard. A few short years later, in 2019, after several other major wins, he became the youngest ever inductee into the Surfers' Hall of Fame.
Pe'ahi, on the north coast of the windy island of Maui, was nicknamed Jaws after the movie, not because of the danger of sharks, but because of the unpredictable danger of the waves themselves. Winter 20-21 brought an epic surf season at Jaws, highlighting the sheer talent of Kai Lenny and cementing his fame.
Elaborating on the #BeyondTheEdge campaign and his motivation, Lenny said, "When I put on my wetsuit, my instinct for survival jostles with my competitive spirit. But this competition isn't about beating others – it's about pushing myself beyond the limit, attempting to reach my full potential."
"Beyond the edge is that extreme point in time when there's no way back, where you are 100 percent committed and you have no option but to believe in yourself – totally. It's beyond you, you feel powerful forces at work around you. Afterwards, it feels a bit like you've been to the moon. You see things you never noticed before."
Speaking to Teo Van Den Broeke, the style director of British GQ, in an exclusive podcast on TAG Heuer's online magazine The Edge, Lenny explained his affinity with the ocean and the power it holds to bring out the best in you, "I couldn't imagine my life without the ocean. I think I would probably be pretty miserable because there's an unexplainable force that draws me back to it. And when I'm pushed to the edge and I'm fearful or I'm scared in the ocean, that's when I think I get my best performance out of myself."
As a multi-disciplinary athlete who is proficient across several watersports – big wave surfing, stand up paddling, kitesurfing, windsurfing, etc – Lenny also emphasised the importance of looking outside the box for further inspiration.
"I'm heavily influenced by big wave riding like snowboarding, but also sports like Formula 1 and MotoGP. Those two sports, for example, are very inspiring to my windsurfing because it's like, wow, the tricks they're doing, I can apply them to my windsurfing. I just try to take inspiration from all sorts of sports."
Julie Gautier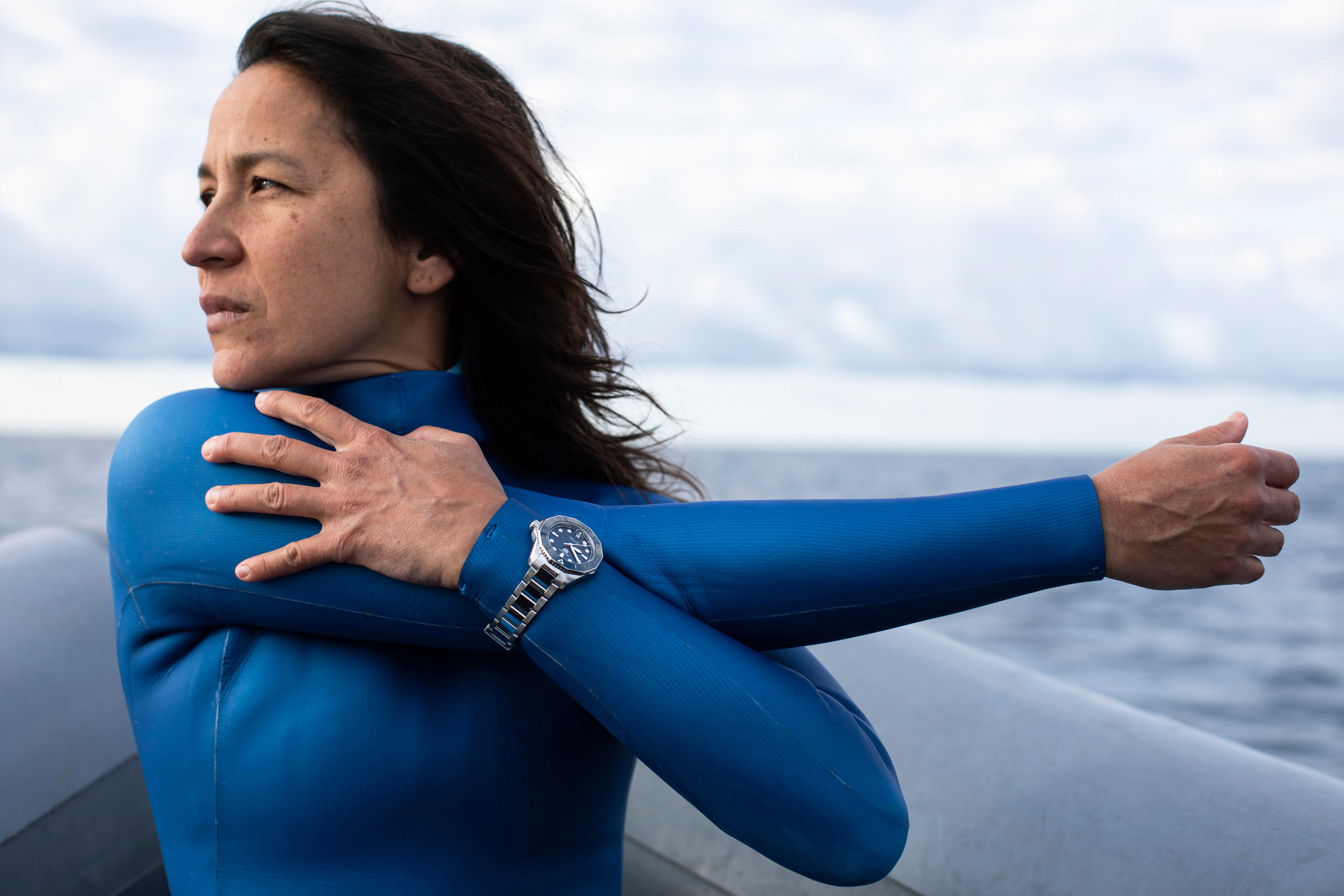 Born in Reunion Island, Gautier developed an underwater grace at an early age. In addition to being a freediving champion, she, together with her husband and fellow freediving world champion Guillaume Nery, has created a series of evocative underwater videos that show the underwater world in a whole new light, including the award-winning short film AMA and One Breath Around the World.
In speaking with TAG Heuer (Take the Plunge: A Deeper Dive, The Edge Magazine, magazine.tagheuer. com), Gautier has let us in on the profound effect of freediving on her overall well-being and how the ocean has shaped her into a champion:
"During all those years of free-diving, I've learned how to surpass myself, to know my limits, to take care of my body and mind… stepping out of your comfort zone through sport really helps you become more confident. As a consequence, you make a habit of doing the same in your day-to-day life. You also learn to accept your failures and use them to grow and evolve. And water is an element that forces you to slow down, so in life you do the same, and that's a very good thing."
In addition, Gautier shared that the ocean provides her with the perfect setting to calm her thoughts, sharpen her focus and hone her senses, "I think of nothing when I'm in the water, it's a moment of utter calmness where I'm just living in the moment, a moment of weightlessness where even the weight of my thoughts is lifted."
"You learn to know yourself better as you progress, step by step. You go down to a depth you are comfortable with and you add on metres day after day. You learn breathing techniques to make better use of your lungs and you learn to let go and accept the spasms that your body uses as warning signs, but they start to come later and later."
Return of the Night Diver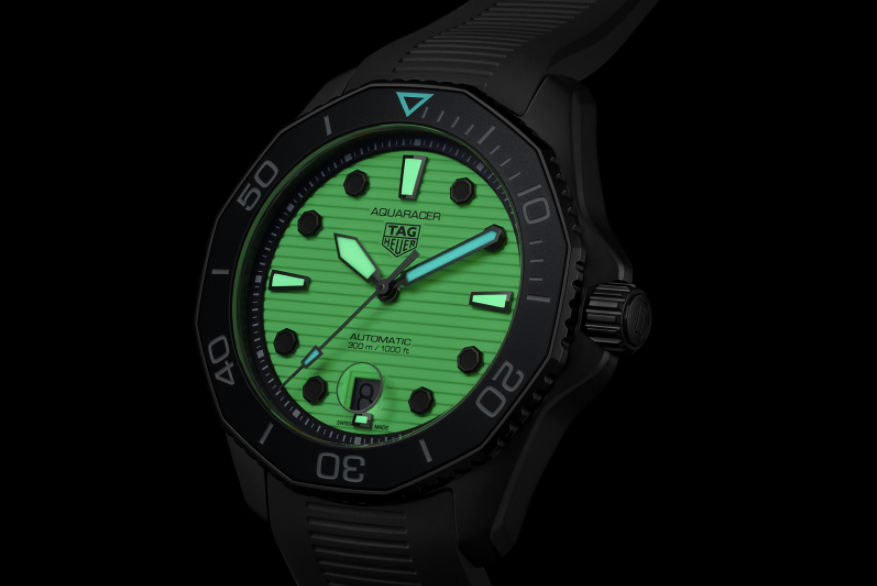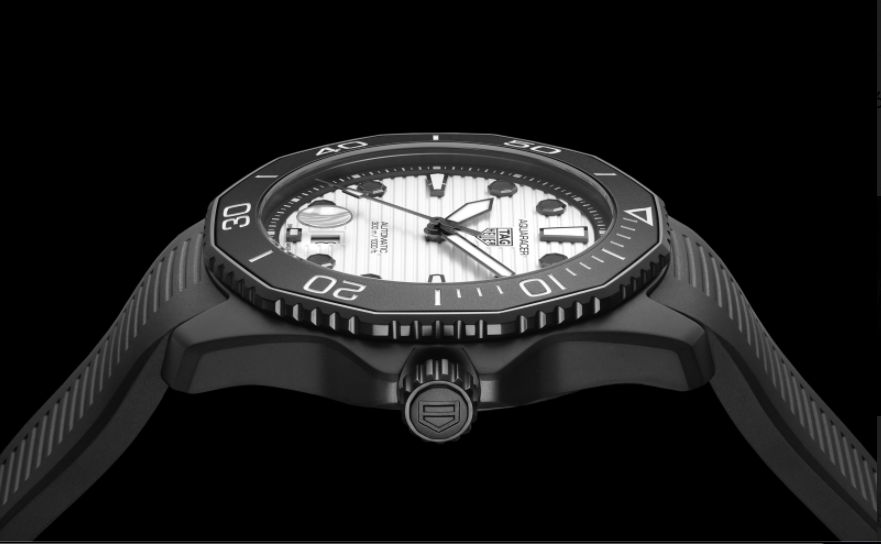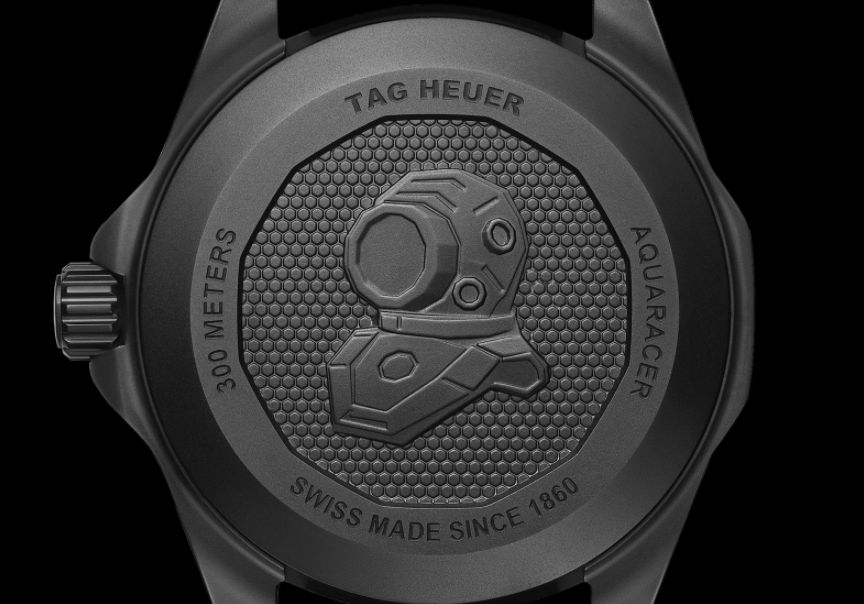 Following the launch of the new TAG Heuer Aquaracer Professional 300 series earlier this year, TAG Heuer announced in September three additions to the go- anywhere watch, including a new iteration of a TAG Heuer icon, the all-black, lume-dialled TAG Heuer Aquaracer Professional 300 Night Diver.
TAG Heuer enthusiasts will recognise the name "Night Diver," which was first introduced in the mid- 1980s. Loved by active, style-conscious watch buyers who pushed their limits, exploring nature and going beyond the edge, it became one of the most celebrated sports watches of its era.
Today's TAG Heuer Aquaracer Professional 300 collection picks up this story with a faithful update to a much-loved watch, retaining and improving signature details such as the famous 12-sided bezel and the dial's horizontal engraved lines to produce a refined, highly versatile modern classic. All three new models come in a 43mm stainless-steel case and rubber strap. The new black and blue versions pick up on the bracelet models introduced at Watches and Wonders: both are colour-themed with matching black or blue dials, ceramic bezel inserts and rubber straps.
The standout model of the release is the black DLC-coated Night Diver. Its stainless-steel case, bezel, crown, case-back and clasp are all coated in matt black diamond-like carbon, known as DLC, a high-performance, hard-wearing finish designed for use in extreme conditions. The bezel insert is highly resistant in black ceramic.
Another signature of the Night Diver is its fully luminescent dial, coated in green Super-LumiNova to deliver exceptional glow-in-the-dark performance. To ensure ultimate legibility in extreme low-light conditions, the watch's minute and central seconds hands are filled with blue lume to contrast with the green of the dial.
The hour hand and octagonal hour markers at 12, 3, 6 and 9 o'clock are filled with green lume, and the remaining octagonal hour markers are all edged with black lacquer. The triangle on the unidirectional rotating bezel at 12, which is crucial to accurately and safely measure dive times, is also filled with striking blue lume to match the blue of the minute and central-second hands.
As with the launch collection, the three new TAG Heuer Aquaracer Professional 300 references are powered by TAG Heuer's Calibre 5 automatic movement and are water-resistant to 300 metres.
Tribute to Ref 844: Diving Back in Time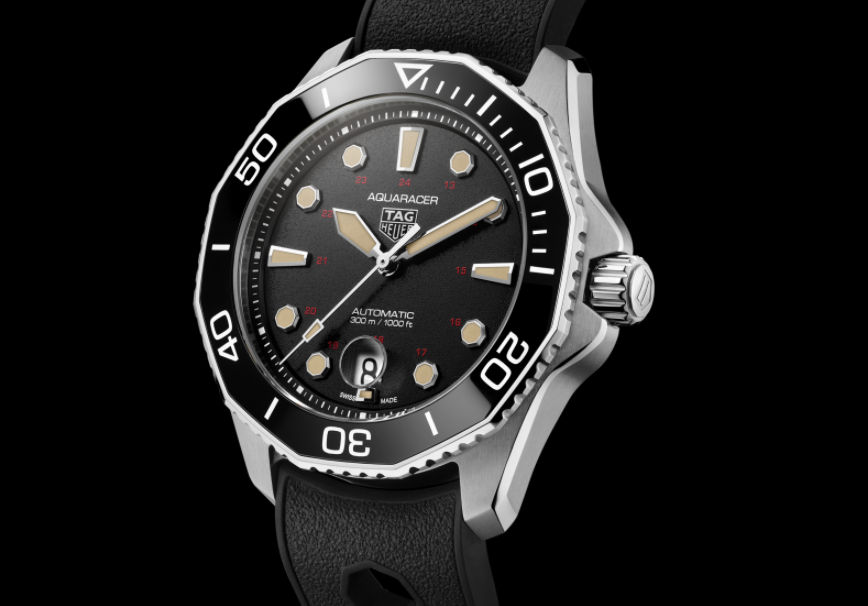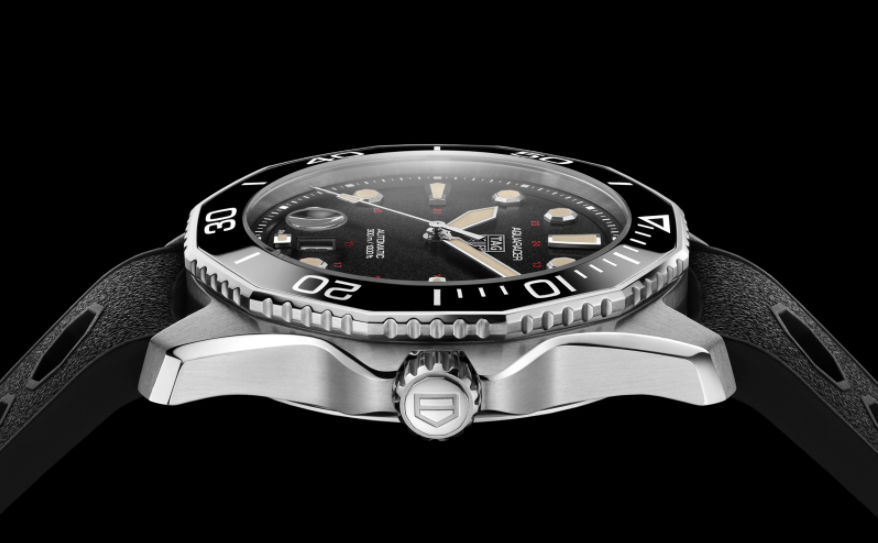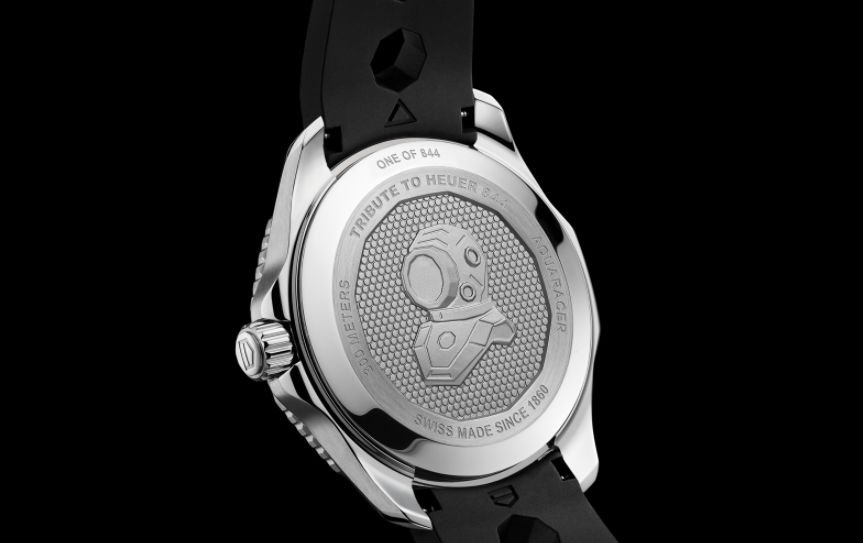 In April, TAG Heuer also introduced a highly collectible limited-edition version of the Aquaracer Professional 300 to both complement the core collection and salute the design's wonderful heritage. Called the TAG Heuer Aquaracer Professional 300 Tribute to Ref. 844, it pays homage to the story of the fabled Ref. 844 diving watch introduced in 1978. Produced in a limited edition of 844 pieces, the Aquaracer Professional 300 Tribute to Ref. 844 of the TAG Heuer Aquaracer Professional 300 Tribute to Ref. 844 will be made available from September 2021 onwards.