Kintaro Hattori opened a timepiece shop in Ginza in 1881, but the brand's first wristwatch didn't arrive until three decades later, in 1913, with the Seiko Laurel. Seiko will commemorate the 110th anniversary of its, and Japan's, first wristwatch this year with the release of a series of commemorative timepieces, including a new King Seiko watch inspired by Seiko's rich technological and design heritage.
Despite the fact that King Seiko no longer competes in the same space as their Suwa rivals, Grand Seiko, their design and finishing are reminiscent of higher-end Seiko models from the past. In fact, during a media lunch following the opening of Singapore's first Grand Seiko boutique, Seiko Watch Corp President Akio Naito stated, "If Grand Seiko was positioned in the same tier as Rolex, King Seiko was the equivalent to Tudor." Indeed, the new model is part of the more-premium King Seiko collection, which was revived last year and provides a happy midpoint between the standard budget-friendly Seiko models and the luxury-oriented Grand Seiko lineup.
Because of its sharp lines, elegant wrist presence, and winning heritage design, the return of the vintage-influenced King Seiko collection quickly captivated watch enthusiasts all over the world. In addition to the new limited edition Seiko Watchmaking 110th Anniversary King Seiko SPB365, the brand is introducing three new standard-production Kind Seiko models. As part of the anniversary celebrations, King Seiko has updated its lineup with a special 110th anniversary model, as well as three dial iterations in a brand new 39mm size that feature the same core case design and a date-displaying format. A dial inspired by the Kameido area of Tokyo: SPB365
Its gradient dial enchants with light, but a closer look reveals a design inspired by Kikkoumon, a traditional Japanese geometric pattern based on the hexagonal shape of the tortoise shell. The tortoise is associated with longevity and prosperity in Japanese culture, and the six-sided chelonian shape is also associated with samurai armor as an auspicious pattern signifying strength and victory.
Aside from its symbolism, it also refers to Tortoise Island, a neighborhood in Tokyo's Kameido district where the King Seiko line was born. With its smoked gradient finish and razor-sharp indices and hands, including knurling on the double index at 12, it combines King Seiko signatures with Seiko's obsession with intricate details inspired by nature for their dials. The dial pattern has a lot of depth and texture – each hexagon is actually a series of three inset hexagons, each deeper than the last – and this depth is expressed throughout the dial by a gradual darkening from the center to the edges.
Bold, angular lugs have both mirror polished and hairline finishing, providing ample visual contrast as well as a sense of precision in manufacturing. It has the same elegant 37mm case and seven-link bracelet as other King Seiko watches from the past year. The sharpness and angularity are inspired by the classic 1965 King Seiko KSK – the collection's second King Seiko series and the one that defined its character.
The 37mm Kikkouman is powered by the in-house 6R31 calibre. This movement is the latest in a long line of upgraded and reworked movements dating back to the 1970s, including the 7S, 4R, and 6R variants.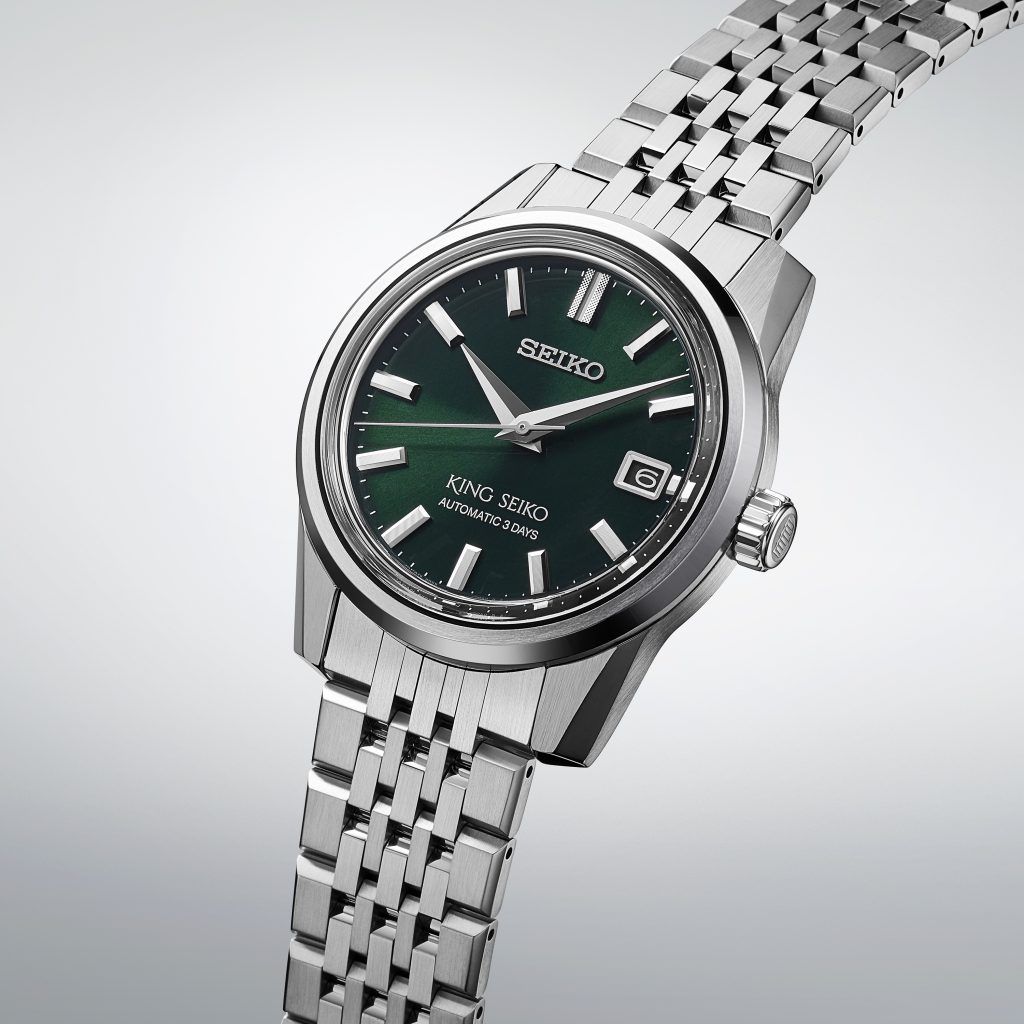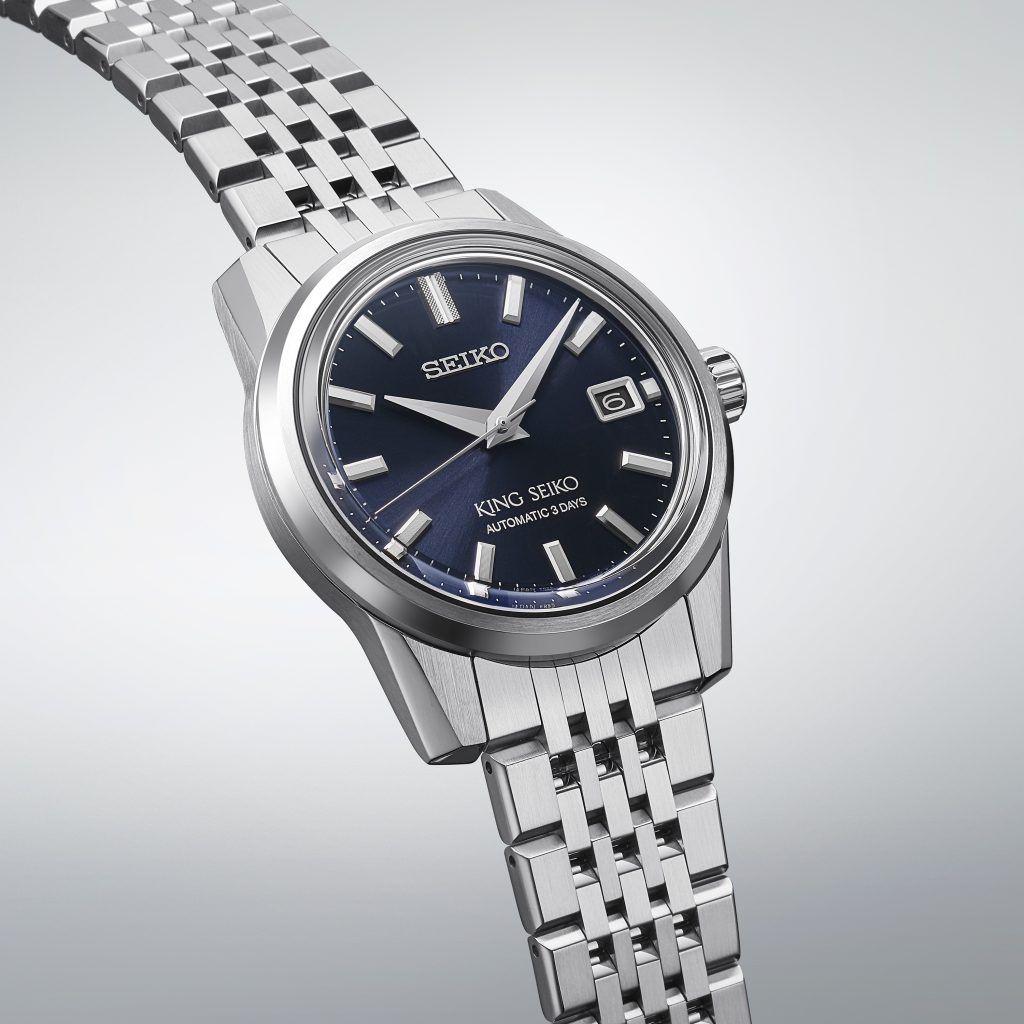 King Seiko new 39mm series
A year after its successful relaunch, Seiko introduces an entirely new 39mm size for the storied design to the King Seiko collection. Though the dials are larger than those of their 37mm predecessors, subtle refinements in design and manufacturing maintain the three new watches' graceful feel.
There are three dial colors to choose from: white, dark blue, and green. The white dial features a subtle pattern created by combining vertical and horizontal hairline finishing techniques, effectively channeling the dials of certain vintage King Seiko watches. The sunray finish on the dark blue and green dials adds a rich, luxurious feel that benefits from the larger case diameter.
The broad, faceted markers and sharp dauphine hands remain, though the marker at 3 o'clock has been truncated to make room for a framed date window, and the indexes are bolder and include an additional facet to better reflect light, enhancing legibility and emphasizing the King Seiko's elegance and sophistication.
However, the new size isn't the only difference. The stubby lugs have been widened to increase the size of the brushed upper surface with a hairline finish, while the angular sides have been polished to increase the case's contrast. While the upper portion of the bezel now has a hairline finish, the side is mirror polished. Each watch comes with the same seven-link bracelet as the 37mm King Seiko watches, so the bracelets can be swapped between the two watch sizes.
The 39mm case houses the new Caliber 6R55, which has a power reserve of three full days (72 hours), as indicated on the dial at six o'clock. All three watches will be available from March 2023 at select Seiko Boutiques and retail partners worldwide, joining the main King Seiko collection.
Seiko Watchmaking 110th Anniversary King Seiko Collection: SPB365
Case 37mm stainless steel with 4,800 A/m magnetic resistance and 100 metres water resistance
Movement Automatic Caliber 6R31 with 70 hours power reserve
Price €2,000
Limited edition of 1,200
39mm King Seiko Collection: SPB369, SPB371, SPB373
Case 39mm stainless steel with 4,800 A/m magnetic resistance and 100 metres water resistance
Movement Automatic Caliber Caliber 6R55 with 72 hours power reserve
Price €1,950 Seiko Prospex's first mechanical GMT
Seiko has developed new technologies, features, and designs that have made the Seiko Prospex diver's watch collection a favorite among professional and recreational divers since its first diver's watch in 1965. Seiko made headlines last year when it unveiled the Seiko 5 GMT, bringing an affordable mechanical GMT watch to the masses. Today, Seiko introduces a new movement in the well-known 6R family with a GMT function and a power reserve of 72 hours. Caliber 6R54 is available in three new Prospex creations, all of which are modern re-interpretations of a Seiko classic from 1968: two standard-production Prospex models and one limited edition as part of the brand's Save the Ocean series.
The GMT hand can be set independently in one-hour increments without interfering with the time-of-day hands, allowing the wearer to see the time in a second time zone at a glance. The three watches are all water resistant to 200 meters, have Lumibrite hands and markers, and have a unidirectional bezel with a luminous pip. Each comes on a new three-link stainless steel bracelet with a slim profile that sits securely and comfortably on the wrist. The green model is the SPB381, the black model is the SPB383, and the Save the Ocean Limited Edition has a striking ice-blue dial inspired by polar glaciers. Each model enjoys stainless steel case with a super-hard coating heavily based on the design of the brand's famous 1968 Diver and measures 42mm in diameter by 12.9mm in thickness. That said, the new Seiko 1968 Diver's Modern Re-Interpretation GMT has a wider bezel and a smaller crystal diameter than the brand's modern dive watches, also based on this historic case design, giving it an air of vintage elegance on the wrist.
A sapphire crystal with an anti-reflective coating is surrounded by a uni-directional rotating timing bezel with a ceramic insert with a 60-minute elapsed time scale while a solid-screw-down stainless steel caseback is fitted on the reverse of the case. Furthermore, an unsigned screw-down crown protrudes from the side of the case just above the 4 o'clock position, a signature of Seiko's sports oriented models. Despite their GMT functionality, the new Seiko 1968 Diver's Modern Re-Interpretation GMT models are still ISO-certified dive watches, with 60-minute timing bezels rather than 24-hour GMT bezels and 200 meters of water resistance. Hence, rather than being GMT watches, they remain primarily dive watches with GMT functionality.
All three watches will be available at the Seiko Boutiques and select retail stores worldwide from June 2023.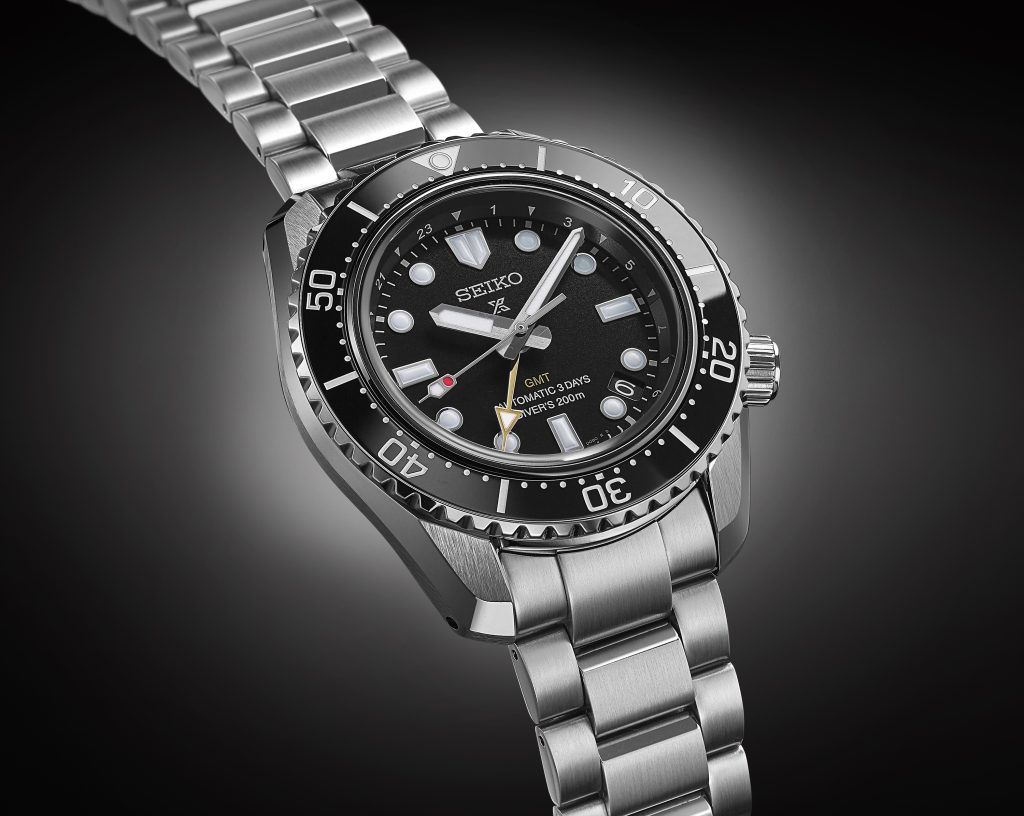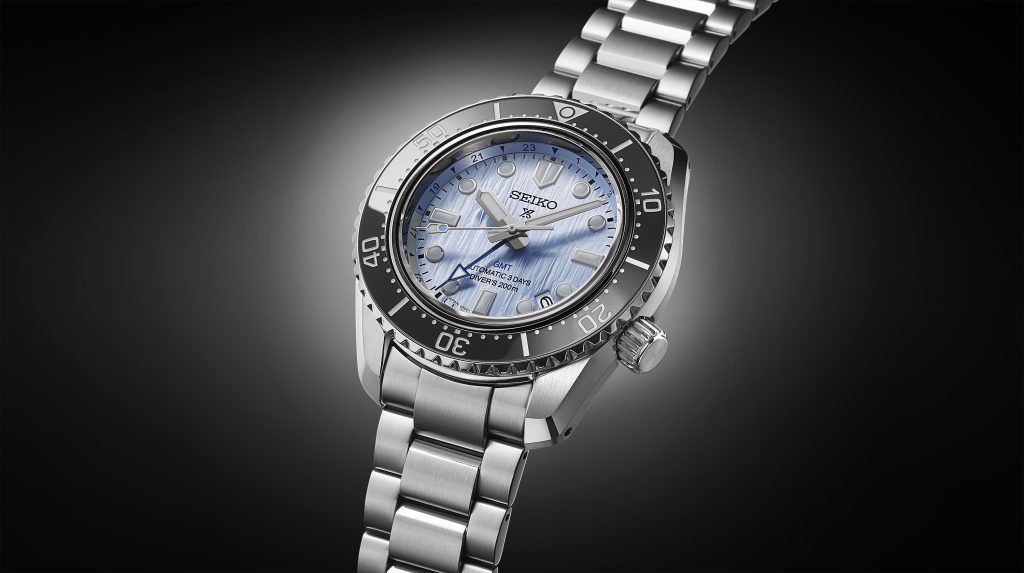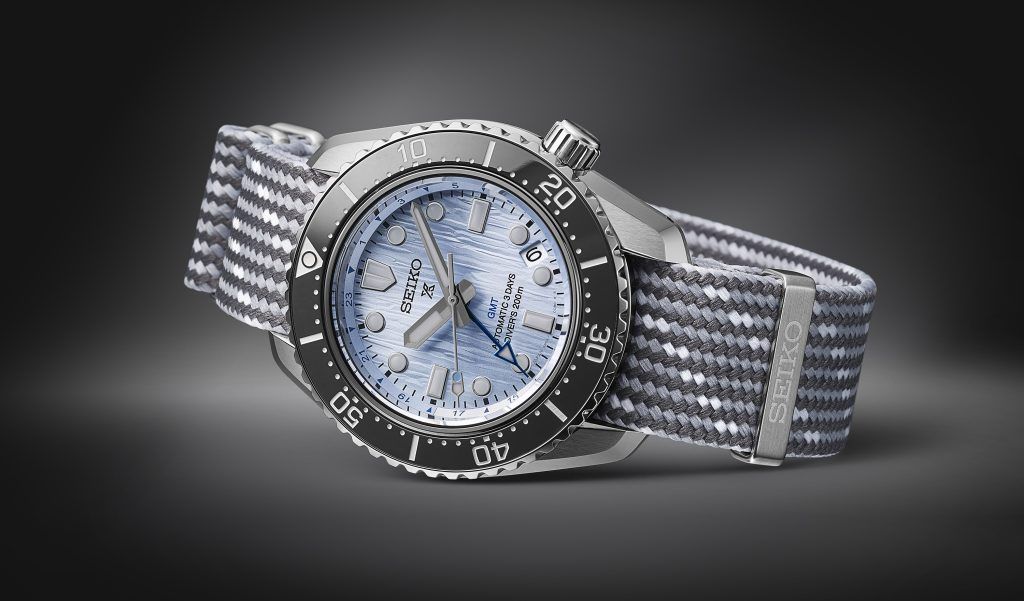 Seiko Prospex 1968 Diver's Modern Re-interpretation GMT

Case 42mm stainless steel with 4,800 A/m magnetic resistance and 200 metres water resistance
Movement Automatic Caliber 6R54 with 72 hours power reserve
Price From €1,700
Limited Edition of 4,000 (SPB385)
written by.
Jonathan Ho
Managing Editor
Jonathan Ho might have graduated with a business degree but he thumbed his nose at commerce and instead opted for a harder life in journalism. He edits Augustman, a title he first joined when he became a writer after a career in advertising and now, earns a living writing commentaries on the luxury industry.