The Hermès aficionado is no stranger to the simplicity and balanced aesthetic of the Slim d'Hermès watch. The watch's round case made of distinctive and understated lines plays off the angular lugs that frame its transfigured dial.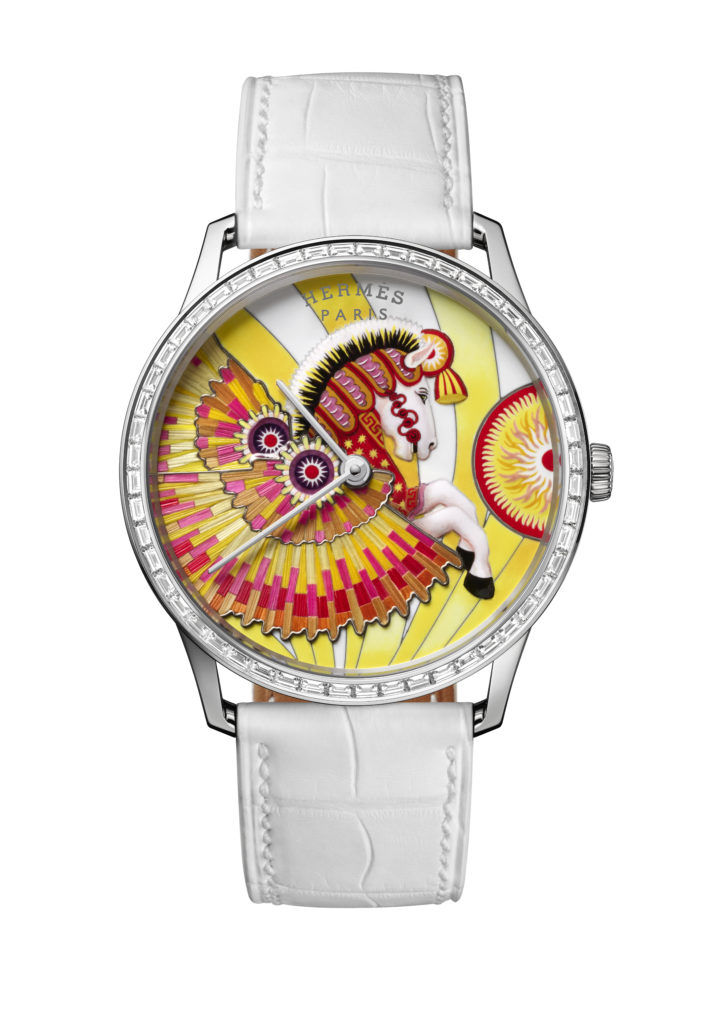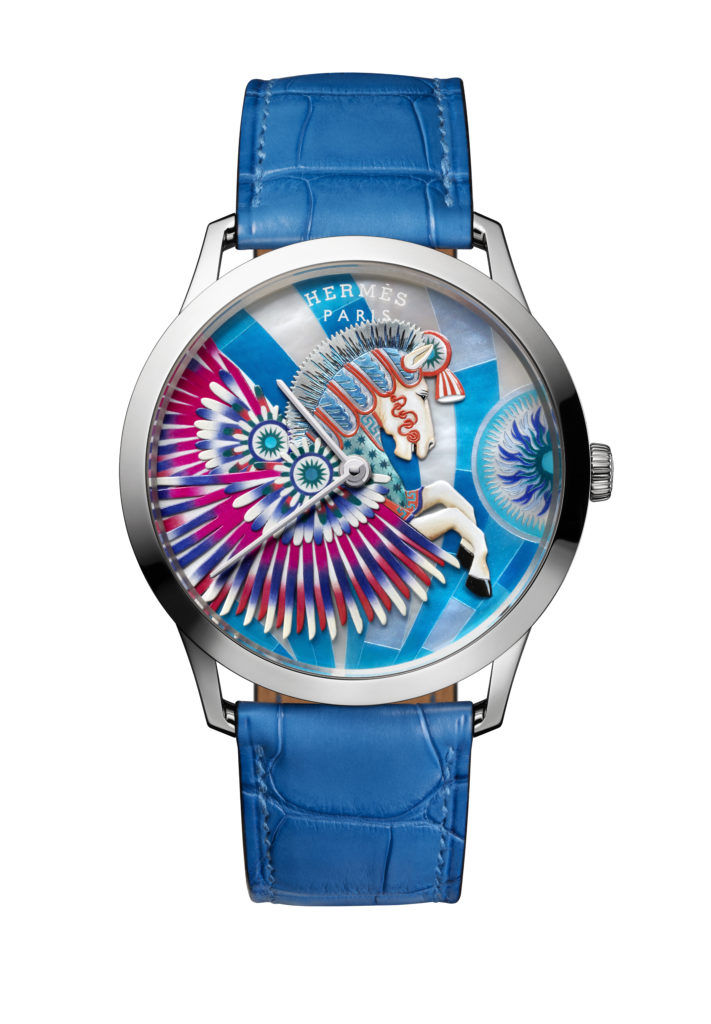 The Slim d'Hermès La Source de Pégase watch features a winged horse in vibrant, warm colours. This mythological creature is reinterpreted through the virtuoso skills of enamelling and engraving artists. Sparked by the brilliance of French artist Pierre Marie's designs on the La Source de Pégase silk scarf, the majestic, winged horse is depicted striking a rock with its hoof to create the Hippocrene spring on Mount Helicon.
DEVIL IN THE DETAILS The dynamic image is transposed onto the slim dial of the timepiece. A luminous yellow interpretation set with 52 baguette-cut diamonds combines Grand Feu enamel with straw marquetry. This technique is well-used for the La Source de Pégase. Artisans individually cut sections of previously selected, dyed and dried smooth rye and form the motif by assembling each strand on a gold plate. This is then placed on the enamel. This detailed method is also translated onto the Pegasus's fan-shaped wings. The raised Pegasus figure is composed of a multitude of enamel layers that have been successively dried and fired before being hand engraved. The champlevé enamel dial base is also crisscrossed with alveoli and filled with a mixture of coloured glass powders and natural oils. To set the colours, it is fired at over 800 degrees.
The equally radiant second model showcases the same vibrancy in a variety of sky-blue shades. It features an engraved Pegasus with gold-woven wings standing out against a painted mother-of-pearl background. Each colour is delicately applied to the dial using a brush. Said colours are dried in a kiln, before the profile of the gold horse is shaped in relief using the engraver's burins and chisels. Finally, the intricate feathers of the wings are composed using precious gold-leaf threads, assembled in several layers and painted, yet again, in electrifying colours.
RELIABILITY IN QUALITY
These two exceptional dials are framed by a round 39.5mm-diameter white gold case that houses the Hermès H1950 ultra-thin mechanical self-winding movement, finished with the iconic "sprinkling of Hs". Both have a diameter of 30mm and a thickness of 2.6mm, with a power reserve of 42 hours. Lastly, they are paired with either a Chantilly or Mykonos blue alligator strap that has been lovingly crafted in Hermès Horloger workshops. These numbered 12-piece limited edition watches are definitely made to highlight the arts of miniature painting, straw marquetry and engraving—a tribute to the art of watchmaking.
(Images Hermès)
written by.
Alfieyah Abdullah
Alfieyah Abdullah has two vices. Her 30 bottle (and counting) collection of fragrances and an intense view on desserts.