Introduced last year as Zenith's latest salvo in the highly competitive integrated bracelet segment, the Defy Skyline collection set a new benchmark for time-only models in that market category by basing its introductory calibre on the vaunted high frequency El Primero movement. For LVMH watch week 2023, the Le Locle brand is building upon that foundational pillar with a more structured, open-worked model of the inaugural Defy Skyline.
Still featuring that iconic 1/10th of a second indicator, the new Defy Skyline Skeleton stands out with its star-shaped open dial and incredible symmetry. It calls to mind yet another Zenith innovation sharing similar aesthetics, the Zenith Defy Lab with ultra-high frequency movement beating at 15Hz (or 108,000 vph). When it was released in 2017, the Defy Lab to our minds was the pinnacle of evolution, cementing Zenith's reputation as the progenitor of high frequency calibres. The Lab broached this new frontier by way of a totally new design utilising a one-piece oscillator made of monocrystalline silicon that replaces the traditional "sprung balance." It was initially released as a 10 piece limited edition with plans for serial production in 2018, later pushed back to 2019 but that also never materialised.
What ticks the boxes for us is really the clarity with which you can see that purple balance oscillate, on the Defy Classic, its own regulating organ was a little obscured and the exposed gear work at 6 o'clock really reminds you of the movement architecture and design choices of the Lab variant. In essence, the new Defy Skyline Skeleton combines many of the winning elements from other beloved models in the collection.
Furthermore, a constantly running 1/10th of a second counter at 6 o'clock making steady jumps in fixed increments, completing one revolution every 10 seconds, a feature unique to the El Primero calibre is also a reminder of the challenges Zenith overcame in the 70s: chiefly friction, wear and lubrication. Proper lubrication is critical for the smooth operation of any mechanical movement, and it becomes even more important at high frequencies. If not properly lubricated, it can suffer from increased wear and reduced accuracy – a problem which Zenith solved in the late 60s with the invention of a special lubricant that enable it to adhere to spinning gears even at high velocities and in recent years, the Defy Lab also solved this issue by eliminating the need for lubrication completely and so we were hoping it would made its production debut this year.
Pushing the resolutely contemporary openworked design further and housed within a new more angular case, the Skyline Skeleton seamlessly integrates the open dial with an openworked version of the El Primero automatic movement. Harmoniously symmetrical, the open dial takes on the form of a four- pointed stars, in a nod to the ZENITH "double Z" logo of the 1960s.
Zenith Defy Skyline Boutique Edition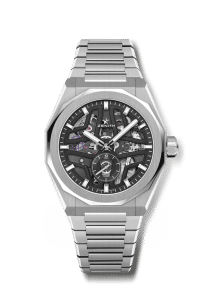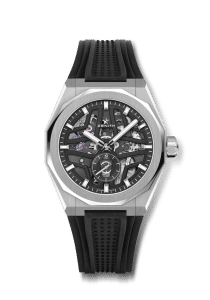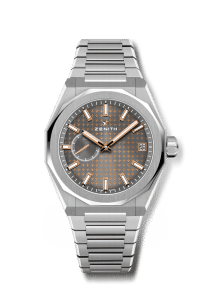 Following the phenomenal debut of the Defy Skyline collection in 2022, Zenith is offering its first boutique-exclusive edition of the groundbreaking model, playing up the finishing and treatment of its radiant anthracite dial with an alluring combination of contrasting tones.
Returning is the 41mm angular steel case with a dodecagonal bezel reminiscent of vintage 1969 Defy wristwatches, the same gorgeous metallic dial is engraved with a rose gold motif and set with rose gold hands and hour markers to sumptuous effect in the boutique edition. Zenith watchmakers first engrave the four pointed stars unto the metal dial before plating them with rose gold. What results is an effect similar to a constellation of golden stars on the face of this timepiece.
It too is powered by the El Primero 3620 automatic high-frequency calibre of its family, also exhibiting the unique running 1/10th of a second indicator that's driven directly from the 5Hz escapement.
The Defy Skyline Boutique Edition is delivered on a steel bracelet with a satin-brushed surface with chamfered and polished edges, seamlessly following the contours of the angular case. A black rubber strap with a starry sky pattern is also provided with a steel folding clasp and can be easily swapped without any tools using the DEFY case's ingenious quick strap-change mechanism consisting of secure buttons on the back.
The Boutique Edition will be available exclusively from ZENITH physical and online boutiques around the world.
Defy Skyline Skeleton Price & Specs
Case 41mm stainless steel with 100 metres water resistance
Movement Automatic El Primero 3620 with 60 hours power reserve
Price CHF 10900
Defy Skyline Boutique Edition Price & Specs
Case 41mm stainless steel with 100 metres water resistance
Movement Automatic El Primero 3620 with 60 hours power reserve
Price CHF 8900
written by.
Jonathan Ho
Managing Editor
Jonathan Ho might have graduated with a business degree but he thumbed his nose at commerce and instead opted for a harder life in journalism. He edits Augustman, a title he first joined when he became a writer after a career in advertising and now, earns a living writing commentaries on the luxury industry.