YOUR superyacht is obviously a great place to chill on, but what most owners don't realise is that the stock tenders – usually jet-powered rubber dhingies, jetskis or even a couple of powercraft – can be swapped out for far more interesting toys that add some adrenaline-pumping action to your great escape.
Good news: as the yachting culture catches on in the Asia Pacific, these zany firms have become increasingly creative as well. Take a gander at what's available these days.
01: Fly Iron-Man style with arm and leg-mounted water jets
This tops the list easily. Whoever says no to blasting off to heights as high as 12m and looping-the-loop must hate having fun.
The folks at Zapata Racing have come up with Flyboard and Jetpack – two setups that utilise high-pressure water jets to propel you high into the air (or torpedo you through the water). The latter is better suited for beginners, as you'll be able to jet upwards in a seated position, relying less on your abilty to balance.
As it so happens this can be attached to any of your superyacht's existing jet-skis, so you already have half the kit on-board. Zapata's been at it for over half a decade, all the while refining the contraptions. There are now even different types of hoses to better suit advanced users who want to perform tricks.
02: Deep dive in comfort with your own mini-submarine
Sure, you may be a certified diver, but not all of your dozen guests are going to be. If you're taking your ride out to anywhere near the beautiful reefs in the Pacific waters (the increasingly popular Raja Ampat comes to mind), pack along one of U-Boat Worx's subs so your friends can share in the wonderment.
Essentially a safe, clear viewing pod with an air supply and propulsion systems, the easy-to-control submarines (in this case the Super Yacht Sub 3) seat up to two passengers and one 'operator' comfortably. Of course, modern comforts such as air-conditioning and the option to blast music from your personal device are also at hand.
03: Set up a safe dipping pool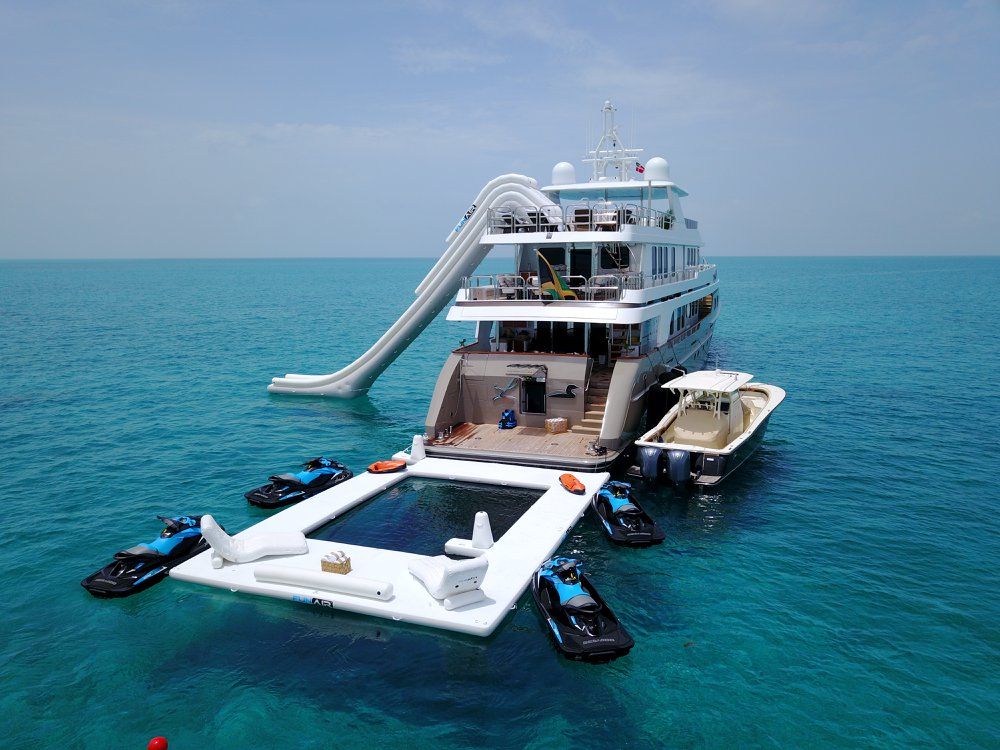 The uninitiated will raise an eyebrow at installing a pool while in the midst of the ocean. These inflatable ones from FunAir make a lot more sense once you've encountered the chief culprit of prematurely-concluded expeditions everywhere: the dreaded jellyfish sting.
To rule out the annoying and painful possibility, simply throw the netted inflatable into the water and get it fully ready with the included FunAir pump, which will take less than an hour. Voila, drag out a few deck chairs and enjoy your personal mini-beach in the middle of nowhere, while those who fancy a dip in the warm waters can frolic within the literal safe space.
P.S. These guys also make a bunch of other ingenious inflatables – yacht golf islands, rock-climbing "walls", trampoline platforms. Go check them out.
04: Host the ultimate Zorb war
These "hamster balls" won't be new to anyone who's been to enough commercialised beaches in the last decade, but that's part of the problem – the crowds, the queues, the brevity of the session, and the lack of space.
With a supply of Zorb balls loaded up in your tender area, you can orchestrate unlimited play time for participants of all ages, or organise that Instagram-breaking photo that'll make your yacht trips somewhat of a legend within your social circles.
Just be sure to keep a powercraft handy as well, though; some shepherding may be required once particpants begin to tire. Finally, while there are many cheap options for Zorb balls out there, invest in kits from a reputable supplier such as the UK-based Zorb Ballz – you don't want to deal with inferior products falling apart at sea.
05: Go jet-skiing… underwater Part jet-ski, part-submarine, the SeaBob powers you through the water, enabling you to pull off maneuveurs far faster than if you were simply snorkeling or diving. This means you can chase down schools of fish or greatly extend the range of a single dive. As a bonus, they don't even have to replace your tenders – they're compact enough to be stored elsewhere.
One of the handier features on the high end models is a fender-mounted cam that records everything you see in full HD, allowing you to relive and share the moments long after your trip (wireless capabilities with modern smartphones? Check.)
Do note that they can be pretty much be used for coasting along the surface as well. The SeaBobs themselves are slick machines, streamlined, chromed and capable of taking a beating.
PHOTOS & VIDEOS: Respective brands.
written by.
Xiangjun Liao
XJ is the associate digital editor and works the F&B, tech, watch and motoring beats. Correspondingly, he's an alcoholic carnivore with a boyish fascination for all things mechanical. No prizes for guessing which Jaguar he wishes to commandeer.