THE weekend's fast approaching – but sometimes, just as quickly, Monday creeps up upon us.
Nevertheless, to rest is to walk a longer distance. You can't play hooky every single time, so it's best to utilise your leave to the fullest extent. To do that, always nail the long weekends in Singapore. With our latest instalment of "things to do", you'll never be left wanting for weekend plans.
Or even if you can't seem to get away from work, we've still got the best solutions on how to spend your free time, even if you've got just a few hours.
Ready for sojourns, a shindig or even genuine artistic stimulation? Make sure to turn your cells off — it's time for a digital detox.
if you only have 3-5 hours
the bangers: capital's 2nd anniversary with dj sura
Of course, we got one for the party people — you think we're gonna sleep on you guys? If you missed the opening of Marquee Singapore, fret not — they're not the only ones with the biggest parties in town.
For Capital's 2nd Anniversary, the 21-and-above nightclub is turning into a chamber of fantasies and desires with its Edgeplay – The Pleasure Parlour lineup; if you got a kink for vamps in leather, enigmatic red lights and more of those where they come from, this is your time.
In fact, coupling this event on the 20th of April is DJ Sura, a hot name in Asia's EDM realm. With collaborators like Leanon EDM, Asia's famous EDM company under her belt, DJ Sura is an artist on the fast lane to popularity with her hip-hop and EDM genres.
The club's also putting up a dress code of 'lace and leather best' — are you down, or are you too vanilla sweet?
Capital Zouk Singapore, 3C River Valley Rd, #02-05 The Cannery, Singapore 179022, tel: +65  6738 2988
when you've got a full day to kill
View this post on Instagram
More often than not, a satisfying feast is always the first order of business.
For the best of Asian/Polynesian island culture and cuisine, check out Native Kitchen's eclectic offerings at [email protected], the newest addition to the Village brand by Far East Hospitality.
Craving comfort food after a tiring work week? Pick from its satisfying yet guilt-free Big Kahuna Burger, Aloha Fish Tacos and Mojo Pork Cubano Sandwich. If you're planning a mini brunch gathering, there are impressive sharing platters that'll satiate even the biggest of appetites.
If you want it, they got it — in fact, those looking for a good grub fiesta this weekend can look forward to it's Easter Islander brunch, a communal style, four-course semi-buffet, with an optional add-on for free-flow alcohol.
Native Kitchen, 10 Artillery Avenue Sentosa Island, Village Hotel at Sentosa #02-02, 099951 Tel: 6722 0818
hermès heritage – in motion
You've seen Hermès shape the fashion industry with works that dominate the world's runway year after year, but have you ever wondered how Hermès got its horse-carriage insignia?
To truly understand the Parisian maison, a throwback to its beginnings will illuminate much more about the brand's design and its trajectory.
Hermès Heritage is a touring exhibit that makes its stop in Singapore with In Motion, exploring the DNA of the brand that is the spirit of travel.
In a time where modern life was gathering pace in an increasingly mobile world, the exhibition, curated by Bruno Gaudichon and designed by Laurence Fontaine, will present artefacts from the Émile Hermès collection, the Hermès Conservatoire of Creations and more contemporary pieces.
Hermès Heritage In Motion, 541 Orchard Rd, Liat Tower, Singapore 238881, Tel: +65  6738 9807 (Admission is free)
hitting it big with a few days to enjoy
Long weekends are precious and hard to come by. For a well-deserved break, why not just get out of town?
01: an elevated glamping at four seasons tented camp golden triangle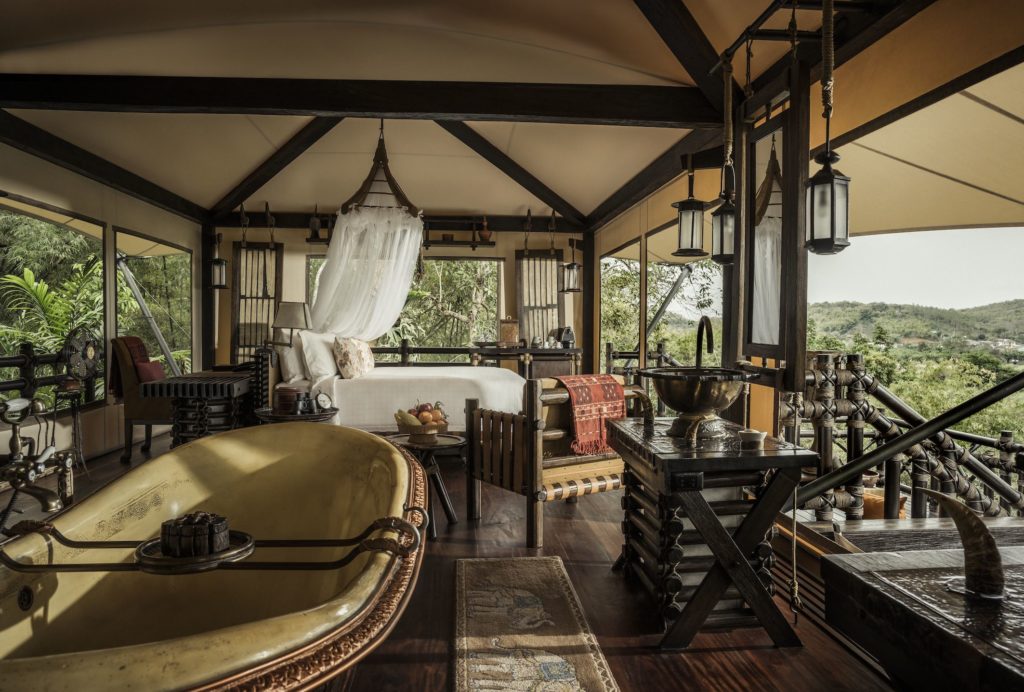 To jump out of the urban jungle and into nature's embrace, try discovering the legendary Golden Triangle up in Northern Thailand. Stay at the understated yet luxurious Four Seasons Tented Camp; you'll be staying right on the borders of Thailand, Laos and Myanmar, overlooking the scenic Mekong River.
With a picturesque view of Thailand's exotic bamboo jungles, you'll be in awe of the lodges' contemporary interior design, complete with roll-top baths and curated with remarkable attention to detail. You have to see it for yourself.
Relish in the resort's exquisite cuisine or go full Jumanji with elephant riding and boat expeditions in the mighty river waters. When the sun sets over the alluring Mekong, your stay here will become an experience you won't forget.
Four Seasons Tented Camp Golden Triangle, 499 MOO1 T. Vieng, Chiang Rai, Chiang Saen District, Chiang Rai 57150, Thailand, Tel: +66 53 910 200
02: a full recharge at the serene ALila villas Koh Russey, Cambodia
If you don't feel like having a big adventure, the Alila Villas Koh Russey is your gateway to a getaway, just 20-minutes by private car and speedboat from Sihanoukville Airport.
This haven in the Koh Rong Archipelago has got a superb spa, charming villas and tasteful dining options — everything you need for true indulgence.
With a lush green oasis as its backdrop, each villa is carefully crafted with luxurious but simple interiors that bring the best of open concepts, all with a special touch of Khmer that makes for an idyllic stay.
You can unload your stress with an indulgent session at Spa Alila, take a dip in your private pool or simply feast your eyes on the wonders of Mother Nature itself. When you're peckish, hit the Beach Shack for your seafood fix, or the Horizon for an international offering.
Scott Dunn is also offering complimentary nights. Guests who stay for 3 nights only need pay for 2 at Alila Villas Koh Russey. This package includes accommodation with breakfast, water sports and also island sports & activities.
Alila Villas Koh Russey,Ong Village Prey Nup District Ream Commune 18108 Sih, Ream 18108, Cambodia
Images belong to respective brands.
written by.
Elvin Ng
Elvin is a writer dabbling in the fashion, travel and culture beats. When he isn't blogging about his latest adventures, he's most definitely hunting down the latest and biggest sales in online shopping.